Alan Rickman's Height
6ft ¾ in (184.8 cm)
British Actor best remembered for playing Professor Severus Snape in the Harry Potter series of films and for roles in films such as Die Hard, Robin Hood: Prince of Thieves, Galaxy Quest, Sense & Sensibility, Love Actually, Sweeney Todd: The Demon Barber of Fleet Street, Bob Roberts and Truly, Madly, Deeply. In VillageVoice.com he mentioned his height, saying
"I'm six-foot-one, I wear size 11 shoes."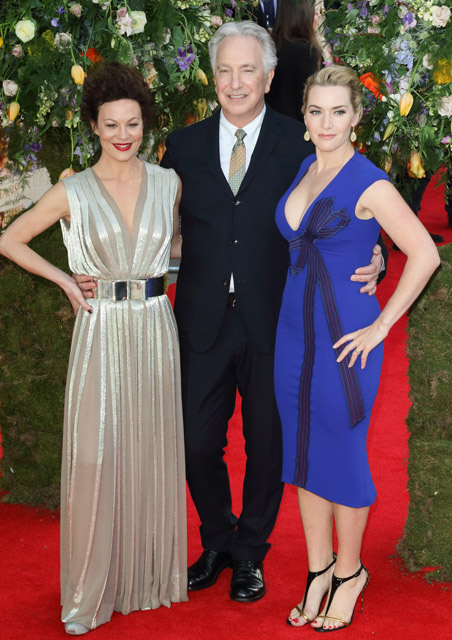 Alan with
Helen McCrory
and
Kate Winslet
Photos by PR Photos
You May Be Interested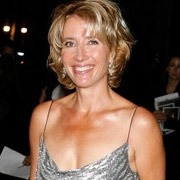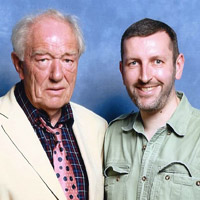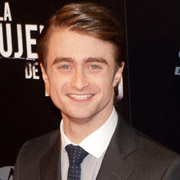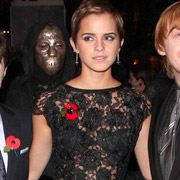 Add a Comment
111 comments
Average Guess (59 Votes)
6ft 0.96in (185.3cm)
Geraldine
said on 21/Jun/21
Met him years ago, five times. He went out of the stage door once in bare feet, to see fans, in case anyone thinks he wore lifts. My ex was same height - 6ft 1. Same height standing next to Alan. Not sure why a quarter of an inch down on the height Alan himself, mentioned.
ALEXIZ/180cm
said on 23/Mar/21
184 cm
Miss Sandy Cowell
said on 22/Feb/21
The great Alan Rickman was born 75 years ago yesterday. He passed on aged 69 from pancreatic cancer. I loved his sentimental comedy film 'Truly, Madly, Deeply' and he showed us what a good voice he had in the musical 'Sweeney Todd', with Johnny Depp.
6ft1.
RIP Alan 🕯️ XXX
21st February, 1946 - 14th January, 2016
slim 6'1
said on 5/Jan/21
Weak 6'1" RIP
Anthony rojas
said on 25/Oct/20
I'd say 6'1 on the dot
Slim 6'1"
said on 6/Oct/20
Robs listing is spot on 184 range
Monkey knees
said on 13/May/20
A genuine legend. One of my fave actors ever. He, Oldman and Gambon were immense in their Potter roles. 6ft 1in peak I can see indeedy
Jam Cherry
said on 4/May/20
RIP, 184.5-185 cm
Miss Sandy Cowell
said on 21/Feb/20
Alan Rickman was born on this day 74 years ago. His unexpected passing came as such a shock. He was just weeks away from turning 70. One of my favourite films of his was 'Truly, Madly, Deeply'.
He showed us he had a beautiful singing voice as well - in 'Sweeney Todd', singing along with Johnny Depp!
Alan gets 6ft1. He always looked tall, and he had a lovely speaking voice as well.
RIP Alan XXX 🕯️
Jkiller
said on 8/Feb/20
Weak 6'1
Yang (5 footer 8, 172-173)
said on 16/Aug/19
This British actor best known for playing Severus Snape in entire HP films height is about 6ft and half... Not solid 6ft 1 but cant see less than 6ft at least!!!!
Colberto
said on 24/Jan/19
Hey rob does this mean he was between 6'0 ½"- 6'0 ¾"?
or hes between 184.5-185cm
I don't get your 6'0 ¾" listings on here. Seems like they are just 6'0 ½" men or generally between 6'0 ½" 6'0 ¾"

Editor Rob
In Rickman's case I would say he could look over 6ft 1/2 range at his tallest, but I wouldn't have thought a solid 6ft 1, so gave him 6ft 3/4.
James G.
said on 2/Jan/19
6'1" flat, perhaps 6'1.25" through his younger years, and 6'0.5"-6'0.75" near death. Overall, he deserves 6'1" flat, no more, no less.
Michael 5'10", 178 cm
said on 13/Dec/18
He looked as tall as Kevin Costner in Robin Hood. Alan looked an inch or so taller than Bruce Willis in Die Hard. He also looked tall in Harry Potter and Galaxy Quest. He was like 6'1", he looked it in his movies. R.I.P. Alan Rickman, you'll be missed.
Terry
said on 8/Apr/18
He looked about the same height as Costner in Robin Hood:Prince of Thieves.
Nik
said on 1/Feb/18
For me Alan Rickman (autocorrect changed it to Rickmansworth!) was at least his stated height of 6'0.75. I would say he was slightly more than this! I think he was anywhere in the 6'1" - 6'1.25" range!
Anonim
said on 30/Jan/18
185 cm? You mean that Radcliffe has 170 cm?
Click Here
It is more like 180-178 cm.
Ben
said on 14/Jan/18
He looks so much like mmy english teacher who's also happens to be around six foot and he's from London...
Sandy Cowell
said on 9/Dec/17
I saw Alan in the musical 'Sweeney Todd' the other night, singing his heart out beautifully!
I always think Johnny Depp looks far taller than his height in that film. He stands with petite Helena Bonham Carter for a good proportion of the musical, and very much to his height's advantage! In reality, Alan would be considerably taller than Johnny, but the difference wasn't so great that it jumped out at me, so I wonder, were special effects at work to benefit Mr Depp?
Alan, though around the age of 60, but looking younger in true superstar style, could still pass for in excess of his 6ft and three quarters of an inch in that film!
Yes, Johnny looked taller, but Alan certainly didn't look smaller! His posture was still that of a young man. It's hard to believe he is no longer with us and hasn't been for coming up to two whole years now.
He may be gone, but forgotten? Not on your Nelly!
Alan can have a supercool 6ft1.25!
berta
said on 3/Nov/17
in movies like die hard i dint really think he looked tall. i can believe he was 185 cm at best but possible was closer to 184.
theonewiththecontacts
said on 1/Oct/17
Rob, do you think he was still at his peak height when filming Die Hard in his early forties? Also, what was his listing on here before his death?

Editor Rob
you would think he was still very near it.
avi
said on 7/Jul/17
Those heels Kate is wearing look to be 3.5 maybe so if she's 5'6 they put her at 5'9.5 and Alan is close to 5 inches bigger than her so in dress shoes 6'2 maybe barefoot 6'1 , though if Kate is 5'5.5 Alan could be 6'0.5ish which is more likely. Peak 6'1
Richardspain
said on 3/Jul/17
He is taller than kate winslet with her heels.Kate is 168cm barefoot and with heels maybe 175cm. So I believe Rickman was a tall man 185cm is very credible
Adijos
said on 19/Mar/17
He is strong 6'1.25"
adunadan
said on 5/Mar/17
6ft1.5 in youth, maybe something like 6ft to 6ft1 before his death
Sandy Cowell
said on 19/Feb/17
It's hard to believe that Alan's been gone now for over a year. He had a wonderful, deep and masculine voice and I was really jump-up-and-down happy to see him singing along next to Johnny Depp in the 'Sweeney Todd' musical!
I didn't see 'Die Hard' until fairly recently, not long before he died. Wasn't he a fabulous actor? What a tragic loss and far too early.
Of the height comments that I have just read, my favourite is the one written by Ambrosia, who, being 5ft7, was surprised how tall Alan actually was, towering over him with his 6ft1! He'd have liked that!
I'm going along with it as well! Alan Rickman will always be remembered with great affection!
RIP Alan xxx
Lily Jarvis
said on 13/Feb/17
he is tall, about 6'1" but i wouldn't say no to a quarter of an inch more.
travis
said on 11/Dec/16
he was tall in all his movies
avi
said on 21/Nov/16
6'0.5 to 6'1 but not over 6'1. Type in "Snape Karkaroff" online under images and you'll see about 3.5 to 4 inches between them. The actor that plays Karkaroff is supposedly 6'4.5 or something, looks that too for sure. And Rickman is looking 3-4 shorter but the difference seems to be 3.75 to be exact in my opinion.
Natty
said on 18/Sep/16
I knew Alan, respnably well indeed. I'm a very small 5'2", and he always looked like a giant compared to me. Rima is about my height, so judt look at some of their earlier pictures and you'll see that he's actually a pretty tall and, somehow, massive person. Well, he was. Now he kinda fits into a pair of his shoes.
He was actually 1,86 m at his peak, but never mind folks. There are far more important things to this life, I reckon.
Forgive me, Alan. RIP dear friend :*
Rampage(-_-_-)Clover
said on 12/Aug/16
Rob, maybe the almost 6ft1 zone is closer for Rickman?
That and you could maybe argue almost 6ft for Willis in Die Hard

Editor Rob
most of the time 6ft 0.5-1 zone peak would suit him, I wouldn't have said he was a rock solid 6ft 1 guy though.
Alex
said on 27/Jul/16
I second what the first guy said, I always misquoted it as "6'4" tight t-shirt wearing boyfriend" as that would make more sense to make it seem like he'd dwarf him. Doesn't make sense that he'd say 6' if he's already taller than that. Looked shorter than Ralph Fiennes in some scenes in Hp. Could've been 5'10" at shortest but shorter than yet the closest thing to 6'. Maybe 5'11.75". Either way RIP to a fantastic actor!
Alex
said on 27/Jul/16
I second what the first guy said, I was misquoted it as "6'4" tight t-shirt wearing boyfriend" as that would make more sense to make it seem like he'd dwarf him. Doesn't make sense that he'd say 6' if he's already taller than that. Looked shorter than Ralph Fiennes in some scenes in Hp. Could've been 5'10" at shortest but also the shortest yet closest thing to 6'. Maybe 5'11.75". Either way RIP to a fantastic actor!
Rampage(-_-_-)Clover
said on 23/May/16
Alan Rickman: 6ft0½-6ft0¾
Bruce Willis: 5ft11½-5ft11¾
Rampage(-_-_-)Clover
said on 6/Apr/16
Rob I was implying his peak?
I think in the last couple of years of his life he could look more 184cm.

Editor Rob
yes peak height he may have fallen into the almost 6ft 1 range.
Rampage(-_-_-)Clover
said on 3/Apr/16
Rob, which range is best for Rickman
A) 187.5cm/185.5cm
B) 187cm/185cm
C) 186.5cm/184.5cm
D) 186cm/184cm

Editor Rob
I'm not so sure on a solid 6ft 1 for him now, I think it is arguable he could be C range
Rampage(-_-_-)Clover
said on 25/Mar/16
He looked 186cm in Die Hard
Rampage(-_-_-)Clover
said on 22/Jan/16
I think in his 50's-60's he may have dipped just below this.
Arch Stanton
said on 16/Jan/16
There's a scene in An Awfully Big Adventure too in which he's in the dressing room of a theatre with Hugh Grant, near the end, and he looked about 1.5 inches taller. So in my eyes 6'0.5 looks the best shout, but he can certainly look the full 6'1 at times.

Editor Rob
a weak 6ft 1 range is a consideration for him.
Arch Stanton
said on 16/Jan/16
@Rob, Close My Eyes is a bit strange, incest between a brother and sister, but it's not even slightly believable. Clive Owen is even smugger than he's been in recent years in it. It's worth a watch but not one of his best. Near the end you can see Rickman walking nearer Clive Owen and thought he looked more than 2 cm shorter. Not easy to tell though. Though Rickman had relatively little to say in Bob Roberts as Robbin's sidekick, it was a major film and an excellent political satire. Rickman looked 6' range with Tim Robbins too, I think you'd be nearer with 6'0.5- 6'0.75.

Editor Rob
I watch all sorts of films, but they can't all be great...however nobody starts making a movie intending to make a bad one.
jtm
said on 16/Jan/16
We lost another great talent. RIP Alan Rickman
Arch Stanton
said on 15/Jan/16
Actually for Rickman can you add Bob Roberts instead of Close My Eyes, that was more notable for him.

Editor Rob
Close my Eyes is one filmI never got round to watching
Arch Stanton
said on 15/Jan/16
Rob can you alter this and change to British actor best remembered for playing Professor Severus Snape in the Harry Potter series of films and roles in numerous other films including Die Hard, Truly, Madly, Deeply, Robin Hood: Prince of Thieves, Sense and Sensability, Love Actually, Close My Eyes, Galaxy Quest and Sweeney Todd: The Demon Barber of Fleet Street.
184.3cm (Night)
said on 14/Jan/16
R.I.P Alan, loved his older movies, heard on the radio a Harry Potter actor had died...had no clue it was him as i haven't seen those films. Shocked.
177-178 cm guy
said on 14/Jan/16
R.I.P Alan. Always.
Amaze
said on 14/Jan/16
Great actor solid tall 6'1" 185cm guy RIP.
Dan
said on 14/Jan/16
He died today... RIP
He's 6'1
DR
said on 14/Jan/16
RIP an amazing actor and brilliant fellow who happened to also be blessed in height ;)
Rampage(-_-_-)Clover
said on 14/Jan/16
Two British icons gone within a few days. Be a nice 2016, be nice.
Rest In Peace
Jay
said on 28/Dec/15
I'm 6'3.5" and I find it impossible to judge people's height who are 6' plus in person. Until I see a reflection in a window. I guess I suffer from height blindness.
Jam
said on 9/Oct/15
I second the guy who said he only looked 5'11" in Die Hard.
Anchor
said on 17/Aug/15
Lol everyone says how they were surprised how tall he was. I was surprised how small he was :D
Ambrosia
said on 18/Jul/15
If he's actually 6 ft 1 or less, then I must not actually be 5'7", because this guy towered over me. I was shocked at how tall he really was.
Judd
said on 12/Mar/15
Rampage(-_-_-)Clover says on 7/Mar/15
Solid 6ft1 peak
i agree.
Rampage(-_-_-)Clover
said on 7/Mar/15
Solid 6ft1 peak
Judd
said on 14/Oct/14
6'1" as peak height is believable, but today he does look shorter, like 6'0.5"
peak: 6'1"
now: 6'0.5"
Dan
said on 29/Aug/14
I´m 6ft 3in and he was just 1cm above my eyebrows. I would give him 182cm at his best.
Sam
said on 22/Jul/14
Rob, is it possible that since Alan's in his late 60s now, he is a bit under his 6'1" peak?

Editor Rob
yes this could be possible, a half inch less
Hypado
said on 21/Jun/14
Alan Looks 184cm today
Rampage(-_-_-)Clover
said on 29/Dec/13
Might be a fraction under it now.
Mick
said on 13/Dec/13
Didn't look any taller than 5'11" in Die Hard. He was only about an inch taller than James Shigeta (5'9.5")
Mike T
said on 29/Nov/13
I met this guy once at hp7 part 2 premiere and I think he's probably 6'0". I'm about 5'9" and he easily had 3 inches on me. But I agree that he was probably 6'1" at his peak. He 67 right now and I think he was 65 when I met him.
ice
said on 2/Sep/13
legitamate 6'1
avi
said on 10/Jun/13
@Steve says on 11/Aug/12
because this is a height forum... so we must be observant if height is off a half inch. and you are wrong. 1.5 inch is a decent difference, not big but enough to tell. a 5'10 man and a 5'11.5 man there will be a noticable differenc eif next to each other. i also am in the 5'11-6'0 range and i have a friend who is 5'10 (not a strong 5'10) but there is a difference that people can tell. even my other friend who is 5'10 and change i was lined up with him and the difference is noticeable.i feel that 6'1 people are taller than me and its uncomfortable when next to them the difference isnt that big at all.
Mike
said on 24/Apr/13
I met Rickman once and was surprised at how big a man he was (some actors just seem shorter,
Jude Law
is another who fits in this category). I'm 5'9 and Rickman looked 6'2-6'3 in shoes so 6'1 in socks is about right.
Jim
said on 22/Nov/12
avi: your comments are not constructive at all.
Steve: thank you for saying what you said.
Steve
said on 11/Aug/12
avi: I never got what was up with people on this sight always wanting to take an inch or half inch or even a quarter inch off peoples height and thinking it makes a difference. People on here talk like a half inch or an inch is a huge difference in height but to tell you the truth I don't think it's that much of a difference Im 5'11 even and my best friends are 5'10 and 5'9.5 and in realility it's actually such a small difference that we all look exactly the same height most of the time. Maybe he is 6'.5 and if he is saying he's 6'1 doesn't make any difference except being a little easier to say.
jtm
said on 12/Feb/12
avi:did you measured him?
avi
said on 9/Feb/12
Rob he MUST 6'0.6 or 6'0 3/4 not 6'1. this is very close though.
nice guy
said on 30/Jan/12
182cm nothing more
Anouk
said on 26/Jan/12
Alex Zane is credited as a 6 footer and in the DH premiere you can see Alan was about 2-3 cm taller (there's no doubt when the camera is right in front of them). In Michael Collins you can see the railings just behind Neeson and Rickman heads. To me, Rickman is less than 3 inches shorter (or Neeson is not 6'4'').
Gary 6ft3 at 17
said on 24/Dec/11
just watched the deathly hallows premire thing and he was like half an inch shorter then presenter alex zane, alex zane is 5ft11.5 to 6ft? isnt he? so alan cant be 6ft 1
Anna Paula
said on 8/Dec/11
I think its right, I've met him and he is a lot taller than me and I am 170cm
Alissa Snape
said on 4/Nov/11
I see it. Alan is a very talented actor as well.
lea
said on 16/Aug/11
he is 8 inches taller than me.
Rampage(-_-_-)Clover
said on 4/Jun/11
I saw a bit of Die Hard other day and Rickman looked only slightly taller than Bruce Willis. I'm thinking he may have been 6ft0.5 or 6ft0.75 at peak rather than 6ft1
Rampage(-_-_-)Clover
said on 2/Jun/11
Looking 6ft0.5(184cm) today but definitely a solid 6ft1 at peak
Johan Cruyff
said on 29/Apr/11
I met him once! His heights are:
Morning (out of bed)= 6'1" (1.85 m)
After 1,5-3 hrs= 6'0.6" (1.84 m)
After 5-10 hrs= 6'0.15" (1.83 m)
James
said on 4/Feb/11
6'0 today 6'1 peak
Rainbow
said on 29/Dec/10
About three inches shorter than Liam Neeson in Michael Collins (1996).6-1 @ peak.
Hugh 191cm
said on 2/Jul/09
Rickman did not look much taller than Bruce willis in die hard. He did however look even with colin firth in love actually. Probably has lost height at this stage. 184cm nowadays?
Lenad
said on 27/Jun/09
Harris and Rickman looked the same height. I always thought Rickman looked a solid 6ft1 so maybe Harris truly was a strong 6ft1 but whatever they are, I saw the same height
Lenad
said on 27/Jun/09
In the Harry Potter movies he and Richard Harris were about the same
Sasha
said on 2/May/09
I've meet him in person,and he's about 6'1 because I'm 6'0 I work as a model and he come one day to the agency,he looks more skinny tahn the tv and so.he's tall and very nice guy he's kind..:)and for those who say that he's not so tall ..Well..He is tall!!!
DDFAN
said on 3/Apr/09
met him at RADA last week.im 5'10 and he definitely looked 6'1. nice guy.
Mr.X
said on 15/Jan/09
looks very tall in Robin Hood,the same height of Kevin Costner (at least 6'1)...
In Harry Potter movies we all know that the majority of the stars wears lift to appear taller.
Hugh
said on 3/Jan/09
6ft1.5 in his prime.
Sarah
said on 29/Sep/08
He might be shrinking a bit these days; I mean, he is 62 years old. But he's still pretty tall.
Then again, I'm only 5'0"ish, so most people look tall to me.
mr mcr fan
said on 5/Sep/08
hey is 6'1 tall already i'm only 6 flat.
Hugh
said on 26/Aug/08
182cm Lol! he's 6ft1.5-6ft2.
mel
said on 17/Jul/08
I believe Alan is tall. About 6'0". 6'1" sounds okay too.
BTW: Bleemo, Snape is not supposed to be short...just not as tall as Sirius. JK Rowling is very good at giving info when a character is exceptional in any way...ugly, fat, tall, hairy, etc.
Sirius is supposed to be pretty tall (taller than average) as she makes references to this fact a few times. So if Sirius is "several inches" taller than Snape as mentioned in Order of the Pheonix kitchen scene, that could mean that Sirius could easily be 6'3-4" (making him taller than average) and Snape could be 5'11" -6'0" tall ...easily.
Snape is never mentioned as short...just thin. So i have to assume he is averagish....
Can't judge Rickman's height based on JK Rowling's description of Snape....remember Gary Oldman is shorter than Snape in the movie...which is opposite of book.
sabella
said on 1/Jul/08
i think adam is right, he looks 182cm max.
Adam
said on 26/Jun/08
This is a revelation. I thought this guy was a weak 5' 11".
Sid
said on 17/Apr/08
he does seem 5-11 in die hard, to me anyway, but when i met him he WAS 6-1
Robbie H
said on 26/Jan/08
i saw sweeney todd the other day and he must have lost an inch maybe, he didnt look that much bigger than johnny depp, who didnt look above 5'9-10 in the film
Bleemo
said on 16/Dec/07
As far as Rickman not always looking tall in the Harry Potter film,s I suspect they make him look short with camera angles as Snape is supposed ot be short don't forget.
Kevin
said on 15/Dec/07
I met him at a party for the fourth harry potter movie, Im 5'11' and he was at least a couple inches taller than me
Julia
said on 7/Oct/07
I saw him in person a few weeks ago, with his longtime girlfriend. He's definitely over six foot. An ex of mine was 6'1" and standing next to Rickman was pretty much exactly the same. I'm 5'3" and the rather endearing thing is, his gal is shorter than I am. She looks quite pixieish next to him.
kiefer
said on 6/Jul/07
He looked that height in die hard or a bit over. He might have been a little taller than that when he was younger.
fiveten
said on 27/Jun/07
seems like an average height guy....not short...but really does not look as tall as 6'1.... I bet he's 5'11...but I have no basis for this...just looks that way...
Genny
said on 29/May/07
He's 6ft 1, in socks. He came out to sign autographs without his shoes, after one performance some years ago. I was with 6ft 1 bloke I was going out with at the time. Latter took off his shoes and stood back to back with AR. In some,shoes, Rickman probably up to 6ft 3.
Alex
said on 11/May/07
I've just walked past him on tottenham court road. I'm 6ft, and he was taller than me.
Kip
said on 29/Apr/07
he doesn't seem much taller than Gary Oldman in Harry Potter Prisoner of Azkaban, and according to this site he is 5'8.5
Anonymous
said on 4/Nov/06
5'11" Hugh Grant looked as tall as Rickman in the movie "An Awfully Big Adventure".
honey
said on 16/Aug/06
Here's a new picture of Alan with Sigourney Weawer:
Click Here
We all know she's a tall lady and probably in heels here, because of the dress and the event itself (EIFF). So, give her some 2 inches footwear advantage, she still looks a tad taller than him, but he could very well be 184 cm or so.
Letty
said on 1/Aug/06
I saw Rickman at a Q&A of his play "my name is Rachel Corrie" a few months back and he had to duck to get through a door in the stage.
Tubbs
said on 18/Nov/05
Yeah, I noticed that too Ku, Rickman is another guy that you dont really think of as being tall, until you look closely at him compared to other celebs, the same goes for someone like Chris Evans (the ginger one).
ku
said on 17/Nov/05
I notice in Die Hard that never had Rickman stand straight in the same shot as Bruce Willis, so I assumed that Rickman was shorter than Willis. But it seems they didn't stand next to each other because Rickman is taller.
Tubbs
said on 25/Oct/05
Sorry to spoil the party elio, but Rickman doesnt write the script, just learns his lines and acts them out. Anyway he does look 6'1, watch him in Robin Hood, as tall as Costner, and in Close my Eyes, marginally shorter than 6'2 Clive OWen.
elio
said on 12/Oct/05
Anyone seen 'Love Actually' (NOT the best film ever!!!) but the character he plays in that is talking to a younger woman that he works with and talks about whether she has a boyfriend. He says something like 'I bet he's some young, six footer'... almost as if he's comparing himself to him. Seemed odd that someone taller than 6'0, like Rickman would consider 6'0 to be 'tall' and desirable. He definatley seems 6'1 though.
CelebHeights Editor
said on 20/Aug/05

From a guestbook:
"I'm almost 5'8" and AR was quite a bit taller than I. My estimate is 6'1 1/2". (I stare at my autographed photo of AR and I as I type.) On the other hand, it felt that Adam Godley [recently in Charlie and the Chocolate Factory] was shorter than expected--my guess less than 6'"