Robert Englund's Height
5ft 8 ½ (174 cm)
Peak height was 5ft 9 ½ (176.5 cm)
American actor best known for his iconic role as Freddy Krueger in the Nightmare on Elm Street series of films (Freddy Krueger). These photos are from Collectormania events.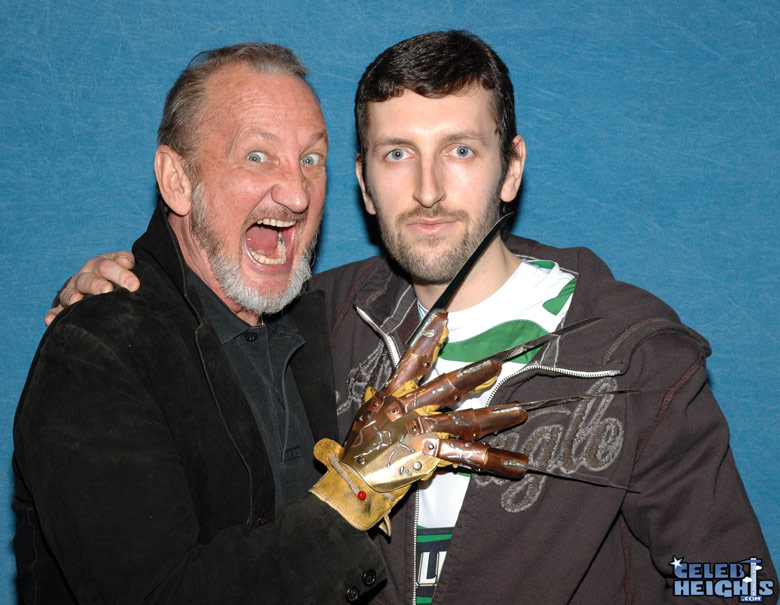 5ft 8 Rob with Robert
You May Be Interested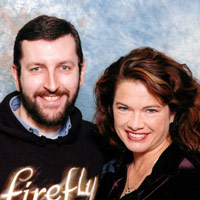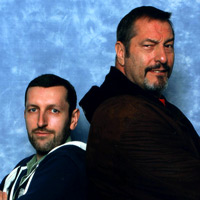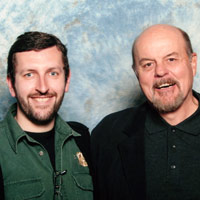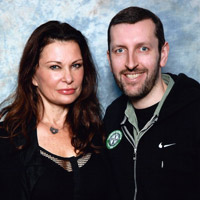 Add a Comment
120 comments
Average Guess (35 Votes)
Peak: 5ft 9.29in (176cm)
Current: 5ft 8.34in (173.6cm)
TheDon1528
said on 24/Sep/20
The listing is spot on
Miss Sandy Cowell
said on 6/Jun/20
🎁🎂🎈👿 Happy Birthday Robert 👿🎈🎂🎁
A Very Happy Birthday to Robert Englund, who turns 73 today. Have a great time, Robert!
5ft9.5 peak; 5ft8.5 nowadays. 😁👍
🎁🎂🎈👿🎁🎂🎈👿🎁🎂🎈👿🎁🎂🎈👿
Littlelee5ft6
said on 29/May/20
How about actress candice de visser his co star in funhouse massacre. They appear in the opening scene together shes listed as 5ft 6 and 5ft 7 online but in very high heels is still several inches shorter than robert. Shes shorter than chasty ballesteros as well so those heights are impossible she is maybe 5ft 3 if shes lucky
MBR
said on 2/Feb/20
Ed O'Neill towers over him. I say 5'9
Miss Sandy Cowell
said on 12/Nov/19
@ Bobby-
I saw them at the pictures! Now when I see them, I find them somewhat fruitless.
⭐ The dreams are supposed to be based on experiences from real people.
Bobby 5'10 (1.78m)
said on 11/Nov/19
Rob, are you a fan of Robert England and the Nightmare on Elm Street franchise? You don't look too excited to meet him 😆

Editor Rob
Yes, I enjoyed those films.
Tom Henderson Jr.
said on 29/Oct/19
That's surprising. He must have been standing on a box behind the table at the convention,because I guessed 6'2"
Miss Sandy Cowell
said on 19/Aug/19
Robert wasn't very horrific in 'The Midnight Man'. He was very nice actually!
5ft9.5 peak and 5ft 8.75 now.
Mambo
said on 23/May/19
Rob, did the other Robert have a straight posture in this photo? It doesn't look like it
Love how you look completely unaffected by him trying to scare you.

Editor Rob
He was taller than me when meeting him yeah, I think even a few years ago still seemed somewhere in 5ft 8-9 range.
Nik Ashton
said on 25/Mar/19
What an amazing thumbnail picture of Rob and Robert Englund!
I think he can foreseeably pull off 5'8.5"!
Anonyon
said on 25/Dec/18
Rob looks annoyed here and not really scared.
Rising - 174 cm
said on 3/Nov/18
@Sandy: The role required Ken tower over Robert so you're probably right that Robert isn't too bothered by looking short next to someone else. Nothing against Ken, but I still think Kane Hodder should have been Jason vs Englund's Freddy. As for Robert, I've seen a really bad film from the 80's called "Never Too Young to Die" where he's much shorter than 6'1"-6'2" Gene Simmons, but Gene wears heels so it doesn't mean much. And by heels, I don't mean men's cowboys or cubans, I mean literally women's high heels! If you haven't seen it, Gene plays a hermaphrodite super villain in the film. The dialogue alone makes it worth at least one viewing.
Sandy Cowell
said on 30/Oct/18
@ Rising - 174cm:
You sent in a couple of great pictures of Robert with Ken Kirzinger.
They show that Mr England is completely happy with his height, which is fantastic!
Today I will give Robert 5ft8 and 5ft9 for his peak.
Rising - 174 cm
said on 29/Oct/18
Hmm, I thought he looked 4" shorter than Andrew Divoff in the wider shot when they're first talking in Wishmaster and I have to disagree with tree, Robert looks closer to 5'8.5" with 6'4.5"-6'5" Ken Kirzinger than 5'9.5":
Click Here
Click Here
He's below Ken's mouth or at the very bottom of his mouth. That's easily 8". The most I can see is 5'9" with Ken and that adds up with Robert in cowboy boots compared to Heather Langenkamp in flats back in '94 as you can see in my post on 7/Aug/17.
Ivan D
said on 22/Oct/18
He's maybe 5'9. The character of Freddy Krueger was always described as 5'8.
tree
said on 12/Jul/18
He looked 5ft9.5 with Ken Kirtzinge
Click Here
Johno
said on 4/Oct/17
About 0.5-inches shorter than Rob
Nik
said on 30/Sep/17
@ Bobby- Hi!
I think that Robert Englund and Rob Paul are both practically the same height, I was torn between 5'8.25" for Mr Englund (like the spelling!) and 5'8.5"!
@ Rob
You must have been up at 5am today!

Editor Rob
Nik, sometimes I am in bed at 9pm and up at 4-5, but usually 10pm and up at 6am.
I never use any sort of alarm clock though.

Usually when I go downstairs first thing I switch the computer on, then get myself a lovely cold glass of Orange Juice (with bits) mixed with a Raspberry/Cranberry juice, boil my 2 hot water bottles, one for my back and one for my hands/lap and start to do some sort of work.

Literally within 5-10 minutes of wakening I am doing something on the Computer...still in my pyjamas...
Bobby
said on 28/Sep/17
So how can he be 5'8.5 and be the same height as Rob? Rob, face it, you're a weak 5'9 guy, because you're a strong 5'8.

Editor Rob
I'm a weak 5ft 9 while stumbling out of bed at 6am :)
Nik
said on 6/Sep/17
@ Rising - 174 cm
Thanks for that. Brilliant pics and he is a random celeb too!
👍
Nik
said on 2/Sep/17
He's around Rob's height!
Rising - 174 cm
said on 1/Sep/17
Thanks, Rob. Robert really does look to struggle with 5'9" in cowboy boots with Heather Langenkamp in flats in 1994, but at least you're sighting can give me a minimum of 5'8.75" and make me comfortable guessing about 5'9" peak and 5'8.5" current. Those photos must have made the difference seem a bit less than it really was, perhaps due to the ground or the two having one person between them. Certainly, those guessing him only 5'8" peak are wrong if he was still taller than you recently in his late 60s.
Broly
said on 29/Aug/17
Rob in the video at 0.50 pause where Arnold is with Robert Englund. He is max 7 cm even a little less I'd say 6 cm (2.5 inches) on him and Robert Englund listed 176 cm (5'9.5) This is a enough to say Arnold was max 183.5 cm in his peak. I say 183 ( Just over 6 foot) Kevin Sorbo said he was 5'11 in the 90's and a lot of politicans has claim "yea Arnold says he is 6'2 but he is 5'11" James Cameron was 187 cm in his peak 6'1.75 and was almost 2 inches taller than Arnold . Let's say 1'5 taller. Arnold real height was 183 cm. All this information makes a fair new list in this page. What do you think? In my opinion he should be listed 6'0.5 max. Rob What's the reason you still have this height? I see a lot of people say he was never 186 cm or 6'1.25

Editor Rob
in the clip he is walking about without footwear, so a guy like Englund is basically going to be at a bigger footwear advantage and seem more a 5ft 10.5 guy.

I think in the Long Goodbye Arnie stood beside Elliot Gould and looked maybe near 2 inches smaller, though had took his shoes off at one point...certainly 6ft 1-1.25 is arguable for Arnie at times.

As low as 6ft? I wouldn't want to argue that...
Rising - 174 cm
said on 23/Aug/17
@Rob: I know you said he could have been 5'9" when you met him in 2006, but what would you say was the shortest you'd have guessed him at back then? I agree with Nik that they're great pics, especially the right. Big fan of Robert. NOES did not work without him, then again I'm not much of a fan of those remakes regardless.

Editor Rob
a weak 5ft 9 at worst in 2006, but 1-2 years ago is last time I seen him and I thought he still seemed 174ish, a bit taller than myself I felt.
Rising - 174 cm
said on 7/Aug/17
Robert always seemed smaller to me than 5'9.5". I can buy as tall as a flat 5'9", but he didn't have the frame of a bigger man, imo.
Check out these 1994 photos from the New Nightmare premiere of Robert in cowboy boots and 5'3.5" Leather Langenkamp in flats:
Click Here
Click Here
Some of the boots he's worn over the years might make him seem a bit taller at times. He's probably 5'8.25"-5'8.5" these days. It's possible he hadn't lost much by the time Rob met him in 2006 as he was only in his late 50s at the time. I know Rob thought it was possible he was 5'9" at that time, but it depends on what's the lowest he could have seen Robert back then.
World Citizen
said on 28/May/17
He looks 172 cm in the left photo, although i'm not sure on the right photo.
Richardspain
said on 23/Apr/17
Incredible! I am taller than Freddy I am not afraid I'll sleep well :-)
Good pics Rob with uncle Robert! This actor is a crack.
Pierre
said on 13/Feb/17
Yeah 5"8.5' seem good,peak height maybe 5"9.25'?
berta
said on 23/Jan/17
back with arnold in that movie he really didnt looke more than max 177. and if arnold was no more than lets say 186 then he could have been closer to 175-176. i dont know about this. 177 isnt that short but to me he have looke short in his movies
Importer
said on 27/Dec/16
*Looks at the picture*
The guy is scarier than you think, you just haven't dreamt of him yet 😲
Sandy Cowell
said on 4/Dec/16
Last night I was trying to order myself a copy of Stephen King's film, 'The Mangler' with Robert in it, but I mistakenly ordered a sequel! Then I found the proper one and I went for that as well! It wasn't long before, while perusing some more, I realized that the sequel was in fact THE THIRD ONE, so now I have a whole new horror trilogy to get my teeth into!
The only one I've seen is the first one. I had an awful copy which kept messing up - you know what I mean! A VHS copy!
I have been after a decent one for ages as there are some tremendous special effects in it. I think it is from the late 80's - early 90's and it will be interesting to compare Robert's height then to how he is today because fortunately for us, he still keeps churning out films to churn our stomachs and hasten our heartbeats!
Baja74
said on 10/Nov/16
Sandy - Always a pleasure. You brought up a really good point about the look of a character. I agree 100% that these guys are far more sinister when they are lean to the point of being gaunt. Doug Bradly, Peter Cushing, Christopher Lee and the list goes on. It's not very convincing to see these overweight guys playing killers and demons, etc. But then again Leatherface is creepy with his linebacker look.
So, yeah, when that fat cenobite comes into the scene, I just laugh and say "seriously? Hahahah, whatever". Kind of like taking a overweight cop seriously. So, I guess killers have to show that they're taking care of themselves.
Case and point is these guys are either tall or short and lean and have the right look. So, 5'8" to 6'5" can be done with the right look.
Not many people these days who appreciate these older films. I need to find a convention like Rob goes to and be surrounded with these fans and actors. Being stuck in Oklahoma doesn't help.
Sandy Cowell
said on 10/Nov/16
Baja74 - ...and so we meet again with new material to get our teeth into!
First of all, when it comes to Robert Englund, I very much agree that he has kept a trim physique and a good deal better than Doug Bradley, though he isn't exactly portly, or is he?
Last night on the 'Horror' channel, they were showing 'Reanimator' and, noticing how gaunt and creepy one of the key characters is, I thought about what you said, raising my awareness towards a horror actor's entire appearance. I think being too thin and hollow in the face can really contribute to a frightening presence. Peter Cushing is a prime example, though he was far too much of a gentleman to be permanently sinister! But he could be when he wanted to!
Then we can take the big, fat cenobite! Could you take him as seriously? I couldn't! One thinks "Where the Hell does he find the time to eat so much? He should be busy terrifying the wits out of people, not eating!"
So I think the conclusion is that tall and thin is by far the ideal for a horror actor!
Lastly, I haven't seen Englund interviewed at all, but that can surely be rectified by finding the 'extras' on one of my DVD's with him in it! I often do that! It can help me determine whether I like an actor or not!
Well then, have a great day! Bye for now and keep on enjoying the 'horror' films!
Baja74
said on 8/Nov/16
Sandy - We gotta stop bumping into each other like this. Haha. I would say that Robert Englund seems like the coolest horror film guy around. I've seen him on interviews and seems like a down-to-Earth guy. As we were discussing Doug Bradley's height before, I would say that Robert and Doug are similar in their lean look when they are in character. I think Robert has kept his lean look better than Doug though. And judging by this photo with Rob, I would say if postured up better he would look to be an even 5'8". And maybe peak 5'9". And possibly 160 for his weight.
Sandy Cowell
said on 7/Nov/16
My introduction to Robert Englund was in the cult series 'V', wherein he played the part of a thoroughly likeable and docile alien character. In fact he was my favourite! He was one of the aliens who actually had any good in him AND it suited him so well!
What a surprise when he took on the part of an unseemly child killer in 'A Nightmare on Elm Street!', whose spirit has come back to kill kids in their dreams as an act of revenge for his own slaughter by the heartbroken parents of his victims. His height seemed hard to guage in that film or the many sequels because of the nasty regalia he 'decorates' himself with, but having done so many other films since, including 'the Wishmaster' and '2001 Maniacs', it is easy to see that he is distinctly of average height!
Scott
said on 30/Oct/16
Spot on listing. He looks this height.
Roy
said on 3/Jun/16
It's incredible how 174cm can look a whole cm below 173cm. Rob must have a huge footwear advantage in those pictures.

Editor Rob
there's no difference in shoes, but I think his posture isn't as good, he really did look taller up close.
James
said on 19/Mar/16
Hey Rob I wanted to ask you if you are 5'8" with normal foot wear on? Or 5'9" with shoes? Because if you are 5'8" without shoes, then Freddy looks to be spot on 5'8" like you if he were postured up better. How cool you get to meet all these people. I'm jealous!

Editor Rob
5ft 8 barefeet, I think Englund still looks over 5ft 8 today, but 20 years ago was taller.
Chase Witherspoon
said on 15/Nov/15
I recall him early in his career in Tobe Hooper's Eaten Alive 1976 and he looked very slight, lean 5'9" he was wearing cowboy heels but still didn't appear tall, if that makes sense. Reckon 175-176 might be a good shout then 173-174 perhaps more recently....
Armandy 6'1.5
said on 1/Sep/15
Peak 176 gamma @ eclipse
Michael2012
said on 4/Aug/15
Rob I think you kinda look taller?

Editor Rob
I think Englund is still over 5ft 8 flat, somewhere in 8.5 range today still!
120
said on 12/Apr/15
I like the picture on the left
Your facial expression reads "I'm still not amused", lol.
Alex 6'0
said on 25/Jan/15
Rob, when was this pic taken? Looks 5'8.5 range if up straight in left pic. Peak looked near 5'10

Editor Rob
I think 2006 and 08/09, but I seen him up close twice in last few years and think he still looks around 5ft 8.5
Byron T.
said on 30/Nov/14
@ Eclipse: Here's another version of my photo with Robert Englund without the eye effect:
Click Here
Obviously, he has a better posture than me in the photo, but there's still a height difference between us. I still think he's more than 5'8,'' but not a full 5'8.5.'' I didn't measure him nor his boot heels, so I'm just going by my own observation.

Editor Rob
I think one thing is he has a lost a bit of height by today.
Darwin
said on 27/Nov/14
Eclipse. You are wrong
Eclipse
said on 20/Nov/14
Peak: 5'9
Today: 5'8
Robert was never 5'10. Sorry.
Byron T.
said on 11/Nov/14
@ Rob: Well played! :) I really enjoyed meeting Robert Englund! He was very friendly and energetic!
Byron T.
said on 10/Nov/14
Here's my photo with Robert Englund at Wizard World Ohio Comic Con 2014:
Click Here
I thought he looked around 5'8'' and some change in person (not sure about a full 5'8.5.'') I'm 5'9'' and was wearing 1.5 inch heeled boots. Robert was wearing boots too (not sure how sure how many inches his heels were). I'm slightly hunched over in the photo, which is why I'm not looking 5'10.5'' Here's our footwear:
Click Here
Click Here

Editor Rob
you're looking a bit pale, I'd recommend getting some Sun!
Alex 6'0
said on 25/Oct/14
Peak looked at least 5'9. Today prob 5'8 but with Rob he looks 5'8.5 if up straight. Rob how long ago was this pic?

Editor Rob
quite a few years ago, but I seen him twice up close last year and year before and I think still looked near 174 range.
Bud
said on 14/Sep/14
Rob wasn't his peak height 5'9 here in the past?
TJE
said on 5/Sep/14
I could see a weak 5'9 for him if he stood up straight.
Tim
said on 18/Oct/13
Why are you taller than him? Where you wearing lifts?

Editor Rob
I don't wear lifts. If I did it would be obvious as I'd look a 5ft 9.5! But I saw Englund a couple of times recently and think he's still a little taller than me when not trying to scare you :)
Sam173cm
said on 20/Aug/13
Hi Rob, in which year did you take this picture?

Editor Rob
2007 and 2009 I think
Big Ben
said on 4/Mar/13
Seems right. A strong 5'9" back in the eighties.
Michelle
said on 26/Jan/13
Well when I met Kane Hodder, we were about the same height 5'10". He might be a half and inch to an inch taller. When you see Robert stand next to Kane, there is an obvious height difference. I would say R.E, is about 5'8"
The Exorcist
said on 18/Dec/12
Awesome photos! He seems like a really cool guy for getting into character for the fan pictures. It's just a shame that he's not standing up straight so we can estimate his height a bit more accurately. lol

Editor Rob
I spoke to him a few months ago and he is nearer 5ft 8-8.5 range today
Steven
said on 12/Dec/12
peak 5'9 claim 5'10 and 5'8 nowadays.
Sword
said on 13/Oct/12
He looks shorter than Rob!
Shaun
said on 16/Sep/12
This guy looks like he could be Rob's father or uncle or something.
Danimal
said on 8/Jun/12
Just saw him on a 1985 episode of Night Court. 5'6" Markie Post (Christine) had about 3" on him. They stood side by side for a couple of minutes. Even if she was in heels, He's under 5'8". The episode is called: Dan's Boss.
ACG
said on 27/Nov/11
I'd say damn close to if not 5'10" at his peak and less than an inch shorter today. The pics with Rob are crap for height comparison.
Adamz
said on 23/Nov/11
a legit strong 5'9" guy
Alissa Snape
said on 4/Nov/11
Definetly. I love Rob!
LAN Jiao
said on 18/Oct/11
I see 5'8-1/9
Mr. Tempus
said on 8/Oct/11
5'8, probably a flat 5'9 in his prime.
Danimal
said on 3/Aug/11
Robert is also well into his 60's. 1" height loss is very probable.
Nikki
said on 3/Aug/11
that pic is so funny! i saw robert englund on bones too and he was acc. klass! x
Levon 2.0
said on 13/May/11
In the 1st photo he looks 5'8.5" and the 2nd (he's slouching) short then you Rob. But considering what he's doing, he wasn't standing good at all, so that one doesn't count.
In his prime, he was probably close to 5'10". I'd say 5'9.5"
Big Mike
said on 20/Mar/11
Yea alot of sources said Freddy was to be 5ft8 or 5ft10 the weight I would say 160-175 in Phantom of the Opera he looked 6ft but he wore a big heeled boot he's what in his late 50's now he must be losing some height but I guess 5ft9 could a possiblity
DMaN1528
said on 8/Feb/11
looks more like 5foot8 could be slouching so maybe 5foot8.5
RobA
said on 2/Dec/10
I would say he's about 5'8 as well as Rob..I met Robert Englund n he was way taller then me lmao.. but then again everyones taller then me lol
dman
said on 17/Jun/09
5'9" seems rite
Haze
said on 17/Jun/09
actually if im not mistaked jason was always listed listed at 6'5
Jay
said on 16/Jun/09
Love him sooo much. Would love to meet him too.
Big King
said on 16/Jun/09
He has exactly the same height as Rob. So he could be 174cm what is a legit 5'8.5".
Anonymous
said on 10/Jun/09
Jason Voorhees has been listed as 6'3". Michael Myers I've seen listed both 6'0" and 6'2". Leatherface listed at 6'3" and Freddy listed at 5'10".
Although actors of different heights have played them....a couple if them.
Jason and Leatherface have always been listed at 6'3"...there characters...
Alex
said on 31/May/09
I've seen the Myers character listed at 6'0 plenty of times too. Jason is listed at 6'3 though you'll have a few actors who were over 6'3 like Ken Kirzinger at 6'5-6'5.5 and Ted White at 6'4.
It was more around 3 inches between Hodder and Kirzinger in Jason Takes Manhattan diner scene. I am thinking Kane may have only been 6'2 1/2 peak and today more 6'1 1/2 to 6'2 tops.
Anonymous
said on 19/May/09
Michael: 6'2
Jason: 6'3
Freddy: 5'10
Those are the heights that I saw (generally) listed for those three. The heights I've read for the actors portraying them are
Hodder: 6'3
Kirzinger: 6'5
Englund: 5'10
Mane: 6'8-6'10
Hodderfan
said on 10/May/09
I remember reading Kane saying in an interview that he was 6'3" and Kirzinger was a half inch taller. I think Kirzinger is more than a 1/2 inch taller though. Kirzinger looked liked 2 inches taller when they were next to each other in Part 8 (diner scene).
Anonymous
said on 28/Mar/09
no, in a commercial, Jason was listed as 6'8"
Michael at 6'3"
and freddy at 5'9"
Alex
said on 6/Feb/09
Jason's character is 6'3. Freddy is 5'10 and Myers is 6'0 though you'll guys of different height playing those guys.
Anonymous
said on 6/Feb/09
Btw the actor who played Michael is 6,10 so 6,2 is wrong
Viper
said on 5/Dec/08
LOL at Jason being 6-8.
mercyme
said on 4/Dec/08
on a seed of chucky preview. it's has a growth chart
it says
Jason:6'8"
Michael Myers as 6'2" or somthin
and freddy krugar as 5'9"
Haze
said on 2/Nov/08
just watched him in zombie strippers. looked 5'10 ish in movie. and with shoes that makes his listing believable.
Anonymous
said on 20/Oct/08
keep in mind that rob is a strong 5'8, so englund at 5'9 makes sense
Alex
said on 18/Oct/08
With Rob I wouldn't say more than 5'8 max though. Maybe his posture isn't good or Rob has a footwear advantage. Or he could have shrunk 2 inches as well. I'd say peak is 5'10 and now 5'8-5'9.
RICHARD
said on 18/Oct/08
I agree,Alex. Rob didn't look under 5'10 in any of the "Nightmare" films or any other movies in the 80s/90s. He's in his 60s now so he definetly shrunk down to 5'9. His peak height was 5'10 or 5'10.5
Alex
said on 16/Oct/08
Englund looked 5'10 back in the 80's.
Ian
said on 1/Oct/08
Rob must be wearing his lifts.
Big King
said on 7/Sep/08
Rob, are you joking? Englund doesn't even look a hair taller than you. 5'8 1/2" should Englund's height be.
XYZ
said on 25/Aug/08
Might be 175 cm even nowadays. Look at his neck, he isn't standing totally straight. 175 cm sounds like a good estimate to me. Guess he'd be 1 inch taller than Rob, when standing properly.
Lenad
said on 24/Aug/08
It looks like he scared the hell out of you and accidently scared himself
Lego
said on 19/Aug/08
Englund is one of the best actors around and lots of fun to be with.
i'm not sure about the 177cm height though, i reckon he's more of a 175cm man (with a longish head), he did not seem to lose much height either maybe 1cm at the most.
so 175 before, 174cm now. imo.
toppo
said on 24/Jul/08
wow, I'm pretty good at guessing actors heights but you guys got me on this one. I always thought Englund was 5'8' max!
wstat
said on 1/Jul/08
oh ok. cool thanks.
wstat
said on 28/Jun/08
I actually thought Englund was 5'8. To the Editor: You sure he's 5.9? Is he slouching there with you Rob? If he's 5.9 then i'm surprised but this could just be me.

Editor Rob
I estimate him around 5ft 9. 5ft 8 with poorer posture I believe.
RevInstone
said on 10/Apr/08
He likes to get close up face to face and sometimes in pic's gets on his tip toes. No **** i've seen it and he did it with me. I guess he does that because he is only 5'9.
Rusty James
said on 9/Nov/07
The person who played mike myers, in the original halloween WAS six foot.
mofo
said on 8/Nov/07
Don't worry rob I'll save you from his evil clutches!
Alex
said on 5/Nov/07
He looked at least around 5'10 in the Nightmare on Elm Street movies. Maybe his boots gave a bit but surely was at least 5'9-5'9.5
Anonymous
said on 31/Oct/07
A few of the guys who played Michael Myers looked well over 6 feet too.
derek
said on 30/Oct/07
Rob how tall did he appear to u? I know he seems 5'7.5 in the bottom pic but he's most likely sloutching.... Did he seem a full 5'9?

Editor Rob
I still thought he had loose posture in the bottom one, more loose than me of course.
Anonymous
said on 30/Oct/07
looks 5/8 =/
Alex
said on 30/Oct/07
He looks 5'9 but with Rob he looks more 5'8 but would be taller if stood up straight. Rob, what did you estimate him at?

Editor Rob
he can look 5ft 8-9, I feel he can squeeze more height from his posture.
Markus Zorin
said on 30/Oct/07
Lol Rob! The guy's got a good sense of humor :)
Looks about your height, maybe a tiny bit shorter in 2nd pic. But can't really see his posture too well.
Johnny C.
said on 8/Jun/07
Weird. I was looking up his height because I wanted to do a comic with him fighting Johnny (from Johnny The Homicidal Maniac) and Johnny's 5'9 too.
Alex
said on 5/Feb/07
I know the shortest Jason was in part 2 who was 6'0-6'1. After that you had Brooker and CJ Graham who were 6'3 a piece. Kane Hodder who's height is debatable from 6'1.5-6'3 but most believe he is 6'3. Then Ted White who was 6'4. Then Ken at 6'5, maybe even 6'5.5 but his footwear is tricky as it is for Kane too.
Robert Englund is old now, so he's def not as tall as he once was. 5'9-5'10 back then and today could be as short as 5'8 but no lower than that.
Glenn
said on 31/Dec/06
And so is Sly.
Glenn
said on 30/Dec/06
Jason is supernatural.
Viper
said on 30/Dec/06
Hell, this is Jason we are talking about. Nothing too shocking about him growing in every movie to me.
S.J
said on 28/Dec/06
Alex: the reason why jason is 6,3 is bocuz every jason actor exept Ken Kirzinger and the guy from part 2 is around 6,3 the director of Freddy vs Jason wanted Jason to be very towering thats why they picked ken kirzinger for that role
Alex
said on 9/Dec/06
The Jason character they have at 6'3 and Freddy at 5'8 while it appears more of a difference. Ken is 6'5-6'5.5 and they still had the jason character at 6'3.
RICHARD
said on 5/Nov/06
HE IS DEFINETLY NOT 5'8''. I'M 5'8'' AND HE'S TALLER THAN ME SO HE IS AT LEAST 5'10''.
Glenn
said on 3/Nov/06
I heard 5-10 for him too but dont believe it.the character Krueger is a modest 5-8.and Jason is 6-5.
Alex
said on 2/Nov/06
He's no more than 5'9.
Jake
said on 2/Aug/06
The 6'3" listing for Jason comes from Kane Hodder. Englund was the only ever Freddy. I think 5'8" - 5'9" is a good guess. I'm a true fan.
TNTinCA
said on 26/Jul/05
I have the Freddy vs. Jason DVD and they actually say Freddy is 5'10" and Jason is 6'6". It's also mentioned in the director's commentary. (which is hysterical by the way)
Cycklops
said on 8/Jun/05
I'm not sure about that. In the promos for the "Freddy vs. Jason" movies they said Freddy was 5'8". I don't know why they'd make Englund shorter than he really would be...so I'm guessing he's 5'7" or 5'8" tops.