Robert Rodriguez's Height
6ft 2 (188 cm)
American Film Maker of Spy Kids, Sin City and Machete. In his book 'Rebel without a Crew' he stated
"Since I'm 6'2""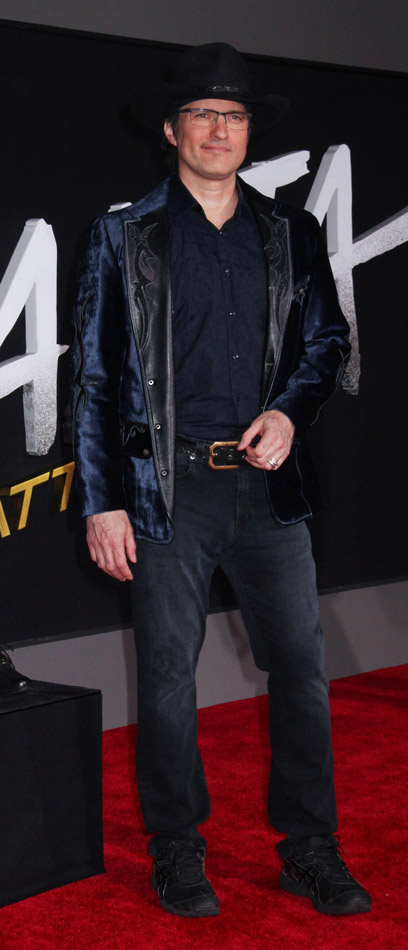 Photos by PR Photos
Add a Comment
20 comments
Average Guess (8 Votes)
6ft 1.81in (187.5cm)
Miss Sandy Cowell
said on 3/Oct/20
Robert must be close friends with Quentin Tarantino. They are only a (close!) inch apart in height to boot and they work so very well together.
My favourite of the Rodriguez/Tarantino collaborations has to be 'From Dusk Till Dawn' - simply bursting with black humour. 😁👌
Even my Dad likes it, but if I'd shown it to my Mum, big as I am, I'd have got a spanking!
6ft2
🎥🧛‍♂️🦇🧛‍♀️🎬
Yang (5 footer 8, 173, Aries)
said on 28/May/20
Slightly taller than Quentin Tarantino with 6ft 1..
Sandy Cowell
said on 27/May/17
I noticed Robert's name come up on the credits after a film I saw this week as the writer of the film's songs! So this 'Big Rob' has another talent up his sleeve to impress us!
Good for him! Impressed I most certainly am!
Robert can have a sturdy, solid 6ft2 from me today, and much respect for never failing to amaze me and goodness knows how many others!
I acquired a copy of his follow-up film to 'Sin City', called 'Sin City 2 - A Dame to Kill For'! It is absolutely packed with stars! I think this is the prompt I needed to watch it today! 👍📺📀😄
RAY
said on 30/Jul/15
He is tall, but always wearing cowboy boots. (3)
Hypado
said on 26/Jun/14
He is tall, but always wearing cowboy boots. (2)
Rey
said on 23/Aug/13
He is tall, but always wearing cowboy boots.
Rampage(-_-_-)Clover
said on 13/Aug/11
Actually if Tarantino is 186-187cm then maybe this guy is a bit more than 6ft2, Rob?
[Editor Rob: he wears cowboy style boots a bit, maybe he can appear over 6ft 2 at times because of this.]
camilo
said on 11/Jul/11
Benicio Del Toro is also white hispanic.He is Puerto Rican of Spanish, Catalunyan, and Corsican ancestory. He's not mestizo or mulatto, but of european descent.
Rampage(-_-_-)Clover
said on 9/Jun/11
Looks barely taller than Tarantino who have down as 6ft1
Rampage(-_-_-)Clover
said on 2/Jun/11
187cm, Rob?
[Editor Rob: at the moment I couldn't say if he was 187, but he sure looks 188cm a lot of time. He wears cowboy boots at times though...]
Drew
said on 31/May/11
@Aaron, Mexican is hispanic, hispanic is just a term used to generalize all Latino people. And here in the US, there isn't a specific racial term for Latinos, so they are all put down as Hispanic Caucasian.
Aaron
said on 19/Apr/11
Matt, Rodriguez is white. He's Mexican, and Hispanic, but he's a WHITE Hispanic. That's an actual category on the US Census. In other words, he's pretty much 100% European, and looks it.
...And that's why he's so tall "for a Mexican". I have a Mestizo friend who has a Zapotec father (5'4") and a Swedish mother (5'9"), and my friend is 6'4" and built HUGE.
Del Toro is another story. I don't know what's going on with that guy.
biggie
said on 28/Mar/11
pretty tall dude. On most pictures he looks taller than 6 ft2 , more like 6`4. Danny Trejo looks like a Shrimp next to him.
RR is still a brilliant creative Filmmaker
thebad7
said on 8/Mar/11
Plenty of pics are available online for people to see of him & his buddy QT. He has at least 1" on 6'1" QT. True, he does favor cowboy boots, but lots of people do as well--QT included--and he is a born & bred Tejano with a flair for Western flavor. 6'2" is right for RobRod.
tb7
michael
said on 8/Jan/11
i agree, he does look tall, but let's not forget he has worn high heel cowboy boots for his entire career.
TheVerve180
said on 20/Dec/10
@Matt well put, lol.
jtm
said on 8/Dec/10
he is no more than 6'1 on a good day.
Matt
said on 8/Dec/10
He actually looked slightly taller than Tarantino in a pic I saw of them together, so this makes sense. Damn, this guy is HUGE for a Mexican. Being 6' 2'' and Hispanic is like being 6' 5'' for a white man. Him and Benicio del Toro are like the Lundgrens of their race lol.
Lee Murray
said on 7/Dec/10
am 6ft 2 i met him in london 3 yrs ago this guy 100% 6ft 2
linke
said on 6/Dec/10
same height as quentin tarantino.