Robin Wright's Height
5ft 5 ½ (166.4 cm)
American Actress best known for roles in movies The Princess Bride, Forrest Gump, Message in a Bottle, Moneyball, The Pledge, The Conspirator, Everest, State of Grace and TV series House of Cards.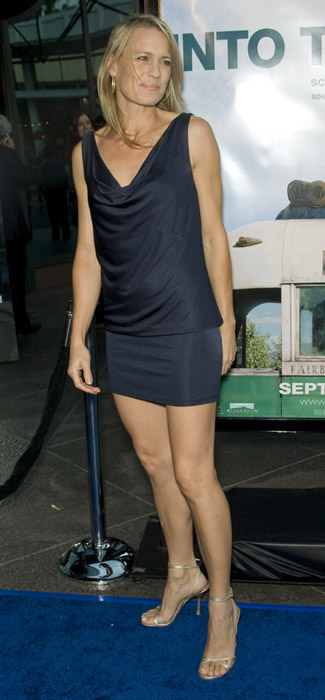 Photo by PR Photos
Add a Comment
30 comments
Average Guess (16 Votes)
5ft 5.75in (167cm)
Arch Stanton
said on 28/Jul/20
I don't know about her looking 5'9 or 5'10 in Gump but she could certainly pass for 5'6.5-5'7 range at times on screen. Rob can you add Message in a Bottle, Moneyball, The Conspirator and Everest?
anca
said on 20/Mar/20
1.63
Nik Ashton
said on 16/Mar/20
@ Sandy Cowell - It doesn't matter a jot! Both your comments are very interesting and this comment of mine will be written and submitted six months to the day after your last comment on this page! 😀👌
Miss Sandy Cowell
said on 16/Sep/19
⭐ Yes, they do have kids - two. Dylan is 26 and Hopper's a 24-year-old. If they follow their parents into the acting profession, they might even make it onto Celebheights one day!
Miss Sandy Cowell
said on 16/Sep/19
Robin was married to Sean Penn for some 14 years, and he's only 2-and-a-half inches taller than her, so with high heels, she'd be taller than him, but does it matter? Sean seems to be able to attract ladies of all sizes, from Madonna, smaller than Robin, and Charlize Theron, who must be around 5ft10.
I wonder, do Robin and Sean have any kids? I'll have to look into that one....
Robin gets 5ft5.5. 😁
anonheight
said on 25/Jul/17
5'6 seems accurate for her height
Mimi
said on 7/Jul/17
She looked noticeably shorter than Gal Gadot and Connie Nielsen in Wonder Woman. Definitely 5ft5-6
ArjunaKorale
said on 7/Jun/17
I liked her immensely as Antiope in the new Wonder Woman movie, but I didn't like it when they killed her off in the first half of the film...they better do a rethink & bring her back (somehow) for the sequel! Commenting on her height, I'm guessing anywhere from 5 ft 5 to 5 ft 6 (165 - 168 cm)...after all, she played a great AMAZON warrior & one thing that Amazons are known for is their height! Although, even amongst the other Amazonian actresses in the cast (who stood mostly around 5 ft 8 to 6 ft tall), Robin was slightly dwarfed - the Amazon Queen & Wonder Woman herself both stood around 5 ft 10.
Podrick
said on 5/Jun/17
Very accurate, seems around 3-4 inches shorter than kevin spacey in house of cards, and he's maybe a fraction over 5'9". 5'5.5" girl who rounds up, nothing unusual.
anonheight
said on 17/May/17
She's said she's about 5'6 or so.
Arch Stanton
said on 15/May/16
Incredibly beautiful in The Princess Bride. Like a Norse goddess.
Rampage(-_-_-)Clover
said on 22/Feb/16
Even in when she's in heels Spacey is a few inches taller.
jtm
said on 8/Dec/15
she has that tall look but it's obvious she isn't over 5'4 when you look at her with other poeple. shorter than molly parker even with better posture. if parker is 5'5 then wright might be more 5'3.5.
GP
said on 14/May/15
I saw her recently and she is very close to 166cm, possibly 165. I always thought she was at least 5'6". It makes sense that I also saw Ben Foster at 5'8".
Judd
said on 9/Nov/14
really 5'5.5"? i always thought she was at least 5'7"...she gives me the impression to be taller...maybe her long legs...
Arch Stanton
said on 10/Oct/13
Rob, why do you have two pages for her at different heights? She looks around 5 ft 6 in Forrest Gump, 167cm probably spot on but 168cm also possible. Barefoot she looks about this next to Tom Hanks.
[Editor Rob: one would be a duplicate page which didn't get deleted at the time]
Liesbling
said on 13/Oct/11
In the video of Robin with the 5ft3 Isabelle Huppert and 5ft5 Shu Qi, she looks roughly 5ft5.75 to 5ft6. No way is she below that mark.
Daphne
said on 14/Aug/11
Sock! She appeared 5'9" or 5'10" in Forrest Gump... It's so so so AND so crazy!!! WOW!!!
jtm
said on 12/Feb/11
rob why is she still listed at 5'6? she never looks that height.
[Editor Rob: she could be a bit under but I'm not sure about 5ft 5 as yet, I don't think she looks that mark]
Alejandro
said on 11/Feb/11
I've stood next to Sean Penn at a local Barnes & Noble (in Corte Madera) with his son, he's 5'8.
jtm
said on 6/Feb/11
rob 5'6 is way off. she definitely needs a downgrade and you could take penn off since her and sean are no longer together.
jtm
said on 5/Feb/11
rob if robin is 5'6 then sean penn is at least 5'10 and tom hanks is at least 6'2 plus michelle pfeiffer who i also don't think is 5'6 was a couple of inches taller than robin.
mmmm
said on 4/Feb/11
I live in her town in Northern California and I have stood next to her at the market. She is no more than 5'3". Very tiny & skinny. Sean Penn is about 5'7". Look at photos of them together.
Sashank
said on 27/Jun/09
She is definitely not 5'6 because I have seen a lot of her films and actresses who are 5'4 to 5'5 appear taller than her[without heels].So,I say she is about 5'3.5 to 5'4
Debbie
said on 23/Feb/09
If Sean Penn is 5'8 look at this picture, Robin must be wearing heels and she is still not taller than he is so 5'6 doesn't seem possible.
Click Here
Sashank
said on 26/Jan/09
Well there's a pic of hers with juliet binoche from the premiere of breaking and entering where binoche,who is 5'6, seemed convincingly taller than her,so I should say she is 5'4 to 5'5 max.
Cec
said on 4/Jul/08
I'd say she's 5ft6. she is really gorgeous, and thin and slender, and that makes her really beautiful, but she doesn't seem taller than that.
Anonymous
said on 22/Apr/07
she really does look 5'6, she can't be shorter.
Austrian
said on 12/Nov/06
whoever you are mb... hardly ever read anyones comments on this website that seem to be so full of jealousy :)
Robin Wright is amazing, a great actress, and one of the most beautiful women there is for me
mb
said on 14/Mar/06
Stood next to Robin Wright Penn in a deli in Northern CA near her home. I am 5'2" and she was shoulder to shoulder with me AND she was wearing clogs. I would say she is 5'3" max. And she is absolutely RAIL THIN - scary.