Ron Howard's Height
5ft 7 ½ (171.5 cm)
Peak height was 5ft 8 ½ (174 cm)
American actor and director best known for playing Richie Cunningham in TV sitcom Happy Days and for directing films such as Splash, Willow, A Beautiful Mind, Apollo 13, The Da Vinci Code, Rush and Ransom.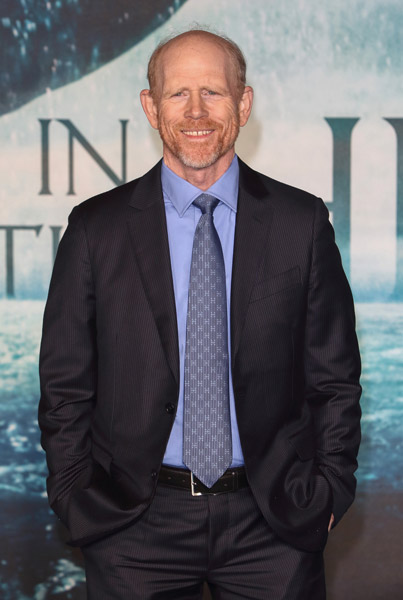 Photos by PR Photos
Add a Comment
37 comments
Average Guess (15 Votes)
Peak: 5ft 8.45in (173.9cm)
Current: 5ft 7.42in (171.2cm)
Matt99
said on 7/Mar/20
Rob did you downgrade him? I'm sure he was listed 5'9 peak.

Editor Rob
From all I've seen, I think 174 range was quite possible
Miss Sandy Cowell
said on 1/Mar/20
🎂🎬🎁🎈 Happy Birthday Ron! 🎈🎁🎬🎂
Wishing the fabulous actor and director of so many deep and touching movies a very enjoyable 6️⃣6️⃣th Birthday.
Peak Height - 5ft8.75; 🎉
Today's Height - 5ft7.75. 😁
🎂🎬🎁🎈🎂🎉🎁🎈🎂🎬🎁🎈🎂🎉🎁🎈
lustrousladhandsomebrady66
said on 16/Apr/19
I'm eight months older than Ron Howard and currently stand five-eight-and-one-half,so I likely was once five-nine .I always thought Howard and I were about the same height .
Miss Sandy Cowell
said on 26/Mar/19
What a great fellow! I'm watching him talking with enthusiasm about his film 'Inferno', and what a great time he had making it and keeping an online diary for his fans to enjoy. Yes, the Venetian scenery is staggering as are all the special effects. Just watching Ron chatting about how much he enjoyed making it is surely going to rub off on my next viewing of it - which is starting in a few minutes' time!
Ron stands, wearing a little cap, and looks of short - average height, so I will go for 5ft7.5 for now and 5ft9 peak.
Vijayan
said on 26/May/18
Click Here
:
Rob would you not think Howard was more 5'7.5 these days?
He looked shorter than 5'8 Alden
CDS
said on 16/May/18
I noticed the current guess has Howard at just over 5'7" which is interesting since I just noticed Howard at the current Cannes film festival in progress lined up on the red carpet next to one of the stars of "solo", 5'9.5" woody harrelson, and it does look like there could be close to 2 inches between them??
RisingForce
said on 11/Jul/17
The absolute most I could give him is 5'8.5". He wasn't much taller than 5'7" max Robin Williams back in the 70s or even a 5'6" Henry Winkler:
Click Here
Click Here
Click Here
Click Here
Keep in mind when Ron made The Shootist, even in footwear(cowboy boots, no less, iirc), a 68 year old John Wayne in bare feet towered over him by what looked like at least 6-7 inches. It's doubtful Wayne could have been 6'3.75" at this time since Jimmy Stewart, listed 6'3" on this site and only a year younger at 67 appeared a bit taller than Wayne in the film. It wouldn't surprise me if he was never taller than 5'8" based on these comparisons, but 5'8"-5'8.5" seems a likely range. I'm not sure about his current height.
James
said on 11/Feb/17
Ron Howard was never any taller than 5'7" without special shoes.
josh jeffords
said on 9/Oct/16
He did look taller at least 5 10 in american graphiti but lot of short actors in it.
Luckily too young to watch happy days :> but he also looked at least average in Grand Theft Auto.
I think he shrunk but was average or close too younger.
Ian C.
said on 14/Jul/16
Did anybody else think that he was a six-footer in American Graffiti? The character he played (most popular boy in school) would have had to have been tall.
Tom
said on 20/May/16
Was Howard ever really 5'9" or was that just his official height? I doubt he was ever more than 5'8".
Editor Rob: I believe he could look anywhere from 5ft 8 to 9.
James
said on 12/Apr/16
Ron Howard is 5'7".
James B
said on 28/Mar/16
Looks much shorter like 5'6 or 7
Editor Rob: Howard has shrunk...how much is debatable, at times on HD you'd think he could be only 5ft 8-8.5, but then other times with Henry he looked near 5ft 9
Panadawn
said on 8/Dec/15
People get shorter with age, he's 61 now, which is about when you start getting shorter.
Meezemaker
said on 24/Nov/14
173 sounds right. (Like he said in a Happy day scene / translated french version)
Meezemaker
said on 24/Nov/14
In the Happy day serie (french translated version), there a scene where he is telling I am 173 cm.
Rampage(-_-_-)Clover
said on 14/Nov/14
c'mon! 5ft6?
Mr. R
said on 18/Sep/14
I saw Ron tonight at a screening of his new film "Heart of the Sea" about what led to the writing of the novel "Moby Dick". I chatted with him for a few minutes. Ron comes in pretty short at 5-6.
Wishbone
said on 26/Jul/14
It isn't easy to make the transition from child performer to adult performer. Some child performers have died too young,some got in trouble with the law,and some child performers tried other careers after growing up. But some child performers did make smooth transitions to adult performers. Patty Duke,Natalie Wood,Shelley Fabares,and Ron Howard all made the transition from child performer to adult performer comfortably. (Special mentions: Bonnie Franklin popped in two Ma And Pa Kettle appearances and a nice appearance in The Wrong Man long before going to One Day At A time,and gymnast Cathy Rigby is an accomplished singer/actress/dancer.) Ron Howard made the best "child to adult" performer transition,from Opie to The Music Man to Happy Days and Best Director Oscar winner for the 2001 Best Picture Oscar winner A Beautiful Mind. Yet he looks closer to my 5'7" height.
Arch Stanton
said on 10/May/14
Rob are you sure about a full 5'9"? It's really difficult to see this in The Shootist and in American Graffit he looked more 5'8" range.
[Editor Rob: I think he looks taller than me when with henry winkler, a weak 5ft 9 isn't impossible]
Arch Stanton
said on 10/May/14
Mmm he looked nearer 5 ft 7 to me in The Shootist next to John Wayne and Lauren Bacall. I thought actually Lauren looked a bit taller but I didn't notice her footwear. He looked a small guy next to Wayne. who looked easily 8 inches taller to me.
Robby D
said on 27/Apr/14
He looked the same height as Lauren Bacall in "The Shootist."
Arch Stanton
said on 27/Sep/13
I'd guess 174cm in American Graffiti.
Artyzip
said on 1/Jun/13
@tex says on 19/May/13
I believe you. Here he is with 5'9 Jamie Foxx:
Click Here
tex
said on 19/May/13
Ronnie Howard is no more than 5'7" tall. Met him once.
Chunkamonk
said on 23/Jan/13
I don't think he was 175cm. He looked 174 at best next to 167-168 Henry Winkler in Happy Days.
TallJohn
said on 7/Sep/11
I've met Ron Howard and he looks 5'9", nice guy too
Also Zack Hull, Vince Vaughn is 6'5", he did a movie that Howard directed
gregory lehmann
said on 19/May/11
Child actors generally don't make good transitions into adult performers,but many have. Patty Duke (5'),Jodie Foster (5'3"),Elizabeth Taylor (5'3"),Shelley Fabares (5'3"),Valerie Bertenelli (5'2"),Roddy Mc.Dowell, Susan Dey (5'7"),Nancy Mc.Keon (5'3"),and Ron Howard all made solid transitions as adult actors,with 5'7" Howard also nabbing a Best Director Oscar for "A Beautiful Mind."(Special mention:4'10"Mary Lou Retton and 5' Cathy Rigby,teenage gymnasts who also made smooth transitions into adult acting careers,particularly Cathy,with her two Tonys and an Emmy for "Peter Pan." Also,special mention to 5'1" Annette Funicello,who also made a smooth transition to adult actress,but after she was diagnosed in 1987 with multiple sclerosis,she caught bronchitis,but had to be placed on ice to calm her nagging bronchitis cough.She pointed out that when MS victims develop viral or chest infections,like with her bronchitis,the MS worsens chest/viral infections,especially if there's a lot of coughing,because MS destroyed Annette's cough reflex,meaning when Annette catches a cold,bronchitis,or flu,she can't control her cough.)
nicjmartin
said on 11/Apr/11
In the Happy Days episode, "Skin Game", he says he's 5'9", and he definitely looks it.
s
said on 14/Jan/11
He looked barley taller than Jon Stuart on the Daily show. I'd say like 5'8 at most with shoes
Zack Hull
said on 16/Dec/10
One time on the internet, I thought Ron Howard the director was 6 ft 5 in (196 cm) when I typed in his name, but I was wrong. I looked it up and he was 5 ft 9 in (175 cm). 6 ft 5 in had to be a different Ron Howard.
Mr. R
said on 3/Nov/10
I just saw Ron on The Iconoclast show on The Sundance Channel with Steve Nash. If Nash is truly 6-1, then I think that Ron ic closer to 5-8. They were both in athletic shoes, and Steve towered over Ron, especially in their last shot together which was on level ground, and they both had on athletic shoes.
sf
said on 28/Aug/06
Said this on the Henry Winkler page, but Ron Howard, when playing Richie Cunningham, described himself as 5'9" in a very early Happy Days episode.
Ron Burns
said on 5/May/06
Come on now - I saw ROn Howard on Mayberry, RFD - and he didn't look a bit over 4-8"!! What's wrong with this website?!!
MD
said on 8/Dec/05
Jay Leno is not 6'. Not even in lifts is he that height. At the very most he's 5'11" and that's even pushing it. You need to revise your heights if you've been basing them off of a "6 feet" Jay Leno.
Asi9
said on 8/Dec/05
Next to Jay Leno, whom I believe to be the quoted 6 feet tall, "Opie" appears to be indeed 5'9".
Bob
said on 1/Dec/05
He looked more like 5'7" in "The Shootist" when he was 22.