American Actress and TV Host. Said once on her tv show,
"People always say that to me, they think - I'm like 5ft 7. They say "you're so much taller than I thought." I don't know TV makes you look like you're like three feet tall"
but she gave herself 5ft 6.5 on her own website.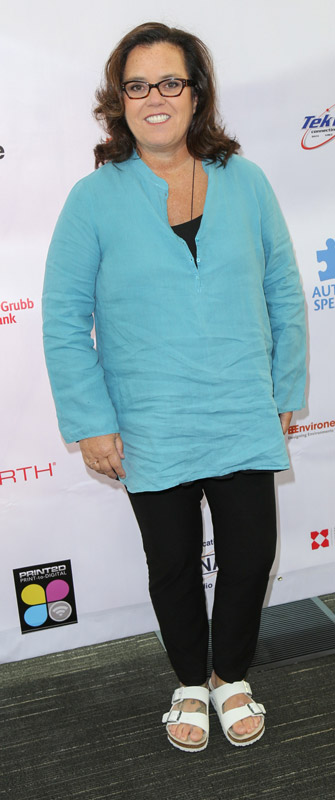 Photos by PR Photos
Nik Ashton
said on 29/Jun/20
She will be around 5'7" for much of the morning!
gets
said on 12/Jun/20
Just saw an old clip of her and "5 foot 8"
Joe Rogan
and she was clearly taller. She wasn't wearing heels. In fact, I don't think she nor Ellen Degeneres ever have.
Miss Sandy Cowell
said on 21/Mar/20
💐🎂🎁🍰 Happy Birthday Rosie! 🍰🎁🎂💐
Wishing Rosie O'Donnell a great 58th Birthday.
5ft6.5 😁🥂🎈
💐🎂🎁🍰💐🎂🎁🍰💐🎂🎁🍰💐🎂🎁🍰
Nik
said on 14/Dec/19
It would be great to see a photograph of Rosie and my good self!
Christian-6'5 3/8
said on 8/May/18
@Rampage
I guess it's because of her shape. Other people say she looks shorter on TV too.
Rampage(-_-_-)Clover
said on 5/May/18
I thought she was 5ft3!
The Shredder
said on 6/Jan/18
She was around Rick Moranis's height in Flintstones and both are barefoot in it.
Charlie
said on 13/Jun/17
If she is 5'6.5 then she is wearing heels when shes measuring herself. There is no way she is that tall. I give Rosie 5'4 flat feet. Heels maybe 5'6. There is no way she is 5'6.5 flat feet.
Arch Stanton
said on 17/Jan/14
Rob how can she be shorter than Meg Ryan???? She's like 3-4 inches taller in Sleepless in Seattle!!

Editor Rob
not seen the movie for a long time, but I can't see how she'd look 5ft 3 in it...
Matt
said on 4/Jul/09
On her show she was standing next to Sutton Foster. Sutton is 5'9"-5'9.5" Rosie looked between 2.5-3 inches shorter so this seems right
dot
said on 2/Mar/09
i heard her say in an interview she weighs 222; since that's my weight, i hope she's not over 5 ft 6! Stand by wider people!
Joanne
said on 13/Jan/09
I saw the Olsen twin's interview at Rosie O'D show. Next to the Olsen twins, Rosie didn't look that tall. Plus the twins were still in teens. So, they must be shorter than they are now, which is around 5'1.
6'1
said on 26/Nov/08
5'5 and thats being generous..even glen makes her look shorter than 5'6
CC-Tron
said on 24/Apr/07
Rosie doesn't look 300 lbs if she's only 5'6. More like 240 lbs.
Random Person
said on 24/Apr/07
Yeah, sure Rosie, it's the TV that makes you look shorter and not your 300 plus pound frame. The real reason everyone thinks she is shorter is indeed her frame, everyone expects her to be short. I myself expected her to be no more then 5'3 until I realized in (slight) heels she was Charlie Sheen's height. Anyway, yeah I'd say she is one of the few people who is actually taller in real life then on TV. 5'6.5 seems right.
anonymous
said on 5/Feb/07
I saw Rosie on the street one day dressed all in tight black leather from head to toe unlike how she dresses on the "view", I would say she is no taller than 5'5 and she weighs around 250 close to 300 it was not a pretty site.
vie
desiree
said on 4/Feb/07
She said that Kristy A. was lying about her weight. I think she's lying about hers she said she weighs 210lbs. I bet Rosie is atleast 300lbs.
Editor Rob
said on 27/Aug/06
She gave on her website also 5ft 6 and a half.
Jen
said on 28/Jun/06
Not to be mean but her weight makes her look shorter. I've noticed (as I'm sure you all have) that when you're thinner you look taller. The heavier someone is, the shorter they look.
TNTinCA
said on 17/Jun/06
I that her height or her width?
:-)
JR
said on 1/Sep/05
Tv can do MANY things, but on TV shows, it makes you look taller not smaller... she smoked crack.