French actor, best known for roles in films such as La Haine, G.I. Joe, Wonder Woman, American Hustle and Conan the Barbarian. On his Spotlight page, he used to be listed
"Height: 5 feet 7"
.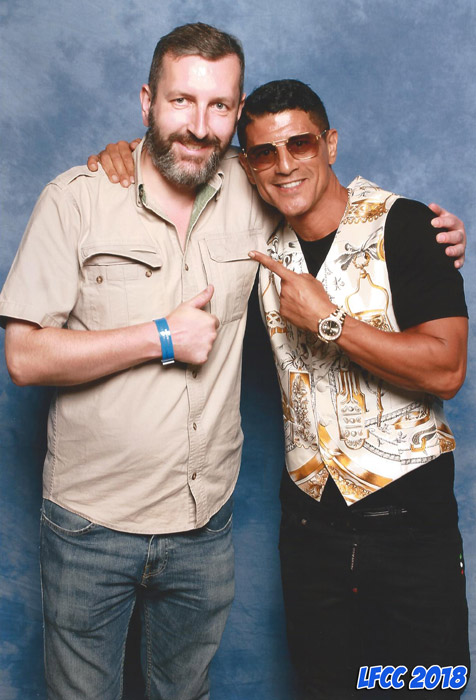 5ft 8 Rob and Said @ LFCC 2018
Mike O
said on 13/Apr/23
Tiny French-Berber guy. I've met several people of that ethnicity over the years, and they've mostly been quite small and slight but very attractive people like him. He looks like a typical 5'5" guy trying to pull 5'7". Can't have everything in life, I guess. LOL
Independent Sistah
said on 29/Jul/22
5'5, 5'6, 5'7 I don't Care he's still fine and sexy as hell!
Pierre
said on 19/Apr/22
By this pic 5'5.75" seems generous.
Andrea
said on 30/Dec/21
This guy can look quite short on the screen, surprised he's even 167 (he certainly looks under that in the picture above)!
Rigved
said on 31/Jul/21
He is 5'5 165 cm clearly without a doubt
Miss Sandy Cowell
said on 26/Jan/21
If Said is 5ft7, then Rob's over 5ft10!
I'd say he's no more than 5ft5.25. 😐
Leonari
said on 18/Oct/20
No way above 166 cm. I have seen all his films ( French as well as Hollywood). Once again you are a tad too generous Rob.
Christian 6'5 3/8"
said on 18/Sep/20
Small head, even for a guy his height.
JohnMoore-162cm
said on 4/May/20
5ft5 1/2" for Said , 5ft7 is out of the question
Miss Sandy Cowell
said on 3/Oct/19
Agreed Bobby! He can't be 5ft7.❌
5ft5.5.

Editor Rob
He isn't as short as 5ft 5, but nowhere near 5ft 7.
Bobby 5'10 (178cm)
said on 18/Mar/19
Next to a solid 5'8 Rob, his 5'7 claim is laughable. There's another Big G claim there.
Jancys
said on 24/Feb/19
He is shorter than 167. 165 maybe.
noureddine
said on 9/Jan/19
Hey rob , are you having way higher footwear than him here ? he looks tiny !! i always thought he's around 5'7 !! do you think there is a chance he pulls a strong 5'6.5 any moment of the day ?!

Editor Rob
Both near an inch. He isn't near his 'resume' claim of 5ft 7, though he is taller than 5ft 5-5.5 guys in person.
Littlelee168cm
said on 8/Jan/19
This height sounds about right look nothing over 5ft 6 next to forest Whittaker in vantage point
World Citizen
said on 22/Aug/18
Looks no more than 5 ft 5.5 here
AJ
said on 17/Jun/17
He was towered by Gal Gadot in wonder woman, although part of me believes she was in heels, but I'd go 5'5"
Rampage(-_-_-)Clover
said on 11/Nov/16
Also in Three Kings, Vantage Point, Traitor and The Infiltrator
Dmeyer
said on 13/Jan/13
He shook hands With 5'5.25 friend he looked solid 168cm
dmeyer
said on 11/Aug/11
i saw him stand near a 5 ft 5.5 friend said was a bit taller
dmeyer
said on 24/Apr/11
i agree he can look tiny near 5 ft 4 but he dosnt look more than 2 in shorter than 5 ft 8.25 cheadle when i met him he looked taller than a 5 ft 5.5 friend of mine that was there he could even be as tall as 5 ft 6.25 ,in a few pics of him and xheadle he dosnt look under 168cm