Sam Coleman's Height
5ft 11 ½ (181.6 cm)
British actor and poet, best known for playing the younger version of Hodor in Game of Thrones. He will also appear in Leatherface (2017). On his own site he listed himself:
"Height: 184cm"
and on his spotlight page:
"Height: 6' (182cm), Weight: 20st. (127kg/280 pounds)"
. This photo was taken at a London Film Con.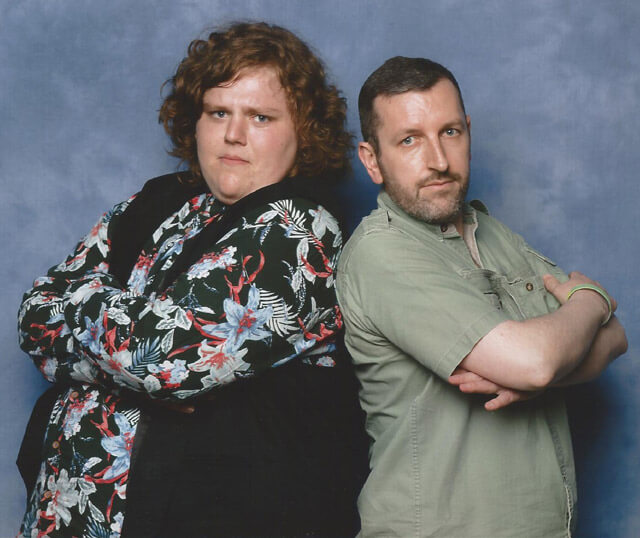 5ft 8 Rob and Sam
You May Be Interested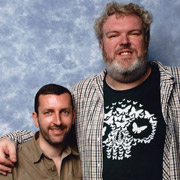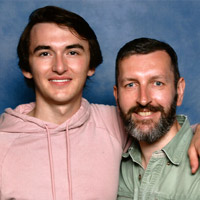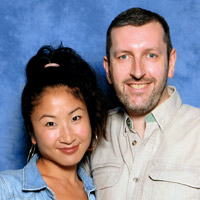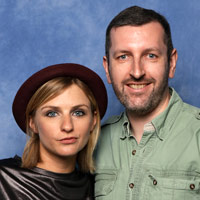 Add a Comment
55 comments
Average Guess (58 Votes)
5ft 10.38in (178.8cm)
ChaosControl 6'2.5
said on 12/Jan/21
What are the odds he is 182cm like he claims?

Editor Rob
it's what he claimed and he looks taller than 5ft 11 guys in person easily enough.
J2Frenzy
said on 8/Nov/20
Don't know what world we live in where he's 20 stone. He's definitely closer to 25 stone
Miss Sandy Cowell
said on 12/Nov/19
@ Sam - I'm giving you another 6ft! Life's too short to quibble!
Zampo
said on 13/Nov/18
Did you actually see him look around 5'11.5 range or is that an estimate based on how much you thought he could be losing. Basically if you can remember, around what range was he walking about at, during the event? Thanks.

Editor Rob
Well he isn't a guy with generally great posture, but he did look over 5ft 11 for sure.
Randomdude991
said on 27/Oct/18
Hi Sam,
although you do seem to be slouching and not standing at your best with Rob,I still question 6'0 for you to be honest I think Rob has it right at 5'11 and a half,now you may be 6'0 1/2 in the morning but I doubt that at night
Nik
said on 8/Oct/18
Well, Sam, you will be appalled by the average guess, which has you down as being 5'10.37"! You must be losing more height than Rob due to the fact that you are leaning back more than he is, I will try to push the average up for you!
Sandy Cowell
said on 8/Oct/18
Okay, as you've gone to all that trouble, Sam, I will put 6ft for you!
😋👍
That should start pushing your average in the right direction...
Cheers! 😁🍻
Sam Coleman
said on 6/Oct/18
Well, this is hilarious! I can tell you for a fact, I am 6ft. In this photo (if I recall) I was leaning back quiet a bit (and its quite a funny angle too) but yes, I am 6ft (Or 183.5cm to be exact).
Peace & Love,
Sam
@SamColemanActor
Big T
said on 12/Aug/18
Maybe it's just an unflattering photo but he looks a lot more than 280lb
I had a friend who was 5'10" and 300lb at his peak. He was a fat guy, this guy looks more like a 'huge' guy.
Nik
said on 26/May/18
I agree with the average vote, no way does Sam Coleman look anywhere near his listing!
C Wil
said on 11/Nov/17
He looked 5'11.5 in the new movie Leatherface. One of the main actors in Leatherface, Sam Strike, has his height listed at 5'11. In most shots standing together, you could barely tell a difference.
Anonymous
said on 10/Nov/17
Him and Sam Strike looked about the same height in Leatherface! I would guess 5'11 for both of them.
World Citizen
said on 23/May/17
He really doesn't look 5 ft 11.5 here, more like 5 ft 9.75 max..
Kd
said on 19/Mar/17
Rob- based on this picture I've got to feel like he's closer to 5'11 flat or maybe 5'10.75
Editor Rob: he's such a heavy-set fella that I feel he has height in the tank and can stand over 5ft 11.
Bard
said on 26/Feb/17
Definitely not looking over 5'10 here.
Victor Surratt
said on 13/Jan/17
He maybe is 5'11.5 at his peak, in the picture he looks like a 5'10 but he had a bad posture.
Giorgi
said on 24/Dec/16
I get it, Rob. I was just asking in general. I noticed sometimes you've got different measurements in feet and inches for the same height in cms. For example, for 185 cm you may have either 6ft1 or 6ft0.75 :)
MIPITU
said on 18/Dec/16
Hey! I thought it was a big woman!
Peter 179cm
said on 17/Dec/16
He doesn't even look 178 with bad posture,more like 176-177 range which is what i stand at when hunching down myself.He's no more than 180 flat at his low,although to be fair he could clear 5'11.5 out of bed and be nearer 6'0 because heavy people can shrink abit more than others.
Sam
said on 15/Dec/16
5'10.25. Could be closer to Robs listing bearing in mind he claimed a questionable 184cm. Just doesn't look 5'11+ in the photo though.
Giorgi
said on 12/Dec/16
Rob, do you actually make a distinction between 5'11.5" and 5'11.75" listings? Like when you feel someone isn't strong 182 cm, or you just nominally put the number.
Editor Rob: Giorgi, it's a best guess for any listing, you are trying to give a figure that is most reasonable and likely.

Is this guy under 5ft 11? With his weight and posture he can look it, but when standing tall he clears it, I'm sure of it.
MJKoP
said on 7/Dec/16
@Jim K - Well, they're making a similar facial expressions and they're both white. I'll give you that much.
Aza
said on 7/Dec/16
He looks a strong 5'10
Arch Stanton
said on 6/Dec/16
Need your eyes tested Jim..
Jim K
said on 5/Dec/16
Wow Rob, you guys almost look related! He doesn't look anywhere near 6' in this picture. I'd say 5'10.5" tops.
miko
said on 5/Dec/16
Looks to me like Rob is trying to steal a CM by adding a small tuft in his hair! ;)
Editor Rob: I think I'd need it pushed another cm higher to match Sam's!
Jordan87
said on 5/Dec/16
@ DEREKK,
I disagree with quite a few listings with Rob as it everyone's right and I'm sure he welcomes discussion since I'm betting it's part of what the Site is about. I don't however make statements like yours below. So do all of us a favor and stop posting horrendously stupid comments like. You also really sound like an illiterate.
Thanks in Advance,
Jordan87
DEREKK
said on 4/Dec/16
5'9.5 rob you lie alot hes about 5'9.5 and a half or at least say 5'10 but 5'11 1/2 almost 6 feet man thats dum and the main your including his british fat women hair.
Christian-196.2cm (6ft5.25)
said on 4/Dec/16
"Sam Coleman's Height is 5ft 10.5in (179.1 cm)"
Come on Rob, any person with two eyes can see that he's not 5ft11.5, regardless of posture.
Editor Rob: trust big Rob, I think he is a minimum 5ft 11 range
Realist
said on 3/Dec/16
This guy at my job is 179 cms and I am 177 cms he weighs 215 kilograms but still looks taller than me and I am 90 kilograms. I think this guy is 179 cms max
MJKoP
said on 3/Dec/16
Rampage(-_-_-)Clover said on 1/Dec/16
Given the state he's in, it doesn't look like he can really stand any straighter...
Not for nothing Rob but is this a boy or a girl?
What are you insinuating by asking Rob that? I mean, why do you think he'd know any better than Google would? :D
Bard
said on 3/Dec/16
Looks 5'10
dpp
said on 1/Dec/16
wat? i see just 4cm gap.
Strong 5ft9
said on 1/Dec/16
The weight might make him slouch a bit more, so i guess that's why he looks mostly 5'10" when he's not really standing up straight. makes sense. I know this one guy who might be 250 lbs or more and has a big head. I thought he could be my height at first, but then when he standed up straight. He then looked about 5'11" or possibly more. His big head, really confused me.
Strong 5ft9
said on 1/Dec/16
Rob, Why does he look noticeably shorter than Jamie Harris? Is he really slouching that much in this photo or does he have a shoe disadvantage?
Editor Rob: I think he is dropping more height, he really looked at least 5ft 11, the guy in person was 1.5 inches taller than Mike Tyson.
Pierre
said on 1/Dec/16
i see him in 5"10'range in this picture next to Rob
Rampage(-_-_-)Clover
said on 1/Dec/16
Given the state he's in, it doesn't look like he can really stand any straighter...
Not for nothing Rob but is this a boy or a girl?
Editor Rob: I would say Sam is 100% manly.
Shredder
said on 1/Dec/16
Pics can be off sometimes , nobody believes that that Steven Yeun looks 5'8.5 range in person or that Michael Biehn is really around 6 ' ft
Andrea
said on 1/Dec/16
Not that I care but of course the average guess is 5'10 range... He does look around 5'10 with you! But if you say he looks around 5'11.5, when standing at his tallest, I'll trust you! Maybe you should mention the fact that he's dropping 1.5 inches more than you, Rob! So people will stop saying "It's absurd", "This must be a joke", "5'10 at most",... :)
Rampage(-_-_-)Clover
said on 1/Dec/16
Rob,182cm is a joke
the average short
said on 30/Nov/16
5'11? PLEASE
Hes like 5'9 at most
Peter 179cm
said on 30/Nov/16
Certainly not 184 or 182cm.He looks 176 with horrible posture so 181 is a possibility,while 180cm is not out of the question,either.
anon
said on 30/Nov/16
Heavier guys tend to look shorter than what they measure though accounting for poor posture, they dont look like they are standing straight most the time, Looking at this you would think 5'10 range tho as opposed to almost 6'0
berta
said on 30/Nov/16
in the photo he looks 177
phil
said on 30/Nov/16
doesnt look over 5"10 there
Christian-196.2cm (6ft5.25)
said on 30/Nov/16
Are you sure he's tall as 5ft11.5, Rob? Many users are saying that he looks about 5ft10. I personally think he's a bit more than that, like a weak 5ft11.
Powerhouse
said on 30/Nov/16
Definitely not someone near 6'0 I'm seeing 5'10.25. Thats what i voted before seeing others guesses.
Rampage(-_-_-)Clover
said on 30/Nov/16
Rob, he looks barely 5ft10!
Shredder
said on 29/Nov/16
looks 5'10 or less lol
AJ
said on 29/Nov/16
This listing seems really generous. I'm seeing somewhere in the 5'10" range here.
MDV
said on 29/Nov/16
Serious Rob?He looks 5 ft 10 in this pic
Editor Rob: yes MDV, about 1.5 inches taller than Mike Tyson in person.
A2Z
said on 29/Nov/16
Hahaha, I actually thought it was a woman, so jokes aside he looks more 5'10" range, certainly nowhere near 6 FOOT (unless he had less footwear). Also I see these type of guys his built look bigger in distance but shorter up close lol.
Johnson
said on 29/Nov/16
@Rob all the pictures you take with celebrities, do you change the picture background with photoshop or you stand with that real background? Do they know their pictures are used for this site?
Editor Rob: Johnson, the only photoshop I would do is cropping excess background or adjusting brightness if a bit dark.
josh b
said on 29/Nov/16
So how much height is he losing?! Looks shorter than I did with you Rob.
Editor Rob: he is over 5ft 11 josh, but like Kristian, I think he struggles to look it.
Andrea
said on 29/Nov/16
Was he still trying to hold the door, Rob? I'm surprised he's as "old" as 20, I thought he was younger but maybe I got fooled by the fact that he was playing a very young Hodor in GOT (who was supposed to become a big 6'8 guy one day)...
As for his height, he looks nowhere near 5'11.5 with you, more around 5'10!
Editor Rob: I think Andrea, at the time of filming he could have barely been 18.

He's a very heavy set lad, so his posture in person is up and down like yo-yo.