Sarah Chalke's Height
5ft 7 ¼ (170.8 cm)
Canadian/American Actress best known for roles in tv series like Roseanne and Scrubs.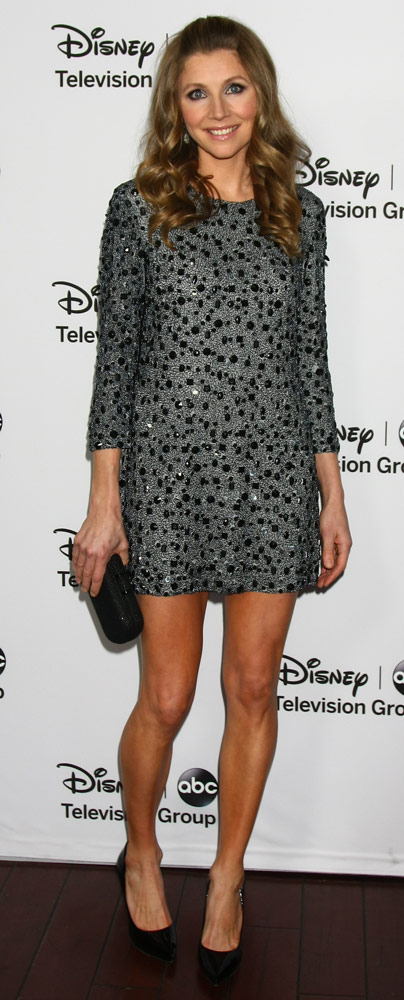 Photos by PR Photos
Add a Comment
102 comments
Average Guess (42 Votes)
5ft 8.02in (172.8cm)
Kristian 179
said on 8/Aug/19
She does seem really tall.
Jason X
said on 26/Jun/19
Never looked over 5'7" to me on Scrubs.
Lara
said on 5/Mar/19
I think she is 1.71 m.
Aussy Gal
said on 19/Nov/17
Tall girl who wished she was shorter- she's always slouching to appear shorter.
Brendan 179cm
said on 26/Aug/17
How tall would she be in those heels rob ? Shes the same height as a girl I know and she looks akward tall even at this height
Editor Rob: I'm not sure exactly how big they are, but they don't seem huge, maybe under 3 over 2.5 range.

As for her height, I think on Scrubs she looked shorter than 5ft 8 against someone like Robert Maschio, at least one of the cast I know isn't six foot.
Marquis
said on 6/Jul/17
Tall, but not super-tall. Looks around 5'8" on Scrubs, but no more.
Jazz
said on 30/May/17
Almost the same height as Mandy Moore (5'10) when they kissed on Scrubs.
Alexa
said on 25/May/17
She looks awkwardly tall.
Tori
said on 29/Mar/17
She is lots taller than I would have thought. Possibly over 5'9.
Jess
said on 25/Mar/17
Whenever Sarah Chalke and Heather Graham were standing together on Scrubs, they looked similar in height. However, it seems like Heather always had average heels on where Sarah was always in flats. Guess they didn't want anyone to know that Sarah was actually taller than Heather.
Keira
said on 19/Mar/17
Sarah Chalke was taller than Heather Graham on Scrubs, both in flats.
Ted89
said on 4/Sep/16
I don't know what kind oh shoes she wore in HIMYM but she's same height of josh radnor all the time
Jennifer
said on 21/Nov/15
Back when she was on Roseanne, Parade magazine did an article on her and they said she was 5 foot 8.
marc
said on 29/Oct/15
@rob, did u downgraded her?
[Editor Rob: not been on this page for a few years, so I don't know, she's been 171 for a while anyway.]
Ace
said on 25/Oct/13
She really doesn't look under 5'8 in any show I have seen her on.
Chiara
said on 14/Sep/12
I thought she was taller. She looks really tall.
Andrew M
said on 30/Dec/11
I agree with Lou90; I'm possibly Scrubs' biggest fan (proverbially speaking - I'm actually only 5' 6" small), and I recently saw that episode where she suspected an underweight woman was anorexic. As it turned out, she had HIV. In it, Elliot (Sarah Chalke) asked the woman's height and weight, and the woman said 5' 9". Later Dr. Cox accused Elliot of hypocrisy, asking what height she was, and she replied that SHE too was 5' 9"! Why on Earth would the makers of Scrubs say that she was anything other than what she is? Why? There's no good reason to!
It's not like she's a male star out to get lead roles, who could be forgiven for saying he's taller than he is in order to land the part!
That just isn't true for women stars, and in fact, greater height may work against them, I mean after all, you don't want the makers of the film you want to be in to worry that you're going to dwarf your leading man, do you?
And d'you know, funnily enough, I thought of both Tom Cruise & Nicole Kidman as I wrote this, forgetting that they were together for a long time!
To get back to my point about women stars not profiting by being too tall, Geena Davis has said that for a long time, she was reluctant to reveal that she is in fact 6ft, as she thought being so tall would work against her!
Silent d
said on 20/Nov/11
5 foot 8. Same height as heather graham.
paige.l
said on 17/Sep/11
Her bio states 5 foot 8, I think she needs an upgrade, she could actually be a little over 5'8.
Matt
said on 3/Aug/11
@tony, what do you mean the true height of females? 5'10 is taller than like 95% of women
user
said on 5/May/11
Bobby B, over 5'7 for a lady is real tall, in heels she can look around 6' bro
me
said on 3/Mar/11
She's 5'9, no woman would lie about being that height, especially not in Hollywood.
Sarah's taller than Colbie Smulders, and in Chalke & Jason Biggs' new show, she almost always has to bend down to kiss him. You bill Biggs as 5'9.5, so assuming she usually has a 1-2" heel advantage, that also jibes w/5'9. If she were only 5'7.25, she'd still be shorter than Biggs, even w/a heel advantage, and her being taller than Colbie would be impossible
lou90
said on 18/Jan/11
it was mentioned on an episode of scrubs dat she is 5 9", so id agree with that
Blaah
said on 15/Jan/11
it's really difficult to say... on scrubs she looks way shorter than 5 ft 7... standing next to zach braff who is about 6 ft plus she always wears flats on that series.
But in how I met your mother she looks much taller...
but all in all I agree on 5 ft 7 to 5 ft 8.
Rakim
said on 9/Nov/10
She looks at least 5'8 on scrubs
jtm
said on 2/Nov/10
i would say 5'6. she only looked a half inch taller than amy smart when she was on scrubs and they were both wearing the same kind of footwear.
Rodger
said on 1/Nov/10
No Way guys! She´s 5'8 minimum! Not only she looked on level with Colbie but also with little heels on she seemed on level with Josh, who is said to be 6feet even.
Anonymous
said on 11/Jun/09
About 5-8, looks fantastic.
crystal
said on 27/May/09
Today when she was on The Rachael Ray Show she said she was 5'8.
zakk
said on 12/May/09
okay people she's 5'7". look up the keywords "sarah chalke height" it will display on the first point that she is 5'7"(1.70 M). honestly is it that hard?
Lexagon
said on 15/Mar/09
3-4 inches less than a weak 6 footer equals 5-7? She was probably in heals though innit ya get me? To be fussy and precise 5'7 and a bit.
Realme2008
said on 4/Mar/09
Nope she's 5'7". There is about a five inch difference between her and Zach Braff
Click Here
Click Here
She looks about 5'7" standing next to 5'9" Joy Bryant
anon
said on 22/Feb/09
She is 5'8", you can tell because on scrubs she looks about the same height/ only a tiny bit shorter than most the guys.
leonari
said on 12/Feb/09
no she is not a full 5'8. over 5'7 : yes
Lozzer
said on 21/Nov/08
Rob... She's definitley at least 5'8", 5'8.25" - it needs an inch on that!
Lozzer
said on 21/Nov/08
Don't most women do the opposite to men and tell people that theyre smaller than they actually are? On Scrubs they say she is 5'9 in a scene bit its possibly just for that scene..., hmmm i can't make a decision, her footwear is always different next to those 6' people (or there abouts!)! She's nice though...!
Mike
said on 1/Nov/08
Sarah said she's 5'8" (with a 5'11.5" wingspan) on the Rachael Ray Show.
Nicky
said on 22/Sep/08
I think she's a solid 5'7". 5'9" is too much. She looks tall but not that tall
MSY
said on 3/Sep/08
Victorian, the lady in the pic isn't 166cm. How many asian women are that tall anyway, I haven't met many and I'm asian.
Victorian
said on 30/Aug/08
I see 172-173cm for her in the pic if the lady is 166cm.
C
said on 19/Aug/08
Yes, she's 5'9''. They wouldn't lie in Scrubs?
Anonymous
said on 5/Jul/08
On scrubs theys ay she's 5'9"
Realme2008
said on 18/Jun/08
Yeah she's not really that tall. Looks 5'7" to me, but I don't really understand why the constantly make fun of her height on Scrubs. I mean is 5'7" or 5'8" (They think she is) really that tall? Seriously? Oh, yeah and the woman besides her looks a little over 5'4". 5'5 1/2 are you kidding me? That's not correct. sorry.
sf
said on 3/Apr/08
Glenn - computer cookies.
That girl is not 5'5" and a half. Unless Chalke is in 3 inch heels. That's the problem, so many times. The person acting as the "ruler", doesnt' know, or exaggerates their height.
I've been studying Chalke, quite a bit, mostly cause I like to watch Scrubs and Roseanne. And, I'd like to get naked with her. It's true...
Snoopy, below, says chalke said she was 5'7" in an interview. I believe that's her top height. Rob, I think you're pretty damn close, no taller. Sometimes, on Roseanne, she looks about a inch taller than Jackie (supposedly 5'6"), sometimes she looks about the same height. Her height is all over the place on Scrubs cause of the heels/shoes she wears. Also, on Roseanne, she is almost always in tennis shoes, not heels, and there are many, many shots nexts to 5'5" Jonny G., 5'4" Roseanne, etc.
5'7".
JD
said on 2/Apr/08
Either that girl is 5'4 or Sarah Chalke is 5'8-5'9.
glenn
said on 21/Mar/08
computer cookies? or cookie monster cookies?
sf
said on 20/Mar/08
dammit - my cookies keep disappearing...
sf
said on 5/Feb/08
Watching the other night, I pegged her around 5'6" next to Zach what's his name. Then, the next time, she does look around 5'8". It's tv, you never really can be sure of anyone's height, so I'll continue to compromise at 5'7". Also, these are women, who one time might be wearing 3 inch heels, the next time, no heels, the next time 2 inch heels, etc...
glenn
said on 5/Feb/08
alot.lol.lets start with a common name in new york city thats here now.mandy moore.and the elusive cameron diaz.one of my closest friends knows her, and ive been to an event she was at,and had to leave before i could spot her.she might be my all time jynx for a female celeb.sports,its mike tyson.was common.now rare in my defense.well,maybe not in brooklyn a few years back.never saw the mystery height man.actors-ben affleck.common everyday name.not to these eyes.
Randy
said on 4/Feb/08
I peg her at about 5'7.5" maybe 5'8" tops. She was smaller than Heather Graham when she was on Scrubs.
BTW, Glenn is there any celeb you haven't met? :)
glenn
said on 11/Jan/08
i have a couple with chalke.i have to post.she was tall in heels.
Antron
said on 11/Jan/08
5'5.5" lady ain't 5'5.5", more like 5'4
Scrubie
said on 9/Jan/08
If Elliot is 5'9" then Christa Miller (Jordan) would have to be 5'11" or 6' b/c she's noticably taller than Chalke and I don't think she's that tall. I figure Chalke is about 5'7" and Miller is about 5'9" that would make the most sense. BTW, that girl in the pic ain't 5'5" unless she's standing in the gutter or something.
JD
said on 4/Jan/08
Lol, she looks 5'9 in that pic! (if that girl is 5'5.5)
Anonymous
said on 31/Dec/07
Yeah. She can't be less than 5'7... On scrubs, they said that Elliot was 5'9
dmeyer
said on 30/Dec/07
looks more 5'8 in that pic
chris175
said on 29/Dec/07
sarah is taller than 5-7.25, at least 5-8 from what ive seen
sf
said on 6/Dec/07
Stating someone's height on a tv show, has NOTHING to do with the truth, many times. Just like the episode of Everybody Loves Raymond where he actually downgrades his height by 3 inches on the show and says he's not quite 6 feet or so, when it's clear he's 6'2" or 6'3". Chalke's also a Doctor on the show. mmmm...maybe that's fake too? Rob - I think you're getting pretty close. That's a pretty good estimate.
Snoopy
said on 4/Dec/07
I heard Sarah tell an interviewer that she was 5' 7" and that she grew several inches in her late teens or older when she started eating meat. She also said her sisters were 6'
sf
said on 28/Nov/07
Okay, maybe 5'7", but no taller. (Until I change my mind again.)
sf
said on 16/Nov/07
Watched Scrubs last night - the whole episode, many scenes, she was side by side with Heather Graham. An inch and a half shorter - 5'6" and 1/2. Whoever says she's taller than Graham - no way. Many, many scenes side by side, and Chalke was at least an inch shorter. And, this isn't back to back. Back to back is when you can really see differences, side by side is harder to tell.
I'll wager the 5'5" and 1/2 girl next to Sarah is just like my neighbor's 17 year old daughter who says she's 5'8", but is actually slightly shorter than me and I'm a 5'6" and 1/2. or the girl I knew who said she was 5'11" and was barely taller than me.
5'6" and 1/2.
JD
said on 14/Nov/07
Well there you go. 5'8-5'9 tops.
MOPNT
said on 9/Nov/07
Big storyline on tonight's episode of Scrubs ("My Inconvenient Truth") about Elliot being 5'9". I can't imagine them fudging that for Chalke's vanity -- it must be accurate.
Ash
said on 9/Nov/07
On an episode of scrubs they mention that she is 5'9" and 118 lbs.
Brah
said on 8/Nov/07
On tonight's episode of Scrubs, a bed-ridden patient said that she is 5'9". Then, Dr. Cox remarked that Chalke's character is also 5'9".
Of course, this isn't good for accuracy, but I thought it was an interesting tidbit.
glenn
said on 4/Nov/07
ill post my chalke pics soon.
TM
said on 3/Nov/07
Dammit, link doesn't work. Maybe this will:
Click Here
If it still doesn't work then I give up. I'll get it right next time.
TM
said on 2/Nov/07
Hollie: But if she's 5'9" then she would be Braff's height (6') when wearing heels (as she often does) on Scrubs. Right????
Both standing up straight, looking down. Looks like about a 1-2" difference to me.
Click Here
glenn
said on 28/Sep/07
i agree with hollie.
Hollie
said on 27/Sep/07
She's at least 5'9". In the episodes of Scrubs, it appears that she's a little taller than Heather Graham, who is 5'8".
sam
said on 30/Aug/07
In TM's photo, she's probably wearing heels. She never looked as tall as Faison on Scrubs, though not more than a couple inches difference usually. Strange that Long looks about the same height as Speedman & Faison. Josh Meyers looks big, of course, due to proximity to the camera, though he's probably a 6 footer.
TM
said on 29/Aug/07
I assume she's wearing heels here, unless Justin Long has grown or is taller than I think, maybe she isn't that tall. (granted she's further from the camera and maybe not standing up perfectly straight) Any opinions??
Click Here
Anonymous
said on 17/Aug/07
yeah, I beleive that cause when she wears heels shes the same height as faison sometimes taller than him.
JD
said on 1/May/07
We need glenn to meet her. He could tell if she is the 5'7 (making the other girl in the pic 5'4 tops) shes listed at or 5'8-5'9.
PC
said on 22/Apr/07
I've only seen the first two seasons completely (halfway through third season), and in those episodes Sarah Chalke did seem close to 5'8" when compared to Braff. I recently saw an episode of scrubs on Paramount where Chalke was in heels (season 5/6?) and she only looked around 3" shorter than 6'1.5" John C McGinley, so 5'8" (173cm)could suit her.
Erica
said on 13/Apr/07
I watch Scrubs religiously and Chalke usually looks taller than 5'7" next to all of her co-stars. I can't imagine she's anything less than a strong 5'8". Her gangly, leggy bodytype also suggests tallness.
xxpaolyxx
said on 2/Apr/07
Well, I was wearing ballerina shoes while she was wearing sneakers... that could give her half an inch... whatever...
Big Roger
said on 23/Mar/07
I didn't mean to offend you, it just seems that Chalke is about 5'9" (maybe more) in the pic which seems a little too tall. After watching her for years on scrubs next to 6'ish Braff and 5'11" Faison and coming up noticably short of them (
Click Here
) even when in heels, it seems she couldn't be more than 5'8" at most. Did she seem taller than you thought when you met her or am I way off base?
xxpaolyxx
said on 23/Mar/07
Big Roger, I'm the one in the pic and I can guarantee you I'm 5'5''!!! What the hell! Do you want me to send you a certificate from my doctor that states I'm 5'5''?!
Big Roger
said on 22/Mar/07
I think Chalke is about 5'7". If the lady in the picture is 5'5" Sarah would be about 5'9". Sarah seems to be lowering herself for the pic and the other lady is trying to elevate herself and still there seems to be a good 2"-3" difference. I think 5'7" is about right and maybe the woman in the pic is confused about her real height.
xxpaolyxx
said on 16/Mar/07
hey, I'm the one in the pic and I can assure you I'm 5'5''!!!
footballed28
said on 16/Mar/07
there is clearly a 3 1/2 to 4 inch height difference between the two...now if Sarah is only marginally taller than 5'7....that would mean the lady on the right is really only about 5'3 1/2 if not a bit shorter...
Anonymous
said on 15/Mar/07
she looks more like 5'8 - 5'9 range than 5'7.
The Horse of FUNK
said on 15/Mar/07
How sure are we that the woman on the right is 5'5.5"? 'Cause I agree with everyone else, I'm seeing more than 5'7" here. Judging from what I've seen of Chalke, I'd say she's more 5'7.5", maybe even pushing 172cm. Although 5'8", I don't know about that. I think if she were 5'8" she's say so, as anything from 5'5" - 5'9" seems to be the ideal range for women where they don't feel compelled to fudge their height.
bikagyura
said on 14/Mar/07
don't you think she looks a little more than 5' 7½" judging by that photo, ROb?
[Editor Rob: with 183 braff I don't know if she looks much more than 171, although of course in that ladies pic looks 5ft 8 range]
Vegas
said on 14/Mar/07
Love Sarah, love Scrubs, based on that picture she looks 5'8
Jewel
said on 21/Feb/07
i heard she was 5 8'' also
nm
said on 12/Feb/07
i dont think that dietary thing is right because im a vegitarian and im 5'8 or maybe even a little taller and i've been this tall sice i was 14
like that girl down there said.
i think it mostly depends on your parents.
Al capone
said on 8/Feb/07
i think 5ft8.she looks 4in shorter then zach braff,no more then that.
anonymous
said on 29/Jan/07
Hmmm, again, she looks huge next to Zach Braff, I think she's wearing 10 cms heels, cause if Zach Braff is 6', then again she's 5'8, or else she would look slightly shorter than him, which is not the case. Come on dude, she's indeed 5'8.
anonymous
said on 27/Jan/07
Dude, you've got to edit this girl's height to 5'8, if this video doesn't convince you to do so, then I don't know why you sometimes edit people's height.
Click Here
J.
said on 30/Dec/06
If she's 5'7.5" then Neil Flynn is really 6'6" or even higher. She doesn't come above his shoulders on Scrubs (wearing sneakers).
boxingfan
said on 15/Nov/06
Part genetics, part environmental(especially diet). If you had eaten a lot of meat and dairy products growing up you would probably be taller.
ally
said on 21/Oct/06
jamie- i assume that it was a coincidence that she grew three inches after quitting being a vegetarian- height is generally determined by genetics. I've been a vegetarian all my life and am 5'8" and my younger sister is over 5'9" simply because we have tall parents.
lauren
said on 6/Apr/06
sarah is 5ft 8. i'm making a point because I went to school with her so I know how tall she is.
sf
said on 13/Mar/06
I read in an article that she was 5'5". No, I don't remember which one, but I don't think she's as tall as 5'8".
lappers84
said on 12/Mar/06
5'8 makes sense, cos in scrubs when she was in the scenes with rick shroder (apparently 5'10) theres very little difference between the two and she was wearing normal shoes.
charlie
said on 11/Mar/06
Get this: Askmen.com, actually have her at 5'4, can u believe that.
i've heard of making celebrities taller but not this...
Check it out:
Click Here
[Editor Rob:
"Don't get us wrong -- Sarah has an ample bosom, great curves, and, at 5'4", a certain tiny fullness that we like"

2 out of 3 ain't bad...
]
Jamie.
said on 7/Nov/05
Yeah, she says she was the shortest in the class till she stop being vegetarian and started eating protein. I remember that! She was on Conan O'Brian. But she even said she suddenly grew up 3 inches. I remember on Roseanne she was taller than Roseanne, and I've always thought she was something like 5'7''. In another interview, I've red she's 5'8'', imdb bio claims she's 5'6'' and other bios say she's 5'4'', so it's a bit difficould to say what's the one correct. Seeing the other people opinions, I think she's taller than some bios claim, maybe 5'7'' or 5'8''.
Amy
said on 2/Nov/05
on loadsa websites she stated at between 5"4 and 5"6 i guess thats probs about right. And when i was listenin 2 an interview with her she said that she was alwys the shortest in her class at skl amy xoxo
lou
said on 28/Oct/05
she's 5'8''. i know for sure because i know her.
rach
said on 22/Sep/05
i've met her occasionaly and i think she's about 5'8''.
dunno why on tv she seems shorter than she is... maybe 'cause she works with such tall actors (janitor's neil flynn or even zach braff). anyway, i think the height that imdb claims is totally wrong. i'm sure she's not under 175cm...