Sean Maher's Height
5ft 8 ¾ (174.6 cm)
American actor, best known for his role as Dr. Simon Tam in Firefly and Serenity.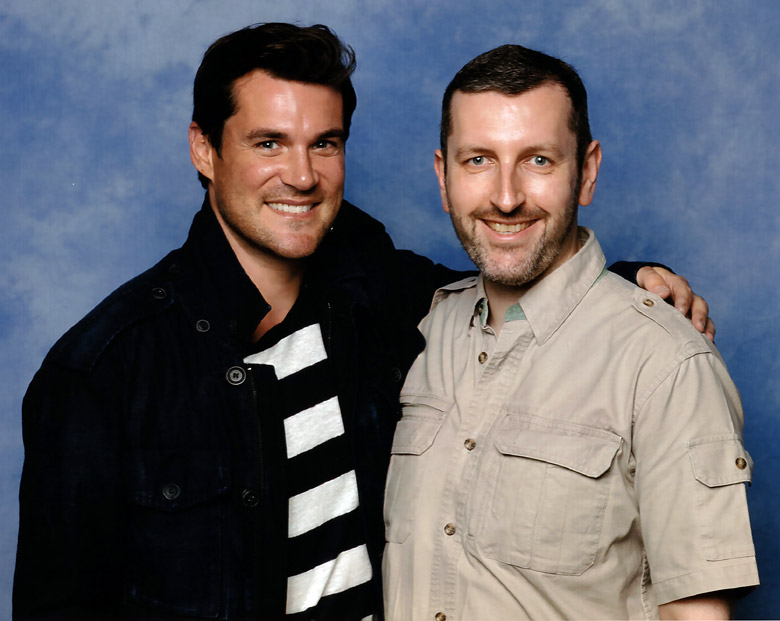 5ft 8 Rob and Sean @ LFCC 2016
You May Be Interested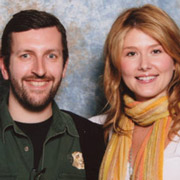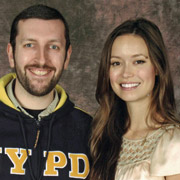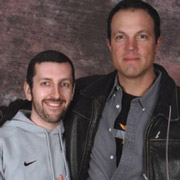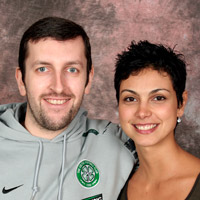 Add a Comment
32 comments
Average Guess (41 Votes)
5ft 9.03in (175.3cm)
Tunman
said on 31/May/20
Could be Amanda Tapping twin.In fact both could give the impression they're 2cm taller...at first site of course,but probably it's only 1cm maybe 1,5cm at the very best,smaller head,high eyelevel,thick hair...all these elements could make us thinking they're bigger than they really are.
6james94
said on 19/Dec/19
I agree with the five eight and three quarters from reading the comments people keep saying he's more then this I only see a half inch difference. Though his eyes seem like a inch his eyes seem higher then some of the listed five nine guys though I keep forgetting a lot of actors in Hollywood have five heads lol.
6james94
said on 18/Dec/19
Could he drop to five eight and five eighths or five eight and a half? I like this website I originally thought I was almost five ten before this site though from this site I found out, and doing your method of measuring I found out that I'm five nine and five eighths in the morning and five eight and seven eighths at night so I'm actually just about five nine.

Editor Rob
It's tricky to say if he would fall much under 8.75, I feel he seems a guy in 'almost 5ft 9' range from speaking to him.
Vsquad
said on 18/Dec/19
Hmm, I would have guessed Maher as the full 5'9. I was watching Serenity and Nathan Fillion looked to only have 3.5 - 4 inches on him max.

Editor Rob
Some filming could reduce height differences, in reality
This difference
is what it's like between them both in person I feel.
Chris Junior Hernandez 1990
said on 15/Nov/19
This guy is one of my favourite actor. I always knew he was shorter than 5'10 or 5'9. Maher Look 1/2 inch over Rob. So maybe a solid 5'8 1/2 guy.
okbymeman
said on 24/Aug/19
kind of weird to be this height when his eye level seems significantly higher than yours...

Editor Rob
Watch this
Clip
with Iona towards the end...see her in heels and what she measures, and compare her eyelevel to mine.
Nik
said on 22/Jul/18
I have no problem with this listing!
TMI
said on 8/Apr/17
Not sure why you don't just give him 5'9". This guy Rob is a very solid 5'8" guy who could probably get away with claiming 5'9" and people would buy it
I think it's fair to call someone who just edges him out 5'9"
Cameron
said on 29/Mar/17
Definitely looks like he edges Rob out. He's probably a touch over 5'9" in the morning.
John
said on 23/Mar/17
Looks 5'8.25 here, although he looks like he is slouching.
Arthur
said on 21/Mar/17
I don't think I trash talked to you Andrea, I just tried a little bit of salty humour, I ain't starting a fight here, it's you who responded to me 😜 ! However, let me say, if I had any serious doubts about my intellect as you had below, I wouldn't really try to argue anything with anyone, let alone as firmly as you do. I also see Rob preferred not to answer your question, I can't imagine what that could mean! 😂😂😂😂😂😂
Andrea
said on 20/Mar/17
Btw, it never happened so far that a celebrity was taller than what I thought, after Rob met them... Let alone an inch taller! 😂😂😂
But who knows? Maybe in the future... I am not infallible 😕
By "close", I do mean within a few mms... 🤘
Editor Rob: just you wait andrea, I am sure there will be a few height surprises in the future 👌
Arthur
said on 20/Mar/17
Andrea, I think it would be a fair compromise if Rob put Sean back at 5'9 to make me happy, and maybe put Jensen Ackles at 5'11.5 to make you jump off your seat and start dancing!!! 😂
I am sure everyone you mentioned looked close to your guess, but then again, ''close'' is subjective. 😉 I am sure everyone you guessed was within an inch or less of what you guessed ( an inch taller of what you said of course 😉 )
So, keep ''speaking your mind'', there is nothing wrong with that, it is really entertaining. Oh, and don't forget to remind every other month to our beloved editor of what interesting series he should watch. That's definitely not a time waster 😊
Andrea
said on 20/Mar/17
Rob, I think you should put him back to the full 5'9 because Arthur thinks he looks a genuine 5'9 😂😂😂
If by "downgrading" you mean "speaking my mind and saying what they look like with Rob", then yeah... I will keep "downgrading" celebrities 👍
Too bad that basically all the celebrities that I tried to downgrade in the past looked very close to my guess in person, when Rob finally met them 😊 (Eric Roberts, Kim Coates, Keith David, Jon Heder, Giancarlo Esposito, David Morrissey, Chad Coleman just to name a few)... And there are a few that I guessed a bit taller than their initial listing and guess what? They looked close to what I thought, after Rob met them (Elden Henson, Michael Emerson,...) 😚
As for Sean, I really barely know him but I'm sure I had a look at him in the past and thought he was near 5'9... He doesn't look a solid 5'9 with Rob, though, but just slightly taller! 5'8.75 AT MOST and could even be more around 174 😉
Editor Rob: we all can give our estimate...we are all trying to figure out a best guess on any of these actors.
Arthur
said on 19/Mar/17
Ok Andrea, I will stick to downgrading Connor, and you just stick to downgrading celebrities ;)
Slothee
said on 14/Mar/17
Looks 3/4" taller than Rob, so I'd guess at least 5'8 7/8". I peg him at 5'9" or so.
Andrea
said on 12/Mar/17
Once again, I called it! 😜
I wonder how people can say he looks a decent 5'9 or even over, considering that Rob himself has said his hair give him an extra half an inch!!!
He definitely doesn't look a big 5'9 guy with Rob, which of course DOESN'T mean he is not 5'9, though! Most of the celebrities that Rob met looks at least half an inch shorter than their listings BUT get listed taller because maybe in person they looked taller than in the actual photo, I think (or I hope)! If Rob decided to give him 5'8.75, though, it means there's basically zero chance he's as tall as 5'9, so this is probably pretty close to how he actually looked to him in person: max 5'8.75!!!
Arthur, you should stick to downgrading Connor and flaming other visitors 😛😊
Blake
said on 11/Mar/17
why did you drop the quarter inch Where his shoes thicker than you first thought?
Editor Rob: I feel that is what he could measure barefoot.
Arthur
said on 11/Mar/17
What the F? The only guy who actually looked exactly as listed in a photo, if not a bit taller than his listing, GETS A DWONGRADE?
This IS NOT a 0.5 inch difference, considering Rob is 5'8 1/8 or 5'8.25. It is just not that low. It's a solid 2 cm. And I think Rob is closer to the camera too.
Editor Rob:
I wouldn't count Sean's extra hair. Though even if you count his hair he still doesn't look taller than
174.8cm Father
. Flatten his hair and maybe he even looks a tad smaller.
Sandy Cowell
said on 9/Mar/17
He looks like a thoroughly likeable, friendly guy, Rob! Was he?
I think he might be a tad over the 5ft9 mark actually. He gets 5ft9.25 from me and a place on my talent radar!
Editor Rob: certainly was friendly with people from what I seen that weekend.
Bobby
said on 7/Mar/17
I feel he is taller than a flat 5'9 but not quite 5'10... Maybe 5'9.5?
Editor Rob: I wouldn't bet on it....
Adamz
said on 5/Mar/17
solid 175cm.
Do not forget our boy Rob is a strong 5-8. Rob is really more 173.5-174.0cm
CeBkA1337
said on 4/Mar/17
174-175cm, has thicker hair than Rob so he looks taller
Ultimate
said on 28/Feb/17
3/4 of inch taller than Rob clearly.
Peter 179cm
said on 27/Feb/17
Doesn't look over 174 with Rob.
Kourosh 5'9.5 (176cm-177cm)
said on 25/Feb/17
Base on this picture he is clearly over 5'9 or 176 cm.
HonestSlovene
said on 24/Feb/17
Looks like a good example of a legit 175 cm, no more no less.
Arthur
said on 23/Feb/17
Might actually be the only guy who looks 5'9 and is listed 5'9 in a photo with Rob. I could even buy 5'9 and a bit for him, unless the footwear wasnt' equal.
Strong 5ft9
said on 23/Feb/17
Looks like a weak 5'9" maybe. but pretty close around the 5'9" range.
F97
said on 23/Feb/17
Looks no more than 173.5- 174 cm range
Andrea
said on 23/Feb/17
This guy actually does look a bit over his listing with you, Rob! He really looks more around 176 than 175... WITH ALL OF HIS HAIR 😀😎
Editor Rob:
well it's true he definitely has an extra half inch worth of hair, you can see with a flatter style:
Click Here
.
I think up Sean had an edge on Jeremy Renner.
Arch Stanton
said on 15/Jul/15
Looks like he could be John Travolta's son.