Sela Ward's Height
5ft 7 (170.2 cm)
American actress best known for appearing in The Fugitive and tv series like CSI: NY, Sisters and Once and Again. In a 1993 article it mentioned "Though she was too short at 5-foot-7 for the runway"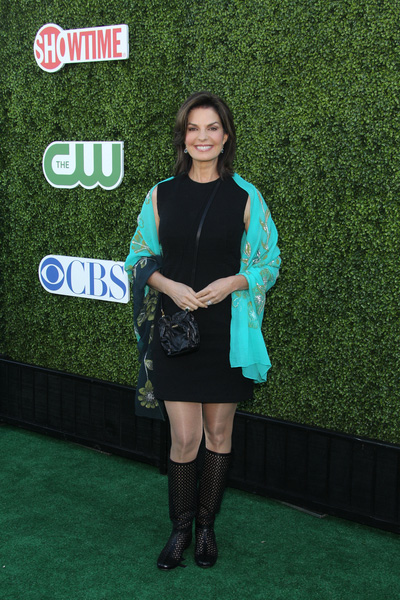 Photo by PR Photos
Add a Comment
10 comments
Average Guess (4 Votes)
5ft 7.56in (171.6cm)
Nik
said on 28/Apr/20
Strong 5 foot 7!
Miss Sandy Cowell
said on 26/Apr/20
I've just seen Sela in a taut little thriller called 'The Stepfather', and it was a completely different bit of viewing from the part she plays in 'House', as Dr House's ex-wife. She stars as an overly trusting woman who meets a guy who is dangerous in the extreme, having just killed his family. What a rotten great stinker!
I'd say Sela looked around 5ft7-5ft7.5, but that's only because I know her height from 'House'! I think the actor who played her demented boyfriend was really tall because Sela and her co-star, Amber Heard, didn't look above average - and they are! Sela had a tall grown-up son in the movie as well, played by Penn Badgely, which didn't do her any favours when comparing the two. She didn't look tall enough to have a son of that size.
Because I've had opportunities galore to compare her to Hugh Laurie and the rest of the 'House' cast, I'm plumping for 5ft7.25. 😁🌹
Bradley
said on 17/Jul/19
As listed. If she were taller she'd been Elite's runway girl.
Miss Sandy Cowell
said on 13/Jul/19
I'm watching episode 10 of Season Two of House right now, and Sela's Stacy Warner, House's ex, and House himself have been stranded at an airport due to bad weather. The two of them are still SO attracted to one another, and I'm wondering if they're going to get it on! They are having a passionate kiss and then, typically, they are interrupted by the phone, by Eric Foreskin, oh, I mean Foreman. 😝
I can understand why people think that Sela passes for taller than 5ft7. When she just got up close and personal with Hugh Laurie's Greg House a few minutes ago, I'd have sworn she was nearer the 5ft9 mark, just as Mish said way back in January 2012. What can I do about this then? As Sela has just the one vote, for 5ft7, it doesn't show much enthusiasm for her height, but I'd love to forward a vote for 5ft8. When Sela and Hugh were kissing in an hotel room, I very much doubt that she was wearing high heels! 😉
mish
said on 23/Jan/12
Honestly thought Sela was at least 5'9!! She looks super tall in "The Stepfather"
Akshay
said on 4/Mar/09
this is correct..Sela is atleast an inch and a half taller than lisa edelstein (Dr.Cuddy)in House. And she does come upto wilsons mouth..so she must be an easy 5-7.
curtis
said on 30/Nov/06
I was with Sela on an elevator back in the 80's. She's 5'6".
Nikki
said on 16/Mar/06
Monica Seles can't be 5'10. I met her at the Rogers Cup in Toronto last summer. I'm 5" and she didn't appear that tall. She wasn't dwarfing anybody that's for sure. I reckon she's around 5'7-5'9 at the most. FYI, she wasn't wearing any heels, just running shoes (she had a tennis clinic with these kids), so maybe that's what gave her the height gain the pics you've seen.
rick
said on 11/Jul/05
I foud a pic which confirms monica's height. She looks aroud 12/13 cms smaller than Lindsay Davenport(189)
http://www.wtatour.com/photogallery/2003/Default.asp
rick
said on 19/Apr/05
During few years her official height was 177 cms . I thinck there is a mystake of 1 inch today ( 5'9.5" mystaken for 5'10.5")