Seth Meyers Height
5ft 10 ¾ (179.7 cm)
American TV host, comedian and actor known for his show Late Night with Seth Meyers.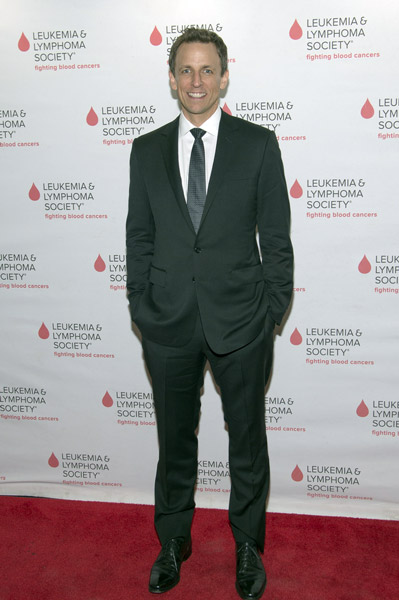 Photos by PR Photos
Add a Comment
24 comments
Average Guess (20 Votes)
5ft 10.65in (179.5cm)
Daycringeothon
said on 4/Jan/21
Seems 5'5" sitting down in his host seat lol. Judging night show host's heights from sitting positions yield nothing. He doesn't seem over average height 5'9.5"though. Others may have studied his estimated height from their own experiences.
Morgan 6'1
said on 9/Nov/20
I Met in 2017 after a show im 6'1 and a half I wake up just over 6'2here seth is actually 6f12 atleast. But thats in personality seemed maybe 2 inches shorter gonna go 5'10 and a half I say ue spends his mornings bang
on 5'11 flat probably more he was a few good feet away on uneven side walk
Vastlybetter
said on 27/Jun/20
Rob, what's your guess on Jan Böhmermann's height?
Click Here

Editor Rob
Can look 6ft 2+
JakeyJake
said on 18/Apr/20
Probably just under 5'10".
Fezz123
said on 15/Apr/20
Kinda shocked at the height overestimations for Seth.
Check out some premiere pics of him standing next to 5'11" Jimmy Fallon. Seth is a good inch and a half shorter, once you ignore the spiked-up hair.
Greg
said on 11/Aug/19
Yeah it was definitely not credible my brother is a case of the Big G he claimed to be 6'1,In a photo with Seth he seemed to look a bit shorter. and I called him out because in his photos he looked much shorter he also claimed 6'0. There was also a photo of him standing next to a Model who was listed as 6'0, not sure if he was the full 6'0 or not be he looked around 2 inches shorter. So I thought maybe 5'10, and recently I saw him at the airport although he denied it was him but it looked exactly like him but the guy couldn't have been much over 5'9, like 5'9.5 at the most I had a bit more sneaker but either way I comfortably edged him out.
Rampage(-_-_-)Clover
said on 9/Jan/19
His brother looks 184-185cm zone, coincidentally is listed 6ft1
Greg
said on 23/Nov/18
My brother recently met him and said he estimated Seth to be around 5'9, I'm not sure how credible his estimation was.
Leno179
said on 2/Jun/18
I see a pattern where most of this presenters claim 6'0, Fallon and Kimmel are two 5'11 guys who claim it, but for me, Meyers is 5'10 1/2, just a bit under them
Triplescrew
said on 17/Sep/17
Lift wearer? Otherwise can't see under 5'11". Looked pretty tall during the Emmys and looked taller than Alec Baldwin.
Mat
said on 28/Jun/16
Click Here
Click Here
What's their difference Rob? In the first it looks 2 inches but in the second it looks less
Editor Rob: between 3-4cm range might be the difference.
Aaron Zamora
said on 21/Jun/16
Can a 5'9 3/4 be debatable? Do you believe his brother Josh Meyers is 6'1?
Editor Rob: you could certainly argue Seth at times looks a weak 5ft 10, but generally I thought 5ft 10 range might be more likely.
Mat
said on 21/Mar/16
Click Here
Rob, why does he look about the same as Samberg here?
Editor Rob: in that clip I'd never have said seth was the same height, he looked taller, but how much is debatable.
chris141
said on 8/Jan/16
179cm suits him better rob.
TJE
said on 21/Aug/15
@Rampage
Fallon wears shoes a cm thicker than the average dress shoe.
MD
said on 21/Aug/15
Rampage, I used to think Jimmy was his claim of 6'0", but the more and more I see of him, I'm not even convinced he's his current listing, so he's certainly not more than it. If anything, it's possible that both of these guys are a quarter-inch to maybe even a half-inch less than their listing. I don't have enough evidence yet to prove that, but the current listings for them both are the absolute max either could be.
Hypado
said on 21/Aug/15
Seth Meyers's height is 5ft 11.75in (182 cm)
Cold be Elevator Shoes in the Late Show???
Sam
said on 20/Aug/15
Would be cool to get a page for his "bandleader" Fred Armisen, who is in a lot of stuff...
I think he looks maybe 2-2.5 inches shorter than Meyers.
Click Here
Rampage(-_-_-)Clover
said on 19/Aug/15
Seth Meyers - 5ft10¾(180cm)
Jimmy Fallon - 5ft11¾(182cm)
Click Here
Click Here
Click Here
Fallon might even be 6ft.
samuel pinkerton
said on 19/Aug/15
Great estimation Rob. Spot on as usual.
Mastro
said on 17/Aug/15
Important to get him right- since we basically use these guys as yardsticks to their guests.
slothee
said on 17/Aug/15
This is a good listing. He generally appears 5ft 10.5-11 range. Never seemed 6ft.
Sam
said on 17/Aug/15
Thanks, this is pretty much what he looks...I'd buy Fallon at 0.75 inches taller than his NBC late-night buddy. They looked about that on SNL as the Irish brothers too.