Sharlto Copley's Height
5ft 11 ½ (181.6 cm)
South African Actor best known for roles in films like District 9, The A-Team and Elysium.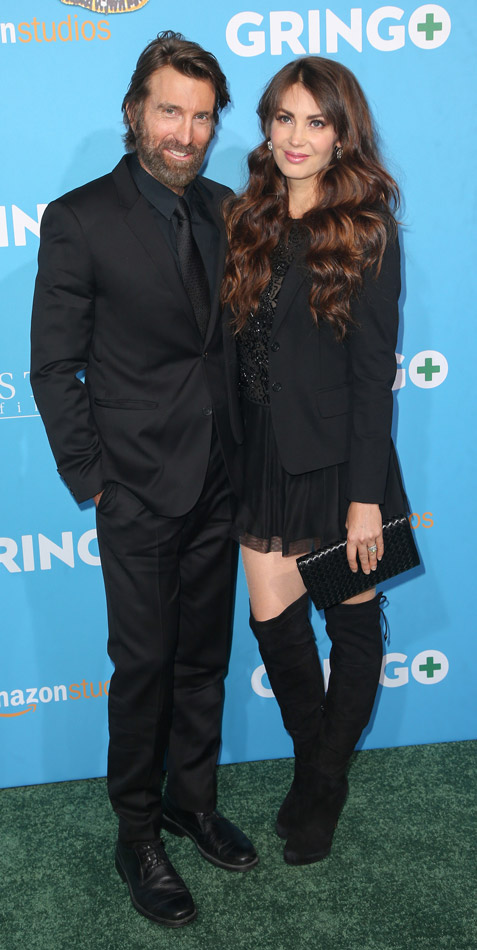 Photos by PR Photos
Add a Comment
27 comments
Average Guess (12 Votes)
5ft 11.5in (181.6cm)
Chris Junior Hernandez 1990
said on 5/Aug/20
I recall back during the The A-Team release he was listed in some places as 5'10.
Jam Cherry
said on 10/Jun/20
181.5 cm fits him well
Junior Hernandez 1990
said on 22/Jun/18
sharlto copley posture wise isn't at best most of time. He can look 3-4cm shorter than Bradley Cooper but when catch back posture seem like 3/4-1" between them.
berta
said on 28/Mar/18
i think in the a team
sharlto copley 181
Bradley cooper 183,5-184
Liam neeson 192,5 (lost 5-8 mm from peak)
rampage jackson 182
S.J.H
said on 16/Jun/17
A Team members 7 years ago
Sharlto Copley 181cm
Bradley Cooper 183.5cm
Liam Neeson 192cm , now 191cm
Quinton Rampage Jackson 181cm
Rampage(-_-_-)Clover
said on 20/Dec/16
Copley: 181-182cm
Cooper: 184-185cm
Dejavu
said on 28/Jun/16
I thought Bradley Cooper looked an inch or more on this guy. He looks 5 cm taller than Damon though. Probably 181-182 range and Cooper is not under 184cm.
The Dutch Guy
said on 17/Nov/15
Spot on. Weak 6ft.
Arch Stanton
said on 7/Aug/14
Well, I think he could pass for 6 ft anyway...
jtm
said on 6/Aug/14
not sure why damon is still listed 5'10 here. he looked around the same height rob did next to joel gretsch.
cole
said on 5/Aug/14
@Editor Rob: You might as well upgrade him to 6ft, if you are going to keep Matt Damon at 5'10 anyway - Sharlto's pretty clearly 2 inches taller...
Arch Stanton
said on 9/Jun/14
Rob you might want to add Murdock in the A-Team. He could look near 6'1 in District 9 actually.
[Editor Rob: yeah, I thought he was good, but not sure he looked that tall in District 9...thought he was too jokey in Elysium]
Rampage(-_-_-)Clover
said on 13/Jan/14
"Sharlto Copley's height is 5ft 11.25in (181cm)"
Could be just 5ft11
kevin
said on 2/Oct/13
damon is 176cm i believe and copley i guess is about 181cm.
cole
said on 4/Sep/13
Click Here
There is pretty much 2in (5 cm) between Sharlto and Matt Damon. 181-182 cm range for Copley (5'11.5), 176-177 cm range for Damon (5'9.5).
Lo sgozzatore
said on 2/Sep/13
Well, he can look 2 inches shorter than Bradley Cooper in photos, i'd say he's at least 1.5 inches shorter and we know that Cooper is about 6' range... So, or Cooper has lifts on or there's noway this guy is over 5'11 :)
cole
said on 2/Sep/13
181-182 range for sure.
Lo sgozzatore
said on 29/Aug/13
Rob, didnt you change him to 181? Now he's 182 again? xD
[Editor Rob: he lasted half a day at 181 :)]
gsbr
said on 15/Jun/13
I think Copley's scrawny build makes him appear shorter than he really is. He looks pretty close in height to Cooper here:
Click Here
On another note, he seems to be taller than Rampage Jackson in all the A-Team cast photos and Jackson is supposed to be 6'1". Makes me wonder what Jackson's real height is.
Lo sgozzatore
said on 10/Feb/13
Rob, if Bradley Cooper is 183-184 max (which is my thought), this guy really struggles to be 5'11. I'd say he's not over 5'11 and a big possibility he's under that! Maybe he's a weak 5'11
kevin
said on 20/Nov/12
more like 180-181cm.
Rampage(-_-_-)Clover
said on 27/Aug/12
More like 5"11(180cm) in The A-Team. Cooper has him by 2in and Neeson has him by 5in.
Rampage Jackson looked the same, maybe 1-2cm taller at the most.
Sam
said on 10/Jan/12
An even 5'11" might be the case for Sharlto Copley
Tarrence
said on 30/Nov/11
Rampage 5'9.75"
Copley 5'10.75"
Cooper 5'11.75"
Mat
said on 18/Jan/11
He doesn't look anything like 5'11.5 to me. Easily the shortest in The A-Team, I'd say 5'9 at best. Rampage at 5'10, Cooper 6'1 and Neeson 6'4.
Ace
said on 30/Dec/10
Rampage, Copley had a good inch on Rampage throughout the whole film. There was at most an inch difference as well between him and Cooper. Rampage is probably about 5`11, Copley is about 6`0, and Cooper is 6`1.
dmeyer
said on 28/Nov/10
he looks this height in a team quinton who is supose to be 6 ft 1 is defenetly not taller thats 5 ft 11.5 copler quinton is solid 5 ft 11 no more