Shirley Henderson's Height
5ft ¼ in (153 cm)
Scottish actress known for Trainspotting, Bridget Jones Diary, Harry Potter, 24 Hour Party People, Stan & Ollie, Filth and Wild Child. In the Scotsman, talking about being cast in Doctor Sleep opposite Goran Visnjic, she said
"When I got the part, I was amazed. I thought, 'You're joking, that doesn't make sense. He's six-foot-four and I'm five-feet-nothing!'"
and in Daily Record
"You are what you are. I'm 5ft. I'll never be 5ft 10in with luscious lips. I can only be my version of it and if my version fits in, that's nice."
. In this photo Shirley had 1.3-1.5 inch more footwear than me.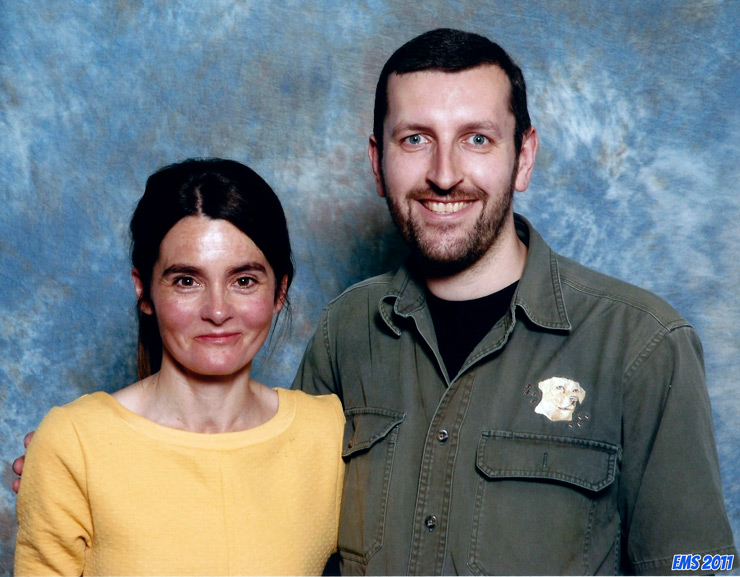 5ft 8 Rob and Shirley @ Entertainment Media Show 2011
I'm 5ft and a scraping. And he's [Rufus Sewell] over 6ft, so we're not compatible really. In fact, I was in very flat shoes a lot of the time so it's even more accentuated. And he was in high heels for goodness' sake (he is in drag for a couple of scenes), so there's another four or five inches. But I don't feel any difference when we're working together. It's only when I see it on screen.
-- The Times, 2005 (Nov 19)
You May Be Interested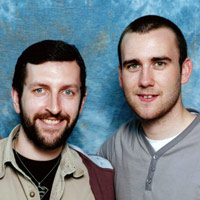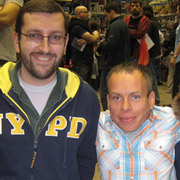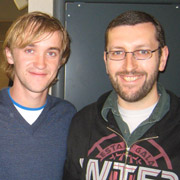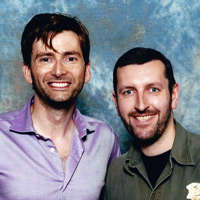 Add a Comment
33 comments
Average Guess (17 Votes)
5ft 0.29in (153.1cm)
Elene
said on 8/Aug/21
Could be 5'0.25
Andrea
said on 18/Jul/21
Unless you're dropping more height than it seems, I could even have bought 153-4 from this pic. I know that her "five-feet-nothing" claim should rule it out, but is a bit over 5'0 actually possible?

Editor Rob
a fraction over is very possible...I am sure at one point I saw a spotlight listing of 5ft 2.
Miss Sandy Cowell
said on 25/Nov/20
🎂💝 Wishing Shirley a belated Happy Birthday. The petite actress celebrated her 5️⃣5️⃣th yesterday, but looks YEARS younger!
I hope you had a wonderful Birthday, and here's a quality 5ft plus a quarter-inch as your Birthday Guess. 🎁🎊 XXX 💐🎈
💐💝🎂🎊💐🎁🎂🎉💐💝🎂🎊💐🎁🎂🎉
Miss Sandy Cowell
said on 20/Aug/20
I've never known Shirley to fiddle her height, and for that, she deserves a massive round of applause! 😁👏
I have loads of her films. 😉📺👍
5ft 👩📀💿📀💿📀💿
Nik
said on 8/Jun/20
Strong 5 footer!
Miss Sandy Cowell
said on 7/May/20
I could tell that Shirley was in this episode of Agatha Christie's Marple (Murder Is Easy 😰) without even looking at the TV screen! Her voice is so sweetly distinctive that it's as simple as blinking to tell when she's starring in something. One day, I'll have to have a thorough count up of how many DVDs of hers I have and report back....
Shirley can have 5ft.
📏📏📏📏📏 👩💐
Sandy Cowell
said on 9/Feb/19
Shirley even starred with Andrew Scarborough in 'Jamaica Inn'. This girl has appeared in absolutely loads of commendable stuff and she must be a whole lot older than she looks...
Being just 5 foot zero always helps, of course!
Peter 180cm
said on 13/Jan/19
Looks 153cm without the advantage.Maybe even 154 at a stretch..
Littlelee168cm
said on 19/Nov/18
Is she 5ft 2.5 in the photo with you Rob? She's looks about 6 inches shorter than you here

Editor Rob
I thought she looked under 5ft 2 that moment.
Dalziel
said on 20/Nov/17
Didn't she used to be in Hamish Macbeth with Robert Carlyle?

Editor Rob
Nik
said on 2/Aug/17
Nice random celeb!
Nik
said on 2/Aug/17
@ Sandy Cowell
Have a great day too! 😃
Guess whi come up as a random celeb at 7.00 this morning? Maryse Ouellet, so I went on and saw your comment from the 31st July, which I would never have known about otherwise!
Sandy Cowell
said on 2/Aug/17
@ Nik - You're more than welcome! Have a great day! 😊
Nik
said on 1/Aug/17
@ Sandy Cowell
Thanks for that!
👍
Sandy Cowell
said on 31/Jul/17
@ Nik - How very sweet! We feel the same about you Nik, and then some!
I am waiting for a cab right now in order to get my painkillers!
I'll be back later!
even
said on 28/Jul/17
at five feet tall , shes no more than 90 pounds
even
said on 25/Jul/17
a five footer but a beautiful five footer
even
said on 21/Jul/17
a five footer
Nik
said on 7/Jul/17
Voting time for me! 5'0.25" is my guess.
Nik
said on 20/Jun/17
@ Sandy Cowell
It's good to know that Shirley will be going into the "girls" section of your scrapbook! I think that she deserves her place, don't you?
I remember you saying about actors and actresses qualifying for your scrapbook once you have got 5 examples of their acting, I also know that you have separate scrapbooks for the "boys" and for the "girls"!
I voted for Shirley to be 5'0.5" but since then I think that I over quoted her so In my comment on the 16th June I took 1/4 of an inch off that vote (sorry Shirley!), I reckon she probably is 5'0" or 5'0.25", when it comes to voting again I will probably go for one of those heights!
The thing about comparing 2 peoples heights is that they have both got to be standing up straight and if you are watching a television programme or film you have got to press the pause button at exactly the right time when both the celebrities are in the right position as well as both being stood up straight!
No I didn't know about her appearing in a sequel to "Trainspotting" with all the other original cast members!
Cheers!
Sandy Cowell
said on 19/Jun/17
@ Rob - Thanks for that! I have a copy which I haven't even seen yet, as is so often the way! 😑
Sandy Cowell
said on 18/Jun/17
@ Nik - Firstly, I have only recently 'discovered' her talent! I can put her among the actresses in my scrapbook now because I have at least 7 examples of her acting, and actors or actresses 'qualify' once I have a minimum of 5!
I gave Shirley 5ft when I voted, by the way. Oh, and she looks tiny next to Sean Harris. You get an excellent chance to compare the two in 'Southcliffe'; she plays his sick Mum's carer, and brushes past him a few times!
Did you know that they have made a sequel to 'Trainspotting' and she is in it, as are all the other original cast members!
You could say that right now Shirley certainly is one of my favourite actresses! If she's in something, it's going to be good! 👍

Editor Rob
she was good in Filth too
Nik
said on 18/Jun/17
@ Sandy Cowell
It's interesting that Shirley Henderson and Sean Harris work well together, they will be a very good double act! I take it she's one of your favourite actresses then!
How tall do you reckon she is?
I know one thing when you see her with Sean Harris then you will be able to use each of them as a yardstick for working out the other ones height!
Sandy Cowell
said on 16/Jun/17
@ Nik - Yes, small she may be but short on talent? Not on your life!
Although she was in 'Trainspotting', and I'll recognize her when I next see it, I have recently been alerted to her performances via Sean Harris's TV and film work, all of which can be bought on the internet. She's in 'Southcliffe', '24 Hour Party People' and 'Jamaica Inn' with him. They work well together!
Nik
said on 16/Jun/17
@ Sandy Cowell
Yes you are right! I would say that I over quoted her in my last comment and I think that I am going to lower my original estimate, I reckon she is probably nearer to 5 foot nothing than 5'1", right I will go for 5'0.25"!
She is a little cherub and often appears as a random celeb too, like Moon Bloodgood!
Cheers Sandy!
Sandy Cowell
said on 15/Jun/17
@ Nik - I see what you mean about Shirley looking taller in this picture, but she really is very small indeed. She made her screen husband Eddie Marsen (darn good actor!) look tall in Southcliffe, and he is actually below average!
Cheers Nik! 👍😁
Nik
said on 14/Jun/17
A nice random celeb to pop up st 7:56 this morning! She looks over 5'0" to me and a little bit nearer to 5'1"!
Sandy Cowell
said on 23/May/17
I saw '24 Hour Party People' yesterday, and it made a pleasant change to see this little actress playing someone funny!
The day before, I saw Shirley playing a bereaved mother in the mini series 'Southcliffe'! To say her performance was moving is an understatement! I had goose pimples watching her! She was also fantastic in 'Happy Valley', with Sarah Lancashire. I didn't know she was in 'Trainspotting', as my first brush with her, the one that made me sit up and take notice, was in 'Happy Valley', but it might well be worth digging out my copy to see her!
She looks 5ft at the very most! I think she's a wonderful actress.
Sandy Cowell
said on 21/May/17
Well, my goodness! I have to get back on this girl! She's a legend in the acting capacity and I have plenty of evidence to back it up.
Right now I'm afunctional.
See you later! 😘
Slothee
said on 22/Dec/16
Looks near 5'1" to me
Giorgi
said on 20/Dec/16
I love how Scots share certain facial traits. Short but beautiful lady ;))
david
said on 21/Sep/14
155 cm is good for her
Serene
said on 11/Feb/06
Haha..good quote. " I'm five-feet-nothing!!" Yeah, she is short in the Harry Potter movies too. She is a good actress.