Simon Webbe's Height
5ft 11 (180.3 cm)
English Singer, from the band Blue. He said in the Mirror Newspaper,
"I'd like to be taller. I'm 5ft 11in but 6ft would be nicer. When I was modelling I never got jobs because of my height. It was all catalogue jobs. Just another inch or two. Yeah it's always good to have an extra inch..."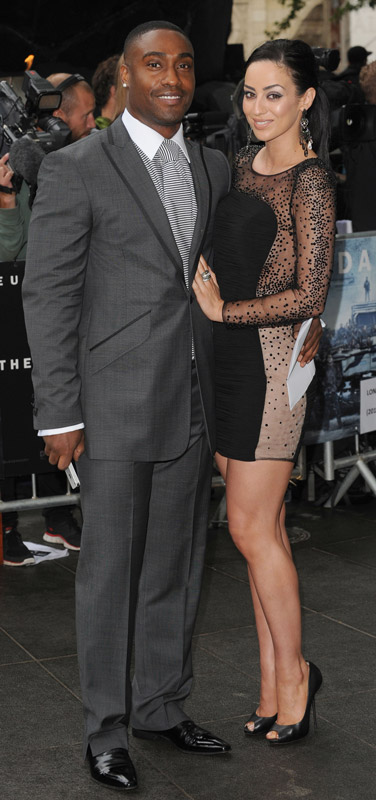 Simon and Maria Kouka ("I love being tall!! Well if u can call 5'7 tall")
Photos by PR Photos
Add a Comment
16 comments
Average Guess (6 Votes)
5ft 10.46in (179cm)
OriginalAnon
said on 6/Jul/20
At first glance I thought this guy was taller, back in the early 2000's. Realistically, he would be lucky to be 5'11''. I think he is probably 178cm. I liked that solo album he brought out in 2005.
Beej
said on 19/Aug/19
Met him. He's my height - slightly under 5 '10.
Tonyx
said on 30/Dec/17
"Yeah it's always good to have an extra inch..."
Was he still talking about height?
He can look anywhere between 179cm and 180cm.
Hussein Al Janabi
said on 5/Sep/17
He is shorter than 5'11 Lee in most pictures by about an inch , He can never be 5'11 mostly 5'10.
George(198 at night)
said on 28/May/16
He is 180 at morning. But 177-178 at night.
Anna
said on 7/Apr/13
I'm not sure about Simon's height as I've never observed him but I've seen Lee Ryan as he's come into my workplace and he's between 5'9-5'10 at the very most, I'm 5'7 and he wasn't towering over me, just a bit taller. I definitely wouldn't describe him as being a particularly tall guy. Average height.
hmmm
said on 14/Jun/12
he is not 5'11...im 5'11 and a model. Everyone knows that 5'11-6'2 is ideal model height. It is also known that they add an inch to your height as a model id say in most, not all cases. i get listed as 6 and i easily pull it off in shoes. this guy is 100 percent 5'10, 5'11 in shoes im guessing.
joe joe
said on 22/Jan/12
I work with Blue in the studio and met all the boys Simon looks to be about 5'10 to me Im 6'1 and he was about clearly about 2 inches shorter
little sue
said on 8/Jan/12
There was'nt much diference between Simon, Duncan and Lee out of the Blue boys, only Anthony was noticebly smaller at 5ft 8.
Godred
said on 7/Jan/12
5`10 flat.
linke
said on 7/Jan/12
he always looked bit taller than his 5'10 listings.
Shaun
said on 7/Jan/12
Click Here
With 6'0.5" Rick Yune. Not far off 5'11". I'd say 179cm might be about what he. I always thought he looked like a typical 5'10 black guy though.
Shaun
said on 7/Jan/12
5'10" barefoot. If he was a genuine 5'11" I think he would have scraped those modelling jobs especially with his physique/chiselled features. 5'11-6'3" is male model range.
IWishIWasALittleBitTaller
said on 6/Jan/12
he was the tallest member of Blue, a fraction over Lee Ryan. 5'11 is probably fair I think.
little sue
said on 6/Jan/12
He more than makes up with it with his big ............muscles
Big Boss Dawg
said on 5/Jan/12
5 ft 10 is probably closer, especially if he says it hurt his modelling career