Skandar Keynes Height
5ft 7 ½ (171.5 cm)
British actor best known for playing Edmund Pevensie in the Chronicle of Narnia film series.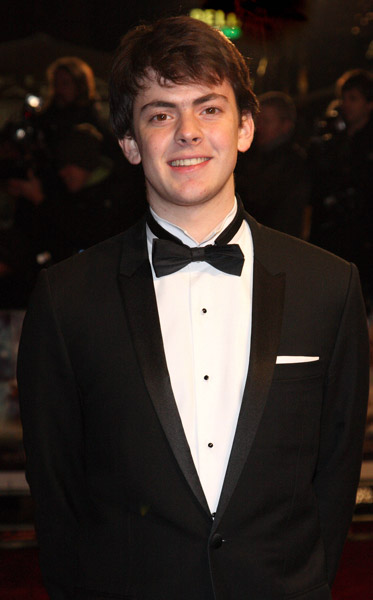 Photos by PR Photos
Add a Comment
45 comments
Average Guess (2 Votes)
5ft 7.5in (171.5cm)
Mark(5'9.5")
said on 5/Jul/17
He looks close to 5'8".
MD
said on 1/Dec/13
Definitely out of date. As last as late 2010, he was already an inch shorter than Simon Pegg, which would confirm this listing. He probably hasn't grown since then, but he's certainly not much shorter (if shorter at all) than currently listed.
Pedro
said on 28/Nov/13
In his agency he is listed at "5'5". But it could be out of date:
Click Here
Tate
said on 4/Jan/12
Well this listing is outdated, since it's already been nearly six year that Skandar Keynes had claimed to be 5'6".
Click Here
In this 2008 photo Keynes is a bit leaning, but you can clearly see that William Moseley, who is listed here as 5'9.5" is not much taller than Keynes. We can't see whether they are wearing lifts, but I don't think any one of them has much shoe advantage. I'd say Keynes is around 5'8".
[Editor Rob: the quote is from 06, so yeah it's a bit out of date, he looks from this year near 5ft 8]
dan
said on 8/Aug/11
can anyone tell me the height of skander keynes..........i've searched on th net and found that he is 5'8 .........but he looks like 5'5 or 5'6....
Mrs. Keynes
said on 22/Dec/10
He is not 6'1 if I know anything. I have met Skandar, in fact he is my cousin. He is exactly 5'9
anonymous
said on 4/Jun/09
I think he's 6'..6'1'' seems too tall when i saw his recent pictures but he seems definitely taller than 5'10''-5'11'' in pics.
Anonymous
said on 28/Apr/09
Lol, he hasn't grown 5-6 inches. He might be 5'8 now, but no taller.
Lacee
said on 17/Mar/09
I think he may be my height about 5'10 or 5'11 he may even be 6'0 but who knows he was 5'6 in 2006 and he grew about 5 or 6 more inches so yeah
MD
said on 1/Feb/09
Actually, he is not. Though, I think he's grown since last I posted pictures of him back in May:
In June of last year with Moseley:
Click Here
Click Here
And, in September looking a bit taller, I think. It could simply be difference in footwear for both, though.
Click Here
Click Here
Click Here
I really have no idea where this 6'1" rumor came from. It's so ridiculous that it's not even funny.
sha
said on 31/Jan/09
urm...
actually..
now his height is 6 ft 1.. (185cm)
Natasha
said on 2/Jan/09
Definately a 5'6 footer cuz if u note it in the movie hes shorter than the other guys
MD
said on 8/Dec/08
Jenny,
Rob estimated William to be no more than 5'9.5" to 5'9.75" just so you know.
Keyshia
said on 8/Dec/08
Hey, you grow 6 and half inches and and that's tell me 5 and 4 and half.
joana
said on 8/Dec/08
i agree with sanika.now his taller because he growned up!!!
Jenny
said on 1/Oct/08
In the url MD gave, Skandar's just a little shorter than Will. If Will's height is 5'10-5'11, then Skandar should be about 5'8-5'9. He's pretty cute though...
Anonymous
said on 27/Sep/08
People (i.e., Irine) Skandar actually does not visit this site, so you don't have to pretend to speak to him directly, okay? We like to speak in the third person when speaking of the people on this site, so no need to slip into second person, right?
TRSK
said on 19/Aug/08
Wow, this is wild, what die hard fans! Grew almost 4 inches between shootings, around 5'8'' now. Case closed, mystery solved, but you were all close. Stay true...
Evvvic
said on 3/Aug/08
I found on more pages that he is about 6"1.BUt I think that he is a shorter...about 5"9.
Irine
said on 16/Jul/08
I actually don't know your height!!Some of my friends say you are 6ft.But I think you are shorter(sorry)!I think you are about 5ft'7.But you are cute any way!Too CUTE!!!!!
Urban
said on 4/Jun/08
He is 5'6 or 5'7 max because i was right next to him and my friend said he was like two inches taller than me ..I'm 5'4 1/2
anonymous
said on 28/May/08
he looks taller in prince caspian so i would look into this one more
thekiddd
said on 27/May/08
Minor correction Rob, this guy spells his name as Skandar, not Skander.
[Editor Rob: oh I hadn't noticed the e/a, thanks I shall change it!]
Tessa
said on 26/May/08
Perfect height!! I'm 5'' 2' and he's only 4' tallar than me!I'm still growing too!!!!So Skandar is mine (back off everyone!!!)I would be perfect for you Skandar(if you read this Skandar).
Sanika
said on 20/May/08
My sister met Skander at the premeir in Londen...and he is 5"6.And he is a TOTAL hottie...but he'z mine;)
Didi
said on 18/May/08
well u guys should probably know that he grew 6 or 5 inch in a half during the chronicles of narnia:the lion,the witch and the wardrobe!and know he's 6ft and he told it himself on a show i can't remember what's it called but he said that!
Reyinn
said on 17/May/08
It's odd, but I see people claiming that he's almost six feet tall. He is definitely not there; he's 5ft 6in...
Canada
said on 16/May/08
well thwy do have bigger shoes, but I agree he is not over 5'7 max. Plus he is never 6'1 the guy next to him is listed as 6' even and he is definetly not taller then him or that close.
MD
said on 8/May/08
Found some new pics, there is no way he's 6'1", nor even 5'11". Here he is May 7th at a Prince Caspian premiere on the far left with a 5'10" William Moseley on the far right:
Click Here
Not the best pic, but it shows that he hasn't grown much at all if any since 2006.
MD
said on 5/May/08
Crazy, I'm seeing 6'1" listings for him. Could he have possibly grown that much? The only photos I've seen are from 2006, and in one he's clearly shorter than 5'7" James McAvoy
MD
said on 4/May/08
Does anyone have any pictures showing that he grew this much?
Nik
said on 23/Apr/08
I'd say now he's probably about 5-11.
Anonymous
said on 12/Dec/07
teen idols lists him at 5,11
carolyn
said on 22/Apr/07
skandar is 5'6, although he doesn't look. In most of the pictures of him and Anaa there doesn't seem to be much of a difference in height between them, although Anna is about 3 feet smaller. THe reason that Anna looks like she is the same height as Skandar is because she always wears high heeled shoes, if she took them off she would be much shorter.
Amanda
said on 19/Sep/06
Skandar is 15 and 5' 6" that means he is at the 45th percentile for his age (taller than 45%, shorter than 55%). If he follows the growth curve, his full height will be just over 5' 9". I think he's slightly shorter than that, about 5' 5" (the height he said is with shoes), and so he'll be 5' 8 1/2" if he follows the growth curve.
Bluebell
said on 8/Sep/06
In the Getty photos taken in March Skandar was the same height as Anna Popplewell. Someone who worked on a play with him recently (June 06) said he was now at least 5'7 inches but actually looked taller because he's so slim. Well he has just turned 15 so should be continuing to grow. His Dad is quite short so I doubt he'll grow more than 5 foot 10 inches.
Amanda
said on 2/Sep/06
I have trouble believing 5' 6" for him. Next to Moseley (who is leaning over in the picture), 5' 4" to 5' 5" seems more accurate, although he is only (almost) 15, so he has many years to grow. Anna Popplewell is 5' 3.5", in heels (also leaning over), and I don't see much of a height difference. I bet Anna would be the same height or slightly taller if she were standing up straight (in those heels).
I don't doubt that Skandar is taller than Anna if they were both standing tall and in the same shoes... it's just not very much of a difference (my guess is about an inch, maybe an inch and a half). As for height predictions, I don't think Skandar is going to get very tall. My younger brother was 5' 10" and Skandar's age, and now he is 16 (1 year and 3 months older) and about 6' 1". But you never know! :)
Serene
said on 14/Jun/06
Braden, I think Skandar might grown but don't look like a 5'7" but close. If Skandar was 5'7-5'8, Popplewell would look almost the same too, wouldn't she? But last year's picture, Skandar was almost/around Popplewell's height. I think he only grown a little [ hehe 3 inches more] this year.
Braden
said on 7/Jun/06
I don't know. Since that was last year, Skander may have grown more tall. I think he's Like 5'7 or 5'8.
Serene
said on 31/May/06
You are right! Erm, it is from Narniafans.com?
john link
said on 17/May/06
I read somewhere that he grew 6.5 inches during the filming of chronicles of narnia. That's a lot of growing.
john link
said on 16/May/06
Thanks for adding him. Yeah I think 5'6" is pretty accurate. However, in your picture from the 'March 2006' pic, he doesn't look that much shorter than William, a bit but not a huge amount. As for Anna's height, how tall do you think she is? I thought I heard somewhere that they were the same height?? Apparently Skander has grown.
Serene
said on 4/May/06
Sorry Rob, my bad. Well, I did some picture checking.. apparently...
Skandar is 5'5.5"-5'6"...and I thought Anna was as the same height as he is ..how stupid me..
Well, Anna was wear 2.5 inch heels while Skandar was wearing his usual shoes.. haha..so in that case, you are right Rob.
Serene
said on 26/Apr/06
Did you know that they ( the kids in the NArnia movie) are planning to film Prince Caspian and Voyage Dawn Treader back to back? COol
Robert.. I think he is kinda tall for a 5'6".. less a bit. .
Serene
said on 19/Apr/06
Rob, thank you so much for adding Skandar Keynes in Celebeheights.com . Really appreciate it!!!
By,I still think that Skandar is less than 5'6" though..hmm..