Slim Thug's Height
6ft 6 (198.1 cm)
American Rapper. In some songs mentions 'Six Six'.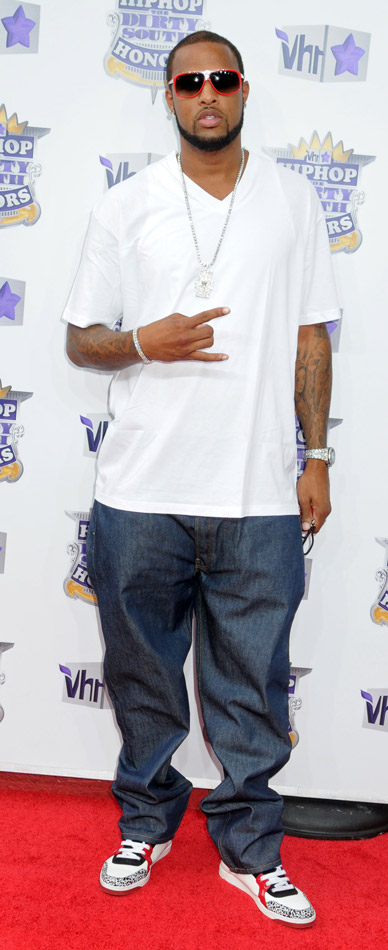 Photos by PR Photos
Add a Comment
37 comments
Average Guess (26 Votes)
6ft 6.3in (198.9cm)
Canson
said on 28/Nov/18
6'5 range
Isabel
said on 25/Nov/17
Awwww I love slim thug songs like I did not knew any rappers but his music and his voice wow
Canson
said on 29/Oct/17
His height is hard to pin down. Looks 194-195 at times at others 6'5. Rarely ever 6'6" imho. Doesn't look as tall as Carmelo Anthony or Bill Deblasio guys who really are near or over 6'6"
Canson
said on 29/Oct/17
@Anonymous: that likely puts Slim in the 6'5" range. TMAC is around 6'6.5 barefoot
Nik
said on 29/Oct/17
....Because not everyone is!
👍
Nik
said on 29/Oct/17
He has got a bizarre name. At least he is height honest!
Christian-6'5 3/8
said on 28/Oct/17
@Anonymous
"Slim" is sometimes just a nickname for "tall", has nothing to do with their build or weight.
Anonymous
said on 27/Oct/17
How is 6'6 and 265+ slim? Average guys at 5'9 and 165 must be anorexic :)
Six five and a half guy
said on 8/Jun/17
Tallest rappers are slim thug 2 chainz desiigner snoop dogg g easy wiz khalifa machine gun kelly and the game
Lee
said on 29/Jun/13
Claiming is one thing, being is another.
DirtyShoes
said on 26/Feb/13
i never thought he'd be that tall !!!!
Karl
said on 29/Jan/11
I am 6'7" and I stood next to him at DFW Airport, he was about the same height as me.. maybe a hare shorter
bwr33zy
said on 24/Jun/09
saw slim in melrose at platnium motorsport. Looks way taller than 6'6. Weird bt i guess he is! Super cute in person.
Anonymous
said on 25/Apr/09
Slims definatley about "5"10 I'm 6"2 and he's abt 4 inches shorter then me... Btw I am basing this on the fact that I really have no idea... I'm just puttin bs out of my mouth like most of y'all have been doing. Btw ppl who cares? Ppl like to come here and make up their heights to feel better about themselves... For instance the guy who is " 6"7 " I saw him yeah he's abt 5"7 lol haha
washethatall
said on 28/Jan/09
He said 6'6 in "Still tippin"
Jim Jones
said on 27/Jan/09
Click Here
Their he is with Swizz Beats who's 5'11 i believe so Ide give slima 6'5 or 6'4 1/2
Roberto
said on 30/Sep/08
6'6 no doubt! And all 6'6 was running from 5'9 Big Love during their physical altercation
GCash
said on 6/Jul/08
I'm from Houston, and I've been listening to Slim rap since he was 17, he's always said he was 6'6"...... And I def believe, I've seen dude in person a few times, and he towers over any other rapper...
Derek
said on 18/Jun/08
Not a great picture, but with 5'7"ish T.I.:
Click Here
T.I. is noticably closer to the camera, but is also slouching more. 6'6" could be possible for Slim Thug and he did look it with Beyonce being about 5'9" in heels. 6'5" bare minimum, but it's possible he could be somewhere in between the two.
Viper
said on 18/Jun/08
That would make Slim Thug 6-5 If hes an inch shorter than Tmac.
Hyshon Gaines
said on 17/Jun/08
Im 6'7" and slim thug stood next to me and im at least 3 inches taller,so i doubt 6'6"
Anonymous
said on 7/Aug/07
i went to the tapping of a mike jones video and i met slim thug and tmac at the same time, and Slim thug was about 1 to 1 and half inches shorter than TMAC! He's a big guy. He is def 6'6.
Viper
said on 3/Apr/07
He really looks 6-6. If hes below that then it isnt by much.
Derek
said on 3/Apr/07
6'3" is bull. I posted a picture of ST with 5'6" Beyonce IN HEELS, and Thug still had a head on her. The dude is 6'6" at very least.
Anonymous
said on 2/Apr/07
well im 6'3 and i seen him in carolina place mall in charlotte nc and he looks about my height
rashard
said on 21/Mar/07
hes 6'6 i saw him in ma local mall in h-town and im 6 foot and he was alot taller
Derek
said on 24/Feb/07
Some article I was reading had him at 6'6" 265. ST is huge. He definitely looks all of 6'6" and all of 265.
Jordan
said on 6/Nov/06
Easy 6'5, prolly 6'6
6'2'' JK
said on 3/Nov/06
I don't think he is any bigger than 6'6''
Viper652
said on 2/Nov/06
Then that is the tallest 6-2 dude I have ever seen in my life.
andy
said on 1/Nov/06
he's like 6'2'' at the most, cuz im 6'1'' and he's 1'' taller than me when I saw him at a recent concert
Viper652
said on 12/Oct/06
Looks 6-6 to me.
Derek
said on 11/Oct/06
He aint under 6'6". With 5'10" Chamillionaire:
Click Here
Ball-A-Hallic
said on 18/Mar/06
He's huge i saw him on stage during a music special with just Mike Jones who is like 5'9 and Slim Towered him and some other dude who looked maybe 6'3 but was fatter.
wrestling
said on 17/Jan/06
He Def Look 196+ ... Nothing Under 6'5" ... And Yea He Does Say That In The Song With Mike Jones N Paul Wall , Hes One Hell Of A Big Guy
Luke Durant
said on 16/Jan/06
Hes a monster, dont know exact height but hes pretty damn big.