Sofia Vassilieva's Height
5ft 3 (160 cm)
American actress best known for playing Ariel Dubois in tv series Medium. In film she can be seen in the 2 Eloise tv movies and My Sister's Keeper.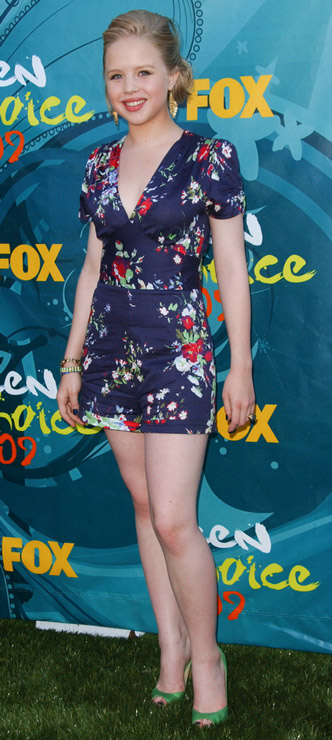 Photo by PR Photos
Add a Comment
5 comments
Average Guess (4 Votes)
5ft 3in (160cm)
Miss Sandy Cowell
said on 2/Nov/20
🎂 Belated Happy Birthday Wishes to Sofia, who turned 28 on the 22nd October. I hope she had a lovely Birthday and enjoys being 28! 🎂
5ft3 👱‍♀️🎈💐💝🎉 XX
Miss Sandy Cowell
said on 4/Nov/19
He he! Sofia looks TINY as she stands with her redheaded schoolfriend, equally small, eyeing up a particularly tall, handsome, much older, grown young man! It's hard to believe that 14 years have elapsed since that episode of 'Medium'....
5ft3.
Miss Sandy Cowell
said on 22/Oct/19
💐🎂🎁 Happy Birthday Sofia! 🎁🎂💐
I have just found out that Sofia celebrates her Birthday today and I wish her a very happy time. I was truly amazed to read that she is turning 27, but I suppose it makes sense as the episodes of 'Medium' showing at the moment hail from 2005.
I still think she looks much younger though!
5ft3. 😁👍
💐🕯️🎈🎂💐🕯️🎈🎂💐🕯️🎈🎂💐🕯️🎈🎂
Miss Sandy Cowell
said on 18/Sep/19
This young lady has grown up before our very eyes in the series 'Medium'. In this episode, her Mum, Patricia Arquette, has sadly died. I don't believe she won't be back because how otherwise would she have been able to be a consultant for the series? (Allison Dubois).
However, little Ariel has inherited her Mum's gift and is now working for the FBI. She can, of course, see her Mum's spirit, who advises her on the cases and the making of decisions.
The other night, Sophia's Ariel aged 10 years overnight and was married with a child, a little girl. She looked like a proper young lady, which, let's face it, is what she is now - and a very pretty one at that! Ariel had to find her way back to the time she knew - as a 16-year-old schoolgirl, and she did.
Sophia, as Ariel, gave a truly stunning performance. Well done to this amazing young actress!
5ft3. 👱‍♀️💐...😁👍🏆
Sandy Cowell
said on 31/Oct/18
What an amazing start to her career, playing Ariel, the eldest of the daughters of Allison Dubois in 'Medium' (played by Patricia Arquette). Well, Sofia has outgrown her by one-and-a-half inches, which would be a likely scenario if Patricia and Jake Weber really were her parents!
It's great to see she's continued acting; there were well in access of 100 episodes of 'Medium', so it's not as though she hasn't had plenty of practice!
Sofia gets 5ft3 in the early hours of the first morning of November, 2018. 😊