Stephen Baldwin's Height
5ft 8 ¾ (174.6 cm)
American actor best known for roles in films such as The Usual Suspects, Bio-Dome, One Tough Cop, Fled and The FlyBoys. He has claimed his height was
'5ft 10'
.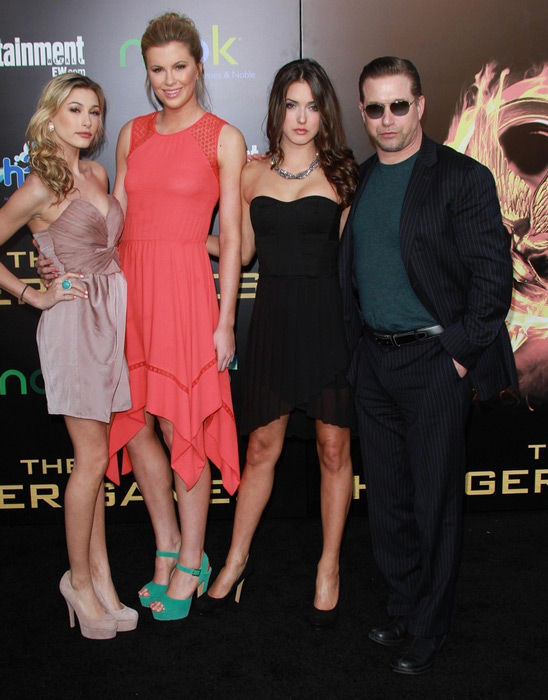 Stephen with
Hailey Baldwin
and
Ireland Baldwin
Photos by PR Photos
Add a Comment
53 comments
Average Guess (14 Votes)
5ft 8.59in (174.2cm)
JustJohnny
said on 19/Sep/20
Never saw him being above 5'8" flat.
Looks quite short in The Usual Suspects.
Miss Sandy Cowell
said on 12/May/20
🎁🎈🎂 Happy Birthday Stephen! 🎂🎈🎁
Many Happy Returns to Stephen Baldwin, who celebrates his 54th Birthday today.
5ft8.75 😄👍🎉
🎁🎈🎂🎉🎁🎈🎂🎉🎁🎈🎂🎉🎁🎈🎂🎉
JohnMoore-162cm
said on 3/May/20
Stephen is about 5ft8 1/2", a good downgrade anyway
Zeke
said on 5/Oct/19
I'm I dunno, if his daughter is truly 5'6.5, then I'd put him in the 5'9-5'10 range. He looks taller than his daughter, even with heels on. Making him barely 5'9 just doesn't make sense to me based on this picture.
jriggs
said on 5/Feb/19
@rob
I think without shoes he may well be just 172.5cm. His footwear always seem to give him an inch and a half. At red carpet events his pants are always covering footwear.
Click Here
Rising - 174 cm
said on 31/Jul/18
Face to face with Casper Van Dien:
Click Here
Considering Casper is his just barely over 5'9" by his own admission, Stephen certainly isn't any taller than 5'9" at best. Doesn't really look above 5'8.5" there.

Editor Rob
Yeah Casper is taller in that movie.
lee168cm
said on 20/Apr/18
How tall would his other daughter alaia Baldwin pictured above with them be rob? Possibly five seven looks a little taller than Hailey here
Smiles03
said on 29/Jan/18
He looks between 5'8 through 5'10
RisingForce
said on 6/Jul/17
Another example is Stephen's roughly 5'6" daughter in heels appears taller than he does in shoes:
Click Here
In fairness, those are some big heels that should take her up to about 5'10", but just as I'd expect, that puts Stephen around 5'9.5" in shoes.
RisingForce
said on 23/May/17
Anyone can look taller in a movie. Everyone whose opinion I asked said "not very tall", "pretty short", 5'8"-5'9" etc. He showed up at my cousin's wedding 20 years ago in a limo. I guess starring with Pauly Shore in bio-dome gets you the star treatment! Btw, my cousin is about 5'9" himself.
AJ
said on 4/May/17
I think 5'9" flat is still the safest bet watching the usual suspects he can look over 5'9"
RisingForce
said on 4/May/17
This is a good downgrade, Rob since 5'9" is his absolute max. Here's an example where he can actually look 172 cm with 184 cm Trump:
Click Here
But Trump is clearly standing better.
Editor Rob: I think a bit under 5ft 9 makes sense overall for Stephen.
RisingForce
said on 22/Apr/17
My cousin grew up friends with him and has remained in touch. Stephen is about 5'8.5".
Rampage(-_-_-)Clover
said on 7/Jun/16
Maybe 5ft8¾ at worst. I think around the 5ft9 range, personally. He's considerably shorter than his brothers.
truth
said on 27/May/16
Could buy a strong 5'9".
Rampage(-_-_-)Clover
said on 21/Mar/16
Looked at least 5ft9 in The Usual Suspects. About 1in shorter than Gabriel Byrne (5ft10½) and similar to Kevin Spacey (5ft9¾).
Editor Rob: there was a comment about him being shorter than Casper van dien in a movie, so it's not impossible he's 5ft 8.5
GP
said on 6/Dec/15
Rob, have you seen Cutaway with Casper Van Dien? He looked good inch shorter, more like 3-4cm. It doesn't make sense how he is listed 5'9" or only 1cm shorter than Casper.
Editor Rob: he could be 5ft 8.5
Rampage(-_-_-)Clover
said on 22/Sep/12
Not quite 5ft10(178cm). But fairly close. I'd say 176cm. I remember Dmeyer saying a while back that he appeared a little over 5ft9. He doesn't look more than 2in shorter than Alec. The Baldwin brothers need to be looked at again.
Stephen 5ft9.25(176cm), Alec 5ft11(180cm), Daniel 6ft1.5(187cm) and William 6ft2(188cm)
:)
Tyler
said on 27/Dec/11
Certainly looked 5'10" next to Gabriel Byrne in The Usual Suspects. Although, he only looked an inch taller than Pete Postlethwaite.
LAN Jiao
said on 6/Nov/11
he can look 5-8 to 5-9. between it. maybe 174cm
kookierx
said on 7/Mar/11
5-9 seems DEAD-ON right
but even 5-8.5" seems ok too
K4
said on 7/Feb/11
He's probably about 5'8.5 at best.
Rampage(-_-_-)Clover
said on 25/Jan/11
Looked close to legit 5"10 Gabriel Byrne in Usual Suspects...177cm?
[Editor Rob: I don't know, but was he 4cm taller than 5ft 8 pete posthlewaite in Suspects? (haven't seen the movie for over 10 years so can't remember!)]
Rampage(-_-_-)Clover
said on 23/Jan/11
Rob is 5"10 possible?
[Editor Rob: I saw some part of a film a year ago where he was beside capser van dien and might have looked a bit shorter than casper, so I'd throw 5ft 10 out the window.]
Alex2401
said on 8/Dec/10
In "The Usual Suspects' same height as Gabriel Byrne.
Mr. R
said on 16/Nov/10
I saw Stephen in New York, following Alec like a little puppy dog. At best, he is 5-8.
Rampage(-_-_-)Clover
said on 14/Nov/10
5"8(173cm) actually
Bob
said on 20/Oct/08
5'8" max, he is a small dude all around. Alec is almost a forehead taller than him...
Mr. R
said on 29/Jul/08
I saw Alec and Stephen the same night in New York, and Alec towered over him. At best, Stephen is 5-8 on a good day.
Lmeister
said on 3/Mar/08
Yeah I agree about the footwear. I think that Stephen is actually shorter than Leto. I'd give Stephen 5ft8.5 - 5ft9 and 5ft9 - 5ft9.25 to Leto.
glenn
said on 3/Mar/08
i see baldwin leaning in a bit.he could be 5-10 there.but he loves boots.i still say 5-9 for both baldwin and leto.leto loves vans.
Lmeister
said on 2/Mar/08
The link again
Click Here
Lmeister
said on 2/Mar/08
Here Stephen with Jared Leto
Click Here
Just compare this pic with Glenn and Leto pic.
Lmeister
said on 29/Feb/08
Cheers Rob. Maybe you still could take 1/2 inches of
Click Here
; ) He caan look average, but sometimes when wearing normal dress shoes not boots he looks kinda short.
ButerrflyLamb
said on 23/Feb/08
Hes 5`8 max on apprentice
Antron
said on 13/Feb/08
As far as being shorter than his brothers, he's not beyond the standard genetic variation. If he were 5'5 or 5'6 that would be very odd, but to be 3 or 4 inches different isn't really all that odd. I don't know anything about the Baldwin's parents, but my guess would be that their mother is avg. and their father about 6'0." IF that is the case, this is not bizarre at all. The environmental factors that affect height tend to be more severe than just smoking etc; more like consistent poverty and malnutrition throughout childhood and adolescence. For example look at the difference in heights in China out in the country versus in Hong Kong. I'd guess at least a 2 in difference on avg.
ed
said on 28/Jan/08
regarding the brothers thing and him being shorter...it happens.
I have an older brother that is 6-2, my dad and other brother 6-0
but i struggle to reach 5-10 on a good day. it suks but that is the way
it is...reaons? i had a major heart defect when born... not sure what
reasons Stephen has probably just the luck of the draw
GSP
said on 20/Jan/08
Did anyone see the apprentice? That one english guy hated baldwin after he spilled coffee on the computer. lol
When his brother Alec came it was a freakshow. The dude seriously looked like Frankenstein. Weird bloated looking face with bumps all over. WTF happened? LOL
Gago
said on 3/Jan/08
He's no way close to his self claimed 5'10, i think he's even shorter than 176, i remember in 2000 there was a tv movie "Cutaway", who had Casper Van Dien, and they had scene together, where they're walking side by side and you can see their footwear, and i was surprised that he looked almost 2 inches shorter than Casper, so I think Stephen is 173/5'8.
dmeyer
said on 12/Mar/07
this guy might be a 176 guy
Antron
said on 2/Feb/07
I think he's 5'9" barefoot. He isn't a a great deal taller than Pauly Shore in Biodome...why have I seen that movie more than once?
Jason
said on 12/Oct/06
probably wearing cowboy boots in that police line up, or work boots.
Anony
said on 12/Sep/06
From "The Usual Suspects" line-up shows Baldwin to be about 5'11 in shoes, so perhaps 5'10 barefoot:
Click Here
Height Tracker
said on 27/May/06
Rob, perhaps Ola doesn't know her real height very well and is "overestimating" a bit. Just a thought.
Height Detective
said on 3/May/06
Well , here is Stephen with Richard Grieco , by the way , i wanna discuss Richard Height
Click Here
(I)
Glenn
said on 28/Jan/06
he told me 5-10.looks more 5-8 to me.
Brett
said on 1/Nov/05
he looks tiny next to william his brother, If hes 5'9" in that pic with william, it looks like william is 6'3" odd then.
J_Mo
said on 26/Sep/05
In bio-dome, where he co-starred with pauly shore, Pauly is listed as 5'7 1/2" at IMDB and Stephen looked about 2 inches taller than him; so this appears to be right on the dot.
Bleemo
said on 16/Aug/05
http://www.imdb.com/gallery/ss/0114814/Ss/0114814/fcstil_0083.jpg?path=gallery&path_key=0114814
Same pic as from del torro's section, in shoes he comes to about 5ft10 and some loose change, he's wearing boots though so I think Rob on the money with this guy.
Lmeister
said on 10/Jun/05
http://web.wireimage.com/images/thumbnail/2191502.jpg I wonder how tall is Jeremy Piven maybe solid 5'9''???
Ola
said on 16/May/05
I met Stephen this weekend, and I suspect that he is a lot taller than 5'9, as I'm 5'9 and in the photo we took together he looks at least 3 or 4 inches taller than me.
Mr. R
said on 10/Mar/05
I saw Stephen in New York several years ago after the MacBeth play with big bro Alec and Angela Bassett. Stephen was running around like a little puppy dog behind Alec. Both were shorter than expected - Alec is just below 5'11", and Stephen is at least 2 inches shorter. My guess: Stephen is 5'8.5", and Alec is 5'10.5". This is a first hand account!
Bulk Up
said on 9/Mar/05
I think that is really close to his real height I think it is around 172 cm - 175 cm...Doing great job = ) Stephen sometimes appears taller though, because he has bulked up since The Usual Suspects...