Tamer Hassan's Height
6ft 2 (188 cm)
English actor, known for roles in films like Football Factory, Dead Man Running and The Business. His Official Site listed him as 6ft 3.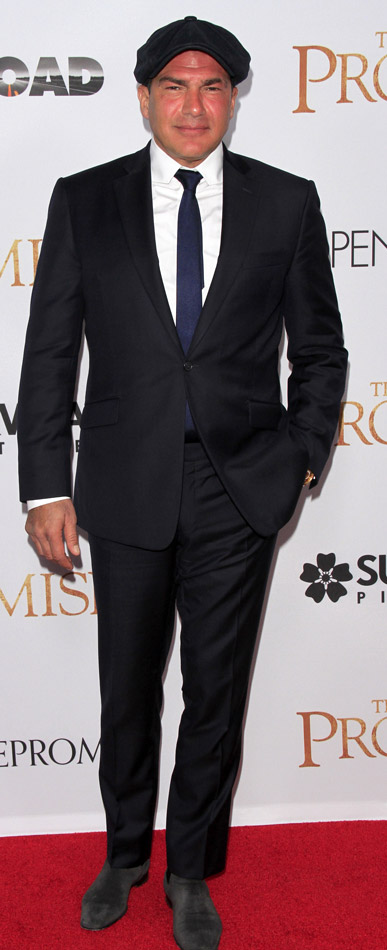 Photo by kathclick/BigStock.com
Add a Comment
37 comments
Average Guess (4 Votes)
6ft 1.25in (186.1cm)
Rory
said on 18/Jul/20
Posture is poor so can look from 6ft up to 6ft2 on different occasions. I think standing tall he'd be near 6'2 though, near enough to claim it. 6ft1.5 would be the lowest I'd ever go. Would be a candidate for 6ft1.75 though.
pov
said on 27/May/20
Propably 6'2 or 6'1.5 peak, 6'1 today
James B 172cm
said on 9/Aug/18
rob check him out here next too martin kemp at 2:37
Click Here
Jordon
said on 16/Apr/18
I met Tamer Hussian in some designer shop opening in knighsbridge 2010 we nearly got into a fight, my friend asked him how tall he was and he mentioned he is 6ft 3, my friend andy said thats impossible because Jordon (thats me) is 6ft 3 and he is at least 2 inches taller than you. I then metioned to Tamer that maybe he took the 6ft 3 measurements with his shoes on as little light banter . he didnt liked the comment and started to mentioned to me he was a ex boxer and would knock me out if I get out of line, I told Tamer to claim down and relax but seriously dont questioned about this guy height he nearly took my head off.
no way this guys 6ft 3 or 6ft 2, max I would say is 6ft 1 I am a legit 6ft 3 guy measured barefeet by an doctor.
J-Dog
said on 26/Jun/17
I see what Lee Murray is saying below. Next to Max Irons Tamer looks 6'1" or 186cm Maximum. (I understand the camera angle). I would view Tamer as 6'1", but I do not have the background data and viewing that others below have.
Check this out.
Click Here
Hyde
said on 3/Jun/17
Never any higher than 6' 2.5''
Rampage(-_-_-)Clover
said on 30/Oct/16
6ft1-2, Rob?
Editor Rob: he does have a couple of inches easily on Danny Dyer...if he stands up tall. Looks like a guy who by 40's developed worse posture.
Ace
said on 19/Jan/15
My guess is 6'2 range. Next to guys like Danny Ayer and Vinnie Jones, it's clear he's probably not a full 6'3. He is a big guy either way though.
James
said on 1/Jun/11
seriously no higher than 188cm could even be less
Rampage(-_-_-)Clover
said on 28/May/11
6ft2-6ft2.5
James
said on 15/Apr/11
Danny Dyers 5'11.75 not 6ft.
Between 6ft2 and 6ft3 in the morning.
Rampage(-_-_-)Clover
said on 26/Mar/11
Looked 2-3 inches taller than 6ft Danny Dyer...between 6ft2 and 6ft3
James
said on 14/Feb/11
he didn't look a full 6'2 in the Football Factor more like 186cm.
James
said on 9/Feb/11
6'1.5
here next to 6ft Martin
Click Here
Harry
said on 18/Jan/11
glad you downgraded him as he was shorter then the 6ft3 rock on soccer am.
Lee Murray
said on 17/Dec/10
am legit 6ft 3 man and I saw him opening new designer shop in knights bridge honestly I think this guy around 6ft 1 range I was shocked how small he was in real life compared in films. I easly has 2 inches on him
James
said on 21/Oct/10
rob how much taller did he look than danny dyer in your opinon?
[Editor Rob: a couple of inches, although anytime I've seen dyer he's always had a spiky hairdo]
steveo
said on 31/May/09
i met him last night in a kebab shop im around 6'2 and was wearin plimpsoles n he was wearin dress shoes and was only slightly taller than me id say 6'2.5 absolute max
Menderes
said on 19/Feb/09
He is a real big Turkisch guy probably 1.90m
Greg
said on 23/Jan/09
saw him in public he lives near me big guy looks 6ft3.was shorter than the rock on soccer am , i think the rocks 6ft 4
no
said on 5/Dec/08
saw him like yesterday, id say 6ft 3 is exactly right its what i thought when is aw him, but yes sumtimes he can look smaller due to posture
Daii
said on 9/Nov/08
He did look huge in Football Factory, he sized Danny Dyer up a good 3 inches
Greg
said on 26/Mar/08
After seeing him on soccer am seems more 6ft 2 6ft1.5 next to the rock dwayne johnson
Sid
said on 13/Mar/08
In 7 seconds the scene before Wesley Snipes calls him a goat****er and beats the **** out of him they are walking together and he looks slightly taller than 5-9 to 6-1 snipes. I think it is his posture though.
ManofG
said on 15/Jan/08
Fair enough. He's a reasonably big bloke anyway.
Management
said on 28/Dec/07
He is 6ft 3 inches - confirmed - I should know I manage him!
camilla@lonmm.com
Anonymous
said on 7/Oct/07
I originally wrote a longer comment, that made me sound like I had been there, rather than someone making it up, but I couldn't post it properly for some reason.
ManofG
said on 5/Oct/07
He was only a tiny bit taller than me, I'm 6'1" and a half.
ManofG
said on 5/Oct/07
I saw him when I was an extra on Beyond the Rave and I'd say he's closer to 6'2" than 6'3", though I'm not 100% certain. If he wants to say he's 6'3" who cares? But he is NOT 6'4" like it says on some sites.
hayley
said on 18/Sep/07
he probably is around 6'3 if not a bit taller
hayley
said on 18/Sep/07
ive met tamer he's a big bloke !!! and lovely with it really down to earth i do have a pic but he's sitting down with me and danny dyer xx
john
said on 27/May/07
There is no way he is 6'3 this measurement needs to be significantly lowered. I'd suggest somewhere in the region of 6'0-6'1 is more realistic, it always baffles me why celebs feel they have add a few inches to their actual height...why is it so shameful to be of average height???
dan uk
said on 14/Mar/07
From his offical website : Tamer's charity work for the community is what makes him turn from the 6' 4" hardman,
Will
said on 23/Jun/06
Tamer is 6 ft 3 tall because he is my mates dad and trust me Danny Dyer isn't that tall compared to him
Anonymous
said on 7/Apr/06
so if hes not 6ft 3 how tall is Danny Dyer in Football Factory as he comes across as fairly tall. anyone?
Coffee_at_night
said on 4/Apr/06
Tamer is a good actor. However, he's not that tall, 6'3"! He is more likely to be 6'1,5" even 6'1". He's not much taller than Orlando Bloom who is believed to be 5'10" in the "Calcium Kid".
Darren R.
said on 1/Feb/06
Quality actor playing the roles he does. 6'3" looks about right, certainly no shorter. IMDB actually puts him as 6'3", but in the little biography bit it mentions 6'4". Ah well, either could be right.
[Editor Rob: well the imdb biography was written by someone from his agency, rather than somebody like Joe Bloggs, but they spelled their email address wrong and seemingly didn't check what they already listed him at on their agency site...which is: 6ft 3 ;-) He looks a legit 6ft 3 guy in the films he's in!]