Terry Kinney's Height
5ft 11 (180.3 cm)
American actor best known for playing Tim McManus on TV series OZ and for roles in films such as The Firm, Sleepers, Devil in a Blue Dress and The Last of the Mohicans.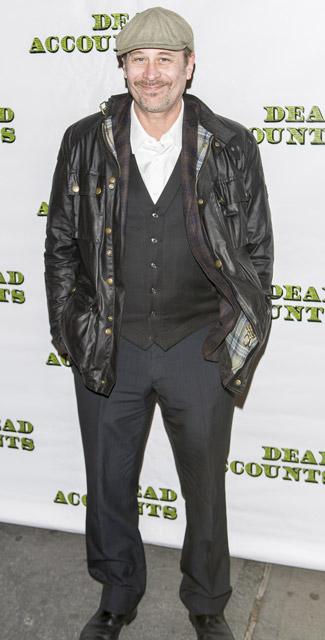 Photos by PR Photos
Add a Comment
13 comments
Average Guess (3 Votes)
5ft 11.33in (181.2cm)
Paleman
said on 29/Jul/18
Nowhere close to 5'10". In The Firm he had a bad posture and still looked considerably taller than Tom Cruise, like 3-4 inches taller. I'm convinced this guy doesn't stand at a flat 5'11", or at least didn't in his younger days, a weak six feet seems more like it.
Questionaire
said on 10/Jul/16
More like 5'10
Rampage(-_-_-)Clover
said on 4/Apr/16
Andrea, you're wrong once again. I never guessed Walker as being that high. I did think he could look a decent 6ft guy on Oz
Rampage(-_-_-)Clover
said on 1/Apr/16
I think 181cm is arguable for Terry
Paleman
said on 31/Mar/16
You sure about this listing Rob? Watching Oz he looked closer to 5'11"5. A weak six footer, looked pretty much the same height as Eamonn Walker and Ernie Hudson, who are/were both probably in the 182-183cm range.
Andrea
said on 31/Mar/16
Yeah, i think 5'11.5 is a better listing than say just 5'10.5 or 6'0.5, if you look at him with the other "inmates"... Sometimes he can look barely 5'11, other times nearer 6'!
As for Terry, he can look similar to Dean Winters in some scenes and a bit shorter in other scenes, i think!
Do you think that 5'11.5 for Terry is better?
These guys are really tricky, i mean, even after seeing all the series, i'm still not sure on their heights! You could base your estimates on Ernie, that you met, but again has Ernie ever been really 6'? In Oz, he can look 3 inches shorter than Lance...
The only guys who looked really tall in Oz are Lance, that Leon guy (who did look closer to 6'4 than 6'3) and of course Rick Fox!
Look at this pic:
Click Here
Editor Rob: last time I seen ernie up here in Glasgow I think he does really look roughly 5ft 11 range, but how much he could stand taller when measuring is unknown.
Andrea
said on 30/Mar/16
While i do agree that 6'0.5 is too much, isn't a 2 inches downgrade a little bit "drastic"?
You really have some celebrities who could be listed 2 inches taller here?
As i said, i have not seen enough of him (apart from Oz where he generally looked a bit above average) but how can a guy be listed at 6'1 on his CV when he's 2-3 inches shorter? It's funny because on his page you said he looked taller than Nic Cage in a movie and Nic is listed 1.5 inches taller!
Don't even need to mention Rampage who thought he could have been 186-187 xD
Editor Rob: with good posture he probably can look near 6ft, with looser posture can look under, so maybe near 6ft.
Andrea
said on 29/Mar/16
I don't know what clips you've seen but look at him with a guy like Eamonn:
Click Here
To be fair, Eamonn never looked near his listing to me in Oz but i really never looked into him!
I should rewatch the show to be sure but he can look taller than this if the other guys are as tall as listed!
And Sam Ernie maybe was already not much over 5'11 by the time of Oz cause a guy like Lance looked nearer 3 inches taller than just 2!
Editor Rob:
yeah Walker I think is 2 inches too high....he was near a height chart
at one point Here
and he could be 5ft 10-11 zone really.
Rampage(-_-_-)Clover
said on 29/Mar/16
Could pass for 6ft in The Firm. Easily had 4in on Cruise (weak 5ft8). I think 181-182cm peak is a possibility.
Rick
said on 29/Mar/16
180cm is not 5'11 its 5'10.75 and he does not even look that. 5'9 and thats being generous.
Rampage(-_-_-)Clover
said on 28/Mar/16
Nice! I can accept 5ft11 also but there's a strong chance he may have cleared this at one point
Sam
said on 28/Mar/16
I had thought he was a six footer back in Oz but since most of the actors on that were an inch or two under what I had expected, this seems possible. He could look right in between Lee Tergensen and Ernie Hudson as I recall, never quite as tall as the latter.
Andrea
said on 27/Mar/16
Had to type his name cause i didn't recognize him... I do remember i asked you about him last year and wasn't sure about his height, i actually thought he could look near 6' in Oz at times... What made you choose 5'11, Rob?
Editor Rob: from a few clips it is a range I thought he could look.