Thomas Cocquerel's Height
6ft 2 ¼ (188.6 cm)
Australian actor, known for roles in Table 19, Red Dog: True Blue and Billionaire Boys Club.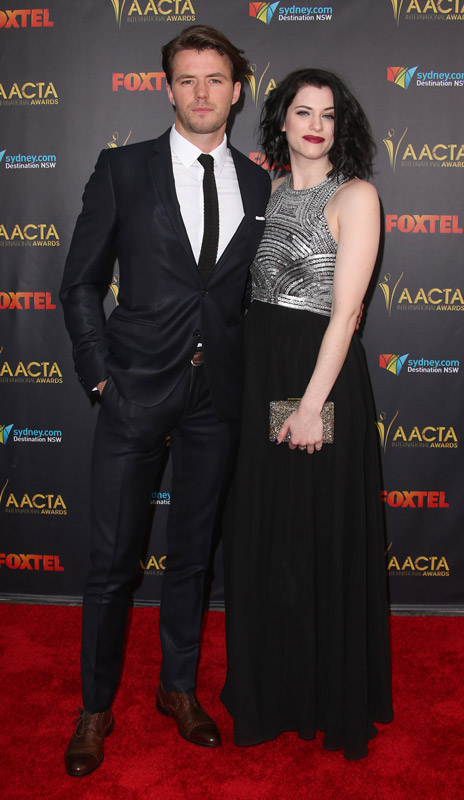 Thomas and
Jessica De Gouw
Photos by PR Photos
Add a Comment
9 comments
Average Guess (7 Votes)
6ft 2.96in (190.4cm)
Chris Junior Hernandez 1990
said on 9/Dec/19
Not 6'3 not over 6'2 1/2 max. 6'2 1/4 maybe his low.
TheBat
said on 27/Oct/18
Hi Rob, do you think it's possible that Thomas could be 6'2.5" out of bed?

Editor Rob
He might be 6ft 3 out of bed
Myself
said on 23/Aug/18
@Sandy Cowell
Hahah, yeah for a woman it's not bad to be short) It's considered cute ;)
For guys it's a different story, and i feel sorry for them because it's really something they couldn't do anything about and get sometimes discriminated for....but at the same time a lot of the times this creates a complex that makes them kinda "pesky", if that's a proper term...
If it's possible i usually try not to walk too close to short men because the look they always give me is kinda annoying, it's like i'm being aggressive towards them just by walking by (although most times it's tall people that are surprised to see somebody taller, but the look they give is different...i don't feel like i'm feeding their complex at least!)...well i think that would be the same look most people nearer and over 2m (let alone those rare giants...that's their "uniqueness" and burden at the same time) would get from average people!
Sandy Cowell
said on 21/Aug/18
@ Myself:
Hi! I watched the video yesterday.
That guy ended up at 'only' 6ft10 instead of well in access of the 7ft he thought he was - and wasn't he disappointed? He mentioned that he would have liked to be a member of the '7ft Club', but his chances had been shattered because of his stooping. Then when you saw the other guys, who were true giants, one of 8ft4, one wonders if life is really that difficult and different for these people and yes, it must be. The shorter of the true giants, the tallest man in Mongolia, makes his living by having his picture taken with fascinated fans and other appearances and I think that's great! He's going to be stared at wheresoever he goes, so why shouldn't he make a living out of it? Unlike normal-sized celebrities, there is no way he can disguise himself with a pair of sunglasses and a wig! What a good idea to become open and friendly about his height and meet people into the bargain!
I noticed how Christopher Greener, another star in this video, now walks with a walking stick, so it would seem that being tall and stooping, not to mention other posture-related problems, are rife within the super-tall community. Hardly surprising when everybody else is so much shorter. That was a very good and interesting watch, which I enjoyed immensely Myself, and it'll make me think twice about moaning about being 'short', as at least I fall within the 'normal' range and don't encounter the day-to-day problems that these tall folks do!
Cheers Myself 😁👍
Myself
said on 19/Aug/18
@Sandy Cowell
Yeah i have of course, it was thanks to them that i found out i actually shrink 2+ cm during the day (with much shock) and that i am not a legit 193 cm (unfortunately!)! heheh At least i have grown about 0.8 cm since i begun measuring myself after having discovered Rob's community, i hope to get another 5 mm boost in the next 1 year or so, so that i could reach a legit 6.3 7/8!
I recently measured my two friends that had as officially listed heights on their passports 178-179 cm, and the results were 175 and 176.5 cm respectively! We were all quite shocked, it's always kinda painful to go down by 2 cm in the matter of 30 seconds, but at least not like more than a foot in the case of this guy:
Click Here
hahah
Anyway, i think the average guess is not very reliable when there are only 3 votes! I've been guessed closer to 195 cm or to 2 m and My 175 friend still calls me a 193 cm no matter how many times i tell him that i'm 192 cm! It's almost like 188/190 cm isn't that tall after all, considering people's guesses...while a person that is that height legit is a an extreme rarity in reality!
Sandy Cowell
said on 18/Aug/18
@ Myself - Sometimes in situations whereby I am trying to judge the height of an actor who I haven't yet seen in anything, and there is quite a difference between the average guess and Rob's figure, I decide on a go-between. Then I have the option of coming back later to make amendments.
I know Rob is an expert in his field, with so many years experience under his belt. Have you seen his videos on how to measure people? They're very interesting and informative!
Myself
said on 16/Aug/18
@Sandy Cowell
I like your spontaneous sincerity ;) But...i think it's quite rare for Rob to underlist somebody, although it's not out of question...
Dream(5'9.5")
said on 11/Aug/18
I'm surprised about the average guess.
Sandy Cowell
said on 11/Aug/18
I notice that tall Thomas hasn't picked up any comments since he's been displayed on 'Latest Star Heights', and although I prefer to see a star, especially an actor like Tom, perform before I write, it isn't 100% essential when there's a full-length picture to examine. Besides, one can always return to anybody's page at any time to make amendments!
Well, there's no doubting that Thomas is well and truly tall, with an average of 6ft3 and-a-quarter out of two votes. As Rob says he's a full inch less, I have decided to up him by just a quarter-inch, making a 6ft2.5 guess from me and perhaps more importantly, he has his first bit of appreciation!