Tim Allen's Height
5ft 10 (177.8 cm)
Peak height was 5ft 10 ½ (179.1 cm)
American actor best known for playing Tim 'The Toolman' Taylor in TV series Home Improvement and Mike Baxter in Last Man Standing. In film he has appeared in Galaxy Quest, the Santa Claus series, Wild Hogs, Jungle 2 Jungle, Big Trouble and voiced Buzz Lightyear in The Toy Story series.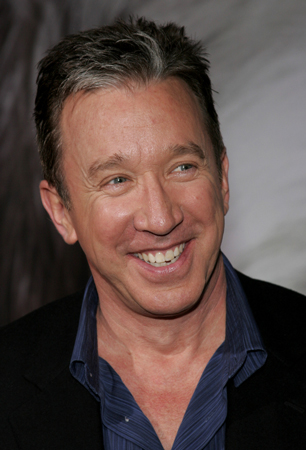 Photo by PR Photos
Add a Comment
89 comments
Average Guess (42 Votes)
Peak: 5ft 10.81in (179.9cm)
Current: 5ft 10.23in (178.4cm)
VitoCheng
said on 22/Dec/20
NOW:178~178.5
PEAK:
Dmeyer
said on 28/Nov/20
Tom Hanks looks barely 1in on him lately so could be 180-1cm today aproaching 5-11 flat
Paddy
said on 8/Jul/20
This guy is my height exactly, some days has been 5'11", the other days, 5'10".
Jxvlb
said on 19/Jan/20
His peak height could be updated to 179,5. Quite possible that he's even 178 today.
Jxvlb
said on 27/Dec/19
I think the guesses are very correct. Probably he was 179-180 at his peak and nowadays furthermore 177-178.
Anonymous Guy
said on 23/Dec/18
My last few visits to the doctor in the past year have me right at 5'9". I actually thought I was just under. Anyway, I took a pic with Tim today, and he looks at least 2.5 - 3 inches taller than me. I highly doubt he would be wearing lifts when going out to lunch with his wife. I would say he is 5'11" when slouching. He's probably more a strong 5'11.5" - 6'.
179cm guy
said on 22/Dec/18
A solid 179-180cm guy in the nineties (Home Improvement, The Santa Clause), a solid 178-179cm guy during the 2000s, and a solid 177-178cm guy nowadays during the 2010s while filming Last Man Standing. What do you think Rob?
RichardSpain
said on 20/Dec/18
Not short but not tall... very close of 180cm ( 5' 11" ).
Michael, 5'10" 178 cm
said on 3/Dec/18
Tim never gave a tall impression, he always looked average in films like in the Santa Clause movies. He consistently looks at least 2 inches shorter than Tom Hanks in pictures, he was a flat 5'10" at most peak, he has be under 5'10" today. I'd guess he's like no taller than 5'9" or so current height.
Timmies Height
said on 16/Jul/18
He is pretty much the ideal candidate for what the average height of a man looks like. I'd guess his peak is actually a little lower than what's posted here. I would bet he peaked at 5ft 9.75 in when he woke up in the morning in his 20's - 40's - he is right around 5 ft 9.25 nowadays when he wakes up. Walks around at a touch over 5'10 in most shoes.
DanTheGuy
said on 13/Jul/18
Click Here
Take a look at the pictures with an oldish 5'9 Jimmy Carter. He and Tim Allen Had on dress shoes and Richard Karn had on work boots. Further evidence of 5'9 max for Karn and Tim struggles to have a full 1 inch on Richard Karn. Probably closer to 5'10 - 5'10.25 peak max. Now, looks to be about the same height as 5'9ish Christoph Sanders and about an inch taller than the current 5'8ish Hector Elizondo.
DanTheGuy
said on 27/Jun/18
Just a quick update to my earlier guess. In the 90's, Jay leno looked to edge Allen by 1/2''- 3/4''. In the 2010's, they stand at the same height, which makes sense because Jay has gotten a little bigger and Allen has stayed slim. If Leno's peak height was truly 5'11, then 5'10 1/2 peak max for Allen. I believe Jay's peak was more like 5'10 3/4'' which would put Allen right around the 5'10 1/4 mark in his 30's before any height loss. Because Allen has stayed fit and maintained his always great posture, I'd say he is still right around 5'10
DanTheGuy
said on 26/May/18
Richard Karn is my height in work boots (5'9, 5'10 in shoes). They both wore them from time to time on Home improvement and Tim looked about an inch taller (if that). One thing about Tim Allen is his posture, it's fantastic. Karn's is average for a wider fella. If Karn's claimed height of 5'10 is true, then I'd give Allen the full 5'11 peak, however, I see Karn as a weak 5'9 (with an average posture) so I'll give Allen a 5'10.5 peak because with his posture, no one would believe anything less even if he really only had a 5'10 peak. 90%+ men round up at least a 1/2" anyway. He'd have been lucky to ever be 5'11 in the morning, even in his 20s
Smiles03
said on 2/Apr/18
He's used to be 5'11 in shoes maybe 6'0 but now a days 5'10
Jalen C Gilmer
said on 5/Dec/17
5'10 nowadays
Anonymous
said on 20/Nov/17
rob I googled pic of tim allen and ray liotta and their equal height either tim needs upgrade or rya downgrade
Editor Rob: I think Liotta still edges Tim. Ray looked to have a bit less footwear in that series of photos
Richardspain
said on 28/Sep/17
Between 179-180cm.. Maybe is 180cm in the morning...
Timothy Jones
said on 31/Aug/17
Peak height was 180cm
Divot
said on 8/Aug/17
Ran into him on vacation in Michigan recently. He's definitely in the 5'10"-5'11" range, which surprised me because I always pegged him as more of a 5'8" kind of guy from his TV shows.
edge
said on 15/Jun/17
Always looked around 5'11 and Al I'd say 5'10. Tim always looked around an inch taller.
WeeburaiJones
said on 10/May/17
He fits somewhere in the 5'10.5" to 5'11" range, it seems. But he's older than sixty, so it's likely that he's shrunk a bit already.
Jake
said on 5/Feb/17
Add peak height, another guy who was around 5'11" at peak but looks more like just a strong 5'10" now.
al
said on 5/Feb/17
JCL your wrong! He's 5ft 10in!
Redwing
said on 11/Jan/17
How tall would he be now? Tom hanks looks abit taller than him in some photos unless this guys like 177-8 cm tall?
Alex
said on 24/Nov/16
It might be time for a peak height
Omar
said on 19/Nov/16
JCL you must be shorter than you think you are lol
Chris
said on 24/Jan/16
JCL, you are a hopeless judge of height if you think that Allen is 5'5' or 5'6" max. You just didn't get it right when you met him.
JCL
said on 5/Jan/16
I'm the shortest in my family at 6'2". I have an uncle that's 6' 7". My wife is 5'3". She and I were standing next to Tim Allen at a Saleen unveiling at Leguna Seca 15 years ago. Neither one of us could believe how short he was. 5'5" or 5'6" at max. He was wearing high healed boots and was barely taller than my wife.
CDS
said on 13/Feb/15
I saw on a talk show, Richard Karn (who played Al Borland) claimed 5'11", and thought that was odd considering Tim looked a good inch taller than him most of the time, which would make him 6 ft. That didn't seem reasonable to me since I put him more in the 5'10" area. The 5'10.5" estimate is probably right on the money.
Prince
said on 31/Oct/14
Tim looked pretty tall on Home Improvement. I bet his height back then was at least 5'10 1/2" perhaps 5'11".
Rampage(-_-_-)Clover
said on 30/Sep/14
"Peak height was 5ft 10.75in (180cm)"
"Tim Allen's height is 5ft 10.25in (178cm)"
Could pass for 5ft11 on Home Improvement
Arch Stanton
said on 1/Sep/14
Chuck Norris can you update with a photo and "American actor best known for roles in TV series such as Home Improvement and Last Man Standing and roles in films such as The Galaxy Quest, the Toy Story series, the Santa Claus series, Jungle 2 Jungle and Big Trouble."
Arch Stanton
said on 6/Feb/14
Yeah he looked around 5 ft 10 in Jungle 2 Jungle I thought. 178-9 is OK, no more though.
Lenad
said on 21/Dec/13
he looks 5'10 at the very most.
jordydecke
said on 7/Dec/13
in 'crazy on the outside' you see him standing up for a mugshot and it shows him clearly well over the 6' barrier, which of course isn't true. What's the point in them lying? As if anyone's not gonna enjoy the film as much if they find out the protagonist is under six foot!
Knowitall
said on 14/Sep/13
Just saw him at the local phone store. No more than five nine. He drives a really sharp looking black Nisson GTR.
Hannon Amos
said on 4/Jul/13
Did he really claim 5'11"??
https://www.youtube.com/watch?v=DQJzK3QQl4k
Sighter
said on 1/Nov/12
I have met him in person. He came into the restaurant I work at, and one of the things that struck me in particular is how much shorter he was in person than I had imagined. Definitely not an inch or even half an inch over 5'10. I almost want to say 5'9ish. He was also genuinely nice, and did not make a fuss about the kitchen messing up his order, or the server not carching the mistake. One if his companions paid the bill, and they were generous.
Silent d
said on 28/Oct/12
All his daughter in last man standing are tiny. One of them was shorter than kim kardashian. I think they are all under 163cm. 179cm.
steven
said on 15/Jan/12
maybe 5'10 nowadays.
Silent d
said on 2/Dec/11
He looked 6 foot in zoom. 179cm is about right. In that santa claus movie he looked tall next to frank boyle. 179cm.
arb
said on 9/Nov/11
doesn't look above 5'10
the AMAZING Babushka
said on 21/Oct/11
looked 5'9" on home improvement
HeightExpert
said on 13/Sep/11
he's 5'10.5 or 6'0 at the most...nowadays probably around 5'11*
HeightExpert
said on 12/Sep/11
he is 5'10.5 or 5'11 at the most...nowadays probably around 6'11
jake
said on 21/Apr/11
5' 10.25 peak, now at around 58, 5' 9.75
Jim
said on 17/Jan/11
Was on the Golden Globes yesterday. Looked 2 inches shorter than Tom.
James
said on 5/Jan/11
Got my photo taken with him at a friend's wedding in Detroit. I'm 6'1. He was a couple notches shorter than me. So, I'd say 5'10 or 5'11 is right on.
Legend
said on 31/Dec/10
I have to say next to 5'10 drew Carey on one of the Home Improvement episodes he looks 5'9.75 range. So I say that he's just under 5'10.
DMaN1528
said on 19/Dec/10
always has looked 5foot9-5foot10
Clay
said on 26/Nov/10
jtm says on 27/Jul/10
i think he was 5'10.5 at his peak but nowadays he looks under 5'10.
You could be on to something. He always looked 5'10.5 on Home Improvement but that show ended a decade ago he is approaching 60 now.
Barry Langcaster
said on 12/Jun/09
tim to some might apear like a 5'9ner thats easy to see ,does indeed look in the 5'10 height range, 5'10.5 with footware, even probable is 5'9.25 flat. Hes a great example to give somebody to describe a 5'10 guy.
Daii
said on 22/Apr/09
He didnt look much shorter than 6'0 ish John Travolta in Wild Hogs, probably 5'10.5
Lenad
said on 8/Apr/09
Looks a solid 5'10 to me
deano
said on 2/Oct/08
if tims 5 ft 10.5 then arnold schwarzenegers 6ft 0 i've seen them in a picture together only 1.5 inches difference between them honest or 1.75 inches but thats max if tim allen was any shorter then that would make arnold shorter to say at 5 ft 11 and a half, but under 6 ft 0.
JD
said on 31/Jul/08
I want all 5 ft 10.5 in of him..............
Mr. R
said on 29/Jul/08
He is a tricky one cause he wears boots a lot.
Arnie
said on 18/May/08
Could look 5'8.75, mabey 5'9 or 5'9.5 , 5'10 with shoes on , I would say between 5'9 - 5'10 , I can see with ease how some people say 5'8 because his large head with his fluffy hair make him seem shorter , but I say no taller than 5'10.25 (with shoes).
John Jay
said on 17/May/08
Havent seen him in person so I cant say for certain how tall the guy really is but in my estimation from watching Home Improvement him and Al look like two 5'10 ers or mabey even 5'9.5 ers , one episode of Tool Time had Penn and Teller and Tim and Al seemed like stout large headed dwarves in compariaon to the big man he is a huge guy. Tim is a solid 5,10. with shoes, Al Borlin also the same.
Davey
said on 26/Apr/08
this guy doesnt even look 5`8 to me
Socom
said on 16/Apr/08
I was just watching an old Home Improvement show where Drew Carey played an animal rescue guy. He and Tim were standing face to face in the scene and no kidding they looked the same height. I believe Tim Allen is definitely not 5'10.5, just saying.
JokeMaster
said on 6/Apr/08
Two peanuts are walking through the woods and one is assaulted.
JS
said on 18/Jan/08
looks 5-9 to me
Ed
said on 29/Dec/07
I saw him several years years ago, and 5ft10.5 is pretty much spot on. He's not 6ft by any means. Maybe with a pair of thick heeled boots he'd be scraping the 6ft mark, but not in his barefeet.
bret
said on 28/Dec/07
I stood right next to Tim Allen at California Disney Adventure on New Year's Eve some years ago and couldn't believe how tall he was as he always looked short on TV. He was extremely thin and wore boots, but even without the boots he was clearly over 6 feet.
Socom
said on 8/Dec/07
He is 5'9.5 in my opinion
patrick
said on 28/Sep/07
Tim Allen looks like he's 5'9 1/2, at the very most. He was on Leno's show, wearing boots, and he looked shorter than him.
Aaron
said on 22/Sep/07
mrs shoe, I think you need to get your eyes checked. Travolta was definitely the tallest in that movie. He had tim allen by about 1.5 to 2 inches, which is to be expected assuming that the heights listed on the site for travolta and allen are accurate. How tall are you? If your significantly shorter than allen and travolta, then posture/footwear/ground level could have thrown off your judgement leading you to think allen is taller. The listings for travolta and allen here are pretty spot-on in my opinion.
Bad Radio
said on 18/Aug/07
5'10.5 sounds right.
James
said on 9/Aug/07
A few days ago I saw him in this movie where he plays a buissnessmen and challenges this guy to a fight and the movie revolves around him traning to beat him. To the point throughout that whole entire film looked no more than 5ft9 I mean nearly everyone in that film was taller than him?
Anonymous
said on 8/Aug/07
i think 5'10.5 is bang on near hanks 6 ft isnt far from his claim probably 5'11 morning and 5'10.25 to 5'10.5 before bed
giantmidget
said on 5/Aug/07
"So if Travolta is 6'2" as he claims, that'd put Allen at 6'2.5"."
Now I've heard it all.
Back to the focus... I think 5'10.5" is spot on. He looks perfectly average, which 5'10.5" is.
Derek
said on 26/Jul/07
Remember, guys that he often wears bigger boots that make him appear taller. Besides, I think Travolta's around 6 ft. and Tim's boots probably had bigger heels than his. I'd say Tim Allen is 5'll on the dot.
Mrs Shoe
said on 13/Jul/07
I met him when he was in London promoting Wild Hogs and he was the tallest of the Hogs, at least 1/2 inch taller than Travolta. So if Travolta is 6'2" as he claims, that'd put Allen at 6'2.5". He wasn't much taller than Ray Liotta either, but definitely the tallest of the Hogs.
Bobo
said on 28/Apr/07
yeah he's 5'10, because Wilson is listed at 6'3. There appears to be about a 5inch difference
Frank
said on 1/Mar/07
Tim was on Leno last night and Leno looked about a half inch to an inch taller but i would have to say a half inch
me
said on 8/Dec/06
i saw him at disneyland some years back with his family and he was taller than i thought. i would say he had to be 5'11 or close to it.
dmeyer
said on 1/Nov/06
jay leno apeared a in plus on him yesturday
Anonymous
said on 28/Oct/06
Is there a picture of allen next to jay leno?
dmeyer
said on 23/Oct/06
he is not mush shorter than hanks 1 to 1.5 smaller than hanks so hanks aint over 6 feet if allen is 179 thats already 4 cm hanks dosnt have 2 inches on him
Adam
said on 9/Oct/06
WTF!!! Tim Allen is not 5'11" Karn is 5'8" and on Home Improvement Tim Allen is less then an inch taller...
TNTinCA
said on 17/Aug/06
I thought he was closer to 5'11" as well. In Galaxy Quest, he and Sigourney Weaver were about the same height in several scenes together.
MHouillon
said on 2/Feb/06
Tim Allen is a solid 180cm.
Ball-A-Hallic
said on 26/Jan/06
He always looked 5'8.5 2 me maybe 5'9.
gdawg
said on 3/Jan/06
5'10"-5'10.5" seems right. I stood right next to him at a Barnes and Noble bookstore in West L.A. He was looking at comedy books. I'm around 5'9" and he was about an inch taller than me.
Mr. R
said on 27/May/05
Tim is another one who is hard to pin down, cause he often wears cowboy boots. I saw him at the Mission to Mars premiere, and he had on boots that day as well. But Richard Karn is NOT 5-10, but closer to 5-8, which made Tim look taller on Tool Time. This is a pretty good estimate.
Anonymous
said on 26/May/05
In my opinion Tim Allen is at least 5'11" as you can see him standing near Richard Karn being 5'10".
Ricardo
said on 19/Feb/05
more like 5'9" to me