Tinchy Stryder's Height
5ft 3 (160 cm)
British Rapper known for songs like
"Number 1"
. Has said:
"I'm small man, for my age. I'm 5ft 5ins. Stryder came from a computer game on the Sega Mega Drive. I'd like to be taller, but I'm not."
. Other commenter said he is now saying 5ft 3/4 on buzzcocks tv show. Radio presenter Annie mac once mentioned that
"we measured him on Sound once.. think he was 5 foot 1?"
.
i'm definitely not 5 foot 1 - some madness in the sun!! all good tho - all publicity is good publicity right??!
I'm 5/5 in height and a size 6 with the footwear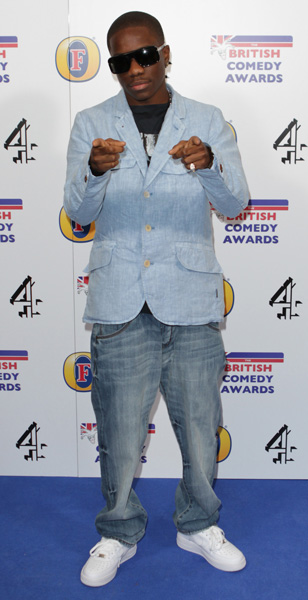 Photos by PR Photos
Add a Comment
15 comments
Average Guess (9 Votes)
5ft 3.39in (161cm)
Abhi gurung
said on 7/Aug/20
May Be He 158
GTB172cm
said on 26/May/20
Maybe the claim on Dappy's page is a bit generous. I'd say a possible 5'2.5 for Dappy and 5'3.5 for Tinch.
Littlelee5ft6
said on 18/Mar/20
In photos dappy looks the shorter of the two and he looks about the same height as tulisa and barely shorter than pixie lott I think about 5ft 5 for him
Flux
said on 17/May/19
Yeahh he's round about 5'3, nice one Rob.
Faza
said on 26/Oct/17
Any guy under 5ft6 for the most part will add 2-3 inches its at least more understandable than when a tallish guy adds the same amount
Big Lew
said on 19/Jan/17
Tinchy is 5cm taller than DAPPY. DAPPY is 5 1. Very small
John
said on 27/Aug/16
Very insecure about his height, he is nowhere near 5ft 5, 5ft 2 is bang on
lol
said on 6/Aug/15
5ft 2 but claims 5ft 6, ridiculous
snoopy 1
said on 7/Jun/13
hes actually 5ft 2
Chris
said on 11/Dec/11
Don't know where he got that he's 5'5" from, he must be down to 5'1", and 5'2" maximum.
littlesue
said on 9/Oct/11
Maybe shorter from a Male point of view, but we have many girls at No 1 shorter than 5ft 1 and a half, Kylie, Brenda Lee, Lady GaGa, Lulu to name a few off the top of my head
Scooba
said on 8/Oct/11
There was a thing in a newspaper a while ago saying he was 1 of the shortest people to have a number 1 in the uk , in that it stated he was 5'1 and a half .
adz
said on 12/Jun/11
Id give him half a inch more judging by the pic with pixie lott from Cman.
Jimmy
said on 3/Dec/10
'jim short says on 6/Apr/10
he looks 5'5 next 2 5'8 pixie lott in CMan's pic but he is wearing thick sole sneakers.i think 5'3 is pretty acurate!'
That's because Pixie Lott isn't 5'8. She's more like 5'4/5'5 but somehow gets such a huge listing.
Anon
said on 20/Nov/10
Ive just seen him on SoccerAM and he is tiny, 5-1 tops!