Tom Mison's Height
6ft 1 (185.4 cm)
English actor, best known for playing Ichabod Crane on TV series Sleepy Hollow. In film he can be seen in One Day and Salmon Fishing in the Yemen. In this photo I'm wearing 1 inch
Nikes
, which looked about 0.3-0.4 inch more thicker than Tom's Vans sneakers.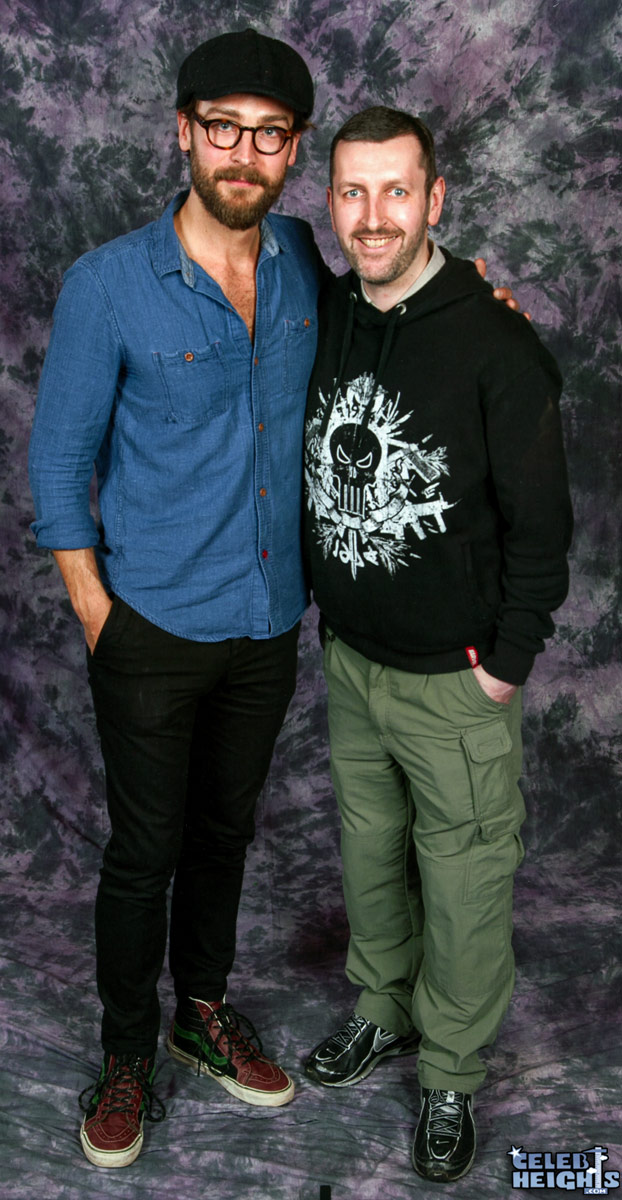 5ft 8 Rob and Tom @ MCM Memorabilia 2015
You May Be Interested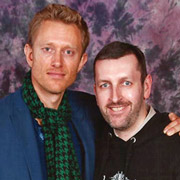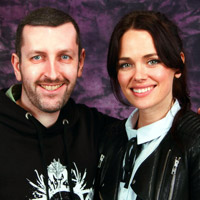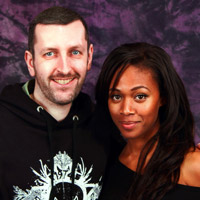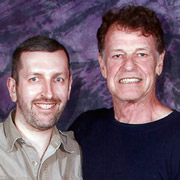 Add a Comment
24 comments
Average Guess (22 Votes)
6ft 0.61in (184.4cm)
Tall Sam
said on 10/Dec/19
He's pretty much dead even with Jeremy Irons on Watchmen, sometimes one may seem to edge the other though.
Rampage(-_-_-)Clover
said on 24/Sep/19
Rob, wouldn't a fraction under 6ft1 for Mison push Jackson down to 184cm?

Editor Rob
It would, but I give Tom 6ft 1 and Jackson a fraction less, I did not see enough to go a 1/4 lower on both.
Miss Sandy Cowell
said on 26/Jun/19
Tom looks enormous in comparison to Nicole Beharie, but then there is a whole foot's difference!
We have a brand new channel called Paramount Network, and it shows all sorts of interesting programmes. 'House' is on every day, 'The X Files', and some very exciting films. I watched 'Thinner' on Paramount on Sunday.
I'd heard that there is a series called 'Sleepy Hollow', and had come across its special page. Well, this is the first opportunity I've had to view it. If only it had shown from the beginning...
At 6ft1, Tom is a full four inches taller than the Ichobod Crane of the film version, played by Johnny Depp.
World Citizen
said on 15/Jan/19
Looks 182 183 with the footwear disadvantage.
Christian 6'5 3/8"
said on 24/Oct/18
@Rampage
Neil looks taller only because he has more footwear than Tom, as you can tell by this side by side comparison.
Click Here
Tom would've looked a bit taller if both had equal footwear.
Zampo
said on 20/Oct/18
Rob, not taking into consideration of other factors-i.e how he looks with others, would you say Tom looks around 184 cm with you in this specific photo (adjusting for footwear).

Editor Rob
Yes probably about that range, he did seem like he was an inch taller taller than chris gorham that day (again with less sneaker) so close to 6ft 1 is believable.
Junior Hernandez 1990
said on 9/Jul/18
My bad. But i believe a few mm over 185cm if he stand better in person. In Sleepy Hollow he does look his claim 6'1.

Editor Rob
Mison at worst might be a fraction under 6ft 1 but I think he's quite close to hitting the mark.
Junior Hernandez 1990
said on 3/Jul/18
The sneakers look an near 1 inch style and Rob 1.2". I believe he can look 6'0.75" or 185cm not sure a good 6'1.

Editor Rob
Well mine are 1 inch, his looked closer to 0.6 inch styles
Rampage(-_-_-)Clover
said on 22/Jun/18
6ft1 on the nose is likely if Jackson is a weak 6f1
Nik
said on 21/Jun/18
The average vote seems reasonable!
QM6'1QM
said on 21/Jun/18
It's a good 4 inches taller than Rob, my opinion = 6'0.25"/ 183.5 cm for Tom (yes, he's looks like Ryan Gosling, 6-6'0.25").
The Shredder
said on 6/Feb/18
Looks like a poor man's Ryan Gosling lol.

Editor Rob
I think Tom is a rather attractive man, when he's not wearing a hat or glasses
Click Here
.
Rampage(-_-_-)Clover
said on 28/Jun/17
Neil Jackson looks taller w/h Rob.

Editor Rob
S.J.H
said on 19/Jun/17
This kind of shoe some could boost up 3cm. So he could be just 184cm
Peter 179cm
said on 22/Nov/16
He looks around the 6'0 mark with less footwear,so i'm guessing he's a flat 184cm.
Andrea
said on 19/Jul/16
The other guy looks a decent 6', i doubt he's 5'7 as you say... xD
I still think you're talking about somebody else :)

Editor Rob
ah, I see now, I was typing out a reply in another window and it got mixed up so I changed it roughly to what I was trying to say in the first place.
Andrea
said on 19/Jul/16
Sorry Rob, but met who???
I don't know this guy, his photo just popped up on the homepage and since i've never seen him on here i commented about how tall he looks with you...
He looks about 6'0.5...

Editor Rob
Andrea
said on 19/Jul/16
Another 6'0.5 guy listed at 6'1? xD
He looks about 4 inches taller than you, plus 1 cm for shoe difference...He looks more 184 range than 185!

Editor Rob
At this event, he was with Neil Jackson, and they were very close, of course tom has less sneaker than me/neil, so I would put Jackson under 6ft 1 and Tom closer to 6ft 1.
S.J.H
said on 26/Mar/16
6'0.75 at worst
George Sears
said on 29/Jul/15
Underrated English actor, I feel. I'd say his 6' 1" rating is accurate, too, just on the cusp.
MD
said on 29/Oct/14
I'd like to see some more dicussion on him.
Sarah
said on 27/Feb/14
6'1" - good listing. 1 foot taller than co star Nikki Beharie (5'1")
Emily
said on 24/Dec/13
He must be a weak 6'1 at least
WhiteWolf809 1.83 6.0
said on 15/Dec/13
This guy look like 6.2 on sleepy hollow But 6.1 is still good for this guy