English actor, best known for roles in Stargirl, Sleepy Hollow, Make It or Break It, Blade: The Series, Absentia and films such as Push, Welcome to Marwen and Nocturnal Animals. On
Twitter
, when asked what he's up to these days, said
"About 6'1"
. In this convention photo I'm wearing 1 inch
Nikes
, which looked about similar thickness to Neil's shoe.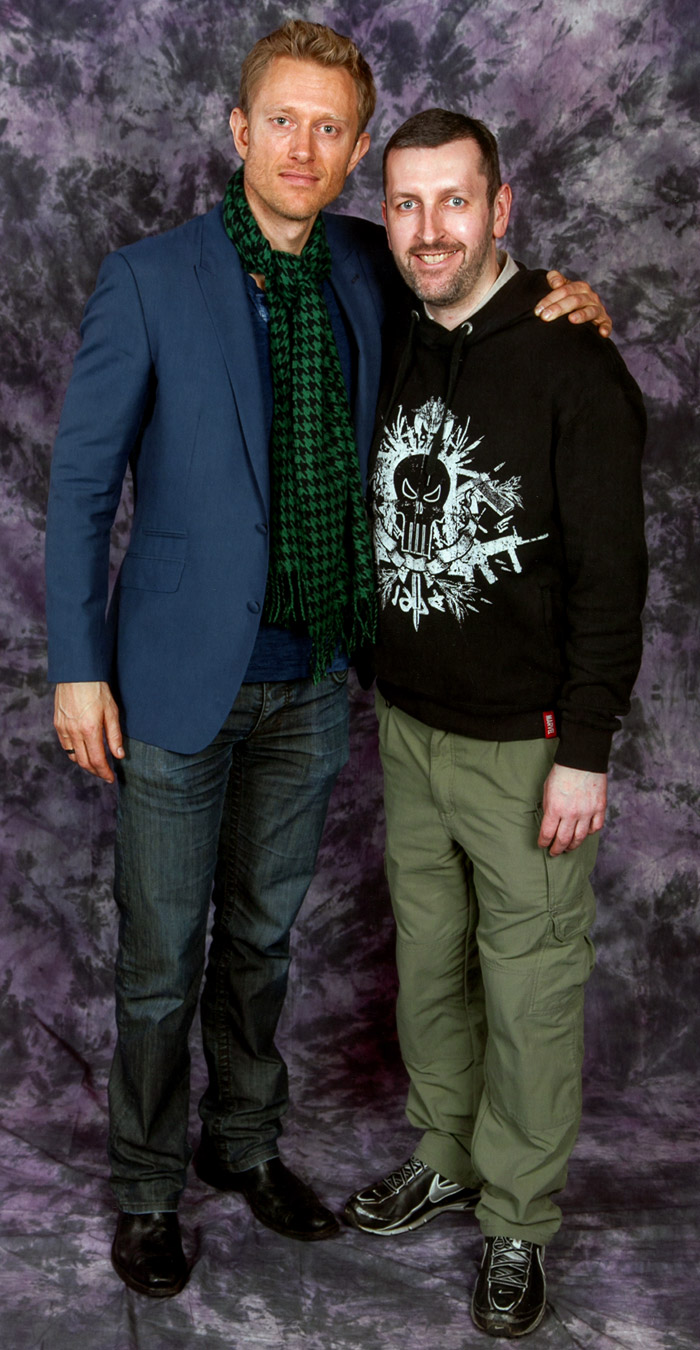 5ft 8 Rob and Neil @ MCM Birmingham Memorabilia 2015
Rampage(-_-_-)Clover
said on 14/Feb/23
David Tennant looks like he' edge this guy as well
Progking184
said on 6/Jun/22
He looks like a start of tall guy. A bit over 6'0 but not quite 6'1. He's probably my height at 6'0 1/2 but can look closer to 6'1 sometimes
Rory
said on 28/Jul/21
If hes being visibly edged out by guys like Eric Christian Olsen and Tom Mison in person like Rob has suggested then 6ft0.5 is quite arguable.
Probably 186.5 out of bed,184.5 at lunch and then 184 flat at night on particularly exerting days. Dont see him being just a smidge shy of guys like Gatiss, could be up to half inch difference i think.
6ft0 5/8ths
Rampage(-_-_-)Clover
said on 23/May/21
Actually this is fine...weak 6ft1
Rampage(-_-_-)Clover
said on 10/Dec/19
Rob, how likely is 184cm flat?

Editor Rob
It's possible for him
Bobby 1.78m
said on 21/Oct/19
Looks over 6'1 there honestly. I'd say closer to 6'1.5, maybe like 6'1.25.
Rampage(-_-_-)Clover
said on 24/Sep/19
Weak 185cm is spot on for this dude...I reckon eye to eye with someone like Amell
Oneiroi
said on 19/Mar/19
Strong 6'0.5.
Christian 6'5 3/8"
said on 26/Oct/18
@Zampo
That's the most I can see him based on the pic, but not 185 range.
Zampo
said on 24/Oct/18
@Christian:
I think with Rob, possibly 6'0.25-6'0.5 range. 184 cm range suits him.
Christian 6'5 3/8"
said on 24/Oct/18
This guy only looks 6'0.25"
Bobby 5'10
said on 23/Oct/18
Any chance he could be exactly 6'1?

Editor Rob
In person? I thought a weaker 6ft 1 range than a solid one.
He's shorter than Eric Christian Olsen as I seen them together and Eric was taller.
QM6'1QM
said on 23/Feb/18
Just over 6'0.5" (184.5 cm).
Rory
said on 12/Sep/17
Rob, what are the chances of Neil falling to 184 range at his low, or do you think he could pretty much hold near 185 ?

Editor Rob
184-5 zone is a good estimate.
World Citizen
said on 26/May/17
Gives me a 6 ft impression. Did you have thicker footwear in this picture Rob?

Editor Rob
no, within same inch range.

Peter 179cm
said on 31/Jan/17
No more than 6'0 flat.
anon
said on 9/Nov/16
That's a pretty honest claim any guy who measures around 6'0.5- 6'0.75 range is going to claim 6'1 and he said about 6'1 which he pretty much is
184guy
said on 19/Jul/16
6'0.25-6'0.5 nothing more
cole
said on 11/Mar/15
@Editor Rob: Yeah, and having a look at him just now he does seem near 6'1. I've been looking back at some of the heights listed on 'White Collar': Joe Manganiello's character had "6-0" listed in his file (!) and Titus Welliver's character had "6-01" in his... In comparison Neal Caffrey had 5'11" on his wanted poster, Peter Burke claimed 6'2 and Jones had 6'1 in his file. The main characters looks much closer to their character heights than the majority of the supporting cast, maybe the writers/creators didn't pay much attention to that sort of thing.

Editor Rob
on Sleepy Hollow he can look near his claim
cole
said on 8/Mar/15
@Editor Rob: His character on 'White Collar' - "David Lawrence", was listed 5'11.5, but he looked noticably taller than 5'11 Matt Bomer. I'd say 6'0.5 is closer though, as he also did claim "about 6'1".

Editor Rob
about 6ft 1 for some could be that, a fraction shy of the mark.
Sarah
said on 2/Oct/14
Thanks, seems accurate. About the same as Tom Mison.
Anon
said on 1/Oct/14
He was also in "Dream Team", on Sky One.