Tony Hawk's Height
6ft 3 (190.5 cm)
American Skateboarder. He said
"I am 6'3 and I never thought my height hindered me"
.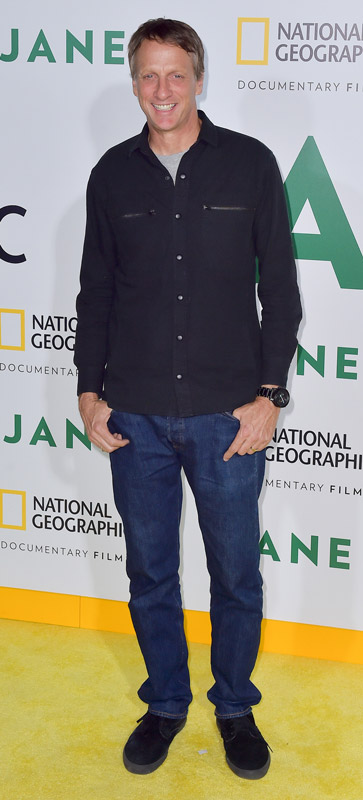 Photos by PR Photos
Add a Comment
113 comments
Average Guess (32 Votes)
6ft 2.8in (190cm)
berta
said on 19/Feb/21
hm i think like this. 188,5-190,5 is possible. i would go withc 189,5
Miss Sandy Cowell
said on 1/Dec/20
Tony Hawk has just marched onto the Ellen DeGeneres show to give encouragement to a guy who skateboards using his wheelchair.
Nice one Tony - and the ever-thoughtful Ellen.
He's definitely a big boy.
6ft3. 😄👌
Tunman
said on 21/Nov/20
Rob,here's a video of him with Phelps
I feel they're exactly the same once they're at the same distance from the camera,stop at 0:50
Click Here
First I thought Phelps was taller but his hair is clearly thicker.
Hawk could very well be a 6'2.5" guy rounding up to 6'3 something quite common.

Editor Rob
could be quite close, 6ft 2.5-2.75 is possible
Chris Junior Hernandez 1990
said on 28/May/20
@Caldonio
That doesn't make much difference within 1/8 inch not much like a bigger slouch 1/2 lost or higher look more like relax posture with 1/8 to fraction lost. During their hey days of skateboarding days they look about 4cm apart as listed from Rob.
Vtec
said on 31/Mar/20
Needs a major downgrade. 6'1.5 max
Caldonio
said on 29/Dec/19
@ Chris Junior Hernandez 1990 Agreed. Looking at your picture of them two Tony is actually slouching quite a bit.
Caldonio
said on 28/Dec/19
Next to Johnny Knoxville he looks 6-3. He's shorter if Knoxville is sub 6-0. Which I doubt. Legit 6-3 imo.
Chris Junior Hernandez 1990
said on 29/Nov/19
Click Here
Tony skateboard buddy Jason Lee wasn't much shorter than him. But close enough 6'3. Jason height i wouldn't went below 6'1 1/2.
Questioner
said on 13/Aug/19
whats going on here is joe wearing lifts he looks 1 inch shorter than hawk
Click Here
James Brett 172cm
said on 30/Apr/19
6'2.75 like Tom Green
Dane
said on 15/Apr/19
I just met him yesterday and didn't realize that he was supposedly 6'3". I'm 6'1" and he was my height. My brother was there and confirmed he was no taller than me. I was shocked when it said he was 6'3" online.
Chrisco
said on 13/Apr/19
I reckon he needs a downgrade to around the 6'2" mark. Looked 3 inches shorter than 6'4 and 3/4 listed Kobe Bryant. Also looked half inch or so shorter than 6'2 1/2 listed Michael Rappaport
Christian Almost 6'6"
said on 28/Mar/19
I think Tony needs a slight downgrade and Pete davidson needs a slight upgrade.
Click Here
Pete Davidson is not the type to wear lifts or heeled shoes, but Pete is suprisingly tall when he decides to actually stand up straight, and also some pics recently with John Mulaney showing Pete looking near 3 inches taller than John. I'd say 6'2 1/2" for Pete, and 6'2 3/4" for Tony. What do you think Rob? I know it's tough to call, but Pete has horrible posture!
Mickie
said on 21/Jan/19
With Michael Phelps:
Click Here
viper
said on 16/Jan/19
At the very, very most he could be 6-2. He's listed as that.
But he might not be even that.
viper
said on 16/Jan/19
Hawk looks no taller than 6-1 with 5-11 Joe De La Puma
Click Here
For comparison 6-1 Shannon Sharpe with 5-11 Puma.
Click Here
Tiemo
said on 12/Jul/18
6'3 sounds right
Rampage(-_-_-)Clover
said on 5/Apr/18
190cm at worst. Generally looks around 6ft3
andre
said on 6/Jan/18
My friend rob when will you open ryan sheckler page ? answer me here you have a picture of him and justin bieber
Click Here
open it please for years we want his page opened
thanks open it
Editor Rob: there's a big list of potential names to consider.
Slim 185
said on 12/Nov/17
Not sure he's this tall, but I wouldent have a clue who to compare him to.
Xerxes12
said on 19/Oct/17
This is surprising, I never knew he was that tall. I would have guessed 5'10
Matthew Robinson
said on 10/Oct/17
I'm giving him at a proper 190 cm as my guess. I think he'd be really close to my height, within some mms.
josh jeffords
said on 2/Nov/16
Saw him perform live for Guiness or Ripleys he is super tall and lanky.
Funny he doesnt look as tall in games but he doesnt code or do graphics for them just cash the checks.
He looks 6 3 easy long arms and such much taller than dubious mat modine.
Rampage(-_-_-)Clover
said on 23/Aug/16
He's been described 6ft2 to 6ft5. I think at least 6ft3
Jim Hopper
said on 21/Aug/16
6-2" min. Probs more 6-3" in truth.
Mathew Robinson (190 cm)
said on 28/Jun/16
He can look 6'2" - 6'3", I think he's probably around 189 cm, maybe 190.
Borats chicken
said on 16/Jan/16
Alright, hes Travis with Tony Hawk
Click Here
Also what would his wife be?
Andrea
said on 6/Jan/16
Tony is not even close to 191...
Borats chicken
said on 3/Jan/16
Rob, I saw a picture of Travis Pastrana with Tony hawk. Could travis be 188cm next to 191cm tony hawk?
Editor Rob: I doubt he's really 6ft 2
Andrea
said on 17/Dec/15
Rob, are you sure he is a big 6'3 guy?
Click Here
He struggles to look 6'2 with Kobe! Maybe he is near 6'3 in shoes and more 6'2 barefoot?
Editor Rob: he can look6ft 2 range at times yes
NBAer
said on 17/Aug/15
Looks around 6'1-6'1.5 in a video interview with James Hetfield.Could be the angle,but he surely doesn't look 6'3 in there,although generally he can look 6'2++ in other pics
Arch Stanton
said on 27/Apr/15
Clearly looks a legit 6'3-6'4.
Blaze
said on 24/Oct/13
Definitely 6'3, he's real skinny so he could pull off 6'4.
Treetop Lover
said on 4/Aug/13
Here Hawk with the 6'8" Brittney Griner:
https://encrypted-tbn0.gstatic.com/images?q=tbn:ANd9GcQUHHT48-ClA16KT12M7gxc3G0JS7tSv-nvjGwd1J9jUTu8oqmK
wiltonstilts
said on 22/Apr/13
Anyone who thinks tony is 6'2 is flat out wrong. He's a 6'3 man. And I don't get why people always say how tall they are on this site. No one cares, we are talking about other people's heights
Mathew
said on 6/Jan/13
6'3" is about right for Tony.
Damien H.
said on 20/Dec/12
6' 3" is correct, I've met the guy and we're both the same height. It's like we're twins.
James
said on 15/Nov/12
Looks 6'4 or 6'4.5 because he is real skinny
Ajax
said on 26/Oct/12
He's listed as 6'2" in Tony Hawks proskater video games all of them actually. Do you think they shaved an inch off his height rob?
Anonymous1
said on 9/Jun/12
Listed 6'2 in THPS3.
Jay
said on 4/Jan/12
Probably around 6'3
george555
said on 7/Sep/11
Tony is barely 6'2
Lee
said on 15/Jul/11
if you look at the new guitar hero commercial with a-rod, michael phelps, tony hawk, and kobe bryant. michael phelps who is 6'2 was lamost the same height as tony on a skateboard. and michael phelps is probably 6'2 becuz look at 6'5 to 6'6 kobe. kobe towers michael. michaels eyes come up to kobe's lips. they are all only wearing socks by the way. a-rod is about the same height as michael give or take 1cm.
Mathew
said on 13/Jul/11
He's been listed from 6'2" to 6'5", 6'3" is the truth imo.
Sk8er Chick
said on 11/Jun/11
he is 6'3 as sayed in Zeke and Luther
biggie
said on 15/May/11
next to Stefan Raab who is 5 ft 11 tall
Click Here
thunder horse
said on 13/Apr/11
They listed him at 6'5 at Xgames and he looks taller than 6'3 but I'm only 5'4.5 yeah shorty.
Eli
said on 7/Apr/11
he is easily 191+ next to 184 knoxville.maybe he needs an upgrade:D
Chris
said on 13/Mar/11
I thought he was like 5'10!!! I've never seen anyone to compare with and just assumed, being a skateboarder, a low centre of gravity would be better.
Shaun
said on 31/Dec/10
He can look a legit 6 ft 4, lanky frame always makes people look taller. I'd have guessed 6'3" or 6'4.
Anonymous
said on 28/Nov/10
The birdman is 6 ft 3, has always claimed this height.
Lenad
said on 29/Jun/09
Hawk looks no more than a flat 6ft3
XistenZ
said on 4/Jun/09
Effin' tall dude. He's slim, so he might look taller than he really is.
Lenad
said on 27/May/09
Doesnt look any taller than 6ft3 to me
Doug
said on 26/Mar/09
Really? I could have sworn this guy was 6'4" minimum. He has always looked an easy 6'4" to me. He has always looked very tall and gangly.
Anonymous
said on 2/Feb/08
he doesnt look it in ur pic glenn but he is slouching
jenny
said on 1/Feb/08
i bet he's a 6'3" he doesn't even lie!
skater rocks!
Photochopz
said on 21/Oct/07
I've met Tony twice. Both times he had flat skate shoes on (Vans/Chucks) and he was an easy 2-3" taller than me. He consistently slouches when he's standing around... it's part of the skater lifestyle.
sam
said on 18/Sep/07
in his autobiography i remember him saying something like "he was pretty much normal height as a kid." He also mentioned at 16 he was 6 foot. must have even grown more! (way over that mark in his adulthood)
Matt Thomas
said on 14/Sep/07
Yeah i know hes got the same body type as me im 6'3 really but since ive got the perfect weight for looking tall (180) at my height that is..
People often guess me at 6'4 or 6'5
Alex
said on 3/Sep/07
The guy can look 6'4 but is really 6'3.
TK
said on 26/Jul/07
who the hells Glenn! He's everywere......lol
Chris
said on 16/Jul/07
When you see him presenting awards on MTV, he's huge!!, he doesn't have to lie about his height at all, man. 6'1.5~2 at the very least, even if his posture isn't perfect. great skater nonetheless.
6'3'' JK
said on 14/Jul/07
Even i thought he was 6'2'' because he was listed that height, he even looked 6'2'', but i wouldn't count out 6'3'' for him because he is tall
lillo thomas
said on 14/Jul/07
Some people claimed their height in shoes not to lie but because they dont know that the real height of all persons is the barefoot height. The measured themselfs in shoes and think that is their real height. Of course many people lie , inflated themselfs 1-2 inches.
Viper
said on 13/Jul/07
He could be calling his height with shoes without even thinking twice about it.
Ramone
said on 12/Jul/07
its easy. If he was 6.2, why he says "Im 6.3"? come on..hes not a model, hes not an actor..hes a skater and if he says 6.3 its 6.3. He dont have reasons to lie..
Anonymous
said on 27/Jun/07
Dude is tall. And he's slouching. No arguing with this height.
glenn
said on 26/Jun/07
wouldnt surprise me one bit if he was 6-4.
AAAA
said on 26/Jun/07
Glenn, he has been a pro skater since the age of 12 o i am sure there are tons of conflicting listings for him. I see 6'3-6'4 most commonly now, 6'2 is a bit dated, but people will use it just to falsely prove their point. The dude looks 6'2 plus with a major slouch and he is behind you. He is probably a strong 6'3
glenn
said on 26/Jun/07
i dont know where the 6-2 estimations come from.he looked at least 6-3 to me.if not more.
Jamal
said on 25/Jun/07
I met him in Tehachapi Ca, at a pro skating comp. He stated and looked to be 6'4.
wrestling
said on 21/Jun/07
on my TONY HAWK PRO SKATER GAME it says tony hawk is 6'2" 180lbs , and he says hes 6'3" im guessing 189cm would be good for him
Matt Thomas
said on 11/Jun/07
Anytime Glenn anytime.
glenn
said on 11/Jun/07
thanks for the support matt.
glenn
said on 11/Jun/07
thats actually true matt about the ruffling of feathers with celebs.how did you know that? i dont curse them out like some folks.maybe once or twice in a 17 year span.
Matt Thomas
said on 11/Jun/07
Glenn you are a hero ive always wanted to tell you that ive heard grand tales about you sticking up to celebs who try to act all high and mighty
glenn
said on 10/Jun/07
i never said, you were never right viper.your right alot of times too.alot of rubbish on the site.not you.
glenn
said on 10/Jun/07
nothing is accurate.but i do my best.and dmx isnt 5-8.i thought he was 5-9 myself.he is 5-11.as prooven in my pics and his police report(which isnt always accurate either),and him looking 6ft near seagal,who can range from 6-3 to 6-5,depending if he is wearing cowboy boots.photos are decieving indeed.viper does downgrade too much.thats just the way he is.i dont get mad at him for it.though we had one squabble a year ago.he is civil and not an ass like other folk here.on the stallone page for sure.at least i dont provide dvd stills only.i provide the real deal.hawk was 6-3.and rob,women are tricky.i cant gauge them to well myself.
Mr. R
said on 10/Jun/07
I must support my old friend Viper, as I too have been accused of reporting the celebs that I meet as shorter than most people think. As someone who lived in New York, and who works in Hollywood, I see a lot of celebs, and I can tell you that many tricks are used to make them look taller on camera. Therefore, pics and stills are not very accurate. Eyewitness accounts are best, but even they vary.
[Editor Rob: there will be some I'm sure that are off, everybody is going to have some wrong estimates. Last week I saw this actress who I had downgraded after my first meeting with her. This time she looked taller, and I paid more attention to her footwear and upgraded her again!]
Viper
said on 10/Jun/07
Thing is, Hawk has been listed at 6-2 for a lot of his career as well. The 6-3 more than likely is padded by an inch.
Viper
said on 9/Jun/07
Of course I go with the lowest common denominator most of the time. Its being the most realistic, while being right most of the time.
Danimal
said on 9/Jun/07
Viper does always choose the common denominator. Always. There is no exception to that.
Matt Thomas
said on 9/Jun/07
Viper not to call you out or anything but every page I look at where the guy is 6'3'' or taller your always downgrading the person seriously man whats up?
Anonymous
said on 8/Jun/07
viper, i've been pouncing on you lately, but you really are a serial downgrader and i don't know why. tony hawk is obviously 6'3'' and why would he lie about it????
Drew
said on 31/May/07
No way he doesn't look 6'2" in the pic. He is slouching big time, and he still has a good 5 inches on Glenn. If he stood up straight, 7 inches easy.
lillo thomas
said on 22/May/07
pics sometimes arent very accurate to estimated height.Maybe Tony Hawk is
6'3 but in the pic above with gleen look 6'2
kevin
said on 21/May/07
I'd say he looks 6'4 pretty tall
Leung
said on 20/May/07
Yeah he is heaps tall for a skater
Derek
said on 19/May/07
Looks 6'2 1/2"-6'3" and Glenn is also a bit closer to the camera. I'd give him a strong 6'3".
Jason
said on 19/May/07
Probably 6'2 1/2''.
Anonymous
said on 18/May/07
dang thats tall for a sk8er
AAAA
said on 17/May/07
I have seen 6'2-6'4 for him. I believe the 6'3. He is bound to have varying pro height, the guy has been a pro skateboarder for year, I think he turned pro at 12 or some ridicolus like that. The man is a legend though
Viper
said on 14/May/07
I think the 6-3 is padded. Hes been listed at 6-2 for most of his career.
[Editor Rob: his head is tilted in a slight negative fashion, he looks a couple inches further away and looks like he could have a looser posture with a subtle lean to his right. It wouldn't surprise me if evened those out glenn's head would be on top lip.]
l0ck n l0ad
said on 13/May/07
Did this guy also have a late growth spurt like Sharapova? lol
I remember him always getting presented as 6'2", I guess they rounded him down or something...
msn87
said on 13/May/07
1'88 m (included 2½ slouch), 1'90½ m (excluded 2½ slouch).
Antin
said on 13/May/07
looks 188 cm max on photo
Matt
said on 13/May/07
Yeah he looks a legit 6'3 to me. By the way currently on the homepage you have Tony Hawk listed as Matthew Perry.
Brad
said on 13/May/07
Might be 6' 3", I forgot, I lost an inch in almost 20 years.
kevin
said on 12/May/07
watch out glenn, you have a ghost behind you!
lillo thomas
said on 12/May/07
well at least in the pic above he look about 6 inches taller than glen
he look no more than 6'2
glenn
said on 12/May/07
he looks 6-4 in the photo a bit.so its possible.i remember 6-3.maybe its a slouch.
Alex
said on 12/May/07
I've heard he was 6'4. Can look it though.
Leonid
said on 12/May/07
Mmmmmm glenn, you've met a lot of 6'2" and 6'3" people... according to your judgement what do you think he's more?
i always pegged him down at 6'2", quite suprised he's taller than that.
I'm what I am
said on 11/May/07
I don't know him, too. But I think he doesn't lie. With Glenn, he looks either 6'3 or a bit more. Who is behind Glenn? Look very mysterious!
James
said on 11/May/07
I always thought he was 6ft4
TheJerk
said on 11/May/07
He's listed as Matthew Perry on the homepage. I thought it was odd that he grew a couple inches when Glenn looks like hes wearing the same attire/same event! I think I've seen 6-2 listings for him as well. Id be inclined to believe Brad.
glenn
said on 11/May/07
tool is a heavy metal band.
msn87
said on 10/May/07
"[Editor Rob: sorry I don't know what they are]"
they are human beings
Brad
said on 10/May/07
I met him in '89. 3" shorter than me, I'd say 6' 2". He's really aged in the face.
snrub
said on 10/May/07
You'd expect a small frame to be an advantage in skateboarding.
As a nerdy point of interest, he was listed as 6'2" in the first Tony Hawk Game
msn87
said on 10/May/07
finally, now he is added - was about time;D. always thought he was 1'93.
[Rob, when do the guys from Tool get added?: they're missing here]
[Editor Rob: sorry I don't know what they are]
6'3'' JK
said on 10/May/07
Rob, do you have any idea how tall his son Riley Hawk is?