Tony Tucker's Height
6ft 3 ¼ (191.1 cm)
Former American Professional Heavyweight Boxer. In his heydey, when he fought Tyson, TNT was being billed as 6ft 5 in height.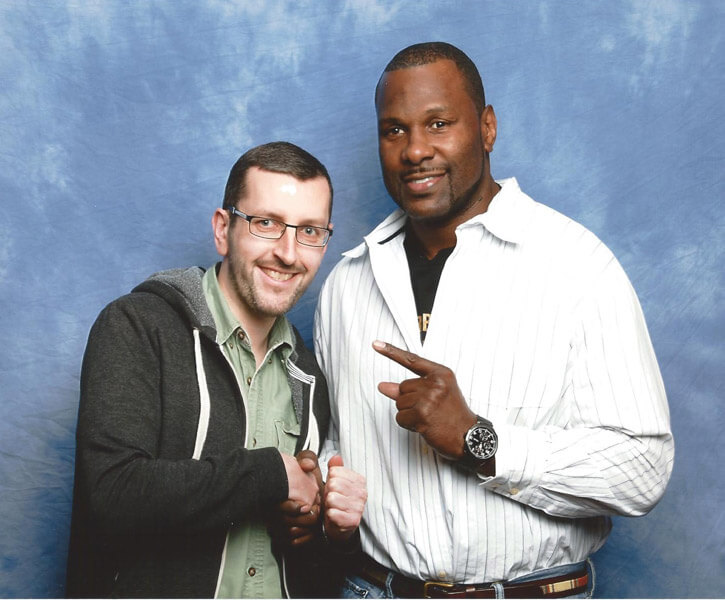 5ft 8 Rob and Tony @ 2013 Autographica
You May Be Interested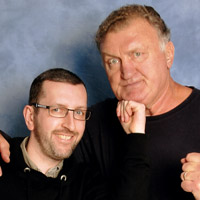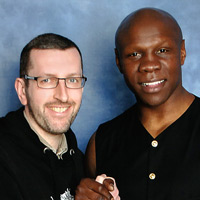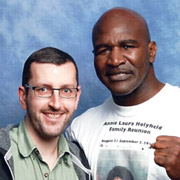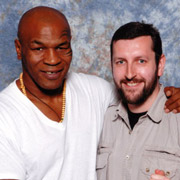 Add a Comment
62 comments
Average Guess (28 Votes)
6ft 2.65in (189.6cm)
Tall In The Saddle
said on 9/Feb/21
@Canson.
Thanks for your reply. Rob's listing is just an estimate as at the time the photo was taken without specifying a peak. Look forward to your opinion after you have had a closer look. Good to see that both Tim Witherspoon and Tucker look like they've come out of the game pretty much unscathed. Aside from just the risks in the ring, a lot of the 80s crop brought themselves undone with heavy and maintained drug use. I love boxing also, or at least I used to. Today's HWs, being that bit bigger, just aren't as skilled. Natural progression I guess since p4p skills tend to diminish with athletes of greater size.
Canson
said on 8/Feb/21
@Tall in the Saddle: admittedly, I didn't see as much of him as I have some of his contemporaries. I've seen some videos though and have had a hard time telling. For example, I've seen Bowe up close and watched a lot of Lennox Lewis and some other taller ones such as Foreman etc. looking at Bowe, I agree and in his case he definitely didn't take care of himself lol. In his prime, I would have guessed a hair taller than me and probably would say if he's not 195cm, he's very close (4.5-4.75 range). With Tucker though, your post was an eye opener. He may have been taller than Rob lists him here at his peak. Maybe not just that 1/4" he alludes to. I'm going to study him though as I'm a huge boxing fan. It's always hard when you get a pic like Rob has with him where he looks shorter than he's supposed to be as people assume he was never really as tall as he was at his peak
Tall In The Saddle
said on 7/Feb/21
@Canson
Have you seen much of Tucker at peak, in the ring and out? I am interested in your assessment of the guy.
Also, photos and vision of Riddick Bowe in more recent years appear to indicate some notable height loss. Here's a nice line up some 80s stars, including Tucker and Bowe.
Click Here
Tall In The Saddle
said on 30/Jan/21
Here's a very brief 2016 clip of Tucker left and Witherspoon right on stage shot from a distance. IMO, long enough and clear enough to to see that Tucker is notably the taller of the two. There is more up close footage on Ytube of them together if further vision is required. Maybe Tucker could do with a peak height and tentative current height. Tuck and Spoon are among the best current reps of the 80s boxing crop, both appearing to have come out of the smoke relatively unscathed.
Click Here
Canson
said on 29/Jan/21
@Tall in the Saddle: that's interesting. I figured he has lost height but wasn't sure how much. I would say a peak listing for him by Rob could be at least 6'4 based on that. By the picture he had a chance at 6'4.5 I suppose
Tall In The Saddle
said on 26/Jan/21
@184guy2
Tim Witherspoon is listed 6'3.5". Tim fought Larry Holmes and he was definitely at least Holmes height and arguably had a slight edge. Now there is vision on YouTube of Tim alongside Tucker and I would argue for up to 1 inch advantage to Tucker. Not sure if this single pic with Rob has given a somewhat false impression as to his height.
184guy2
said on 23/Jan/21
Also think Tucker was taller at his prime than just 6'3 or 6'3.25 . 6'3.5 at least
Tall In The Saddle
said on 21/Jan/21
Strange. Just based on the photo with Rob, Tucker appears no more than 6'3" max.
However, at peak, for whatever it's worth, Tucker was uniformly listed at 6'5". Never anything else. Based on the vision of their fight, Tucker was clearly taller than Buster Douglas whose own peak is listed here as 6'3 1/2". A 1 inch advantage over Douglas is reasonably arguable as per the vision, putting Tucker at 6'4 1/2" relative to Douglas' listing.
I agree with Lewis' listing of 6'4 3/4". Very close to 6'5" but no cigar. However, still near enough to get away with a 1/4" round up to 6'5". Both Lewis and Tucker were listed 6'5" each when they fought. During the course of the fight the commentator noted they were the same height, both 6'5". If they were true to their listings here, Lewis should've held an obvious 1 1/2" height advantage but it wasn't noted by the commentators and it certainly wasn't visually upheld. Tucker appeared on par with Lewis and if he somehow wasn't, then IMO there's no way he was dropping any more than 1/2" to Lewis who did, at times, appear to have an ever so slight edge on Tucker. So, relative to Lewis's listing, I wouldn't put Tucker below 6'4 1/4".
Lewis also fought legit 6'3" Razor Ruddock. In that fight, you can see Lewis' obvious height advantage and, IMO, it was an accurate reflection of how a 1 3/4" advantage should look. There was no way Tucker was dropping similar height to Lewis.
Finally, again, just IMO, Tucker's advantage over Tyson was notably more than Holmes' advantage over Tyson.
Canson
said on 16/Jan/21
@JD1996: maybe today 6'3 flat (similar to Steven Seagal who Rob also lists 6'3.25) but his peak may have been taller. I doubt he's only 6'2.6 like the average suggests in that picture above. Peak height maybe 6'3.5"
OriginalAnon
said on 16/Nov/20
In his prime he could've hit 193cm in the morning. He did look tall. Looks 191cm in the photo.
JD1996
said on 7/Nov/20
@canson I haven't met him but I meant to say from robs perspective when he's standing well he probably looks 6'3" to rob. In the photo he looks around 6'2.5" but he might not be standing his tallest I notice he has a very long forehead so maybe his eye level is very low like 5.25" range.
Canson
said on 6/Oct/20
@JD1996: you met him?
JD1996
said on 27/Sep/20
Looks about 6'2.5" in the photo and considering rob is not standing at his tallest maybe the camera angle isn't the best and he seemed like 6'3" in person
Alir?za
said on 5/Aug/20
This guy look very health so I don't think he shrink to much.. Probably his peak height is 6 ft 3.5 inches.
He look clearly 6'3 next to Rob. Maybe 6'3.5 inches. There is a huge height difference between Rob and him
viper
said on 3/Jun/20
It's really strange.
Seems like If Rob stood up straight Tucker would only look 6-0
Nik Ashton
said on 30/May/20
Rob's losing bags of height!
Canson
said on 30/May/20
Canson said on 23/Apr/20
@Editor Rob: do you think still 191 today? Or do you think more 190? Where would you guess his peak height to fall? 192-193 range?
Editor Rob
6ft 3.5 peak is possible range for him.
Where would you guess him in 2020?

Editor Rob
I doubt he's really under 6ft 3.
Canson
said on 23/Apr/20
@Editor Rob: do you think still 191 today? Or do you think more 190? Where would you guess his peak height to fall? 192-193 range?

Editor Rob
6ft 3.5 peak is possible range for him.
Canson
said on 22/Feb/20
@Editor Rob: so you think Tucker has lost height today?

Editor Rob
There could be a possibility of half inch
184guy2
said on 2/Feb/20
lol Tucker looks a lot younger nowdays than in the 80's ...
But he definitely lost height , he looked taller than Buster Douglas , well , unless he was wearing suspicious boxing shoes
Christopher Chammas
said on 8/Jan/20
How tall was he during his prime?

Editor Rob
A chance of near 6ft 4 but 6ft 5 I can't buy
Boxing fan 07
said on 18/Jun/19
Tucker has definitely shrunk these days. But in his prime in the mid to late 80's he looked 6'4". Even in the 90's he looked similar to Lewis
Junior Hernandez 1990
said on 14/May/19
@viper He is 6'2 1/8 on the height chart and need to add extra 1/8 because Rob is 5'8 1/8. I did think if Rob had a litttle more footwear then he could be 6'2.75".
Tall In The Saddle
said on 20/Apr/19
@Rob - if Tucker didn't look much different then he must've lost some decent height because he definitely had about 1" on Buster back in the day.
When fighters engage in the ring at least you have equal footwear in play and plenty of time & opportunities to compare. I remember watching Tucker v Douglas and thinking if Buster is a legit 6'4" then Tucker is a fair 6'5" - but I later saw Lewis v Tucker and saw that while close in height, Tucker wasn't quite as tall as Lewis - who himself was a shade under 6'5".
As an aside - appearance wise, Tucker came out of the game relatively unscathed, didn't he? Seems like a nice guy.
I remember he was quite religious - all the physical equipment a fighter could want and plenty of talent to go but without the so called killer instinct - no real desire to hurt anyone - which might've tied in with his religious disposition.
Nothing like say a Tyson who basically wanted to destroy his opponents - opponents who were already beaten for the better part by their own fear before the first bell. Tyson was a legit scary guy back then - even the sound of his punches were different to from any other fighter - the thud of his shots was something else - he literally revived the sport back then - just as Ali did when he won the title back in the 60s. Unfortunately, the game is nothing like it used to be.

Editor Rob
Tucker at 6ft 4 peak is quite possible, I suppose by the time I met him he might have lost height...Buster I think managed to barely lose any.
Tall In The Saddle
said on 16/Apr/19
Tucker doesn't appear a full 6'3" in the photo...pics can be deceiving...and there maybe some height loss involved...
But what about peak? When they fought Tucker was clearly taller than Buster Douglas (listed 6'3.5" on this site)-and I wouldn't necessarily limit Douglas to that height. Tucker was also close in height to Lewis as fight vision and here's pic to give some idea -
Click Here
. There is also available vision of Tucker standing with Tim Witherspoon at a charity event - Tim was generally listed at 6'3.5'- again, Tucker appears taller. For now I am going to estimate peak between 6'4.25" and 6'4.5".

Editor Rob
Tucker might have lost 1/2 to 3/4 of an inch. In person I do not think he looked much different than Buster.
viper
said on 27/Mar/19
I want to say he only looks 6-1 If Rob had normal posture?
He's only 6-2 on the height chart
Canson
said on 25/Mar/19
Never 6'5". Listing looks about right. Same size as Foreman or Holmes
Jordan87
said on 12/Dec/18
Rob was he bending down at the knee's in your picture? How the hell can he be 6'3" if he is 6'2" on the height chart and you are the one losing posture?

Editor Rob
He was standing pretty well, but Giles took this photo and sometimes his angles could benefit one side more than another.
Canson
said on 12/Jul/18
I doubt he was much if even taller than Holmes and Foreman. Maybe he had 1/4" or a cm but no more. He definitely looks max 6'3 next to Rob and honestly the more I see of the pic above he doesn't give as tall an impression with Rob as Holmes does next to him
World Citizen
said on 23/Jan/18
Looks 6 ft 2 here
Rampage(-_-_-)Clover
said on 20/Jun/17
6ft3½ is arguable but he was never 6ft5!
Bizzare Oaks
said on 25/May/17
he looked near 6-5 at peak. looked about the same as 195/196 Lewis.Tucker was a little taller than Douglas who was 6-4
shiva 181 cms
said on 21/May/17
6'2.25 nothing more, he looks solid 6'2 here
Reece
said on 20/May/17
@peter 180cm. He is shortee nowadays. In his PEAK he did look around 6-5 or close.
Mike
said on 20/Feb/17
192 peak, Rob?
Editor Rob: it could be possible.
Height Freak
said on 19/Feb/17
6,5 in peak but clearly lost height
firecracker
said on 4/Nov/16
tucker was 55 here, looks in good shape, not shrunk at all or just a shadow shorter. So stop to say he was 6ft 5in. Impossible he shrunk 2 inches!!!
Jordan87
said on 3/Oct/16
6'2 On the Nose.
richie
said on 11/Sep/16
Tony Tucker's peak height was 6'5", he was exactly the same height as Lennox Lewis when they fought but has clearly lost height today, i would say 6'3.5", he was slightly taller than Tim Witherspoon who was a strong 6'3" so Tony is between 6'3/4" but has lost height, quite clearly
Rampage(-_-_-)Clover
said on 5/Aug/16
Rob, did he actually look 6ft3 in person?
I don't quite see it either in the photo
Editor Rob: yes he looked more like a 6ft 3 guy, I doubt he's really under it.
Peter 180cm
said on 17/Apr/16
188 max,more like 187 since Rob is obviously leaning...How on earth was this guy billed at 196,when he's under 190??
Rampage(-_-_-)Clover
said on 11/Apr/16
Johno, I dunno where you're getting 6ft1 from...
Johno
said on 3/Feb/16
6'1.25 there.
Rampage(-_-_-)Clover
said on 31/Jan/16
Click Here
He does look 6ft3 w/h Tyson. He was never 6ft5 though
Dave189
said on 10/Jan/16
looks 6'2'' max in the photo above...
The Exorcist
said on 4/Jan/16
Doesn't look like a 7" difference between you in the photo above, Rob. He looks 6'1 ish with you.
qartt
said on 20/Jul/15
richie right, unless you downgrade lewis, tucker was taller than 6'3. rob looks the same height as tyson did with tucker in their fight. tuckers lost 2 inches, you can youtube tyson vs tucker, and tucker vs douglas.
qartt
said on 20/Jul/15
Rob Tucker has also lost height look at the video of him vs tyson, no room for lifts in a boxing ring. There is a similar difference in height as between you and tucker today. He has lost 2 inches. He is due a peak height listing.
Oh_YEA
said on 27/May/15
in his prime legit 6'5
Lucho
said on 27/Apr/15
He doesn't look the full 6'3".. i think 1.90 cm during his Peak .
richie
said on 26/Mar/15
unless he was lost height, Tony Tucker was a legit 6'5" during his peak, watch his fight with Lennox Lewis, he was the same height as Lewis who is also 6'5"...
Rampage(-_-_-)Clover
said on 15/Mar/15
Tony Tucker and Larry Holmes are under 6ft3
[Editor Rob: I think Tucker is a lot nearer 6ft 3, Holmes isn't that tall today, and lost some height.]
iyolo
said on 27/Jun/14
FA,he isn't russian,he is bulgarian (as i am).He recently starred in a dance show-he is listed as 6 feet-although sometimes he looked a lot shorter...
Btw his name is Anton Kasabov.
Tommo
said on 20/Jun/14
Rob your 6'2 friend makes Baldwin look a really strong 6'4! Did he have any sort of footwear advantage? And also I think it gives credence to the argument that Ferrigno is just 6'2 now.
[Editor Rob: baldwin probably has 0.3-0.4 as the other guy wears sneakers mostly.]
Sam
said on 28/Mar/14
I think he looks closer to a strong 6'2" but I probably wouldn't argue the point with him.
kyuss
said on 25/Mar/14
Come on people,boxers,actors,wrestlers all add an " or 2 to their true heights. 6-1" max here,never was 6-3".
avi
said on 17/Jan/14
@Rob
how tall is that guy? strong 6'1 he looks...
"[Editor Rob: Tony is certainly taller in person than Evander is...there was one other guy who got a pic with Tony and You can see him with a couple other big guys."
[Editor Rob: that other bloke is a 6ft 2 guy.]
Rampage(-_-_-)Clover
said on 10/Dec/13
Dude looks around the same as Holyfield and if he looked between 6ft2-6ft3, why isn't he listed 189cm, Rob?
[Editor Rob: Tony is certainly taller in person than Evander is...there was one other guy who got a pic with Tony and
You can see him
with a couple other big guys.
being around that guy's height is one instance where it would be a better viewpoint for running a site like this...
maybe when I retire I will sell the site to someone around 6ft 2 range ;)]
Big T
said on 10/Dec/13
This photo is extraordinary to me, Tucker looked tall when he fought and was listed 6'5", he doesn't even look 6'2" here! It looks as if he would only be 6'1" if Rob lifted his head up.
But wouldn't you say he looks rather taller here Rob? Like almost the same difference as above but with 5'10" Tyson?
Click Here
[Editor Rob: he certainly is 5 inches taller than Mike]
Matt 184.7-186.7cm
said on 30/Oct/13
looking 6ft 2 here although you look like your dropping an inch on purpose rob... was he dropping lots too?
[Editor Rob: he's standing better than me, but the photographer I think was standing in a position that might have knocked a little off him in the photo.

This specific photographer is not as good for position sometimes.]
Yaspaa
said on 26/Oct/13
Lennox Lewis was clearly taller when they fought.