Tucker Carlson's Height
6ft ½ in (184.2 cm)
American news correspondent. He has claimed to be 6ft 1.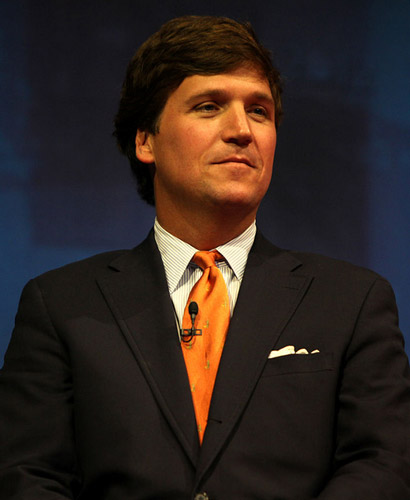 Photo by Gage Skidmore [
CC BY-SA 3.0
]
via Wikimedia Commons
Add a Comment
21 comments
Average Guess (16 Votes)
6ft 0.55in (184.3cm)
Arch Stanton
said on 21/Nov/20
Between 6' and 6'1 seems reasonable. Reminds me of a male Katie Holmes. Finally, he's telling the Trumpists the truth, show us the evidence!!! That Sidney Powell looks very tall for a woman BTW, she might not be far off Tucker's height!
vastlybetter3333
said on 22/Jul/20
So I just googled "tucker carlson height", expecting Celebheights .COM to be the first result. However, I had to go to page 2 to even find it. One of the first results however was a page called celebsheight .org, which seems to be nothing more than a lazy copy of this site, with no other purpose than getting clicks with big names. A site, which btw has Trump's height listed at 6'3.
What happened there?

Editor Rob
It's alright, the #1 search engine
Bing
has my back.
Google is a mystical beast when it comes to rankings. It can depend on your own search history, location, freshness/age, volume of pages (dilution effect) and other technical factors...overall the site does fine though 😉
However, it does get scraped/copied a fair bit over the years!
There's another guy I caught scraping this site and creating a rip-off with fake quotes too...
Copy this in google if anybody is curious: "In 2014, Tom claim on twitter 'I'm height in 5 feet and 7 ¾ inches'."
Just completely embarrassing, making up nonsense like that 😆
As for Carlson, he's not the best guy when it comes to posture, but with
Emmitt Smith
, just doesn't seem a big 6ft 1 guy.
Nik
said on 28/Jun/20
He could be Trump's height twin! 💨
Texas Strong
said on 25/Jun/20
Met Mr. Carlson and had a 2 minute talk with him outside FNC studio three years ago. I'm spot-on 5'10" barefoot in middle of the day. Standing on completely flat surface, two feet apart, Tucker and I were nearly eye-to-eye wearing similar shoes. He was about a half inch taller than me.
Rampage(-_-_-)Clover
said on 9/Jun/20
Rob, is 6ft0¾ possible?

Editor Rob
That might be the most I'd currently imagine he could be.
Justi
said on 12/Apr/20
Saw him in person he seemed much taller than I am (5'11) but he was also in dress shoes so that should probably be taken into consideration.
Jas White
said on 23/Jul/19
If Roger Stone peak was 180cm, Trump looks almost 6ft3 here
Click Here
Then, I don't think there is THAT much of a difference between current Stone (176cm) & Carlson here
Click Here
So I think Tucker might be a strong 5'11, but I struggle to give him more than that
TruthLoader
said on 12/May/19
Completely out of touch listing. Carlson is shorther than Donald Trump Jr. who himself is shorther than 6'1 Donald Trump. Carlson is between 5'10 to 5'11
Click Here
Sonny Black
said on 11/Apr/19
I always thought he was in the 5'11-6'0 range, 6'1 seems a bit generous.
JerryN
said on 28/Feb/19
Guy lies about politics and now his height. Surprising anyone would trust this conman.
Stark
said on 8/May/18
I think he's about 186 during most of the day.
heightchecker34
said on 14/Jan/18
wow, for some reason he gave me the impression he was of average height. (Somewhere in the 5'9-5'11 range), but of course I have only seen him, when he is sitting down. He has become my favorite anchor. Rob, do you have any comparisons of him with famous politicians that I could compare with? Thank you.

Editor Rob
He doesn't look as tall as his claim with
Harry Hamlin
, although he has quite thin shoes that event.
Jason
said on 28/Nov/17
I always thought he was 5'8" or thereabouts, judging him solely by how he looks when he is sitting down interviewing guests. I never got the impression that he was a tall guy at all, so I am shocked at his height listing. But what about his picture with 5'10'-5'11" Harry Hamlin at the DWTS afterparty? Both Carlson and Hamlin are standing next to each other, and Hamlin appears to be ever-so slightly taller (even accounting for Hamlin leaning in slightly thus reducing his height slightly). Could Carson actually be 5'10"?
Willes188
said on 29/Sep/17
Always looked 6ft 2 in my eyes
BillisaLefty
said on 15/Jun/17
He seems about that.
BillisaLefty
said on 27/Apr/17
Tough to tell. 73'' is about right, though.
MD
said on 11/Jan/16
I'm honestly confused. Here he is with a listed 5'10.5" Harry Hamilton. What kind of hills would he have to be one, what kind of box would he have to stand on, to look tall as, if not taller than, Tucker?
Click Here
Anyone have any additional pictures to add showing the 6'1" listing?
Ray
said on 9/Jan/16
Yes he does look a lot taller than six foot one. The guy sitting next to him on the Fox show claims to be very tall and Tucker looks taller than he is
Anonymous
said on 26/Dec/10
I saw him walking in NYC. Tucker Carlson is quite a tall man. I wasn't right next to him, but I would say he is roughly six-foot-even or maybe an inch taller. Listing looks pretty accurate.
Jackie Treehorn
said on 24/Aug/07
He claimed 6-1 after they guessed him as 6-3 on Bubba Love Spong radio show 8/24/07.
Ross
said on 12/Sep/06
I would say he looks a little taller.