Wendy Richard's Height
5ft 6 (167.6 cm)
British actress ,best remembered for roles on tv shows Are you Being Served (Shirley Brahms) and EastEnders (Pauline Fowler). I think the 5ft 6 her agency CV gives is from her 70's days.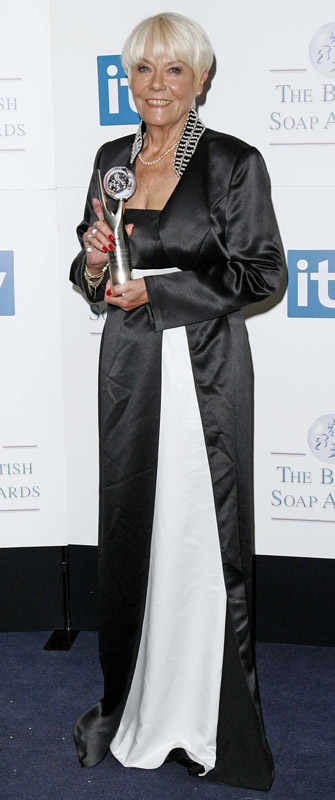 Photos by PR Photos
Add a Comment
9 comments
Average Guess (8 Votes)
5ft 5.72in (166.9cm)
Miss Sandy Cowell
said on 6/Jan/20
Poor Pauline Fowler! Christmas has been and gawn, and she and husband Arthur have been hit by the news that their son, Mark, is HIV positive. Added to that, little does she know that mentally fragile Arthur is about to embark on an affair, well mapped-out by the woman herself, who offers Arthur a BEER for elevenses! I know she finds out - I remember it well - but that's just the first of the lady's problems.
I read with interest, Paul Wood's comment from the 10th September last, and I agree that Pauline is shorter than Gillian Taylforth. I read 5ft5 for Wendy when 'EastEnders' first came out in the mid-80s, and I never disputed it. However, she always looked tall in 'Are You Being Served?' so I reckon in 5ft6 being her peak height, and with the high shoes Wendy wore in 'Are You Being Served?' she'll have looked positively tall.
I will give her 5ft5.75. 😁💐🕯️
Paul Wood
said on 10/Sep/19
I think 5ft 5in for Wendy Richard. She always looked a bit shorter than Gillian Taylforth in EastEnders and both characters were hard working women who wore flat shoes most of the time. Gillian Taylforth has said herself that she is 5ft 5.5in (she is often listed as 5ft 6in) so I really can't see that Wendy Richard was over 5ft 5in.
Miss Sandy Cowell
said on 5/Aug/19
Wendy did the backing vocals on the 1962 hit 'Come Outside', by Mike Sarne. The record was far more famous than the singer, and was frequently played right into the 70s - or I wouldn't have remembered it so well! 📀
Wendy can have 5ft6.
Miss Sandy Cowell
said on 20/Jul/19
Wendy would have turned 76 today.🕯️
5ft6.
Miss Sandy Cowell
said on 16/May/19
Watching 'Classic EastEnders' every weekday, as I do, I love to see how quickly time flies. The Soap started in February 1985, and the series is already showing Christmas 1988! 🎄🎅 The old ones only started in August of last year, the 6th I think, and in 9-and-a-half short months, nearly 4 years have elapsed - they've simply FLOWN by!
Wendy was in her forties, Leslie Grantham was a young man, probably pushing 40 now, and June Brown was in her late fifties at the start.
I will go with 5ft6 for Wendy.
⭐ Please, Rob, could Wendy be added to the 'EastEnders' page? She so deserves to be there.
Sandy Cowell
said on 17/Jan/19
Poor Pauline Fowler was just denied credit when she swallowed her pride and asked for tick. When told a firm "No!",
she implored him for "..just a packet of fags?"
Still refusing, the nasty shopkeeper said, "But I can sell you one - 8p! Lots of shops are doing it!"
So stressed-out Pauline had no alternative than to accept his tight-fisted offer from the stingy jobsworth!
Those were the days! Forty pence for 5 fags! Now you could pay as much as £2 - £3, depending on the brand of the dangerous, stress-busting, height-stinting, complexion-wrecking coffin sticks!
🚬✖️⚰️ OR
🍓🍏🍇🍊🥝 = 🤸⛹️🏄🏂👸🤴
Today I will go for her peak of 5ft6. She certainly looked it when playing sexy Miss Brahms! 👙👠👠💄
⭐️ At one time in the 80's, the cast of 'Are You Being Served?' got back together for one last series, so Wendy was playing both the downtrodden, hard-done-by Pauline Fowler and the chirpy Miss Brahms at the very same time!
Sandy Cowell
said on 9/Oct/18
Ah! I have just had the pleasure of witnessing Wendy as Pauline Fowler in the first Christmas 'Eastenders' ever. She had such a lovely typical Eastend family in that Soap, and I bet they all got on really well in real life. I also remember her playing Miss Brahms in 'Are You Being Served' and she was always the touch of glamour! I actually read she was 5ft5 but as she's written here as 5ft6, I will go for halfway house: 5ft5.5!
Rob: Do you think you could add her to the 'Eastenders' page?
Sandy Cowell
said on 8/Apr/17
Ah! Wendy has no comments yet so here I go....
Of course, I remember her playing 'Miss Brahms' in the enjoyable and popular series 'Are You Being Served', which I believe, even made its way to America! She was quite tall then and I would certainly go along with 5ft6, though her character was indeed the sort of fashion-conscious girl to teeter about in high heels and that made her look positively tall!
However, when she joined EastEnders, she was not a heel wearer, and I think she looked smaller too, though that could have been down to her few extra pounds. I even read somewhere that she was 5ft5 at the time she was in EastEnders.
What I will put, therefore, is 5ft5.5, halfway between the two heights mentioned.
She is another of our actresses who went sadly before her time.
RIP Wendy xxx
Claudia
said on 28/Feb/09
The amazing actress died 2 days ago RIP