Lemmy's Height
5ft 10 (177.8 cm)
British singer-songwriter and musician, best remembered for leading Motorhead. He once gave
his height
as being
"5ft 10"
and weight as
"12½ stone"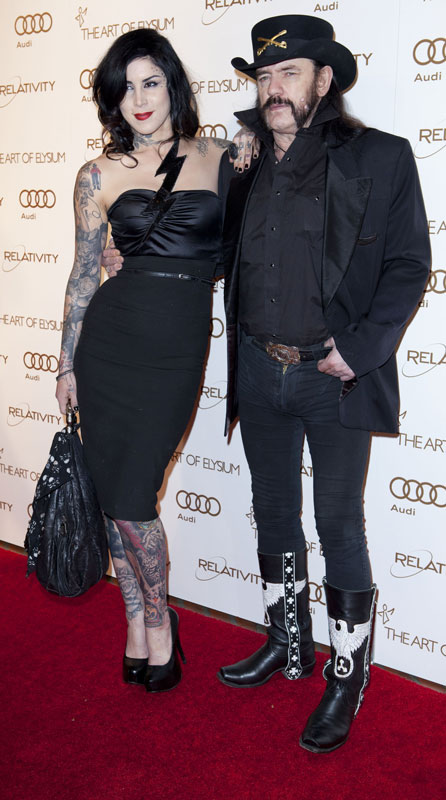 Photos by PR Photos
Add a Comment
14 comments
Average Guess (17 Votes)
5ft 10.15in (178.2cm)
Miss Sandy Cowell
said on 3/Aug/20
Lemmy had such a distinctive voice; I know Motorhead recorded the theme tune to 'Hellraiser' but I couldn't quite recall which, but I knew it was one of the first three, all of which I'd seen at the pictures. Finally, I found out last night that it was 'Hellraiser III - Hell On Earth'.
5ft10. I bought a Motorhead single in 1979 when I was still just about at school. It had a picture on the front cover of a girl fan looking right up to him with big, admiring cow's eyes! That led me to believe that he had to be at least 6ft.... 😋🐮
Miss Sandy Cowell
said on 19/May/20
Make that Joey Ramone. My boyfriend was wearing a Ramones T-Shirt on Sunday, and as I pulled his coat to one side, he retorted, "Not here!"
Lemmy gets 5ft10. 😃👍🎵
Miss Sandy Cowell
said on 29/Aug/19
URGHH - I don't like that! I'd have preferred '... I have managed to get my hands on the first ever Hawkwind album again'. 😝 to wherever my head was!
Miss Sandy Cowell
said on 29/Aug/19
At long last I have managed to get my hands back to the first ever Hawkwind album. Originally, of course, Lemmy was their lead singer.
5ft10 but always looked much taller because EVERYONE wore heels those days, especially rock stars.
🎧🎶🎵🎼🎶🎵📀💿
Sandy Cowell
said on 6/Mar/19
⭐️ I've just noticed that Lemmy is wearing heels! 😉
Sandy Cowell
said on 6/Mar/19
I've just seen Zappa's pictures of Joey Ramones and Lemmy! I always thought he was tallish - he was tallest of the trio 'Motorhead' by quite some inches, but next to Joey, he's rather tiny!
5ft10 for this late legend.
tree
said on 24/Nov/18
Rob when did u add him?
I was searching for him on this site a couple of times in the past and did not found him.

Editor Rob
Well over a year ago, but some heights don't get added to the latest height list.

Sandy Cowell
said on 15/Sep/18
Last week I discovered that the last original member of Motorhead has died. Eddie Clarke ('Fast Eddie') was 69 years old. He and 'Philthy Animal' Phil Taylor always gave me the impression that Lemmy was considerably taller than his 5ft10, as he was the tallest of the trio, with Eddie the second tallest and the drummer, Phil, being far and away the shortest.
Lemmy gets 5ft10 again.
RIP all three of you. 🎛️🎸🎧🎵🎛️
Sandy Cowell
said on 6/Apr/18
Greg99 - That must have been some chat you had with him!
I'm more of a Hawkwind fan myself and I saw them, minus Lemmy of course, in December 1980 at the Lewishsm Odeon, if I remember rightly! It was one of the best concerts ever!
I had two friends who knew Lemmy well. One drank with him in the Portobello Road, and one had dealings with the group The Pink Fairies, which as you probably know, were friends with Hawkwind!
Cheers and rock on!
🎼🎶🎤
Today the late, great Lemmy gets 5ft10!
Sonnecker
said on 5/Apr/18
I'd give him 180 cm, shoeless, when he was young...I really can't see him shorter.
Greg99
said on 4/Apr/18
I spoke with him in 1975, he would have been in his late 20's - he was the same height as me - 5'10", no more no less. Nice guy to chat with, complained to me about how he'd just been kicked out of Hawkwind and how unfair it was.
Danimal
said on 3/Apr/18
He was 5'10"-5'11" in his younger and healthier days. Towards the end of his life he appeared to have lost a significant amount of height and at times looked as low as 5'8". Poor guy suffered a lot with his health the last 4 years of his life, having acquired diabetes, issues with his lungs, his heart (he needed a pacemaker), as well as various cancers and finally succumbing to multiple malignant tumors on the brain and in his neck and spine and he STILL performed on stage, recorded an album and did interview through it all. He was a gentleman, a brilliant mind and as REAL as can be. I'm a MASSIVE Motorhead fan and Lemmy was THE MAN who everyone in and out of the industry respected! RIP Ian.
Jim Hopper
said on 4/Nov/17
Next to Chris Tarrant on Tizwas he wasnt really a lot shorter. 5-10 min imo
Sandy Cowell
said on 24/Oct/17
I expected Lemmy to be considerably taller, but the people I've known who knew him are from the era of towering platforms and heels! Lemmy wore them too, of course! I thought I'd find at least 6ft written here!
The two guys I knew who knew him well were 6ft and 6ft2 and never reported to me that he was smaller than them, so maybe in the times they knew him, one was in the late 60's and 70's, when I was an ankle biter! - the 6 footer - and the 6ft2 guy drank with him in Henecky's, Portobello Road, in the late 70's and 80's. Maybe Lemmy was 6ft then!
I do remember the younger guy, the 6 foot 2 one who drank in the aforementioned pub, told me that Lemmy was called so because he would go round asking "Will you Lemmy a fiver?" The nickname had stuck! I should imagine that was before his fame and fortune, but you never know with Lemmy!
I will go with 5ft10, though I reckon he was a 6-footer in his prime!