Moby's Height
5ft 7 ¼ (170.8 cm)
American Singer. He once said
"I'm not a particularly attractive person - 5ft 8in, stooping, with a receding hairline."
.
I'm about 5-foot-9 and weigh around 140 pounds. I feel great. I got a physical recently, and the doctor said I'm as healthy as a 50-year-old can be.
- New York Post, 2016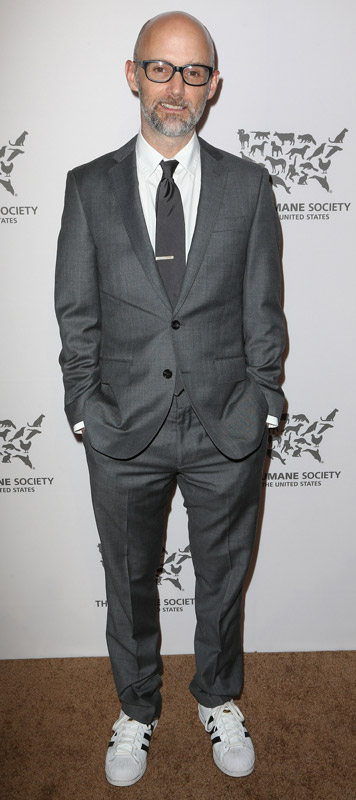 Photos by PR Photos
Add a Comment
52 comments
Average Guess (7 Votes)
5ft 7.93in (172.5cm)
Nik Ashton
said on 9/Oct/20
He doesn't look 5'9" but he sure is healthy.
Miss Sandy Cowell
said on 5/Oct/20
Moby shouldn't say negative things about himself. He's not unattractive at all - anything but! - and his music is beautiful.
5ft8 😁👍🎶🎵🎹
Thomas Pdff
said on 1/Aug/20
He always looked sub 5'7 to me... This is one of the strangest pages on this site. For once, his average guess is well over an inch more than his listing, and most of the comments on this page are ANCIENT!
Danielsan
said on 30/Sep/18
It's super interesting how many people thought he was tall - always thought he was much shorter than he is for some reason. I just watched a short clip from the show Blunt Talk, and he's about 2" taller than Golden Brooks, who is listed as 5' 6". He also appears to be taller than Patrick Stewart and Johnny Depp. I've always thought he was closer to 5' 7", but if he claims 5' 9" that might actually be accurate. I'm splitting the difference and going with 5' 8".
Mat
said on 29/May/16
Rob how tall do you really think Moby is? Look at these 2 pics:
Click Here
Click Here
There's a 10 year gap between these pics yet their difference looks the same, so I doubt there was pavement advantage in either picture. Moby looks at least 5'8 in these 2
Editor Rob: I think in both cases Moby is a bit closer to the camera, adding some height.
jasperwazup
said on 5/Jun/12
i used to get Moby and Beck confused i guess i'm dyslexic. moby has a very small bone structure and smaller than you'd think he'd be. but a musical genius.
mobymoby
said on 21/Nov/11
Not sure why I always thought Moby was rather tall.
James
said on 13/Sep/11
Saw him in the streets the other day, I'm about 5'7" with shoes, he was way shorter than me, so I would say maybe about 5'5" though the mentioned 5'3" on here might not be off at all, so maybe 5'6" sounds reasonable. This should be updated.
Jesse
said on 3/Apr/11
I met him and spoke with him face to face for a good lengthy time. I am 5'11 - I think 5'8 is completely reasonable!
washethatall
said on 22/Jun/09
Wow...he seems so much taller. I was expecting to see "6'1".
JoeyJoJo
said on 8/Nov/08
The man is gorgeous whether that's 5ft6,7 or 8, but i'm thinking 5ft7
Boris Kafka
said on 31/Oct/08
I met him in Turkey and he sure looked shorter than 5'7".
maurison
said on 19/Mar/08
I believe he's 5'7
he looks 1 inch shorter than Glenn in those pictures
RussellBrandRocks
said on 30/Dec/07
I'd say in the first picture he's around 5.7 but looking at the photo below, perhaps 5.6 (Russell4ever)
glenn
said on 21/Aug/07
i dont know him like that.but when i see him ill tell him.
Stephen
said on 21/Aug/07
Glenn, You know Moby?? I'm looking for Moby. I'm participating in this six degrees of separation type deal for a recording contract. Can u help? Introduce or put me in touch with him and you would be a huge benefactor!!
MD
said on 24/Feb/07
That's what I was thinking. In the first one, Glenn is obviously leaning in, and hunched down, and in the last one Moby is slightly to the front making him look taller. He's lucky to get a 5'7".
Mark
said on 24/Feb/07
Definitely 5'6". Just look at the second pic.
sf
said on 23/Feb/07
yes, Glenn's leaning in and still taller. And, much taller in the bottom photo, even including the diference in perspective. No way Moby's even 5'7"...
The Horse of FUNK
said on 23/Feb/07
I doubt Moby's even 5'7.5". Granted he looks it in Glenn's top pic, but he could be wearing boots for all I know. It's just him frame looks much smaller than a 5'7.5 person. I've read too many encounters and have a couple friends who've seen him perform and the height estimations are all mostly unanimous at 5'6 - 5'7; never above that and sometimes shorter.
Viper
said on 22/Feb/07
Its hard to say. Moby does look about the same height as Glenn in the bottom picture, but he does look taller in the 2nd.
MD
said on 22/Feb/07
Glenn is leaning in his first, pic, obviously, and he's obviously taller in the second pic.
glenn
said on 22/Feb/07
what the f*** are matt and darren talking about? are they blind? i didnt say smaller than 5-7,which if youi read top of page,some do.rob edits the heights,not me.did you know moby had his own tea place and now drink called teany?
Matt
said on 22/Feb/07
This just reinforces my point that Glenn, or whoever edits this, has an issue with feeling taller than celebrities. He's the same height as Tom Cruise and Moby. It's obvious. If Glenn is 5'8'', Moby is 5'8''.
Jordan
said on 22/Feb/07
Well Eminem will say just about anything that would downgrade someones elses image, while upgrading his image. For lessor words: Eminem is a s*** talker plain and simple. He wont pick fights with people that he knows are tuff, so he went after Moby and Michael Jackson.
glenn
said on 22/Feb/07
i know viper.whats he thinking?
Viper
said on 22/Feb/07
Jordan, thats funny because Eminem is pretty much 5-7 himself.
TNTinCA
said on 21/Feb/07
Looks around 5'7" next to Glen in one photo. But in that other one, the difference looks more like 2 inches. Might have been footwear or pavement effects.
Jordan
said on 21/Feb/07
I remember Eminem making fun of Mobey b/c pf his height.
Austrian
said on 21/Feb/07
lol, he looks like an alien
thought he was smaller than that btw
Viper
said on 21/Feb/07
I thought Moby was 5-8.
Franco
said on 13/Dec/06
taking in consideration everything shown in here especially glenn pic, the angle and all....i am now 100% convinced Moby is 5'7 no shoes, 5'8 with shoes. glenn is 5'9 to 5.9.5 in that pic. i see exactly an inch difference.
please editor Rob....push Moby to 1.70cm exact, not 1.71.
thanks.
antron
said on 4/Oct/06
Glenn IS leaning in that picture, but he also is closer to the camera it seems, and i also think its tilted a bit in Glenn's favor based on the lines in the background not looking 90 degrees. I think 170cm is fair (one cm either way is negligible).
DudeX
said on 22/Jul/06
this guy looks to have short stature compared to glenn, he has a small head and small uper body, my guess is 5-6
sf
said on 11/Jul/06
Yea, how is Moby still at 5.7 and 1/2 when Glenn easily has him by a few inches and even says Moby is only 5'6" or so?
Glenn
said on 11/Jul/06
He is 5-7.he is a buddy of mine.
DudeX
said on 10/Jul/06
Stef is right, he really said it.
Stef
said on 23/May/06
In an interview last year in Canada at Musique Plus Moby said : I am 5.2
Josh
said on 14/Apr/06
Hes pretty short wow more like 5/6.5 5-6 .
Bowes/McDougall
said on 21/Feb/06
He's standing perfectly straight, Moby is. 5'5 and half. This Glenn even looks like he's leaning a bit.
Glenn
said on 15/Feb/06
he's 5-6 or 5-7.bad picture.he can look taller.
TNTinCA
said on 14/Feb/06
If Glenn is 5'8" (self stated), Moby looks a good 2 inches shorter in that pic. Unless Glenn had some funky footwear on that day,I can't fathom how Moby could be 5'8".
D. Ray Morton
said on 29/Jan/06
Judging by this pic? Looks 5'5" to me.
MD
said on 29/Jan/06
Yep, taking into account the lean and the rest Glenn is still easily 2" taller than Moby there.
sf
said on 29/Jan/06
Okay, this picture shows Moby is cleary no taller than 5'6". Glenn is leaning, lessoning his height, while at the same time, the perspective seems to favor him a little. I would negate the two, and say that Moby is two inches shorter.
CoolJ
said on 29/Jan/06
If Glenn stood up straight.. He has 2-2.5" on Moby.
Moby is DEFINITELY not 5'8
Freddie M.
said on 21/Jan/06
I'm trying to convince my friend to let me submit the photo he has from when he met Moby. It will further support the claims that this guy is nowhere near 5'8"-5'9". My friend's best guess was that he's 5'6" at most.
[Editor Rob: tell your friend I could blank out all his face if he wanted too...totally anonymous]
CelebHeights Editor
said on 8/Jan/06

Has he forgotten the quote mentioned above? On his journal (on moby.com) he said:
"I'm not 5' 8"" tall. I'm 6' 4"" tall and I'm built like adonis....well, actually I'm 5' 9"" and I slouch. So I guess that with the bad posture I really am clocking in at 5' 8"". Sad...I would like to be 6' tall"
Donny
said on 14/Nov/05
A female friend of mine who is 176cm said she towered over him when she asked for his autograph. He's only about 170cm max.
mightymite
said on 16/Oct/05
I have met him in person and he seemed a bit shorter than that. He looked more like 5'-5" or 5'-6" (which is the same height as my dad, so you would think that I would know). Maybe he just seems smaller since he is so thin from eating that healthy vegan food.
J.
said on 13/May/05
In a recent article in EQ magazine, Moby is described as being 5 foot 8 and a half. http://www.eqmag.com/story.asp?sectioncode=36&storycode=8149
tommy
said on 13/Mar/05
I've seen him in real life face to face and he's around 5 7" or so.