Abraham Lincoln's Height
6ft 3 ¾ (192.4 cm)
Abraham Lincoln was the 16th President of The United States.
I am, in height, six feet, four inches, nearly....weighing, on average, one hundred and eighty pounds.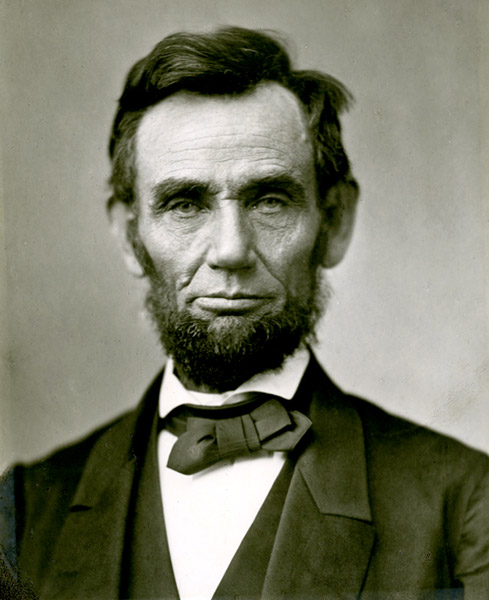 Add a Comment
69 comments
Average Guess (74 Votes)
6ft 4.03in (193.1cm)
edwards
said on 13/Nov/19
a flat 6'4 from me to one our greatest ever president.god bless lincoln and god bless murica
Yang (5 footer 8, 173)
said on 17/Oct/19
He was one of the tallest USA Presidents so far other than Lyndon Johnson!!!!
Canson
said on 5/Aug/19
@Roderick and Rob: he may just be 6'3.5 if "nearly". Rob is correct in that people say that. I've seen guys measure early morning (by the way they look) and claim almost or nearly yet they're closer to the next Mark down in reality. But Abe looked about 192cm
Roderick
said on 5/Aug/19
Um, Rob, why did you list him at 6'3.75" instead of 6'4"? How did we have any photographic evidence that he was any specific height? This was in the 1800s!
I know this isn't really an important listing on CH but maybe you should just give him 6'4"....

Editor Rob
it's based from his own quote "I am, in height, six feet, four inches, nearly"

When people say nearly, usually they have measured a bit under...sometimes also words like 'about' refer to under (or over, but that's rarer).
Jrbowe42
said on 8/Dec/18
@Myself
Seriously? What difference does it make? 6'3.75 or 6'4 flat. Like you, or anyone else really, would be able to notice a 1/4'' difference. I never said it had anything to do with accomplishments.
michael loughrie
said on 10/Nov/18
6' 3" 3/4? So now Abraham Lincoln is a big fat liar! He said he is 6' 4", when he really is 6 '3" 3/4??? Oh my god! How ridiculous! Sick of presidents putting a quarter of an inch on their height! Gosh....
This is all sarcasm. He was 6' 4". Most people who say that are 5' 10" are normally 5' 9.5"... its normal to round.
Myself
said on 30/Oct/18
@Jrbowe42
That doesn't make any sense. Height doesn't have anything to do with achievements and this is an accurate guessing site, not a heightist one.
Jrbowe42
said on 30/Aug/18
Even if he was a little under 6'4" flat, considering what he did for this country, he deserves a 6'4" listing
Gracian
said on 26/Jul/18
Hi Rob, can I still discuss the height of several American Presidents? Here's my opinion:
Abraham Lincoln 6'3" and 7/8 inch
Donald Trump 6'2.25"
George H W Bush 6'2.25"
Bill Clinton 6'1.75"
Barack Obama 6'1.25"
John F Kennedy 6'0.25"
George W Bush 5'11.25"
Jimmy Carter 5'9.25"
Rob, do you see these numbers as possible?

Editor Rob
They are only a quarter inch above what listed, which means it is always a chance.
Ian C.
said on 8/Jul/18
That Lincoln is still the tallest president after more than 150 years is a stark illustration of just how tall six foot four is.
And yeah, he was known professionally as "honest" Abe. But he was a politician. Nobody ever called him Candid Abe. Honesty and candor are two different things, and candor is easily the most dangerous.
MAD SAM
said on 19/Jun/18
If he says he's 6'4" (193 cm) he is 6'4", I will never doubt this man's honestly
Tanaka tanaka
said on 18/Jun/18
Rob, was the U.S. the tallest nation in the 1700s - 1800s?
Abraham Lincoln 6' 4'' / 1.93 m
Thomas Jefferson 6' 2.5'' / 1.89 m
George Washington 6' 2'' / 1.88 m
Andrew Jackson 6' 1'' / 1.85 m
Average height was 168 - 170 cm in the 1700s - 1800s.

Editor Rob
At one point it would have been one of the taller nations 100-200 years ago. Over last 50 years it has kind of slowed down while other countries averages increased.
Ian555
said on 17/Jun/18
He's honest Abe which means he's honest about his height. Definitely 6'4 in his prime.
Junior Hernandez 1990
said on 8/May/18
Lincoln is the Tallest US President ever.
Dream(5'9.5
said on 19/Apr/18
Rob, in your opinion, would you say Lincoln would measure closer to 6'3 7/8ths" than say 6'3 5/8ths?"

Editor Rob
It's hard to ever tell, who can he be compared with? Ultimately the note of him being measured just under 6ft 4 I think is the best figure to go with. 5/8th might be too low, so 3/4 or 7/8th is arguable.
so
said on 16/Apr/18
Do you think he'd be honest if he was 5'2 tho ;)
Ethan 6,2.25
said on 4/Apr/18
I think he was a really weak 6,4. I am 6,2.25 and I don't know how tall I am going to be I just turned 16, Abe while 6,4 at his prime he was most likely 6,3.75 during his Presidency.
berta
said on 28/Mar/18
we can only takw his words that he was this height. impossible to ever know. almost 193 from his own mouth. He must have been 2 meters if he lived today
Canson
said on 17/Mar/18
Rob has him listed close prob not less than 6'3.5
Lkk
said on 15/Mar/18
In cms he was 193cm, main real reason he is often said to be or listed as 6'4.
Thunderfin
said on 4/Mar/18
"That's why Lincoln was 'Honest Abe', he had no need to inflate such simple matters as the height of his body."
Well yeah, no need to inflate your height when you're 6'3 master race. Totally different story for a 5'11 guy.
Myself, duh
said on 16/Feb/18
Damn, Abraham Lincoln could've dunk and bang threes from downtown in the name of freedom.
Sonnecker
said on 29/Jan/18
I subscribe Abe's height!! A real giant for that age, considering statistics he sound be about 205 cm nowaday....
Jake94 (5'9
said on 24/Jan/18
I think LBJ would just edge him out for tallest president. Obviously can't confirm this, but I just get that sense.
Someone
said on 19/Jan/18
"Mr. Lincoln's height was six feet three and three-quarter inches 'in his stocking-feet.' He stood up one day, at the right of my large canvas, while I marked his exact height upon it."
from the book Six Months at the White House with Abraham Lincoln: The Story of a Picture

Editor Rob

Thanks for mentioning the book!

It shows pretty much that he was measured at that mark and actually said 'under 6ft 4' as his height.

If all Presidents were honest about height like that...
Bobby
said on 18/Jan/18
He gets the full 6'4 from me. Search up his wax figure on google, 6'4 he was.

Editor Rob
Lincoln is an arguable candidate for 6ft 3 ⅞ :)
Myself
said on 20/Dec/17
What would you guess his morning and evening heights to have been?
Editor Rob: it's hard to say, would Abe have measured afternoon, morning or evening? he obviously did seem to get a figure just under 6ft 4, so I think he may well have dropped to 6ft 3.5 on a bad day and even out of bed hit 6ft 5 on a good day.
Dreampuffe(5'9.5
said on 18/Dec/17
Rob, just imagine the Rock claiming 6'5" and Honest Abe is raising his eye brow at him! LOOOL! 🤣🤣🤣🤣🤣🤣🤣
Editor Rob: never get into politics if you can't get the simple things like height right!

That's why Lincoln was 'Honest Abe', he had no need to inflate such simple matters as the height of his body.
Anonymous
said on 7/Dec/17
I think he is 6'6
Slim 185
said on 26/Nov/17
Lmao, he is probably 1 mm under 6'4" and decides to be honest and claim "nearly 6'4".
Canson
said on 26/Nov/17
@Slim185: yea everyone wants to be tall. But really you make the height you are what it is. And it's not to crush anyone's dream or desire but it's more toward people who like to lie or inflate others just to make themselves their goal height
Canson
said on 26/Nov/17
192ish. 6'3.5" at his lowest peak
Mahmud
said on 24/Nov/17
1.93 Cm
Anonymous
said on 9/Nov/17
George Washington was supposedly 6'2
Slim 185
said on 9/Nov/17
6'4" is such a great tall height. 👏🏻 👏🏻
Seriously, do you want to be short? No. do you want to be average? No. do you want to be tall? Yes!!!!!
Slim 184
said on 8/Nov/17
Slothee said on 7/Nov/17
He probably was very close to 6'4", like 6'3 15/16", so he just didn't give himself the full 6'4". But if that's the case, he deserves a 6'4" listing
****
Spot on.
Slothee
said on 7/Nov/17
He probably was very close to 6'4", like 6'3 15/16", so he just didn't give himself the full 6'4". But if that's the case, he deserves a 6'4" listing
Slim 6'
said on 22/Oct/17
I wouldent hesitate to give Lincoln the full 6'4".
Peter181cm
said on 14/Oct/17
He was huge! ;)
But do know how tall He was?!
Rampage(-_-_-)Clover
said on 13/Oct/17
He was a giant by those days standards...
Slim 6'
said on 12/Oct/17
Needs a 193 upgrade.
Slim 6'
said on 11/Oct/17
193 cm, agree with dreampuffe, Lincoln and JFK were some of the best leaders.
Dreampuffe(5'9.5")
said on 5/Oct/17
He's one of the best presidents.
Jake
said on 22/Sep/17
I think he was close to 6'5
Mikey
said on 2/Sep/17
Man, you guys have the nerve to short-change honest Abe. Blasphemy, 6'4 on the nose!
Mincer
said on 19/Aug/17
He was also known as being a very good wrestler
Slim 182 cm
said on 31/Jul/17
Nice, I think Average stature back then was 167-168 for men. 25 cm above average. Damn. A legit tall man. I guess at that extraordinary height you wouldn't lie/exaggerate it. RIP, I think he abolished slavery.
Sonnecker
said on 13/May/17
192-193 cm tall was incredibly tall for a man of his time, when average stature was about 5 inches lower!!
Mark(5'9.25
said on 3/May/17
Rob, how did you manage to get his height correctly like this? This is amazing and I don't think I can guess heights back then.
I think he would have been towering.
Editor Rob: it's the height he claimed to be.
Ian C
said on 3/Apr/17
Odd that Lincoln weighed so little. He is said to have had enormous feet, and his head seems large. He was said to have been extremely strong in his youth, but that could be myth-making by his admirers.
Also, why is he so often described as ugly? He has a rough, dignified beauty in all his photographs. Maybe he had bad teeth?
Sam
said on 30/Mar/17
To be the modern equivalent to how much taller he was to the average in his day and age, he would be more than 6'7" I would think.
Sexton1
said on 18/Mar/17
Comments here reveal people don't understand how height has changed over time. It's not that everyone has gotten taller—the AVERAGE has gone up, as a result of various factors (and in "advanced countries," even the Netherlands, that trend has stopped and, in some cases, slightly reversed). Which is why the three tallest Presidents were born in three different centuries: Jefferson in the 18th, Lincoln in the 19th, and Johnson in the 20th. And Jefferson, the earliest of the tallest Presidents, was taller than Obama and Trump, the two latest Presidents. Moreover, there's been very little increase in the average height of Americans since the 18th century, as living standards in America were already relatively high at that point, and immigration/genetic factors can keep average height down. In Lincoln's lifetime, he was in the top 1 percentile for height. Today he would be—in the top 1 percentile.
Viewed in the longer term, average human height goes up and down. Average height in advanced countries now is similar to what it was in very early human history, and only a little taller than in the early middle ages. The dramatic increase comes the early modern period to the later modern period—living conditions in the early modern period were worse than in the middle ages, and it took a long time for populations at large to reap the benefits of new technology etc., which have peaked. So it's myth that people get taller and taller throughout history
berta
said on 7/Feb/17
if he would have lived today he must have been little over 2 meter atleast?
Nova176
said on 4/Feb/17
Funny how he lived in a time where average height was roughly 5'6 and is still the tallest president of all time.
Wiles189
said on 31/Jan/17
All presidents should be 6ft+ IMO
Rampage(-_-_-)Clover
said on 30/Jan/17
LBJ looked barely 6ft2 with Kennedy
Wiles189
said on 29/Jan/17
Abraham Lincoln 6'3.5-6'4
Lyndon B. Johnson 6'3.25-6'3.5
Thomas Jefferson 6'2-6'3
These are the 3 tallest presidents
Sandy Cowell
said on 24/Jan/17
6ft3.75? That is very tall even today, but back in the day Lincoln was President, it was toweringly tall!
Fantastic piece of information there, by the way!
At less than 13 stone, he was very trim for such a tall man.
James
said on 21/Jan/17
He was 6'3.5", half an inch taller than Lyndon Johnson.
heelshealheight
said on 5/Jan/17
Wouldn't disagree, here. Moreover, I wouldn't be surprised if he were 6ft5 in his youth ('in his heyday'). Lincoln was a man of great physical as well as political height.
Guyster
said on 1/Jan/17
An enormous man every bit of 6'4, as legend has it, there is a picture of him with all the Union Generals, and towers head and shoulders above them all.
James B
said on 29/Dec/16
Exact same height as clint Eastwood
6'1 cowboy
said on 27/Dec/16
I'm not sure if Abe is almost 6'4. I think he may be claiming his morning height and was probably 6'3. Still very tall 6'3 in his day was like 6'5 or 6'6 now and no one would have questioned if he claimed 6'4.
Realist
said on 24/Dec/16
6'4 180 is right for him
Christian-196.2cm (6ft5.25)
said on 21/Dec/16
Lyndon B Johnson was reported to be both 6ft3.5 and 6ft4, but he didn't look much over 6ft3.
James
said on 18/Dec/16
Johnson was just under 6'3".
Rampage(-_-_-)Clover
said on 6/Dec/16
Reports have claimed LBJ as the tallest but with Kennedy did not look like a big 6ft4 guy
184-182
said on 22/Nov/16
What was the average height for a man back in the 1800s? I can't imagine how tall Abe Lincoln was compared to most people back then, with the stovepipe hat adding a few more inches :)
Editor Rob: 5ft 6 range.
Mathew Robinson (190 cm)
said on 17/Nov/16
He's the tallest elected U.S, president yet, even still over 150 years later.