Adriana Sklenarikova's Height
6ft ¾ in (184.8 cm)
Slovakian Model. On being asked her height she replied,
"1m 85cm"
.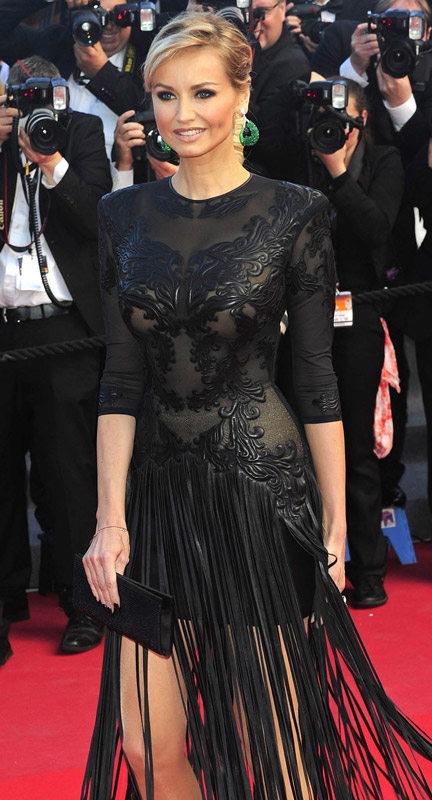 Photos by PR Photos
Add a Comment
60 comments
Average Guess (26 Votes)
6ft 0.75in (184.8cm)
Iman Ahmad
said on 16/Aug/20
She Is About 184,8 cm Flat , She Is About 184,8 cm Flat , She Is Taller Than Big Rob , Bravo ,
Engine
said on 15/May/20
Hi Rob,
Click Here
How tall is she in those heels? The guy next to her is Milind Soman who is around 5'11".

Editor Rob
I'd expect if she stood under my stadiometer in them, I'd measure her near 6ft 4
Nicolas
said on 19/Feb/20
She's 1,78m. See this link:
Click Here
And his tv partner Michel Cymes is 1.81m
Iman Ahmad
said on 5/Oct/19
I Guess She Is 184,8 cm Barefoot , She Is 184,8 cm Barefoot , A Lovely Woman ,
Iman Ahmad
said on 28/Aug/19
I Guess She Is 184,8 cm Barefoot , A Lovely Woman ,
MaryAnne
said on 25/Nov/17
Her Leg length is 1,21.5 cm. Uber Leggy blonde!
feez
said on 18/Sep/17
She is 6'1 as her IQ is 120. Strictly no way. I can give her something like 5'11 and 6'2 in heels.
Johnson
said on 10/Sep/17
@Rob
if she is 185 how tall is Christian Karembeu? Without huge heels they look quite similar
Click Here
Click Here
even
said on 19/Jul/17
6 foot 1 , around 145 pounds
Arch Stanton
said on 26/Mar/17
Depends Mary. More recently I've been more into blondes! I prefer the models who seem more professional, laid back and more natural, not seeming like they have anything to prove. Adriana seems to be one of those. Those types which cake themselves in fake tan and heavy makeup and spend all day posting selfies of themselves in the mirror on instragram are a big turn off, even if genuinely pretty.
MaryAnne
said on 18/Mar/17
@Arch, I like your taste of women ; ) which do u prefer brunette or blonde? or is it depend on the look?
Arch Stanton
said on 16/Mar/17
My god, thanks for mentioning Rob and Mary. I hadn't heard of her but she's one of the most perfect looking women I've ever seen. How many 6'1 women look like her LOL.
Abc
said on 15/Mar/17
She is very tall and sexy
Johnson
said on 4/Oct/16
The footballer Christian Karembeu is no less than 180 cm. Clearly taller than Seedorf he is downlisted at 178
Allie
said on 25/Jan/16
Okay so her legs aren't the inseam (that would be even more freaky) but damn her legs go on for days literally. I heard Brazilian model Ana Hickmann has similar long legs and is listed at around 6'1 as well.
Xhavier
said on 7/Feb/14
The leg measurement is from the ground to the top of her natural waist/hip (i.e. approximately the naval or belly button area (usually either the top of it, or one inch above it, on some people)
RS
said on 11/Apr/13
Her legs are supposed to be 126 centimeter long / a shade under 50 inches. Wouldn't she look freaky if she was just 5'10? This would meand groin to top of head would only be like 20 inches long. Yikes.
maio
said on 21/Aug/12
i always saw her in the 5 ft 11.75/182 cm - 6 ft 0 in/183 cm range. Maybe six footer but no more...
don
said on 30/Oct/11
@Daphne actually she looks absolutely gorgeous
Daphne
said on 4/Sep/11
C'MON BOYS! If you are about to like an Adriana named girl or anyway a model, you can like Adriana Lima who is 5'10" or shorter, or Laetitia Casta, who is a VS Supermodel and she is 5'5" at most. SHE (Sklenarikova)is like a woman-like man who had made a gender reassignment surgery!!! Even if in model-industry, you rarely can see a "woman" like her!!!
Sasha
said on 1/Sep/11
Look at this photo:
Click Here
Adriana has 11cm over Christian Karembeu, who is 5'10" (178cm). Her heels are not so high - near 7cm against Christian's 3cm shoes. So 185cm for her is believable.
Sasha
said on 30/Jul/11
Adriana got to Guinness book with legs of 125cm. This link tells about it (the text at the bottom of the page):
Click Here
So that measurement was rather reliable.
As for her height, it is pretty unbelievable to have 125cm legs with 178-180cm of height. 185cm is more reasonable, but I can't give a guarantee for it.
Frenchy
said on 29/Jul/11
I saw her, she s 5/10 bare foot at most, her claim of 6.75 came from a legend of having the longest leg in the modeling business, something like 120 cm which also a stupid measurement that came from nowhere...
Ian
said on 18/Sep/08
Christian Karembeu is listed in many places as 180cm (5ft11) and 177cm in many places. She is clearly taller. Sometimes it looks as he is wearing the heels in the photo and she is wearing flats.
Maria
said on 21/Jul/08
I know that eveyone lies about his/her height... just i dont know why adriana should lie about her height... she is very very tall why she would like to look even taller??? tall women are sexy, very very tall women are not so feminine anymore... Think a woman that without heels towers over almost everybody... do you like it? i dont... and think what happens when she is wearing heels...! the only reason i can think that she lies about her height is because in modeling world the taller the most impressive! but in real life - meeeh
Jean
said on 23/Apr/08
Look at this link
Click Here
riki
said on 11/Apr/08
I don't know how they measured her legs 124cm.Her head is 20-22cm so her back and her neck are only about 39-41cm!! I can't imagine. I'm 170cm and my legs which are measured from heels to navel are 100cm.
riki
said on 10/Apr/08
I don't know how they measured her legs 124cm. Her legs are 124cm and her head is about 20-22cm, so her back and her neck are only 39-41cm! I'm 170cm and my legs are 100cm.(which were measured from heels to navel)
anon
said on 13/Jan/08
micaela is a liar. "she" is posted on several forums and her measurements range from 5'8" to 6'1"
Maria
said on 3/Aug/07
Btw, in the previous post I forgot to say she was wearing flat shoes. She made me feel soo short...:-/
Maria
said on 3/Aug/07
I met her some months ago at an airport, she was lost and asked me for help.I´m 5´6" flat (1.68), I was wearing heels so 5´9" (1.75) and she still was towering me! 1.85 is pretty accurate.
Anshelm
said on 6/Jun/07
Just saw her on an episode of French TV show Fort Boyard ("L'équipe de Christian Karembeu joue pour l'association Laurette Fugain"). She wore flats and was still clearly the tallest contestant, men included. The margin with her husband Christian Karembeu (listed at 177–178 cm/5'9½–10") was clear. Only the host, Olivier Minne (191 cm/6'3¼") was clearly taller. Not sure if she's quite 185 cm, but pretty darned close.
There are several women other women than Stacey with reportedly longer legs than Karembeu, mind you. Caroline Welz, joint tallest woman in Germany at 206 cm/6'9", has a claim of 130 cm/51", for example. While apparently pending Guinness ratification, I'd find this figure more than plausable.
Note that the 126 cm/49¾" legs of Czech swimmer Yvetta Hlaváčová (194 cm/6'4½") are apparently Guinness-approved:
Click Here
Of course, the all-time record must go to women with gigantism. Zeng Jinlian (248 cm/8'1¾") or Ella Ewing (225 cm/7'4½") would be a good guess. I suppose the current Guinness records are so low, because this is a relatively new category.
124 cm is 49 in, not 48...
Anonymous
said on 24/Feb/07
first of all, sam stacey's measurement was ruled incorrect. karembeu DOES have the longest legs. 124 cm/ 48 inch to be exact. she is 185-186 cm. i remember seeing it before but since the official site is currently hacked i cannot check...
i still vouch for ana hickmann 122 cm verified by guinness twice with a deviation of 2 cm for two trials.
micaela: if ur really 1.24 m which i doubt, you should get it checked by an official because there is a standard way of measuring. hip to heel not navel
if i count navel, i'm 114 cm and i'm 172 cm total.
ralph
said on 11/Oct/06
jamel debbouze isnt 5'5". I met him several times and the 5'2" range is likelier (he is very , very short) and adriana looks a solid 6'1" (185 or 186 cms)
Anshelm
said on 25/Sep/06
Heels on with 165 cm (5'5") French actor Jamel Debbouze (the one with the masculine laughter) at YouTube:
Click Here
I too am starting to think more 185 cm than 181–182 cm, even though I usually go for the more coservative figures. Models don't always exaggerate, not unusually tall models anyway. They rather seem to alter their heights closer to some "ideal height" – short models exaggerate, tall ones downplay. Plus, having legs some 7 cm longer than her runner-up (Ana Hickmann), also speaks in favor for the higher mark.
chris
said on 8/Jul/06
Why don't list her as Karembeu? That's her lastname now.
dstrzdr
said on 31/May/06
go to wireimage ang gettyimages, type karembeu...
please post if you still think, she is under 1.85m
she towers over nemcova, sharon stone, silvstedt, is taller than kimora, etc...
jason
said on 26/May/06
PLEASE GO TO GETTYIMAGES and do a search under her married name (Karembu, I think)...she is standing next to 5 foot 11 Playmate Victoria Silvesdedt and Silvesdedt is wearing 4 inch heels..Adriana is at least 4 INCHES TALLER!!! Someone is lying about their height because if she is 6 feet 3 in heels, Adriana is 6 feet 7 in heels
dstrzdr
said on 25/May/06
look at the pictures (gettyimages) with victoria silvstedt, She is definetly not under 1.85m
Anonymous
said on 9/May/06
Micaela, I am curious about how you measure your legs.If your legs are 1.24,whats the height of your navel? are you a man or a girl. I'm man,182,and my navel height is 112-113.
Micaela
said on 25/Mar/06
Sorry, but I'm 1.86 and my legs are 1.24, what have to say? uh?
Sisa
said on 27/Feb/06
It is amazing how a girl's height leads to a major discussion. I'm 182 cm and she is definitelly taller than I. I met her in person and would say she's at least 185 cm. With high heels she towers over 190 cm (6'3") tall guys.
ds
said on 11/Feb/06
Why would you lie about being 6'1"? I agree with this height. Wouldn't you Wwant to round DOWN?
balita
said on 4/Feb/06
she was on french tv couple days ago, and said she was 184.5 centimeters
sound "spicious" though : both her and the anchor (who's 5'11/180cm) were standing up at a moment during the show, and even with her big heels, there wasn't such a striking difference between them two...
balita
said on 22/Jan/06
I also read 181cm somewhere. But if it were the case, her leg/torso+head ratio would be ridiculously disproportionate...
6'1 sounds good to me.
Anonymous
said on 1/Jan/06
Just out of curiousity, if her legs are 49 inches(124cm) what is the heigt of her navel?Cos i am 6 inches and my navel is 44 inches(112cm). I saw her in a exhibition with high heels she is really tall. barefoot at least 6 or 6'1".
Anonymous
said on 6/Dec/05
She s 184. I m from Greece and when Karembeu played for a greek club i ve met her many times and she was taller than me.I ve asked her and she told me 184.I joked to her about and she told me to make a comparison and she was 9 cm taller than my 175.In a talk show the host joked about her exact height and they measured her to an exact 184!!!
srdr
said on 1/Dec/05
I think 185cm is true for her (may be taller). She stood next to Turkish miss universe Azra Akýn (178 cm) and she was way taller than her. At least 10 centimeters...
dstryyr
said on 23/Nov/05
185cm new pictures gettyimages, no heels, taller than christian
Anshelm
said on 17/Nov/05
This scan of a French mag from cirka 1998 also has her at 181 cm/5'11
CelebHeights Editor
said on 29/Oct/05
One of her agencies lists her at 181cm.
master
said on 26/Oct/05
i saw Adriana live in PAris and i had the opportunity to have her sign , i m 195 in her heels she way taller than me about 1 cm .. she's really a giant girl
S.H
said on 3/Sep/05
I ve seen her in person in a pub in paris shes definitely 185cm...im 190cm and with heels she was taller than i...
CelebHeights Editor
said on 9/Jul/05
Tybor commented on her having the 'longest legs'. She mentioned
"I'm tall, so obviously I have long legs. They're 124 cm long"
. That's just about
49 inch legs
.
tybor
said on 1/Jul/05
I think you've got her height about right. If you go to her yahoo groups there are a lot of pictures of her doing charity events in sneakers or hiking boots, and she still towers over all the males around her by a good 2 inches. Also, if guiness will vouch for her having the longest legs for a supermodel then she probably has at least an inch in total height over most of them.
Smoke
said on 19/Apr/05
Again, I'm quite sure she's nothing more than 180 cm, someone who is 182/183 cm in heals, should absolutely dwarf a 177 cm guy in considerably smaller heals. She just doesn't stand as tall as someone of the height she claims would, look at pics of her even standing alone, she just doesn't look strikingly TALL, I doubt she even hits the 6'0" mark.
rick
said on 18/Apr/05
On adrianasklenarikova.com her official height is 6 feet 1 but "only" 5'11 1/2" on adraianakarembeu.com !!! 5'10" is maybe too short I thinck ! For me 5'11 1/2' is her actual height !
Smoke
said on 18/Apr/05
Yes we cannot exactly pinpoint Karembou's height, and when Sklenarikova is in 3-4 inch heals it makes it even harder to pinpoint both of their heights! I will say this, she would probably be taller than Karembeu without shoes, but that would still make her 178/179 cm! Yes she towers over him in heals, but I don't think she towers over him the way a 6'1" person (in heals) would over someone who is about 5'9"-5'10" in 1-2 inch healed shoes. Perhaps Karembeu though, while playing his soccer in Athens, Greece has picked up some effective lift wearing tips from the Greeks!
http://www.wireimage.com/GalleryListing.asp?navtyp=gls====42130&nbc1=1&VwMd=i
Smoke
said on 18/Apr/05
Here are the Varekova pics with Kovalev and Nedved.
http://www.wireimage.com/GalleryListing.asp?navtyp=gls====44134&nbc1=1&VwMd=i
Smoke
said on 18/Apr/05
I'm convinced now that just about every model's height is, atleast slightly, a fabrication. Heidi Klum said it herself, that "Everyone lies, so why shouldn't I?" in regards to her adding half an inch to her height, so why should we take Adriana's word for it? In many pics she doesn't look near this, even despite her being slender and having long legs. The interesting thing is she says "185 cm", now I tell people I'm 185 cm (even though in reality I'm probably closer to 186 cm) and she's at 6'0.75". I just have a hard time seeing that of all models Adriana is one of the few honest ones, and the 5'10" listing really does look closer to her ACTUAL height. Heck, we all know Tyson Beckford is really just about 2 inches shorter than his listing, Marcus Schenkenberg, while still a pretty tall guy isn't really quite the 6'2"-6'3" he's always listed as also. Adriana 185 cm? Some how I just don't buy it, when I see clear proff of a model actually being her listed height it will give some meaning to their descriptions of themselves. BTW Veronica Varekova is married to hockey player Petr Nedved, she's supposed to be almost 5'10", beside Alex Kovalev (6'2") and Nedved (somewhere between 6'2"-6'3") she doesn't really look near 5'10". I've met both Kovalev and Nedved and both are pretty close to their listed heights.