Victoria Silvstedt's Height
5ft 10 ½ (179.1 cm)
Swedish model/actress from Boat Trip. She says in Maxim,
"Well, I'm 5' 11", but about 6' 1" in heels. I've gone out with short guys and love it. I don't know if they're comfortable, but I love guys who have no problem dating tall women. In the bedroom, it doesn't matter."
. She wrote her height for her playmate datasheet as being 179cm, or just shy of 5ft 11.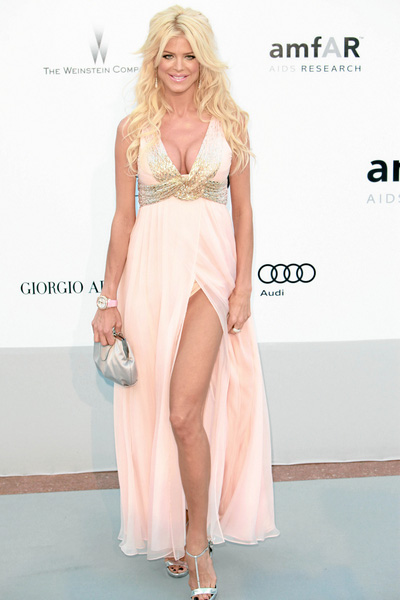 Photos by PR Photos
Add a Comment
44 comments
Average Guess (7 Votes)
5ft 10.21in (178.3cm)
Lara
said on 30/Apr/19
She seems to be 1.79 m.
Ben
said on 14/Nov/17
Stefanie said on 15/Sep/07
I'm 5'8 and from sweden, and most of the girls here are 1 - 2 inches taller than me, or 1 - 2 inches shorter than me, atleast where I live so I think we have the same average hight as anybody else
__________________________________________________________________________________________
Lmao no, I've only seen a few girls at 5'10" and I only know a few girls close to my height. The average is 5'5.5", punkt slut.
even
said on 18/Jul/17
morning = 179 cm
night = 178 cm
Louis 188
said on 17/Nov/16
Seems to be a very strong 5 feet 10 and a weak 5 feet 11, Perfect listing by Rob.
berta
said on 11/Oct/16
yeah did seems right my cousin who i 187 have meet her and she was a little shorter than him in heels. lets say she was 185 in the heels. so about 178-79 seems right
J.Lee
said on 2/Aug/12
rob if you had to guess, how tall is she in the morning, and how tall precisely at night? If she is 5 ft 10.5 at night, does that make her 5 ft 11.5 in the morning? Please clarify.
[Editor Rob: she could be 5ft 11.25 range out of bed...I would like to check that though...]
Shaun
said on 1/Feb/11
Jaymz is as much 6'4" as Hugh Jackman is.
Reg
said on 26/Jan/11
shes taller than me iam 5ft8 so shes a tall girl
Shaun
said on 7/Jan/11
Click Here
She looks close to 6' actually in my view with that frame and does look in the very tall range for a woman. She looks taller than Brooke Hogan.. Her boyfriend must be 5'2"??
Bon
said on 5/Dec/10
@kevin
Sweden is not that tall, Montenegro & Netherlands hold the title 'Land of Giants'.
Doug
said on 15/Jun/09
No wayyyy is that guy 6'4"! 6'2" maybe.
yeah
said on 17/Sep/08
How tall is that Maurice guy?
Click Here
He seems 160-163 cm range huh?
edward
said on 1/Jul/08
sven the pic that you posted...that guy looks about 5.3...I just saw another pic of him taken from long distance where he is eating her out on the beach..seriously...
Holly
said on 26/Apr/08
I live in sweden and I'm 5'3 and most of my friends is my height but I have taller friends too, but i wouldn't say that people are really tall.. Even though the average in sweden is 5'5 1/2 there is much short people here. And the average for guy's is a little bit under 6'
sven
said on 27/Feb/08
rob can u respond at the previous question?Thank you
[Editor Rob: could be near 5ft 3 range. Lucky guy!]
sven
said on 21/Feb/08
rob how tall is in your opinion this guy if victoria is 5-11?
Click Here
Danny
said on 19/Feb/08
I am also from Norway and with 6 foot I am really a tall guy.And i think i once read the average male height in Norway is 180 cm (same in Sweden); don´t get driven by clich
Kayla
said on 2/Jan/08
I've been to Sweden a few times and I was amazed how gorgeous and tall average swedish people are... I'm nearly 5'6", and most of girls were at least 3 or 4inches taller than me. And men were extremely tall, I felt like a gnom on my vacation in sweden... :(
Anonymous
said on 6/Nov/07
Norwegian and Swedish women are tall.
I live in norway and I'm 179.7 cm (what is that in f?) and I feel short standing next to most women.
Stefanie
said on 15/Sep/07
I'm 5'8 and from sweden, and most of the girls here are 1 - 2 inches taller than me, or 1 - 2 inches shorter than me, atleast where I live so I think we have the same average hight as anybody else
Jess
said on 4/Sep/07
Oh please, swedish people isnt taller than anyone else in this world, Iam 5´2. Dont buy the norm, blonde, tall and blue eyed named Inga.. Pathetic
Bobbe
said on 29/May/07
I have lots of pictures of her together with me. We are cousines but now i dont talk to her very much. When she lived in Bollnäs she was down to earth but now i dont recognize her at all. Weard. If you dont belive me that we are cousines i can show you some pictures if you like? I am totaly serious.
G-unit
said on 12/Apr/07
Swedish people are really tall. I think the average height is 5'11 for guys, and 5'5 for girls.
Alex
said on 14/Dec/06
Cantstop, thats what I was questioning since I saw the picture. He doesn't look 6'4, not even 6'3. Victoria is 5'10.5-5'11 and like Derek said she most likely is in heels and would be 6'1-6'2 in them, but still he wouldn't be 6'3-6'4. He would be really 6'1 more likely, 6'2 at the most.
Derek
said on 12/Oct/06
Ralph, I can almost guarantee you Victoria is wearing heels. She is probably 6'1"-6'2" in heels thus making Jaymz 6'3" or 6'4".
ralph
said on 11/Oct/06
the guy doesnt look 6'4". He looks 6'1"!! (if victoria is really 5'11") Rob, maybe he is lying about his height?
Alex
said on 28/Jun/06
That guy is in sneakers and still several inches shorter. She is a little closer to the camera but even if they were at the same distance from the camera she would still be a good couple inches taller. She looks a solid 5'11 girl.
Parker
said on 22/Jun/06
Well she is certainly as good as her word regarding dating shorter guys - not sure how tall this guy is - any guesses from you height estimators?
Click Here
Click Here
DingDong
said on 20/Jun/06
Ha look at her short, old, fat, ugly, hairy, and RICH new boy friend!
Click Here
Click Here
Alex
said on 18/Jun/06
She really said that!? LOL
Thats a big exaggerating, not a bit. On the E channel they said she was 6'0. I personally think she could be 5'11 but no more than that.
martin
said on 18/Jun/06
She said in FHM that she's nearly 2 metres (6'7) tall. Just a bit exaggerated...
Alex
said on 6/Jun/06
Yea I think he converted CM to feet and inches wrong too. Just no way he looks 6'4 in that picture next to a 5'10.5-5'11 girl even if shes wearing big heels. She even said shes 6'1 in heels but would be 6'2 or so in big heels so hes probably maybe 6'4 in shoes or something. Shes not even standing up straight. If she does then its only about an inch difference. He looks more 6'2-6'3.
Alex
said on 31/May/06
Rob, I am still wondering if the guy in the picture is really 6'4? There is only 2 inches apart though and no way is she 6'2. She has to be wearing huge heels or something then, plus she even wrote down 5'10.5 and said 5'11 so she can't be over 5'11 unless she's downgrading herself like some tall girls do.
[Editor Rob: he said he was, maybe he converted cm to feet wrong??? I agree he might not look it, he didn't on the kirk hammett page aswell, another pic of him]
jason
said on 26/May/06
I saw the same picture and she is about 4-5 inches shorther than karembu
dstrzdr
said on 26/May/06
she is at least 6 cm smaller than adriana karembeu
hombre
said on 19/Apr/06
I like her comment.
"I've gone out with short guys and love it. I don't know if they're comfortable, but I love guys who have no problem dating tall women. In the bedroom, it doesn't matter."
Haha.
Alex
said on 18/Apr/06
Rob, is that guy in the picture a legit 6'4? Really he only looks 2 inches taller than her tops and thats even with her in heels. Say shes 5'10.5-5'11 barefoot with big heels that would make her about 6'1 and hes about 1.5-2 inches taller and he's in shoes. He looks more about 6'2-6'3 maybe unless she is wearing HUGE heels.
Alex
said on 7/Apr/06
She looks like 6'1 in the pic with this 6'4 guy. Maybe he's not 6'4, that or she is wearing huge heels. May have to upgrade her to 5'11 even I think.
Alex
said on 6/Apr/06
Rob are we sure that guy is 6'4 in the picture? Say he is then he has normal shoes on putting him at 6'5 then. Say Victoria is 5'11 which is very possible, but she would need huge heels to be 6'3 because she only looks 2 inches shorter than this guy.
Alex
said on 6/Apr/06
She looks an easy 5'11 in that pic with the 6'4 guy. Shes def wearing heels there and is just 2 inches shorter than him.
Anonymous
said on 30/Jan/06
I think in this picture she is in high heels cos if not she is 6'2 or 6'3.
Kal
said on 4/Dec/05
Again this one is a little hard to pin down, since damn female models are always in heels. Again, you have to measure her proportions in pics when she is clearly barefoot and in a straight (either) horizontal or vertical position.
Having studied her pictures barefoot and next to specific landmarks (for purely academic purposes of course) I will estimate this Swedish blonde beauty is a whisker above 5"10, definately not touching 5"11. In the pictures I've studied she also has rather large.... feet, amongst other assets. She'd be a great swimmer - large paddles and much much buoyancy.
MHouillon
said on 24/Jul/05
No, no. 5'11" is right. If not 181 cm...
Anshelm
said on 10/Jul/05
I've seen her metric height listed as 179 cm. Her Playboy Playmate data sheet says 5'10".