Alan Arkin's Height
5ft 8 (172.7 cm)
Peak height was 5ft 9 ½ (176.5 cm)
American actor best known for roles in films such as Argo, Little Miss Sunshine, Glengarry Glen Ross, Catch-22, Edward Scissorhands, The In-Laws, Inspector Clouseau and The Rocketeer.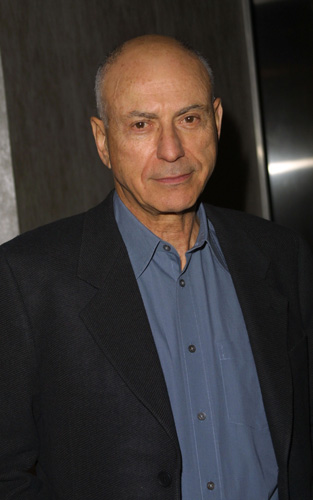 Photos by PR Photos
I used to be Five-Ten and a half...now I'm Five-Nine
Add a Comment
18 comments
Average Guess (6 Votes)
Peak: 5ft 9.13in (175.6cm)
Current: 5ft 7.83in (172.3cm)
Jtm
said on 5/Oct/19
i remember there was a picture posted here with stallone and arkin looks taller. i wonder what happen to that picture.
JJAK
said on 9/Nov/17
Yeah maybe 5 8 but remember he is 800 years old, when your 800 years old this good you will not looks.
Very funny good actor I dont recall seeing him young but dont see him hitting over 5 9.
Arch Stanton
said on 24/May/17
In shoes I think, no way was he near 5 ft 11 legit peak. Great actor.
Anshelm
said on 6/Apr/17
Click Here
According to himself 5'9" (175 cm) now and 5'10½" (179 cm) when younger. Probably the first time I've heard a celebrity give both peak and current figures.
Editor Rob: in shoes it matches up, but barefoot?
Arch Stanton
said on 26/Sep/16
He's a brilliant actor, one of the very best. But his demeanour, the sort of guy you could imagine calling the waiter a "cocksucker" in restaurants or getting out of his car at traffic lights to have an argument with another driver. You get the impression he'd be basty piece of work. Underrated actor though, as good as DeNiro IMO.
172.4cm guy
said on 2/Sep/15
Just happened to watch The Rocketeer for the first time last night, and in the movie Arkin looked no taller than 175cm. I looked up other listings, even IMDB which has a tendency to exaggerate height by at least an inch, and he's listed as 175cm there. So, in my mind, Arkin's peak height was probably 176cm, and now he must be around 173-174cm.
Arch Stanton
said on 17/Jun/15
To be honest I didn't think he looked 5 ft 10 in The Russian are Comming and Wait Until Dark.
edward
said on 19/Jan/14
Johnny Depp is taller than him in Edward Scissorhands.
NJP
said on 17/Jan/14
Looks pretty much the same height as Sly in Grudge Match
Ted
said on 31/Dec/13
These days, I think it's hard to see Arkin being taller than 5'8" or so.
Just does not look at all tall on screen.
Arch Stanton
said on 15/Aug/13
The crazy thing is that the Iranian government believed they were shooting a sci-fi movie in Iran! Sort of like the modern-day equivalent of shooting a romantic comedy starring Anne Hathaway and Jake Gyllenhaal in Kandahar, Afghanistan!!
Arch Stanton
said on 15/Aug/13
Rob I strongly recommend watching it, it's a brilliant thriller. They're got the look of 1979 down perfectly. You know when you come out of a movie theatre after a great movie and you're sort of buzzing and continue to think about it for hours after. Well it's that kind of thing, as Roger Ebert said the film is special and has impeccable timing. I'd rank it as among the best films of all time certainly one of the very best post 2000. The tension the film generates at the end with getting them out of the airport and them discovering the Canadian embassy is a real nail biter, the film is pure class.
Arch Stanton
said on 14/Aug/13
Affleck looks 6 inches taller roughly. Is 5'8.5" possible or him now? He was born in 1934 after all.
[Editor Rob: could be around 5ft 8 today, not seen the movie though]
Arch Stanton
said on 14/Aug/13
Rob have you seen Argo? There is a scene it in and the guy who is walking by him it like a full head taller. If he's 5'9" that guy must have been 6'6-6'7".
Willy
said on 25/Oct/12
After rewatching Wait Until Dark, I'm pretty sure that Arkin favored thick soles and "helpful" shoes in his prime. With clear footwear advantage, he measured up quite nicely to legit 6'1'' Richard Crenna, but didn't stand much taller than Audrey Hepburn after he'd taken off his shoes so that blind Hepburn can't hear him. 5'6.5'' Audrey has a heel in this film and they stand next to each other only for a brief moment, but I'd say that Hepburn looks 5'8'' in her shoes and Arkin looks two inches taller in his socks. So, long story short: I think this listing is spot-on. Alan was 5'10'' at peak and is around 5'9'' today.
Willy
said on 15/Oct/12
Alan did indeed look surprisingly tall in his 30s and 40s. In The Seven-Per-Cent Solution for example, he stood more than an inch taller than around 5'9.25'' Robert Duvall and three inches shorter than 6'2'' Nicol Williamson. So, either Arkin was a lift-wearer or a legit 5'11'' guy at peak.
Chris
said on 27/Mar/11
He looked strangely tall in "The in-laws", while I was watching it I was saying 6ft
Random Person
said on 29/Mar/09
Hmmm...not too sure about this guy. The peak height being 5'10 has baffled me a bit more...