Alan Tudyk's Height
5ft 11 (180.3 cm)
American actor best known for appearing on Firefly (Serenity), Dollhouse and in Tucker & Dale vs Evil. He commented once on the fact the robot he was auditioning for in iRobot
"had to be a certain height. I'm 5' 11.5" and that was good enough. They needed 6' 1", they were like, "Ah, we'll give him some shoes." And I actually had some crazy shoes I had to wear."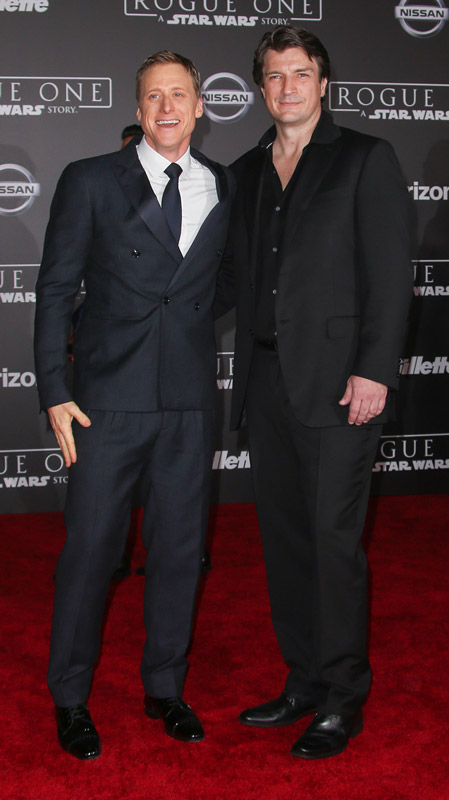 You May Be Interested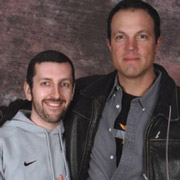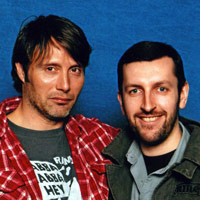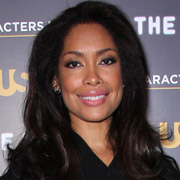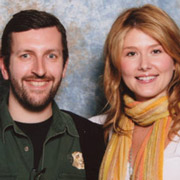 Add a Comment
41 comments
Average Guess (34 Votes)
5ft 10.83in (179.9cm)
Rampage(-_-_-)Clover
said on 19/Oct/21
Alan looks like a solid 5ft11 guy. Mid-morning may well measure his claim
Elene
said on 2/Sep/21
Looks 5'11.25 based on this photo.
Leesheff1985
said on 29/Jun/21
Nah, Nathan early looks 2.5 inches taller
Chris Junior Hernandez
said on 22/Jun/21
Nathan Fillion look flat 6'1 with Alan.
Rampage(-_-_-)Clover
said on 11/Apr/21
More than 2in between him and Nathan
JordanG
said on 13/Dec/20
WOW! I've never seen this guy's work, I only know him through photos and memes online. I'll admit, I always assumed he was like 5'5 or something! He looks, at least his facial features, similar to Emilio Estevez. That's probably why I assumed he'd be shorter.
JakestJake
said on 17/Jun/20
5'10" flat.
Sharkey
said on 5/Jan/19
Does not really look any taller than 5'10" on Firefly, and 5'9.5" wouldn't have shocked me.
Compare him to 5'10" Gina Torres on the show... he consistently looks the same height or a bit shorter.
Junior Hernandez 1990
said on 13/Nov/18
Maybe not shorter than Tyler Labine.
QM6'1QM
said on 26/Apr/18
Yeah, 5'11.5" in the morning...
My opinion: 5'10.75" (179.7 cm).
Ventri
said on 25/Mar/18
Looked 5'10" at absolute most on Firefly.
Animus
said on 6/Feb/18
He is noticeably shorter than Mads Mikkelsen, so there is no way he is 5'11½. He's at most 5'11 and he could be small fraction below it. I'll give him 5'11.
Frost
said on 7/Nov/17
A shoe measurement would have given him a 6'0 reading or slightly below that. Might have been a doctor error or a much earlier measurement than most would get.
If it's only a cm or two above a claim then it's completely within the realm of an honest measurement.
Frost
said on 7/Nov/17
A shoe measurement would have given him a 6'0 reading or slightly below that. Might have been a doctor error or a much earlier measurement than most would get.
If it's only a cm or two above a claim than it's completely within the realm of an honest measurement.
Andrea
said on 26/Sep/17
Like Matthew McConaughey, he seems very consistent with his very precise claim (of "5'11.5", in his case): tinyurl.com/ybzro5dd
Although, again like Matthew, it is certainly hard to believe he'd be as tall as that, BAREFOOT! In fact, he doesn't look a thing over 180 with Nathan and he can easily look as much as 3 inches shorter than him at times. So the current listing is certainly what I'd call his best case scenario and there's a quite good chance he's more somewhere between 5'10 and 5'11 (maybe right around 5'10.5), IMO! That 5'11.5 figure must come from a measurement IN SHOES!
Rampage(-_-_-)Clover
said on 24/Mar/17
Looks 181/182cm w/h Nathan Fillion
berta
said on 23/Mar/17
180 is the absolute lowest for him i think he could be a 181 guy
172.4cm guy
said on 3/Jan/17
I saw an interview of him on Wired for Rogue One, and was asked his height. He said 5'11.5", and his fellow actors didn't challenge him on it. I also thought he was a 6'0" guy, so I think a listing of 181-182cm is more appropriate than a flat 180cm.
Rampage(-_-_-)Clover
said on 27/Jul/16
A strong 5ft11 Rob?
I think he can look his claim at times
the shredder
said on 18/Nov/14
Saw him , but he was sitting.
MaskDeMasque
said on 16/Nov/14
Looked 5'10 in firefly
SaveUsY2J
said on 26/Jul/14
Rob, did you miss all of the UK conventions he's attended? He's been booked for a few over the years (and hopefully will again sometime soon, I'd love to meet him) so it seems strange that you still don't have a photo with him?

Editor Rob
I've seen him but not got a photo for the site
Emmett
said on 11/Apr/14
5'11 flat is probably right. Interesting that he claims such a specific height as 5'11.5 if he's only adding half an inch. He probably did that to justify giving 6'0 as his height on his resume or something.
avi
said on 17/Nov/13
5'10 . Baldwin has over 5 inches easy on him. He never looked a legit 5'11. 6'1 guys have 3 inches on him.
cole
said on 31/Aug/13
Looks about 5'11. Not that he needed "crazy shoes" to look 6'1 if he was a legit 5'11.5...
Jonathan Doan
said on 10/Apr/13
Got my pic taken with him several years ago. He was a bit taller than my 5' 11''. I was wearing trainers that gave me a good inch or so boost, he was wearing boots.
Click Here
Mike 181
said on 27/Jan/13
Looks 5"11.5 next to heath ledger in a Knights Tale
Lo sgozzatore
said on 15/Jan/13
Rob, where the hell does he look 5'11? Here with Adam Baldwin, Sean Maher (who i think is around 5'9) and Nathan Fillion. Really looks 5'9.5 tops, he probably is 5'11.5 in two inches heels ;)
Derek
said on 29/Aug/12
Looked about 2 inches taller than 5'9" Justin Long and 1 inch taller than 5'10" Chris Williams in Dodgeball. 5'11" is on the money for this guy.
Dmeyer
said on 1/Aug/11
I did see him on dodgeball set hé didnt stricke me to be as tall as me 5'11 seems right
Jonathan Doan
said on 17/Mar/11
Met him and yes, He hovers between 5'11.5 and 6', depending on the shoes he wears. Great guy, very nice.
Jedigoddess
said on 18/Apr/09
I met Alan and he is definitely 5'11 and 1/2. He has an average build in person, and is very charming to meet. One of my favorite celebs I've me to far.
Josh.J
said on 19/Feb/09
He looked slightly taller then jason bateman in arrested development (by a couple of cms). i think he is closer to 5'11 and 1/2 than 5'11.
Jessamyn
said on 20/Apr/08
Aeradia, *please* tell me you mean six inch, not six foot. WHat a lovely visual, though.
Chris
said on 6/Sep/07
Does that sign in the background say "No poser photographs please"? What the hell does that mean?

Editor Rob
no posed photos, sometimes at those events posing for pics slows busy guests.
aeradia
said on 30/Jul/07
Met him at a conference. I am 5'7.5 and he was definitely taller. I had on my 6' fetish shoes and he was just about even with me. 5'11 seems true.
Jack
said on 26/Apr/07
In one of the commentaries on the Firefly DVD Boxset, he mentions that he is the same height as Gina Torres so I would agree with 5ft 11".
Dan
said on 6/Apr/07
I think he was telling the truth about his height. 182 cm is right for him.
tllgrrl
said on 26/Dec/06
In the show Firefly, "Zoe" was career military and her husband "Wash" was a laid-back Hawaiian shirt wearing guy.
Most of the time she appeared to be taller. Especially when they were fighting.
Which they did quite a bit.
Not so much when they were in the sack together.
CreedogV
said on 25/Mar/06
Below is an image of the cast of Firefly. Alan Tudyk, who never really looked any taller than his "wife" on the show, is standing very close to Gina Torres (5'10"), and looks an inch or two shorter than her. Both are wearing boots, and Gina's look to be giving her about a two-inch boost, while Alan's look normal (1" boost is the rule on this site). There could be a slight perspective, and Gina is standing much straighter than Alan. That puts him at about 5'9", maybe 5'10".
Click Here
Derek
said on 7/Mar/06
In DodgeBall, right before the end credits, he looked at least two inches shorter than Missi Pyle. If Missi really is 5'11", that would put him around 5'9".