Alden Ehrenreich's Height
5ft 8 (172.7 cm)
American actor best known for roles in films such as Beautiful Creatures, Blue Jasmine, Twixt and Stoker.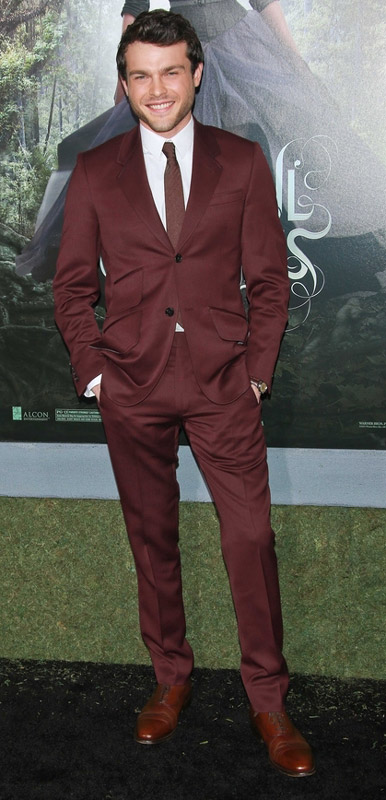 Photos by PR Photos
Add a Comment
13 comments
Average Guess (9 Votes)
5ft 7.64in (171.8cm)
Ye
said on 5/Feb/18
Clearly at least 2 inches shorter than 5'10" Harrelson in the new Solo teaser.
John Doe
said on 17/Jan/18
Have you seen his Han Solo boots. They have 4" of heel not even concealed from view. TBH I'm glad they are adressing that aspect, because Ford was at least 6' in his prime.
Marc
said on 2/Jan/18
and he's gonna be young Han Solo eh? Not really the best fit the voice too but, we'll see.
Mandapanda
said on 7/Oct/17
This young man will go far! He's a Natural!! I'd see him again in another movie.I don't think he looks short! He doesn't look tall either. Look at Tom Cruise! How much taller then Alden could he possibly be?
Denverguy
said on 14/Aug/17
The guy is short, even with camera angles, lifts, etc he still looks short in movies. He always wears suspect footwear. Max 5ft 7.5, and that's being generous.
DirectorKrennic
said on 23/May/17
5'7"
Justanotherguy
said on 7/Feb/17
A lot of guys auditioned for this role and this guy was picked. The directors/producers must see something in him. If they are confident than I am willing to give him a chance. Can't wait to see how he does. If Tom Hardy pulled of Bane...
Matt
said on 26/Dec/16
I think he's a little short for the role, I bet he'll wear elevator shoes during face shots that's for sure. Ansel Elgort suits the role better as he has the young Han Solo look and complexion, although he hits 6'3/4 range.
Chuck
said on 18/May/16
The height difference between Ford and Ehrenreich is no different then Joaquin Phoenix playing Johnny Cash who was about 4 inches taller then Phoenix. Is it a little bit of an obstacle? Yes, but not impossible to overcome.
MD
said on 9/May/16
Not sure how it's "ironic." I do agree with Mike, though. He to me is the first time I've ever bought into the argument that height can make you attractive. With his looks, he'd look so much better taller and it'd expand what kind of role he could play. He got lucky with this recent casting, so good for him.
Keltoi
said on 6/May/16
Mike said on 18/Mar/16
A bit short. If he was 6'1" he would look hell much better.
Helluva ironic post in hindsight given that he's just been cast as the new Han Solo. Harrison Ford was a 6'1" guy back in the day. It'll be very interesting to see how they make this guy look bigger. Visually, that's going to be way off, unless they put him in massive lifts and utilise camera angles.
Mike
said on 18/Mar/16
A bit short. If he was 6'1" he would look hell much better.
brandonknight
said on 18/May/15
Seems right. I never bought his 5'9" listing on imdb.