Aldis Hodge's Height
6ft ¾ in (184.8 cm)
American Actor best known for playing Hacker Alec Hardison on Leverage and appearing in film Straight Outta Compton. In this convention photo Aldis had had a fraction thicker shoe than me. In 2011 on
twitter
he mentioned his tall stature, saying
"I am 6'1"
.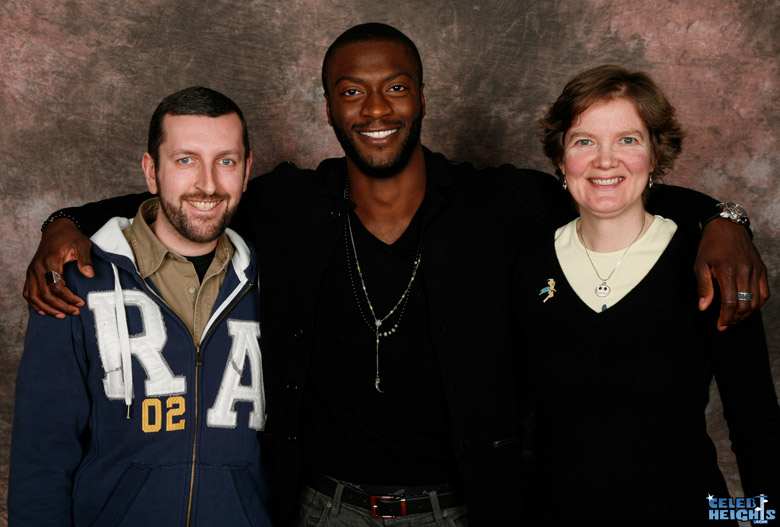 5ft 8 Rob, Aldis, 5ft 8 Jenny @ Starfury's CON 1, 2011
You May Be Interested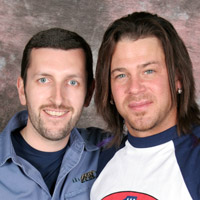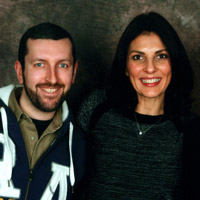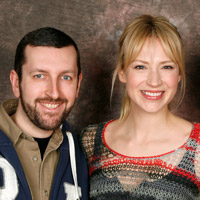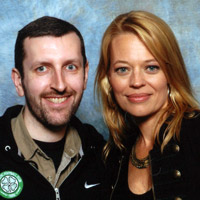 Add a Comment
44 comments
Average Guess (44 Votes)
6ft 0.51in (184.2cm)
Black Noir
said on 1/Feb/21
Is he 184 cm or more of a strong 185cm?

Editor Rob
I think close to 185
Halb
said on 14/Oct/20
Oh Aldis' IMDB page there's a pic where he looks the same height as Greg Kinnear.
Vsquad
said on 28/Sep/20
Rob, would you say Hodge has a long torso and shorter legs for his height? Looking at pictures of him in suits for example, his jackets fall very low even though they seem tailored fine. Seems more as a result of his proportions.

Editor Rob
Maybe a bit longer torso than average yeah.
berta
said on 30/Aug/20
i think 184-185. maybe closer to 184
OriginalAnon
said on 16/Jul/20
He doesn't look any taller than 183cm in this photo, really.
Greg
said on 18/Jun/20
There's a photo of him looking 5'11ish next to Obama but it might have been the camera angle. If he's 6'0.75" Trevor Noah looked about 5'10.5ish next to him.
Chris Junior Hernandez 1990
said on 1/Mar/20
If anyone can relate that how 6'1 only taller than 7% of all dutch men and people need to be 6'6 to be tallest than 90% of dutch men.
bruhmoment
said on 11/Feb/20
@Questioner Being a real 6'0 is in the 85% of men's chart. So 6'0 and 6'1 would be soild tall compared to average people.
Christian 6'5 3/8"
said on 14/Sep/19
@Questioner
No offense, but determining tallness or shortness based on standard deviations is silly. I'd much rather deal with percentiles than SD's.
edges0
said on 11/Sep/19
@Questioner
Because 6'1 is taller than over 90% of men in the US. Have you ever seen a legit 6'1? It's definitely tall.
Questioner
said on 26/Aug/19
@rob how is 6'1" tall its barely a standard deviation over the average and not 2 deviations over it.
Nik
said on 5/Jun/19
I think that he can pull it off!
Junior Hernandez 1990
said on 4/Jun/19
look at least 6'0 5/8 (184.5) on the height chart compare to Rob and Jenny. Understand that Jenny got the advanatage on camera so Aldis is a very strong 184cm guy just between 184-185cm.
Colberto
said on 1/Apr/19
Looks close to 6'1" with rob
MD
said on 8/Feb/19
With 5'11" Trevor Noah:
Click Here
Rory
said on 11/Nov/18
I think he could be 6ft0.5. In an episode of Leverage 186 Drew Powell looked 1.5 inches taller than Timothy Hutton throughout it whereas Hodge only faintly edges Hutton in comparison. Also looks shorter than Obama, and doesn't look much over 184 with Rob.
Zampo
said on 22/Sep/18
6'0.5 is probably a better fit based on the photo.
Christian 6'5 3/8"
said on 15/Sep/18
Doesn't look more than 6'0.5", especially if he had thicker shoes than Rob.
Nik
said on 13/Sep/18
@ Rob - Are you losing height in the above picture?

Editor Rob
Yes, although I think this is close to what he looks in person, forget Jenny as she is about 3 inches in front of me/aldis there.
World Citizen
said on 13/Jan/18
He certainly looks it.
even
said on 22/Jul/17
a weak 6 1
Mickey
said on 5/Jun/17
seems legit
MD
said on 7/Apr/17
He throws me off so much. Something about his proportions does, which make him look much taller than he is in solo shot. I think it's his long neck. But, he is also the king of dropping height in photos, which can make him look shorter than he is in photos with others. I'm not quite sure how he does it. Here he is with 5'10" Dule Hill:
Click Here
It's so hard to imagine him straightening up with get him nearly 3" over Dule, but I he can apparently. lol And, here 5'11"ish Glen Powell gets and advantage by being in the foreground, but Aldis still looks shorter than his listing:
Click Here
And again with a 5'11"ish Glen Powell and then after that a 5'11.5" Justin Timberlake:
Click Here
Click Here
Mark(5'9.25
said on 5/Apr/17
Spot on. I wouldn't go lower than this listing.
Cletus
said on 21/Mar/17
i would say 184-185
Rampage(-_-_-)Clover
said on 25/Jan/17
Out of bed: 186-187cm
Before bed: 184-185cm
Peter 179cm
said on 18/Nov/16
He actually looks near 186 with Rob,so a solid/weak 185er.
Aza
said on 5/Nov/16
The brother is 6'0.5. Cool?
S.J.H
said on 30/Sep/16
He look 6'0 with fraction footwear so he is 5'11.75
Rampage(-_-_-)Clover
said on 15/Sep/16
182cm is a joke.
Alex
said on 27/Jun/16
He looks 184-185 cm in this photo..No more then 182 cm barefoot.
MD
said on 29/Mar/16
He has really strange proportions which I think make him look bigger than he is. Long arms, longer (relative) toros, giant hands, long neck, sightly small head relative to the rest of him. The current listing is definitely the highest he is. Here he is with a flat 6'0" Christopher Meloni, if Meloni is even that these days, and Hodge as a footweard advantage:
Click Here
Lined up with 6'0" Corey Hawkins on the far left:
Click Here
With 5'11"(ish) O'Shea Jackson Jr. to his immediate left:
Click Here
With Jussie Smollett, who is not even his full 5'11" but who has a footwear advantage, here:
Click Here
I think he may have had Rob fooled. He's not more than he's listed and probably a bit smaller, closer to a flat 6'0" but with some interesting proportions which can make him look taller. Now, he definitely doesn't always have the best posture, at the same time, you can tell even if he straightens up this listing is probably too much. A guy this listing could come off looking significantly tall in the right kind of footwear. Hodge looks tall, but not special/particularly tall.
Crypto139
said on 13/Jun/14
How in the world was he listed at 5 feet 9? He looks exactly how he is listed. 185 cm on the dot!
LG69
said on 2/Dec/13
Minus his slight advantage, I'd say he is a solid 6'0.5"
Lo sgozzatore
said on 5/Oct/13
He did look between 3 and 4 inches shorter than Jared Padalecki on Supernatural, 184-185 is ok, not over though!
cole
said on 12/Jul/13
I think he could be the full 6'1. Lol he's been listed 5'9 on other sites, that's just outrageous!
Lorne?
said on 30/Mar/13
Lol! I asked you about his height a couple of years ago, and he' s finnaly here. I knew he was over 6ft, I just can't believe he is listed 5ft9 on multiple web sites. How the hell did that happen? If you see him again you should ask him about it.
Rampage(-_-_-)Clover
said on 27/Dec/12
Looks 186-187cm with the shoe advantage, so a shade under 6"1 barefoot is a pretty solid estimate
Reality
said on 10/Aug/12
@ Hob: lol how did you know that he had footwear advantage.Rob would mention if he had.But he has pretty similar posture to Rob.Never under 6'0.5,I think this listing is right.
Hob
said on 31/Jul/12
i thought 6'0.75 if jenny did not apear in pic while i notice rob drop a little height here add a little footwear advantage. conclusion he is 5'11.5
jaypee
said on 31/Jan/12
I knew this guy what tall! some sites have him as 175cm..joke!
James
said on 16/Jan/12
if he had a slightly bigger shoe then i would go as far as saying he looks 6ft (183cm) or 6ft.25 (184cm).
[Editor Rob: there is a photo
here
, so it was pretty normal, I think maybe somewhere in 0.75-1 range, but it didn't look an inch thick.]
James
said on 15/Jan/12
given that rob is hunching down slightly in the photo i think he looks more 184cm than 185cm personally.
i think 6'0.5 (184cm) is his true height although i am not sure if he had footware disadvantge or not?
[Editor Rob: we had about 0.75 inch sneakers, he had a shoe on, but it wasn't a big one, it looked not much more than ours.]
jtm
said on 8/Jan/12
rob when did you add him to this site? someone asked you on the kane page if you could add him to this site and you didn't say he had a listing in this site. i realized he did after looking at the random photo page.
[Editor Rob: I just added him this week.]