Beth Riesgraf's Height
5ft 7 (170.2 cm)
American actress best known for playing Parker on TV series Leverage. She also appeared in TV series Caper, Complications and The Librarians. In this convention photo, Beth had about 2.2-2.3 inch more footwear than us.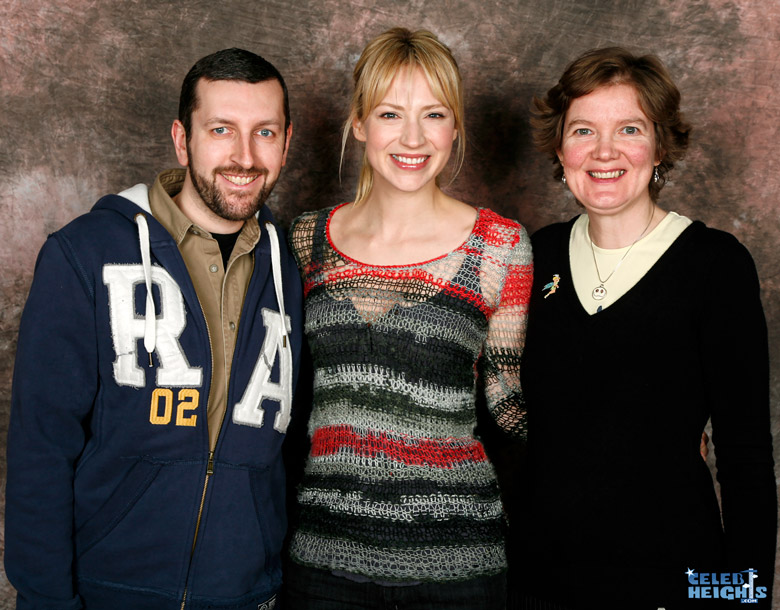 5ft 8 Rob, Beth, 5ft 8 Jenny @ Stafury's CON 1, 2011
You May Be Interested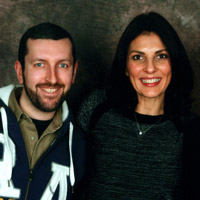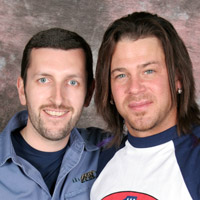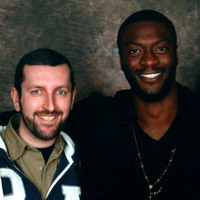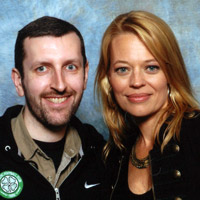 Add a Comment
26 comments
Average Guess (13 Votes)
5ft 6.81in (169.7cm)
Miss Sandy Cowell
said on 24/Aug/20
💐🎂🎁🎈 Happy Birthday Beth! 🎈🎁🎂💐
A Very Exciting Birthday is wished for Beth Riesgraf, whose name I immediately recognized on the Birthday page. The lovely lady turns 42 today. XXX
5ft7 👱‍♀️👍🎊
💐🎂🎁🎈💐🎂💝🎈💐🎂🎁🎈💐🎂💝🎈
Chris Junior Hernandez 1990
said on 27/May/20
Rob, any chance Beth is more 5'7 1/2 in person? Did she had good posture?

Editor Rob
I would stick around 5ft 7 for her, though if measured there may be greater chance of a bit over than under that mark.
Chris Junior Hernandez 1990
said on 16/May/20
Rob, you should watch Intruders that Beth starred as lead role actress while delivered a good performance in that thriller. The movie eventually brings me here to learn that she look a good 5'7 to me.

Editor Rob
JohnMoore-162cm
said on 27/Apr/20
Beth Riesgraf is weak 5ft7 , I am sure
Miss Sandy Cowell
said on 25/Mar/20
I'm sure I've seen Beth show up in a horror thriller recently so I checked out her film list to find she was in the 2015 film 'Intruders', also known as 'Shut In'.
Yes, she is rather tall for a woman, but that's not going to be very helpful when a spattering of thugs break into your home and you're agoraphobic, as is the case for Beth in her film. 😟
5ft7. 👱‍♀️💐
Sandy Cowell
said on 4/May/18
@ Nik - Isn't it annoying when that happens? I was losing comments regularly at the beginning of the year and it got so bad that they would disappear after a few words. Then I sorted the problem while in hospital! Now I have no pictures, but I can get them if I access the site via a different route.
The picture is indeed a lovely one! I am looking at the pictures when there's a large intake of new names, unless there is one I particularly want to see. I have physio later today. Then it's the weekend. I hope yours is a good one! 🙋 👍😊
Nik
said on 1/May/18
@ Sandy Cowell - Hi!
I have just gone and lost a nearly completed comment, my ipad ran out of charge!
So here goes with my new one:
Yes, this is a lovely picture of Rob, Jenny, and Beth, they can all be so proud of it! I am really glad you got to see this picture!
Like you said, there are far worse problems to have than the one you mentioned in your first comment to me, technology really does have strange ways of working sometimes!
Cheers!
Sandy Cowell
said on 30/Apr/18
@ Nik - I had a little look at the latest pictures and went out of my way to see the picture of Beth with Jenny and Rob! What a smashing picture it is too! You'd never believe the character she played in the film whose ending I caught the other night! Talk about chalk and cheese...! 🐭
Sandy Cowell
said on 30/Apr/18
@ Nik - I can gain access to pictures if I go via my texts page, for some funny reason, but then I cannot send comments! I have to do that separately, but I don't mind! I can think of far worse problems! 👍😊
Nik
said on 28/Apr/18
@ Sandy Cowell
Talk about passing the 🔥 buck! It's all right asking for help and the help saying,"just ask somebody else"!
As you can see I have raised the average vote and it is now 5'6.5", this is still clearly too low though! Someone must have gone for 5'5"!
I hope your phone is now showing you pictures!
Sandy Cowell
said on 25/Apr/18
@ Nik - At the moment, I have to go purely by what I see on the telly as my phone isn't showing me pictures! I don't know what to do about it and when I phoned Virgin for help, I was told to write off to the manufacturers! Talk about lousy service!
Nik
said on 23/Apr/18
@ Sandy Cowell - Hi!
It's a shame that the woman in the film went off the rails in the way that she did, at least in TV programmes and films we know the storyline is not real!
Yes, I can see that Beth is tall and elegant and I don't know if you know this ... Beth Riesgraf is a "random celeb"!
My comment on the 19th April was my only comment that day, at about 7:00 pm! The average vote of 5'6.33" is too low, I am going to raise it a bit!
Cheers!
Sandy Cowell
said on 20/Apr/18
@ Nik - Hi! I didn't see the entire film the other night by any means, just enough to find out that the woman in it had serious problems and instead of getting the help that she, and anyone in a similar set of circumstances deserves, she dealt with things in a dreadfully sad way, doing herself no good and certainly no good to her fellow man.
I couldn't help but take in that, despite not wearing high heels (flats, in fact!), the lonely figure of a girl at the end still managed to look tall! Imagine how tall she'd have looked in heels,but it would have been totally inappropriate!
Nik
said on 19/Apr/18
@ Sandy Cowell - Hi!
Not only does 5'7" look totally believable but it looks probable, at least!
This is a lovely photo of Rob, Jenny, and Beth, and compared to 5'7.75" (at least) Jenny the 5'7" - 5'7.25" range is likely!
Cheers!
Sandy Cowell
said on 18/Apr/18
I just saw Beth in the film 'Lock In', and yes, she still looked tall and elegant at the end as she walked slowly away from her burning home in flat heels! But what a mixed up psycho-girl!
5ft7 is totally believable!
Kourosh
said on 3/Apr/18
5'10 with heels on in the picture
Chris25
said on 14/Jan/18
Rob, her 5ft7 claim is clearly refuted with this photo. Even though her footwear is 2.5-3 inches more than yours and Jenny's, all of you still look around the same height. In addition, Beth is standing straight while you and Jenny are slouching a bit (especially you, Rob). I also agree with the comments below that you're a bit taller than Jenny (perhaps 5ft8 for you and 5ft7 for Jenny). Beth's hair is also puffed up more and that also gives her some extra (illusion of) height. Barefoot, she's no more than 5ft5.
S.J.H
said on 30/Sep/16
Shes at least 5'6 without heels
Stephen
said on 8/Jan/13
she looks lika a 176 barefoot here, definitely good pair of heels!!...
someone
said on 29/Dec/12
not shorter than 5'7
J.Lee
said on 16/Dec/12
rob how high r her shoes

Editor Rob
her boots looked in the 2.75-3 range, so her advantage over ours was somewhere in 2-2.25 range
Tall Joey
said on 7/Nov/12
That girl does not look 5'7''. How tall do you think she is with those shoes on?

Editor Rob
in heels 5ft 10 range I think
leonari
said on 27/Oct/12
she always looks tall
jtm
said on 24/Oct/12
i don't believe 5'7.
J.Lee
said on 22/Oct/12
wow i didn't know that rob. So who is taller than who? You or Jenny? Either she is or you are, but then it depends... If someone asked you two who's taller what do you guys say?

Editor Rob
I'd just say the same 5ft 8 height, not going to bother about mm's.
J.Lee
said on 21/Oct/12
Rob u look taller than Jenny. Are u as tall as her now?

Editor Rob
jenny at her low height is a little shorter than me at my lowest...and has been for years