Gina Bellman's Height
5ft 6 ¾ (169.5 cm)
New Zealand/English actress best known for playing Sophie Devereaux on TV series Leverage and Jane on Coupling. In The Independent (2006) said
"I'm only 5ft 6in".
and in the Spotlight directory was once listed
"5 feet 7 inches"
. In this convention photo I had about 0.6-0.7 inch sneakers, Gina had around 3-inch heels.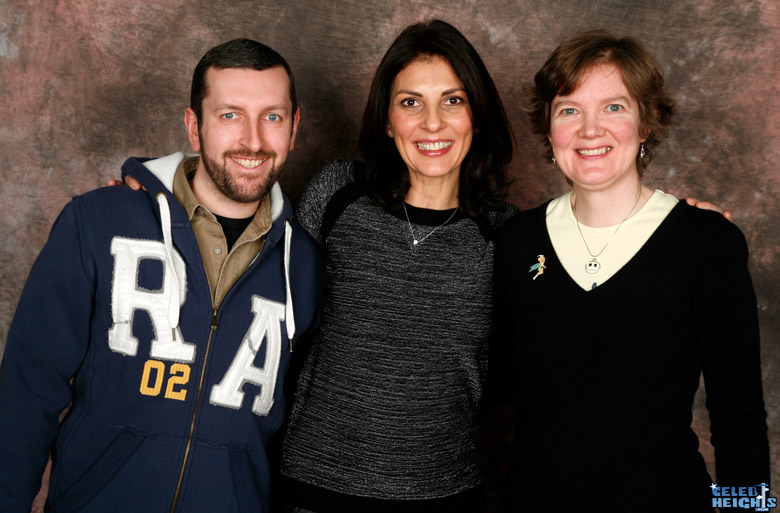 5ft 8 Rob, Gina, 5ft 8 Jenny @ Starfury's Con 1, 2011
I don't have any scales, but I know I'm the same. About 8 stone. I'm 10 to 12 up top, and 8 to 10 below. And I'm not as tall as people think. Often I've played parts that are quite glamorous, and I'm always stuck in high heels. So people think I'm this Amazonian creature. In fact I'm only 5ft 6 ½ in.
-- The Mirror, 2000
You May Be Interested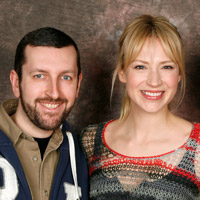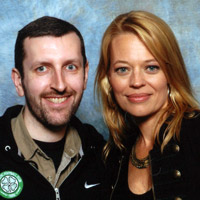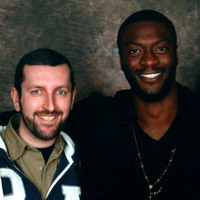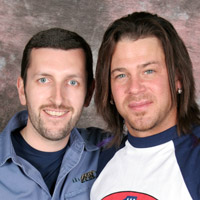 Add a Comment
24 comments
Average Guess (15 Votes)
5ft 6.55in (169cm)
Nik
said on 20/May/20
She looks at least 5'6.75" when compared to Jenny and I am so proud to give her her 25th comment!
Yang (5 footer 8, 173, Aries)
said on 20/May/20
Slightly taller than Angelina Jolie with 5ft 6.
MAD SAM
said on 12/Sep/18
Bluntly honest ! Sh s gotta be 5'6.75" at 169.5 cm
Nik
said on 5/Aug/18
I like it that she said "I'm only 5ft 6.5"! It is interesting that Gina claims 5ft 6 and 5ft 6.5 when she is 5ft 6.75"!
Sandy Cowell
said on 10/Apr/18
@ Jason1970 - It makes for fascinating reading when a visitor writes in with a tale such as yours! Your brother even went out with her? How fantastic is that, and certainly no mean boast! I do so enjoy reading this sort of thing!
A friend of my friend Sue, who used to sit and watch films with us way back when, came out with, "My sister used to go out with Graham Gouldman! He couldn't do enough for her... treated her like a princess, but she walked all over him! I felt really sorry for him!"
The lady whose sister this was must have been around 37 at the time, to my 22 and Sue's 18. Just the right sort of age, not that anyone could have questioned the authenticity of what she said as she was a truly nice girl, borne out by the way she openly stated that she didn't like her sister using the rock star. Gouldman came from the well-known and thoroughly successful rock group 10cc and he also wrote some incredible songs which were hits in the earlier half of the 60's.
Well, tales such as this are terrific for finding out how tall someone really is, more reliable even than those from people who get a glimpse of a celebrity on the red carpet or at an opening of, say, a shop, but they're all intriguing to read about!
I will, after all that, have complete confidence to put 5ft6.25 for Gina, halfway between the 5ft6/6.5 you say she is, Jason!
Cheers! 👍
Jason1970
said on 8/Apr/18
She lived just down the road to us. My older Brother went out with her for a while back in the 80s. Height seems right as she was about 3 inches shorter than my 5'9"/5'9.5" bro.
Nik
said on 4/Apr/18
I believe her claims!
Chris25
said on 14/Jan/18
I just submitted a comment about Beth Riesgraf and saw this photo of you and Jenny alongside Gina who's roughly the same height and perhaps a bit more than Beth. Even though Gina's wearing higher heels, she still looks around the same height with you and Jenny (and you're slouching even more in this photo, Rob, which gives Gina more height advantage). That said, both Beth and Gina are no more than 5.5 barefoot. It's amazing what high heels and thick soles do to significantly enhance height, isn't it?

Editor Rob
they both looked taller than 5ft 8 up close, of course they are in heels so a 5ft 6-7 women would naturally look taller than me with more than 2 inch footwear advantage.
Christian-196.5cm (6ft5 3/8)
said on 28/Apr/17
Maybe she's really 5ft6 or 5ft6.5 like she said she was, and her heels were more than 3 inches. Either that or she measured at 5'6 7/8" and just rounded down. But it's strange for anyone to measure at 7/8th of an inch and round down instead of up, since 7/8" is almost a full inch.
Blake
said on 7/Feb/17
Do you think she measured on carpet or is an inch drop to much for a measurement on carpet?
Editor Rob: well, it could account for a half inch, or if the person never stood tall, that could mean a fraction lost.
J.Lee
said on 30/Aug/14
Rob is she standing at her tallest here?
[Editor Rob: I leant in a bit because she leant towards jenny a bit, I think she could look a bit taller than this photo when standing alone]
Just
said on 21/Aug/14
I love her caracter in "Coupling".
lazybum
said on 3/Aug/14
I totally believe 5'7".... actresses have a lot of reason to underbill their height. Opposite of actors, who tend to overbill.
Matt 184.7-186.7cm
said on 16/Oct/13
why do you think she claims smaller than she is? does she prefer to be shorter
[Editor Rob: I think she might have measured 5ft 6.5, but maybe didn't stand as tall.]
J.Lee
said on 24/Sep/13
rob what does non military measurement mean?
[Editor Rob: some people can stand half inch shorter than if they improved their posture and stood like you do in a military stance - no slouching, at your best posture - that is your bodies optimal height]
Emil
said on 28/Aug/13
@Rob
She could be between 5'6.75-5'7?
[Editor Rob: it depends, she might have been 5ft 6.5 with 'non military' measurement, I can believe that, and maybe a bit taller standing tall...]
Lorne
said on 28/Apr/13
Hey rob, I know her and riesgraf are both 5ft7 range, but if you HAD to pick one that was fractionally taller? You say Bellman looked no less than 5'7, and I always thought riesgraf was a fraction over. So if you HAD too guess, who would be taller, if they stood barefoot, back-to-back. (love em both, btw)
[Editor Rob: hard to say because they looked very close when together]
Lorne
said on 15/Apr/13
Well you met her rob, so I take your word for it. I'm not surprised, though, I thought she was 5'7 till I read her 5'6.5 claim. However I can't believ riesgraf is the same height, she looks at least as tall as Christian Kane on the show, yet they both looked 5''7 in person. Weird.
Elijah
said on 30/Dec/12
@Chiara: if you're really 182cm then you're much closer to 6' than 5'11", so just say 6'.
Chiara
said on 30/Aug/12
Well, i´m a little over 5´11. but when someone asks my height, i tell them i´m 5´11. Although i live in germany where we measure by cm, and i find it weird to say 182 cm (my height), i just say 180 cm.
ANDREA[ITA]
said on 30/Aug/12
And that cannot happen with Welling, uh?
[Editor Rob: not impossible, but this is Gina's page and is just one case of someone I think might be taller than their claim. I don't think Tom's taller than his almost or about 6ft 3 claim though.]
ANDREA[ITA]
said on 29/Aug/12
And why should she lie?
[Editor Rob: maybe she had a 6.5 measurement at some point, but I believe I'd measure her 5ft 7]
ANDREA[ITA]
said on 29/Aug/12
Rob, its strange you add her higher than her claim, uh! You said welling cant be over 6'2.75 just because he said it! What happened with this girl?
[Editor Rob: based on how tall she looked and our footwear I thought 5ft 7 was more likely than 5ft 6.5]
lazybum
said on 11/Dec/08
Looks taller than Christian Kane in Leverage.