Jeri Ryan's Height
5ft 6 ½ (168.9 cm)
American actress best known for playing 7 of 9 on Star Trek: Voyager, aswell as roles on shows like Dark Skies and Leverage. She once said "5'8" on a startrek.com chat and also
"5'8""
on Twitter in 2012. In this photo she had between 2-2.5 inches more footwear than me.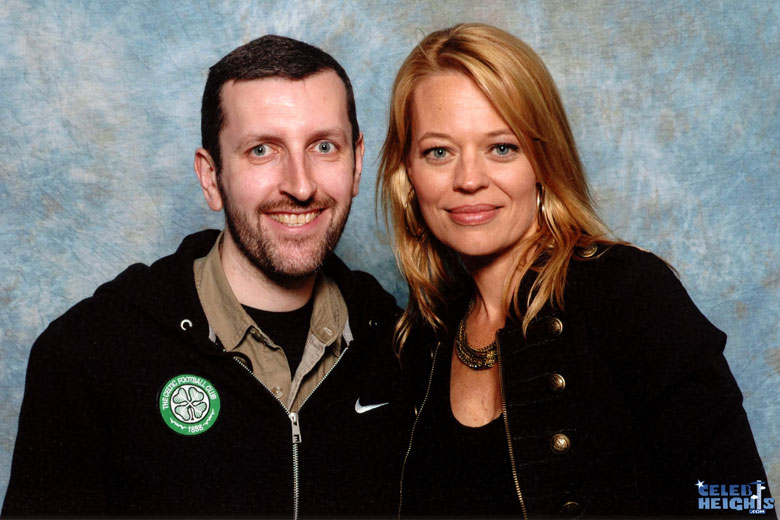 5ft 8 Rob and Jeri @ LFCC 2012
You May Be Interested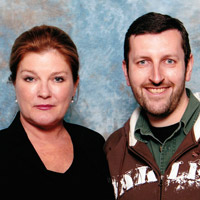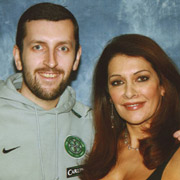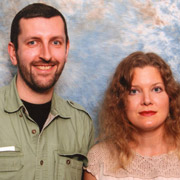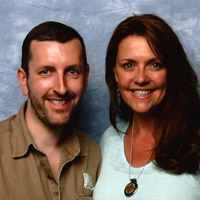 Add a Comment
56 comments
Average Guess (15 Votes)
5ft 6.5in (168.9cm)
Leif
said on 30/Nov/20
Rob couldnt she be 5'8" early i the morning or at least 5'7.5" if people can lose an inch or more throughout thebday?

Editor Rob
Would be really surprised if Jeri were 5ft 7.5 barefoot.
Nik
said on 28/May/20
I would love to see a photograph of her with Lionel Messi and Phil Foden!

Editor Rob
On Voyager I would have guessed her 5ft 7, but really she had fantastic posture, costume and hair. Check out this scene
Here
both Gina and Jeri in heels...
in person, Bellman in heels looks taller than Ryan looks in heels.
JohnMoore-162cm
said on 8/May/20
Not more than 5ft6 1/2" or so peak. She looked 5ft6 flat in Voyager
Nik Ashton
said on 5/Mar/20
It's amazing that she claims to be 5'8"!
Nik Ashton
said on 6/Jan/20
@ Marquis - Good point!
josh b
said on 8/Nov/18
Click Here
Still looked great even now ;)

Editor Rob
I am sure she had a heel on that day, but the only time I seen her she had a boot and I'd still put her between 5ft 6-7 range.
Littlelee168cm
said on 31/Aug/18
How is the average vote crazy? It's a fraction under what she listed as by Rob. 5ft 6.5 seems about right for her. Funny I used to get her and wishmaster star Tammy Lauren mixed up they look nothing alike. Rob maybe you could add Tammy to the page love her in wishmaster
Nik
said on 6/Jun/18
The average vote is crazy! I have to agree with MAD SAM!
MAD SAM
said on 4/Jun/18
169 cm definitely
Marquis
said on 24/Oct/17
At first glance at the pic, I want to say 5'6"... but from the way Ryan's hunched up and leaning in, 5'6.5" does seem credible for her. Nice work, Rob.
And, 'nice work if you can get it', posing for pics with ladies like these. =]
Intevel
said on 19/Oct/17
Rob, usually when a guys eye level is higher than the girl, he is taller. In this case, she is taller than you in her heels even though your eyes are higher. Usually it's the other way around, only a guy can be taller than a girl if his eyes are lower.
Editor Rob: yeah I'm tilting my eyes up a bit to the camera, making eye-top head a bit smaller than if looking straight ahead.
Mimi
said on 5/Jul/17
If she is claiming 5ft8 barefoot and she's in heels, she must be thinking Rob is about 5ft10.
Editor Rob: it's funny that Jeri claims 5ft 8 and Gina Bellman only 5ft 6 or 6.5, yet if you watched them when in similar heels on Leverage, Gina seemed to have an edge at times.

Actually that's what I seen in person, Bellman seemed like she'd be taller than Jeri...

Sandy Cowell
said on 18/Mar/17
@ Rob - I think Jon is more interested in her figure than her height, as no doubt, are most blokes! He'd be green with envy that you've met her and quite like the fact that Jeri is 5ft6-6.5 as he is himself 5ft9!
I have to agree, she has got a fantastic figure!
Editor Rob: she's certainly not a lady who would have 3 empire biscuits for desert!
Sandy Cowell
said on 17/Mar/17
# Rob - If I decided to show this picture of you and Jeri to a particular friend of mine called Jon, I think he just might hate you!
(I give Jeri an estimate of 5ft6.5!)
Editor Rob:
one with with Jeri...there is absolute zero chance she is 5ft 8.
on Leverage, she did have a fair few scenes with
Gina Bellman
and could look shorter...funny thing is bellman claimed 5ft 6-6.5, although I gave her the 5ft 7!
Clay
said on 17/Mar/17
5' 3"
Do a google image search for "tony danza jeri ryan" and you'll see them both barefoot and she is a good 4-5" shorter than him.
ray
said on 13/Mar/15
she was in a Two and a half men episode in a scene with Jon Cryer i remember I think she was barefoot I will check it out again, I originally thought she was like a low 5'7 but it seems she is 5'7 max more 5'6.5 judging off this pic with her in 2-2.5 inch more footwear.
i turn lesbians bi
said on 10/Jan/15
5'7 - 5'7.5 in heels
Bammer
said on 1/Dec/14
Just re-watched Star Trek Voyager again, and Jeri Ryan is at least 1,5in shorter than 5ft 9in Robert Picardo in every scene, despite she's wearing 2 - 2,5in heels. I still say max. 5 ft 6 in. And she's still very pretty! ;)
- I think she looks tall in ST:V because the rest of the cast is relative short in comparison.
J.Lee
said on 28/Nov/14
Very interesting Rob. Let me ask you this. You are saying women are more likely to have a smaller eye chin area. Does that mean that if a man and women are equal eye level, the girl is usually taller, because she has a longer eye to top of head? That's what this picture with Jeri proves in her heels with you. Or is she more of an exception to the rule? If a guy and women are together and equal at eye level, who is likely to be taller?
[Editor Rob: the average is around 4.5 for Man and average for women is more 4.2

the 99th percentile will be more like 5.1-5.2 for a man and 4.9-5 range for a women]
J.Lee
said on 19/Nov/14
Rob this is kinda strange. Here chin is noticeably higher than yours. But your eyes are higher. It's like she has a long top head and you have a long lower head.
[Editor Rob: women are more likely to have a smaller eye-chin area.]
J.Lee
said on 27/Sep/14
Rob are your eyes higher than hers?
[Editor Rob: yes I'd say a small fraction, I am looking up a tiny bit there. There is a slight tilt in that photo, this is
Nearer accurate
.]
Heightcritique
said on 3/Aug/14
In the photo with Rob at the top of the page, she looks like she is slouching a little and her shoulder is higher than Rob's so probably 1 to 1.5 inch taller than Rob with 2" heels. I estimate her to be close to 5'7" of beautiful doll.
[Editor Rob: she does have hand in jean pocket, she certainly wasn't over 5ft 9 and with 2-2.5 more footwear I think 5ft 6.5 range is more possible.
Put it this way...
Gina Bellman
in person (with roughly the same footwear advantage over me) looked taller than Jeri did, and bellman claimed both 5ft6 and 6.5. I gave Gina 5ft 7 as I think she is about that mark...]
J.Lee
said on 15/May/14
Rob is it just me? based on this pic, your head is long from chin to nose and Jeri's is short from eye to chin. Nut she is long from eye to top of head.
J.Lee
said on 11/May/14
Rob your eyes look higher, does she got a taller head?
[Editor Rob: her eyelevel could be a fraction more yeah]
avi
said on 22/Apr/14
@Rob
She's same as you in the pic? You look 1/8 bigger maybe 1/4? It looks the same.
I realize she has footwear advantage but just wondering.
[Editor Rob: she looked a bit taller, but really not that much]
Bammer
said on 15/Apr/14
@ Ted
Thanks Ted, and I also had a hard time believing that in the beginning - I've always thought she was 5'8" mainly bc of her Seven of Nine character. :)
- yes it seems to be the case and I don't know why they do it, but I don't think it is only celebs that are lying about their height. I have a very good female friend, who'd claimed for years she was 6 ft. but I didn't quite believe her, and I was right - at a party, we measured her barefooted and she turned out to be "only" 5'10,5" which is still quite high for a female, but her big idol at the time, was Geena Davis who IS in fact 6" so she more or less "adopted" her height. :)
Ted
said on 1/Apr/14
@Bammer - Good find on those pics. I'm willing to believe 5'6" for Ryan now.
So, Ryan's doing the standard Hollywood thing of claiming to be 2" taller than she is. I understand why they guys do it, but why do the women? It's odd.
Perhaps she used to model, where they do have height minimums for certain kinds of work.
Bammer
said on 17/Mar/14
@ Ted.
I agree about the above pic., but if you see just how high heels Jeri usually wears in her tv-shows, you would say the same as I - she's max. 5'6" and I think Rob is being very generous with his 5'6,5" - and if you see the pics. I've uploaded, she's clearly 3 in. shorter than 5'9" (5'8,5") Tony Danza, and they're both barefooted, so no hidden lifts whatsoever. :)
Ted
said on 14/Mar/14
I dunno... Ryan doesn't seem to be standing up very straight in the photo, she's kind of leaning/hunching in a bit (not that Rob minded =) ).
I think you can safely give her 5'7". But no more than that.
[Editor Rob: she really didn't look much taller...there is a 3 degree tilt in this photo in Jeri's favour.
actually the other day I saw one of the challengers who was 171cm
Click Here
- who had a modest heel size, I would say Jeri's heels were at least 1-inch thicker in comparison to the challengers, and Jeri did not look any taller than the challenger did to me the other day...
]
Bammer
said on 14/Mar/14
I agree, he have about 3 in. on her, and that's why I think she can't be more than 5 ft. 6 in. and yes, footwear can indeed deceive.
[Editor Rob: well I really didn't think jeri was much taller in person...I say 2 inches more heels, but then they could be more. 5ft 6.5 might be a better shout]
Lorne
said on 3/Feb/14
I think she is a weaker 170cm than Riesgraf or Bellman. They wouldn't dip under 5'7, she is likely a fraction under the mark
[Editor Rob: it is possible, she is definitely not 5ft 8 barefoot]
diavolo
said on 7/Dec/13
She wore heels on Voyager and looked around an inch shorter than Robert Picardo. Picardo is 5'9" and wore around 1.5" footwear on the show. There's a scene when Picardo stands next to himself eye to eye. One of "them" is barefoot, the other wearing his usual boots, and looks around 1.5" taller than the "other".
Jeri Ryan is 5'7" and was 5'9.5" or 5'10" in Voyager. Picardo is 5'9" and was around 5'10.5" in the show.
LG69
said on 10/Nov/13
5'6" tops
Matt 184.7-186.7cm
said on 27/Oct/13
rob could her eye level be 5 inches or more?
[Editor Rob: could be close to 5 inches, my eyelevel is slightly raised.]
Banpan
said on 24/Sep/13
In the pic. you look exactly the same hight, so if you're 5 ft. 8in., she would be 5 ft. 6in., considering her advantage in footwear. I saw a pic with her and Melina Kanakaredes on "A Home for the Holidays" Event, 11/12/2006 and they look exactly the same hight, with the same footware, so I don't think she's more than 5 ft. 6in., 5ft. 6½in tops. :)
Lorne
said on 4/Aug/13
What's funny is she claims 5ft8, yet she is the same height as Gina Bellman, who claimed 5'6.5 and more recently 5ft6!
Len
said on 27/Jul/13
Is it just me, or does Rob look really REALLY happy to be in that pic with Jeri? ;)
[Editor Rob: i was a fan of jeri in voyager ;)]
Lorne???
said on 6/Jul/13
Well whatever height, I'm just jealous rob got meet all of them. Incidentally, 5ft7 is my perfect height for a woman, though anything between 5'6-5'8 is pretty much 'ideal" range.( a little over 5'8, so I prefer tall, but not as tall/taller than me. Though it really doesn't matter I suppose, but I PREFER that range :)
Heightcritique
said on 2/Jul/13
She looks the claimed 5'7". She is above average for a woman or should I say for a gorgeous doll.
Lorne
said on 25/May/13
Lol so every woman on leverage is 5ft7?!?
[Editor Rob: those 3 are all very close]
Mr-KILLER-SHRIMP
said on 30/Dec/12
As listed. The sexiest Borg in the Universe!
runt
said on 11/Dec/12
Looks just right. If she stands up straight she'll look 5-9 with her 2" heel advantage.
J.Lee
said on 7/Dec/12
Rob she looks about the same height as you with her heels
[Editor Rob: yeah she's not a 5ft 8 barefoot...]
guyfrommars
said on 29/Jul/11
She's nowhere near 5'10" barefoot. She wore 3-inch heels on Voyager that's what made her appear that tall. The biggest exaggeration I've heard about her height was 5'9" and even that is very generous. She's a very little over 5'7" barefoot. 5'7.5" is probably correct.
Pete
said on 20/Feb/11
Not more than 5'6.5 or so. I was at a convention and she looked rather tiny in real life. About the same height as Kate Mulgrew. I thought ms Ryan was over 6' tall in the Voyager. She must have worn 5" lifts on Voyager or something, so she would appear more dangerous.
Heightcritique
said on 12/Nov/10
Kami, no one believes your peculiar claim which has a suspected jealous undertone. Jeri is definitely in the 5'7.5" range as the clip I posted shows a tall blonde standing barefoot just 2" below the height of 5'9" actor John Cryer.
I can understand why women would feel envy against her since she portrays with finesse and exceptional beauty the sophisticated balance between traditionalism
Click Here
and radicalism
Click Here
She is evidently a distinct exoticism d'art out of this world:
Click Here
TruebloodFan
said on 4/Nov/10
ye, sure kami. she was listed as 5ft4 at the 1990(or what year) Miss USA she attended...lmao 5ft4 is not the Miss material. anything below 5ft7 wouldn't work. 171 is correct.
Craig Goodrich
said on 28/Sep/08
One point that should be made: On Star Trek: Voyager as Seven of Nine (her most famous role), she invariably wears high heels -- even in her skintight "uniform" -- and is about the same visual height as any male playing opposite her. The Voyager character is, however, a strong and dominant person, so this may have been a director's decision. (I see Horatio has made essentially the same comment. Yeah, Seven of Mine, assimilate me...)
sf
said on 13/Nov/06
Austrian - thanks for the comment. Yea, I like to hear others' comments as well, and like TNTinCA's comment alot. That's half the reason I come to this thing - little socialization, have some fun with the stars' heights, and maybe make someone laugh here or there.
Austrian
said on 12/Nov/06
sf i just love yer comments
Glenn
said on 8/Nov/06
And have an alien hybrid with her.
Viper652
said on 8/Nov/06
I wouldnt either, though Im not to crazy about her face. Its unique though.
sf
said on 8/Nov/06
No s***....wouldn't mind have a Borgasm with her...
TNTinCA
said on 6/Nov/06
She's a honey. She can assimilate me ANY day. :-)
Skip
said on 20/Jan/06
Yeah...that is true. But she is quite tall. SHe is thin and her big chest makes her look even taller. She also has a larger frame than most women
Horatio
said on 14/Nov/05
She was always wearing heels on Enterprise. Difficult to say.