Marina Sirtis Height
5ft 3 (160 cm)
English Actress best known for her portrayal of Counselor Deanna Troi on Star Trek: The Next Generation and its subsequent films. She commented in SFRevu that when making Nemesis,
"With the shoes, I was saying make them high, make them higher since Jonathan (Frakes) is six foot four and I'm five foot three and a half. So I wanted to make up some of the difference"
. She said on twitter
"5'3""
. In this photo Marina had near 2 inches more footwear than me.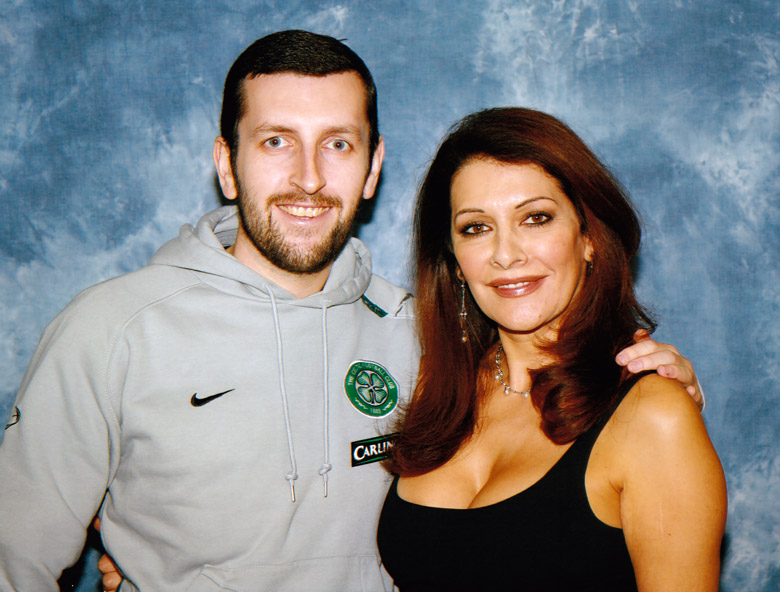 5ft 8 Rob and Marina @ MCM Comic Con
You May Be Interested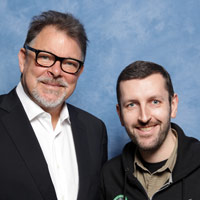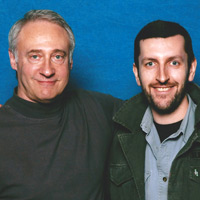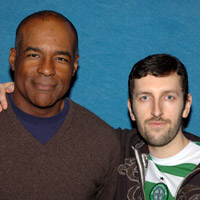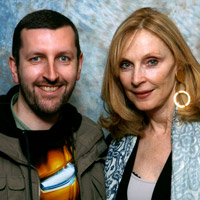 Add a Comment
22 comments
Average Guess (6 Votes)
5ft 2.46in (158.6cm)
Miss Sandy Cowell
said on 26/Jan/21
I recognized Marina's name as that of the actress who played Counselor Deanna Troi on 'Star Trek - The Next Generation'.
Once, I'd have thought Marina to be a little taller, say 5ft3.5/4, probably because she had a fairly powerful role. Conversely, she does carry off the 'Big Hair Look', which is supposed to cut a person's perceived height, and compared to when I used to watch the futuristic space travel programme in the 90s, since I've rewatched it recently on the Horror Channel, I have taken in that she's on the petite side. I can understand why her average is over half-an-inch lower than Rob's figure.
I'm settling for 5ft2.75.
🚀👾👽👩...📺😁🍵
josh b
said on 8/Nov/18
Click Here
During the shoot the crew kept telling her not to chat lol don't think she appreciated it lol
The Truth
said on 14/Jan/18
Season 3 episode 8 Gates McFadden listed on google at 5'8" & Maria Sirtis at 5'5" are side by side doing yoga stretches in no shoes..
No way is there a 3" difference more like 6".
HeightMan
said on 19/Jul/17
She looks short in TNG, especially considering that she wore heels! 5'2'' at most!
Josh Jeffords
said on 5/Sep/16
5 3 yeah ok she still looks amazing dam now I gotta re watch tag (;
diavolo
said on 14/Jul/15
She walked around in 3-inch heels on Star Trek most of the time. There are some scenes in a few episodes where she can be seen barefoot, and she looks surprisingly small without her heels, like if she were suddenly a different person. She also looks much more plummish without the heels. I'd say 5'3" maximum, maybe a tad below.
Willieck
said on 24/Jul/14
Well I am 5ft 2in so I can cope with that.😄
Lorne
said on 11/Jan/14
I thought she was listed 5ft3.5? Well 5'3 flat is certainly closer, it's hard to judge because of heels, but certainly no more than this.
Abnoxious Bob
said on 4/Sep/13
@Lorn : Yes, she did but she regrets it in her older years now.
Lorn
said on 11/Jun/13
Um, did she have, implants? Seriously looks that way!!!
Ashley Osburn
said on 9/May/11
For her age she's still very hot and wild too. Trust me I know!
DC
said on 24/Nov/10
I wouldn't be looking at her height if I were standing next to her!
Ed
said on 9/Jun/09
Rob: Garrett Wang is currently listed as 5'10'' on this site, but in the group photo he looks only a fraction of an inch taller then you at most. Is it possible that Mr. Wang may require a downgrade?
Also, great site. Whenever I'm curious about a celeb's height I always come here first.
[Editor Rob: the photo is now also on wang's page, I'd said 1/4 inch less sneakers but looking at a better pic it's more 1/3rd less sneakers, here is a better photo of marina/wang footwear
Here
.]
John P
said on 14/May/09
Davidoff i agree, very nice looking woman.
guyfrommars
said on 10/May/09
Sirtis is only 49, not 54. Or am I wrong? BTW she wore a lot of heels on Star Trek next to 6ft4 Frakes and 6ft3 Michael Dorn.
Lego
said on 8/May/09
btw for some reason the browser changed my nick to Anonymous, odd, the previous post was me LEGO.
anyway, thanks for the info ROB. :)
Anonymous
said on 8/May/09
looks 5'3 on the dot.
who's the tall lady next to you ROB? i can't remember her name but i know i saw her somewhere.
any help?
[Editor Rob: she was in Star Trek Whale Movie, Robin Curtis]
TNTinCA
said on 7/May/09
Wow. 54 years old and STILL gorgeous!
Alex
said on 6/May/09
Those heels gotta be giving at least 2.25-2.5 inches to barefoot height and could be more around 3 inches. With heels its tough to tell how much height they give exactly but 2.5-3 inche is a safe bet with most heels.
[Editor Rob: she had 2.3, 2.5 and about 3 inch heels, well how much I think they give barefoot.]
Genny
said on 3/Jun/07
Thanks, Rob..It's interesting. I haven't met her for years..but spent about five days as guest liaison at a con, to her and Siddig Al Fayed.I stood next to Marina..both of us in no shoes, with shoes etc.( Even without tight..'cos she'd laddered hers and I nipped out to buy her a pair ).and I really am, 5ft 4. She was a really nice person and very, beautiful..and also, at least two inches shorter than me. However, I'm not, requesting that your estimate of her height is changed.You sensibly use as much evidence as you can get and that's the way it should be. Besides..she was terrific to meet and spend time with so if she says she's taller..what the heck ! Great site...thanks for all the hard work. All the best !
[Editor Rob: there is certainly possibility, if you spend much more time near her than me, your estimate might be closer, or at least, 5ft 3 might be getting closer. She caught me admiring her erm top that day, maybe I'm giving her benefit of doubt.

There was one lady I'd met 2 years ago and I changed her down. This year I met her again and spent more time around her and put her back up again. I'm sure I'll see her in future, maybe I'll get a better pic with her]
Genny
said on 29/May/07
No way, Rob.If Marina Sirtis is 5ft 3 and a half, she'd be only an inch shorter than me.Also was shorter than friends of mine of 5' 3''. Did she have heels on each time you met her? That might explain it.
[Editor Rob: yes, she had a 3/4, but not more than 1 inch style platform heel in a pic I have. Although granted my legs weren't totally straight so she might look a little bigger, but I really thought she looked what she said. I'd seen her a few years back aswell looking in 5ft 3 range.
here is her heels, excuse the blurriness, not great camera at distance:
here
. That's for future reference if I ever put my pic up, you also see garrett wang's sneaker isn't that much thickness.
]
Genny
said on 14/May/07
I was gust liaison at a con some years back so spent a lot of time with Marina Sirtis. I'm 5ft 4 and a half.Marina Sirtis was tiny...I'd say 5ft. Can't expain why she says she's 5' 3 and a half. Puzzling !
[Editor Rob: I've seen her a lot...she is the height she says on the tin, well to me anyway.]