Jennifer Lien's Height
5ft 2 ½ (158.8 cm)
American Actress best known for playing Kes on Star Trek: Voyager. In film she can be seen in American History X. In this photo I had nearly 0.4 inch more sneaker than her.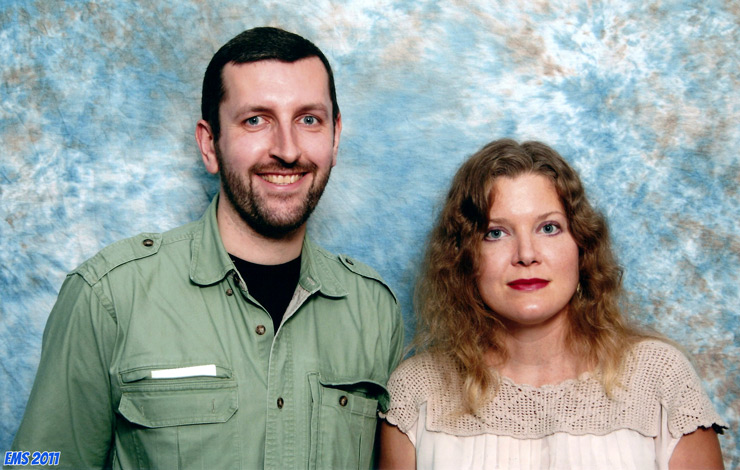 5ft 8 Rob and Jennifer @ Entertainment Media Show 2011
You May Be Interested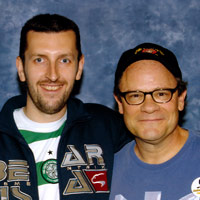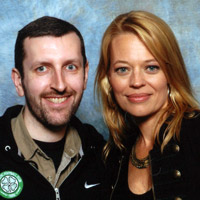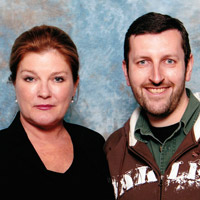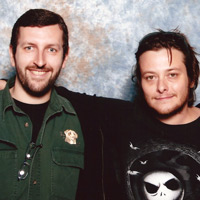 Add a Comment
17 comments
Average Guess (10 Votes)
5ft 2.68in (159.2cm)
Leif
said on 20/Feb/21
Why was it awkward Rob, if I may ask?

Editor Rob
I don't think she mustered a word or really acknowledge the attendees. However like I said, maybe was tired.
Miss Sandy Cowell
said on 25/Nov/19
Is that what 5ft2.5 looks like next to you, Rob? She does look small, yes, but I don't think the aforementioned height is unduly tall anyway! Look at Brittany Murphy, Natalie Portman, Jodie Foster and Felicity Jones - they're all that height and they look pretty small to my eyes on the big screen!
5ft2.5. 😁👍💐

Editor Rob
5ft 2.5 could look around that, or a bit higher/shorter depending on camera height. I think to this day, this was a very awkward photoshoot, but I will maybe say it was jet lag...
Christian 6'5 3/8"
said on 8/Sep/19
Nevermind 5'2.25", she looks 5'2" at the very most.
Nik
said on 15/Jul/18
Lovely picture!
Nik
said on 15/Jun/18
I think she is slightly less!
Christian-196.5cm (6ft5 3/8)
said on 28/Jun/17
Mugshot charts are known to add a bit of height. It's not uncommon for them to sometimes be off by about an inch. Her head reached the 5'3" line, but in reality she's 5'2" or 5'2.25" at best standing next to Rob.
7of1
said on 28/Jun/17
Here is a mugshot of her.
Click Here
Bammer
said on 29/Apr/17
I'd say 5ft2.5in. seems correct.
-- btw., I just saw an old ep. of ST:V and made a search on goggle to see what became of her post ST:V and I must say, wow the lady surely went out of control!? DUI, Assault, two counts of misdemeanor exposure, Damaging a police cruiser and so on. It really makes me sad as I liked her a lot on ST:V.
I hope she can get rit of her 'demons' and be in peace whit herself again.
Sandy Cowell
said on 26/Apr/17
I remember Jennifer in 'Voyager'! I thought it was hilarious that she played a TWO YEAR OLD but looked like a young adult! I was always laughing and joking about it! It wasn't surprising that Neelix was so protective of her!
Height-wise, 5ft2.5 seems a very believable height for her indeed, so that's what I'll put!
Follows your channel/celebh
said on 15/Feb/17
Wow Rob, in this photo still She resembles your Jenny in resemblance if not her height.
diavolo
said on 26/Oct/14
Here's what I was talking about.
Jennifer Lien barefoot without her heels, next to 5'10" Garrett Wang and Sandra Nelson who is around 5'7" if I estimate correctly, wearing about 1.5" heels (see the third pic).
Click Here
Click Here
Click Here
There is no way she's taller than 5'2".
heyholetsgo
said on 4/Jan/14
Jen Lien wore this footwear on Voyager:
Click Here
And yet, she looked small next to all other actors and actresses. I'd say she needs downgrading from 5'2.5".
diavolo
said on 15/Nov/13
She wore ca. 3-inch heels, yet looked short next to everyone else on Voyager. In one episode she is seen in swimsuit and barefoot, looking really tiny, especially compared to the 5'10" woman she is standing next to. 5'2" is correct.
P.S. Your photoshoot story is not surprising, she is a very quiet and shy, extremely introvert person. I heard she used to sit quietly on stage at conventions, while the others answer for questions or tell stories.
Joe257
said on 23/Dec/12
She has sure aged a lot since Voyager, WoW! I hardly recognized her, plus she dresses old! Short woman for sure, thinking 5'3" MAX!
Judge
said on 6/Dec/12
She does look like she's around 5'2" and only late 30's in age won't have lost any height.

Editor Rob
she's nearly 37 in that pic and I thought appeared around 5ft 2, but as mentioned had about 0.4 inch more shoe than her. Jennifer wasn't saying anything in this shoot, I think she just stared at me for about 5 seconds before this photo!
Anarchist
said on 21/Dec/08
wasnt she on slc punk
Anonymous
said on 21/Mar/05
Having met him before his pop stardom, he's another Ice Cube in that he's a bulky, large framed guy who is only medium height so 5'8" is pretty right. He's very heavy in person which can make him look taller at times.