Edward Furlong's Height
5ft 5 ¼ (165.7 cm)
American actor best known for playing John Connor in Terminator 2, and also for his role in American History X.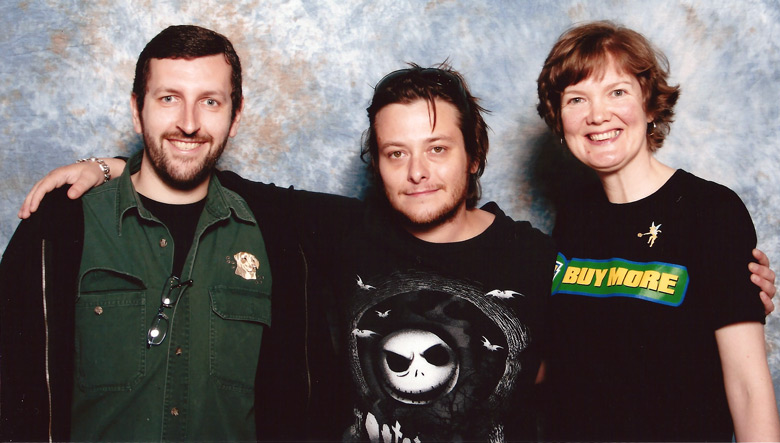 5ft 8 Rob, Edward, 5ft 8 Jenny @ LFCC 2009
You May Be Interested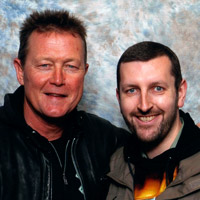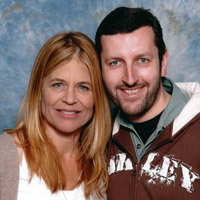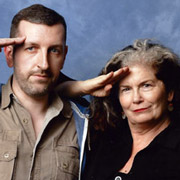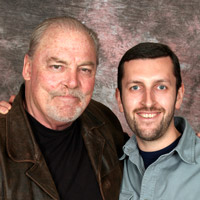 Add a Comment
133 comments
Average Guess (38 Votes)
5ft 5.19in (165.6cm)
Nik Ashton
said on 22/Jan/21
It would be interesting to know how tall he was in August 1991!
Miss Sandy Cowell
said on 2/Aug/20
🎊🎂🎁 Happy Birthday Edward! 🎁🎂🎊
Happy 43rd Birthday to Edward Furlong!
5ft5.25 😁🍻🎈
🎊🎈🎂🎁🎊🎈🎂🎁🎊🎈🎂🎁🎊🎈🎂🎁
JohnMoore-162cm
said on 7/Jun/20
He could be 5ft5 1/2" with a better posture .. he isn't taller than 5ft5 1/2" though
Miss Sandy Cowell
said on 3/Jun/20
Hi little guy! You're a darn side taller than me, and you've starred in some excellent films, whereas I have not!
PS I showed T2 to my Mum!
TheBat
said on 16/Nov/19
5'5" flat.
Nik
said on 3/Nov/19
He's a cool dude!
Miss Sandy Cowell
said on 2/Aug/19
🎂🕯️🎁 Happy Birthday Edward! 🎁🕯️🎂
Wishing Edward Furlong a very happy 42nd Birthday!
5ft5.
😁🍰🎈🎉😁🍰🎈🎉😁🍰🎈🎉😁🍰🎈🎉
Danimal 5'9 3/4"
said on 9/Jun/19
Christian 6'5 3/8" said on 12/Oct/18
The 1/4" extra listing is unecessary.
Yet you list yourself at 6'5 3/8"?????
Terminator
said on 10/Dec/18
Rob how you get so many pics with celebs? Do you have to pay for these pics??

Editor Rob
Yes I pay for these photos at conventions.

It helps to show I met the person and was able to see how tall they could seem, both from my perspective and also beside other people whose height I also know.

Zampo
said on 25/Oct/18
@Christian: Your blunt language made me laugh there. Well, I think he looks near 165 cm flat (5'5) in the photo. Something tells me though that he could measure slightly taller for a measurement based on his body stance in the photo (which may push him to a more solid 5'5, 165-165.4 cm) however this is all speculation on my part. The average guess seems reasonable.
Christian 6'5 3/8"
said on 12/Oct/18
The 1/4" extra listing is unecessary.
Anonynon
said on 9/Oct/18
upper 5'5", maybe even 5'6", this listing sucks.
Anonim
said on 23/Aug/18
Weak 5ft 5 (164.5-165 cm)
Nik
said on 1/Jun/18
@ Sandy Cowell - I forgot to put your name on the last comment, sorry about that!
Nik
said on 1/Jun/18
🐢🐸🐋 - Well as for this trio of delightful animals, they are called Scales, Froggett, Finn, and Sharkey!
I will give Edward 5'5" - 5'5.25"! I think Edward has loose posture!
Sandy Cowell
said on 30/May/18
Edward Furlong would make rather a nice and appropriate name for a long-haired cat, or indeed any animal with a plentiful coat!
😺🐶🐹✔ (E.F!)
🐢🐸🐋❌ "
Sandy Cowell
said on 30/May/18
@ MJKoP - Your honesty is admirable! My shortness is due to much the same thing.
(Comment from 10th October 2017)
Sandy Cowell
said on 30/May/18
@ MJKoP - Re: Your comment from 10th October last year.
How very interesting to find out that Edward is half Mexican on his mother's side! That's something I wouldn't have guessed in a million years! His colouring belies that fact, but as you say, his height does not!
Edward gets 5ft5.25 today!
Christian-6'5 3/8"
said on 28/May/18
5'4.75" or 5'5"
Nik
said on 26/May/18
This handsome dude is slightly south of his listing!
Junior Hernandez 1990
said on 7/May/18
Furlong may not be shorter than a 5'5.5" listed Declan Donelly who look a flat 5'5.
MJKoP
said on 16/Jan/18
Warren said on 24/Nov/17
Really surprised the handsome dude is only 166, I thought he's at least 168-170
Actually, Rob is 5'8". :P
Warren
said on 24/Nov/17
Really surprised the handsome dude is only 166, I thought he's at least 168-170
Reeese
said on 26/Oct/17
Damn in American History X he surely looked a strong a 5'7 near Norton
Rising - 174 cm
said on 16/Sep/17
@Rob: That's pretty wild. I guess doubles aren't always as close in height to the actor as I had thought. Maybe they had Eddie in lifts and were shooting him to look bigger on screen?
Editor Rob: might have come from Edward himself!
Rising - 174 cm
said on 13/Sep/17
I can't remember if I heard that before, but yeah, that may very well help explain his short stature. The equivalent of Nikhai saying Furlong's drug use DID make him short would be saying "that's what happens when you're half Mexican. you're under 5-foot-6." And of course there's even to that rule as well such as my cousin who is half Mexican and 6'4"! Of course, I'm also living proof Nikhai is wrong as I didn't stay under 5'6". On a side note, I have a feeling Danny from American History X was not half Mexican. Just a hunch. ;)
I wanted to add that whenever I see men as obviously short as Furlong being put at 5'7" or something like that, I can't help but think of many people's warped perception of height. A real 5'7" won't be unusually short and it will typically look pretty near average.
Editor Rob: Here's an interesting tidbit, in 1994 for the Grass Harp the producers wanted a double for Walter Matthau who should be about 6ft 1 and 175-200 pounds and for Eddie the double should be "5 foot 8" and 135-145 pounds...
MJKoP
said on 12/Sep/17
For some added input, most people don't know that Edward is half-Mexican(from his mother's side), so that could very well contribute to his lack of stature.
Rising - 174 cm
said on 7/Sep/17
I was around 5'7" at 13 and around my final 5'8.5" by 14-15. Despite being this height for more than half my life at this point, I have wondered if I would have been taller if not for my drug use, but I do agree it's too much a generalization to blame Furlong's short stature on drug use. I've noticed a lot of child actors wind up short, but I've always suspected this had more to do with casting child actors who could pass for several years younger than they are, which includes people short for their age. This is common because a 12 year old who can pass for 9 will be usually more mature and perhaps more experienced. The same goes for a 16-17 year old who can play 13 or an adult who can play a high school kid. While undoubtedly some fall into unhealthy life styles won't help maximize growth, I think it's more that people like Furlong were short and probably going to be short anyway. In my case, I've suspected I should have been taller due to heights in my family with my parents 6'0.25" and 5'5", respectively in their primes (although I do also have some Italian men in my family around the 5'4" range as the exception) but it could be that I was also an early bloomer as I had a grown man's baritone voice by 13-14. It's ironic because during the stretches I've had a healthy lifestyle, I've passed for a decade younger than I am. But again, most of this is just speculation and I'm more likely to speculate because I badly want to be taller and though it won't change anything, it's human nature to look for answers. I think in most cases, height may be minimized or maximized by habits, but I don't think to such a degree a guy like Furlong would have even been 5'9"-5'10", much less 6 feet. But either way, we do not have the pertinent information to make such a judgement.
Btw, apologies as I got carried away and went on a bit longer than necessarily to state my height and more or less agree with Danimal and Shredder.
Christian-6'5 3/8
said on 7/Sep/17
Looks flat 5'5" to me, but I guess it's not too far behind 5'5.25"
Danimal
said on 6/Sep/17
Rob, take off his shoes and he's under 5'5" based on your height chart.
Editor Rob: any of those charts are based off me at 5ft 8 just to give a rough idea of difference in the photo.
Danimal
said on 6/Sep/17
truth said on 11/Dec/13
well Matt I was 5ft0 at 13 and now at 21 I am 5ft10.
I was 4'10" at 13 and 5'10" at 18.
Danimal
said on 5/Sep/17
That's 5'5" in shoes. He's max 5'4" barefoot.
Sam
said on 9/Aug/17
Hey Rob, do you remember what kind of shoes he wore that day?
Editor Rob: couldn't say exactly, usually on my photo schedule I write down any differences I thought there was and some brands or types stick in memory.
175 cm
said on 10/Jul/17
Watched Robs Mike Tyson Video. Surprisingly he seems a handsome guy in his younger days... 30 pounds lighter?
Click Here
Editor Rob: on the site all photos range from about 150 pounds to 185 pounds (roughly), but at 21 maybe between 140-150, I remember being not much over 10 stones at one point in University.
Slim 181 cm
said on 9/Jul/17
Lol, in American history x, norton towered over this guy!!
Flat 5'5, no less.
trickytricky
said on 8/Jul/17
again with the .25 advantage for the celeb
World Citizen
said on 29/May/17
Spot on listing.
John
said on 23/Mar/17
His eye level is 5'0, so he's most likely in the 5'4-5'5 range.
Sandy Cowell
said on 19/Mar/17
It makes sense that Edward didn't grow overly tall; he was playing a 10-year-old in T2 and I think he might well have been older, 12 or 13. He could even manhandle a car then! I remarked upon that to my boyfriend and he retorted that he was behind the wheel at even younger than that, but his Dad was a car dealer, so he wasn't driving round the streets, but I was still dumbfounded!
I saw Edward star in a horror film, the name of which I cannot remember, but it was from the 'noughties', and he looked like he'd really grown up! He had a beard and was very handsome! I think it gave him that bid more of an edge to his appearance and even made him come over as taller!
I thought from that film he might have grown to 5ft7-7.5, but the above picture tells otherwise! I give him 5ft5.25.
Giorgi
said on 13/Jan/17
So, 5'5.25" indicate a weak 166? :))
James
said on 4/Nov/16
Furlong is 5'5".
MJKoP
said on 23/Oct/16
If it weren't for the photo above with Rob, I'd think Edward was at the very least Rob's height based on these photos in comparison to Rob with Monica Keena(Edward's girlfriend who is next to him)...even taking the footwear discrepancies, posture, and all other factors into consideration.
Click Here
Click Here
Click Here
Click Here
Click Here
Shredder
said on 18/Jul/16
5'5.25 max.
184.3cm (Night)
said on 2/Apr/16
Editor Rob: he pretty much is in 5ft 5 range, zero chance he's 5ft 7
Its hard to believe that he is over 5'5" flat. I will take your word for it Rob.
184.3cm (Night)
said on 31/Mar/16
People in 07' saying 5'7", he barely looks 5'5" in this pic.
Thats a solid 3 inch difference there. Did he have bad posture or less footwear Rob?
Editor Rob: he pretty much is in 5ft 5 range, zero chance he's 5ft 7
Michael
said on 16/Sep/15
5'5.5-Was an inch shorter than Paris Hilton, half an inch shorter than Ron Jeremy
Larry
said on 14/Sep/15
Yes he was only supposed to be 17 in "American History X", although he looked 20.
AussieMike
said on 15/Jul/15
Girls are full height well before 19, but guys generally don't finish until their mid 20's, plus if they wanted to make him look younger they'd use camera angles to make him look smaller.
James
said on 2/Dec/14
Furlong was 19 when "American History X" was filmed, so he would have reached his full height by then.
Alex 6'0
said on 27/Sep/14
Looks 5'5 maybe a hair over
Working9Till5
said on 17/Sep/14
seems Accurate enough To me Rob what height do you think he was in American history X ?
[Editor Rob: could look 5ft 5-5.5 range at times]
the shredder
said on 26/Jun/14
Rob , what would you estimate him while filming TYerminator 2 ?
[Editor Rob: maybe 5ft range, been a while since I seen it]
Dave
said on 30/Mar/14
He looked much older last year with very heavy bags under his eyes. Can't see him over 5'5".
176,2Tunman
said on 27/Mar/14
Hard to believe he's 32 on this pic,he kept a childish face really,he doesn't look over 5'5,maybe the half inch is useless.
Zediah
said on 13/Mar/14
I can't see Furlong being anything more than 5'5". I guess his lack of height may be why his career declined after the 1990s.
the shredder
said on 18/Feb/14
5'5 flat if standing correct
Brad
said on 15/Dec/13
Weak 5 feet 5.
truth
said on 11/Dec/13
well Matt I was 5ft0 at 13 and now at 21 I am 5ft10.
Matt 184.7-186.7cm
said on 30/Oct/13
I always knew hed end up short, he was only looking like 5ft 0 in terminator 2 when he was 13 yr old
Oliver
said on 17/Aug/13
Wouldn't even give him the extra 1/2 inch. He looks girly short. I would say 5'4 1/2 to 5'5
Emil
said on 23/May/13
You're really generous here Rob. He looks 5'5 max
Boydy
said on 28/Apr/13
In this pic i would say he looks 5'5''
lolo
said on 4/Feb/13
on an episode of CSI NY he was listed 5'9 lol
Zion
said on 4/Jan/13
Rob, I see how he can look like a flat 5'5' guy but if you look closely to his body proportions he doesn't look as short as said. He has longer arms then a 5'5'guy would have so could it be possible that he is the 5ft 6in range? Perhaps he just has a horrible posture.
[Editor Rob: seen him a few times and I don't think he's more than 5ft 5.5]
leonari
said on 29/Nov/12
I also see a flat 5'5" guy.
The Exorcist
said on 29/Nov/12
That's a surprise!
richkid123
said on 12/Nov/12
looks 5'5"on the dot. Somebody partied a little to hard the night before.
Johnnyfive
said on 13/Sep/12
The original John Connor is looking 5'5. Looked real short in American History X against Edward Norton who's probably not even 6 feet tall. I think he's 5'5.
Hob
said on 29/Jul/12
i met him once not long ago and he look close to 5'6 in real while he wore a boots look 1.3-1.5" and i was in a 0.7" vans sneakers. so 166cm maybe right.
andy
said on 10/Jan/12
that his eyeline is below Rob and Jennys mouth would suggest the difference is no less than 3". His postures a bit weird but since hes reaching up over Robs shoulder he maybe standing almost as tall as he can. Cant see any more than 5'5" here.
dicksock
said on 7/Dec/11
He is clearly 3"-4" shorter than Rob. He's 5'5".
Silent d
said on 5/Dec/11
He is tiny in american history x. If norton is a 6 footer than he is only 5 foot 5 max. I thought he was going to be tall after watching terminator 2 but he didn't grow that much. He had such a troubled life, at least he found himself again. Sorry i can only give him 165cm after watching american history x. Norton is huge in that movie. How tall is ethan suplee? He looks about 6 foot 1 to 2.
RICHARD
said on 1/Nov/11
It's odd cause when you look at him in T2,when he was 13,he looked like he was going to be a tall guy later in life;he really didn't seem that short for his age,and looked like he'd be about 6ft+ later,and he only made it to 5'5"!!!I heard he grew during that film,too,and then in Detroit Rock City,made 8 yrs. later,he's completely dwarfed by the three other guys,who to be fair,two were 5'10" and one was 6'2"...though Furlong was the oldest,and shortest, of them all.KindaA FUNNY,
Greg Perdue
said on 11/Oct/11
I think he looks 5ft. 6in he just has a horrible posture, all the time even in this picture.
[Editor Rob: I saw him again actually just over a week back and thought he was a very very weak 5ft 6]
Maximus Meridius
said on 5/Sep/11
Rob is it possible he is the 5ft 6in range should he be upgraded.
[Editor Rob: he looks more 5ft 5 range than 5ft 6 range when I seen him]
Kostas
said on 15/Aug/11
I agree, he does look a bit shorter than that. But then again, he doesn't appear to be standing straight in this picture.
jake
said on 2/Aug/11
Looks more like 5ft5.25 (166 cm) here.
Mathew
said on 5/Jul/11
He looks 5'5".
dicksock
said on 24/Jun/11
He looks 5'5". Rob has him by 3".
richinkle
said on 1/Jun/11
Child actors tend to be kids who look young for their age - and therefore usually smaller than average. That way you can get a 10 year old playing an 8 year old.
Rampage(-_-_-)Clover
said on 29/May/11
5ft6.5 with better posture?
Cranberries (6 ft. 3.25 evening, 17 years)
said on 18/May/11
Not true, Greene. Genetics rule. Take it from a guy who took Accutane, Tetracycline, and Ritalin for 4 years combined (all known to stunt growth), not to mention hardly ever slept and probably ate around 1200 calories a day on average (no lunch or breakfast most days), and did absolutely no sports, and was under quite a lot of stress, ALL during my formative years... I was also very sick as a child.
I'm the average height of men in my family (6'3") and I'm even robustly built like the men in my family. Again, genetics rule. The body is resilient.
Shaun
said on 19/Mar/11
Why is it that child actors never grow over 5 ft 8!!! Always short. I wonder why that is.
robbie
said on 18/Mar/11
so rob you ask him if skynet is tryin to find him as joke
[Editor Rob: didn'nt really say much]
James
said on 24/Feb/11
meh he looks 5'4.5 in the pic
[Editor Rob: I don't thin khe looks under 5ft 5, maybe a little over 5ft 5]
JellO
said on 2/Feb/11
Man, unless there's major footwear difference there's no way this guy is almost 5'6. Solid 5'5.
Timber
said on 14/Jan/11
LMAO! He's 5'5 flat in this picture
m
said on 5/Jan/11
he probably wasn't even asked to do Terminator 3. Look at his recent career - Uwe Boll movies (called the modern day Ed Wood) made for less than 5 million. He's rather chubby and short and doesn't quite work as a latter day John Connor.
SpaceExplorer
said on 5/Dec/10
yep, sounds on spot. Definitely looks like a strong 5'5/weak 5'6.
I'd say he's more 5'6 flat in this picture.
bk
said on 11/Nov/10
if that's 3 inches, was he slouching or something? or did he have 0.5 inch more footwear cuz in the photo he looks 165.5 cm.
[Editor Rob: he walks around like a 5ft 5 guy, but I didn't guess he looked shorter than 5ft 5.5 anyway]
jtm
said on 2/Nov/10
rick you have seen him in studio city before?
jb
said on 1/Nov/10
@Anonymous He had problems with alcohol and didn't fancy it
Grace
said on 16/Dec/08
He seems like he's 5'7. But to me that's not too bad.
Josh
said on 23/Nov/08
He looks abit under 5'6 like 167cm
sinlessbeauty116
said on 17/Aug/08
5'6 or 5'7, for in Three Blind Mice he looked taller than his co star, who happened to be 5'6.
joyce
said on 15/Jun/08
Actually, I really think he is about 5'7", because in a T2 interview Eddie was saying that he grew during filming. He said he was shorter than Linda Hamilton(who's 5'6") in the beginning and then he started getting taller than her so they gave her platform boots to make her look taller than him.
Pup
said on 19/Feb/08
It's just funny how you debate this like there's a HUGE difference between being 5'6 and 5'7. Even if you meet someone in person it's usually hard to tell how tall someone is down to one inch.
Leung
said on 27/Jun/07
yeah he is still a young guy but his weight fluctuates a lot, I remember seeing him on CSI and he looked familar but I didn't pick up on who he was til my brother said "that's the T2 kid".
Michelle
said on 26/Jun/07
i saw him in london with his wife and i'm only 5'2 and they weren't much taller than i doubt that his 5'6 my husband's 5'6 and he looked taller!!... yes i stared at him for a long time because i didn't really recognise him till he smiled !!....and i poked my husband who went over to shack his hand...!!
Jon Doe
said on 17/Jun/07
Ai he is 5'6 and just becuase he's taller than these girls doesn't make him 5'7.And Dustin Hoffman isn't 5'6 he's 5'5 max.
Ai
said on 14/Jun/07
FURLONG IS 5'7 ......come on now....he's taller than Rachael Bella....Tara Reid and Emilia Fox who are like around 5'5....so yeah...the reason he looks short is cause he slouches and that 5'9 is the average height for men...making him 2 inch below average...if he was to be 5'6 then he would look like Dustin Hoffmans height....
Leung
said on 13/Jun/07
Furlong looked pretty small in CSI:NY, Gary Sinese literally had 4-5 inches on him.
And in Cruel World he was struggling to look taller than Jaime Pressly.
I think 5'6.5" is a generous listing.
terminatrix
said on 13/Jun/07
gee, he's a tough one to call, I honestly think he struggles for 5ft6.5, maybe 5ft5 is more accurate. He genuinly looked 6-7 inches shorter than Ed Norton
sidewinder
said on 13/Jan/07
most definately Jen, carrying women is mostly about lower back strength than big arms anyways ;P
Jen
said on 12/Jan/07
Great point, sidewinder. I guess height doesn't really matter. I am 5 feet 2 inches and 142 lbs. Think you could carry me? LOL! Oh and are you saying that Eddie could handle me too?
sidewinder
said on 6/Jan/07
well, i'm 5'7 and i can carry my girlfriend who is 126 pounds and i can lift up people that are 200 pounds (it happens at party's for some reason) and i am not a body builder or anything. it's not because a guy isn't 5'10 that he can't be strong...
RICHARD
said on 19/Dec/06
He is a solid 5-7. He looked the same height since Detroit Rock City in 1999,but now he looks the same,as well. He was probably 5-5 in T2 and grew his adult height(5-7) in 1996.
leonari
said on 17/Dec/06
Furlong is 5'6",not 5'7".
erik
said on 17/Dec/06
better version of vid for english gentleman - compare england and sweden. careful which stones you throw...
Click Here
furlong 5'7 in shoes 5'6 out?
trueheight
said on 25/Sep/06
TSG's has an officer citation in which the arresting officer observed 5'6
Click Here
trueheight
said on 25/Sep/06
furlong's not swedish, he's russian and hispanic
UNK
said on 28/Jun/06
Hilton, probably in heels, sloucing and still taller than Furlong.
Click Here
English Gentleman
said on 27/Jun/06
I hardly think the heights in Sweden (as well as Montenegro and Holland) is important if speaking of other heights than of misshaped cavemen. 5'6 to 5'7 is not "girly short". Average height in many countries is 5'8" – 5'9. Normal height is: 5'11 – 6".
In Sweden Average height is 5'11 and normal height is 6'1 – 6'2. Holland's average height is 5'11½. In Montenegro average height is 6'3". I could say that females over 5'5 is boyish tall. Swedish people are rather unattractive and actually seem a little bit slow, maybe their brains receive inefficient amounts of nutrition?
Furlong: 5'7 – 5'8
leonari
said on 26/Jun/06
nerver 5'7".Never
trueheight
said on 25/Jun/06
5'5; I really really really hope this guy gets his act together and stars in T4; stahl is the worst casting choice of all time right up there w/ christensen for vader
Anonymous
said on 25/Jun/06
All right this guy is actually well over 5'7-no joke!!
Evidence:
Click Here
Rachel Bella is listed as five foot SIX at this site-Eddie towres over her and they are both on even ground.
AND:
He said in an interview that 6'2" Arnold Schwarzenegger looked "short."
[Editor Rob: here is other pic, yes her official height is rounded up a bit...that, is swiftly remedied of course ;-)

as for Furlong....he had a couple of scenes in the terrible Intermedio film standing beside Benson, who if you ever see that dvd, you could compare him beside her and her beside me and argue if he looks 5ft 7]
Zack
said on 21/Jun/06
to "anna":
No that is wrong, 5'11(180cm) is the average height for males in SWE, and 5'5 for females. Nonetheless, below 5'11 isn't considered being "short", perhaps under 5'8
leonari
said on 26/May/06
all the evidence (especially near NORTON) put this guy well under 5'7"... I go with 5'5"...
Joe
said on 24/May/06
He has to be 5'6. He's shorter than 5'7 Willem Defoe in "Animal Factory".
anna
said on 18/May/06
bikagyara, are you from sweden? if a guy over 20 are under 5'11 he may not be Very short but he is shorter than the ideal.
Leung
said on 16/May/06
Anything less than 5'10" is short for guys in Australia, it's not "official' but more it is reality.
bikagyura
said on 15/May/06
I'd say below 5' 9 is officially short for a guy in Sweden
anna
said on 14/May/06
you know, in sweden is a guy considern short if he's under 5'11. i hate to disappoint you but if he is 5'6 he's shorter than MANY swedish women. I guess that makes him girlie short.
Steven Ward
said on 17/Apr/06
He's 5'6. He stated that on an interview in Teen, 5 years ago. Short, but not girlie short.
trueheight
said on 14/Mar/06
makes sense, 5'6 with shoes. 5'4.5 - 5'5 barefoot
trueheight
said on 14/Mar/06
Hey, Rob when are gonna downgrade this guy? He's shorter than Danny Trejo, 2-3 inches shorter than 5'7.5 Dafoe in Animal Factory. He's 5'5 at best. He never comes off as even close to normal in his candid shots
Bill
said on 14/Mar/06
his police record for the lobster thing, said 5-6
trueheight
said on 9/Feb/06
Well after seeing the info on the dafoe site, Furlong MUST be 5'5-5'6. As far as i can tell(ive seen it 4 times) Furlong and Dafoe wore "prison shoes" in the film, not much chance for lifts, and Furlong is a consistent 2in under Dafoe. A good film to evaluate Eddie is American History X, as Alex alluded to. He is almost a head under Norton, who as a result, comes off as a huge looking guy
trueheight
said on 9/Feb/06
Well judging as a fan, i'd say he's 5'5-5'6. He DOES seem to have a permanent slouch though. Thought he was bigger cuz i'd always seen Dafoe as 5'10, then realized he was only slightly taller than McGuire in Spiderman
Alex177
said on 27/Nov/05
You are idiots Edward Furlong is not 5 ft 7 in (170 cm) He is 5 ft 4 in, on all one hundred percent!!! Look movie "American story x" Edward Norton above on head!!!
CoolJ
said on 3/Sep/05
5'6"-5'6.5"?
http://img254.imageshack.us/my.php?image=am25pa.jpg
Z2
said on 19/Jul/05
Actually, (trueheight), the movie is called, "Animal Factory." Edward Furlong on my view, looks to be 5'6".
trueheight
said on 18/Jul/05
editor, i'd say he's 5'6 if Willem Dafoe is 5'8. Dafoe has at least 2 inches (sometimes 3) on Furlong throughout all of "Animal Farm".