American actress best known for playing Private Vasquez in Aliens, Diamondback in Near Dark and for other roles in films like Titanic and Terminator 2. These photos are from Showmasters Film and Comic Cons in 2008 (1 inch more footwear than me) and 2015 (around 1.7 inch more footwear than me). In the mid 1980's, she listed herself in the Spotlight directory as 5 feet 2 inches.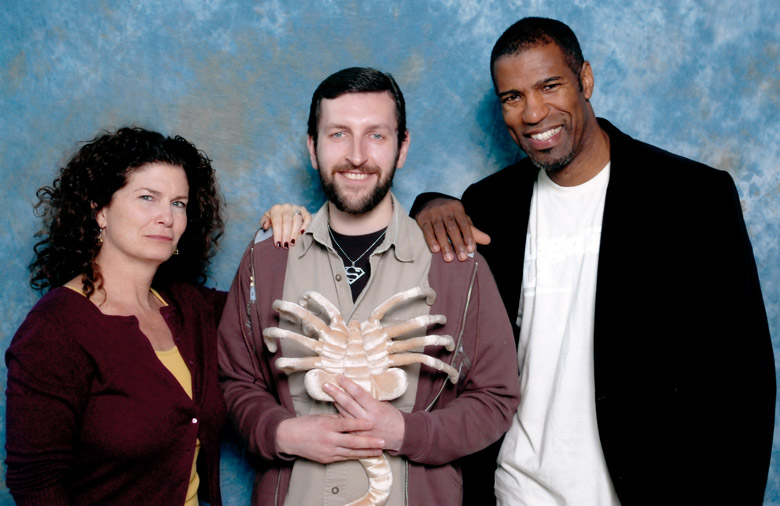 Jenette, 5ft 8 Rob and Ricco Ross @ Collectormania 2008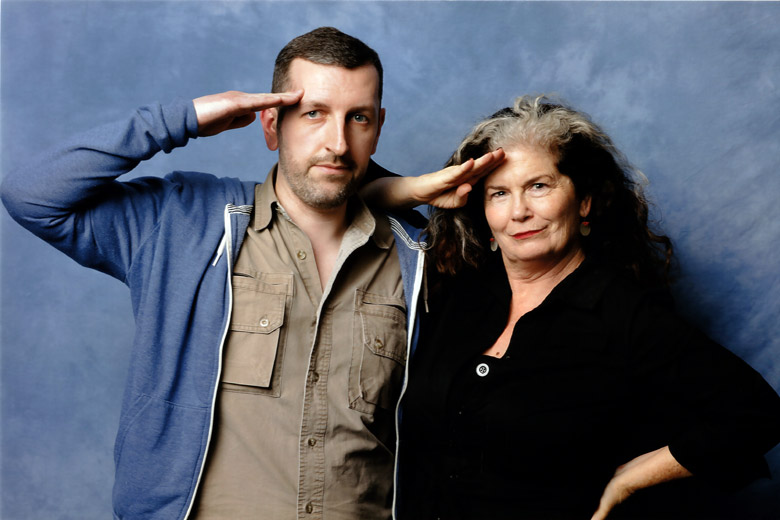 5ft 8 Rob and Jenette @ Collectormania Brighton, 2015
[Talking about the Gun Rig in Aliens]
They had one pre-made for the actress who they assumed would be at least 5-foot-8 / 5-foot-9 and I'm barely 5-foot-2.
-- IWTT Podcast, 2016
Elene
said on 3/Sep/21
Could be slightly shorter I will go for 5'1.5
ChaosControl 6'2.50
said on 11/Jul/21
Honestly based on the pics I'd go for strong 5'1 over weak 5'2
Miss Sandy Cowell
said on 18/Mar/21
I caught Jenette in a film the other night, possibly 'Near Dark', but I'm not sure because I don't have a TV guide this week. ☹️
Regardless of her short stature, Jenette is excellent in scary films, and her short height is the last thing you notice!
5ft1.75. 😉💐
Nik Ashton
said on 5/Oct/19
She does look a tad under 5'2"! Jenette looks at least 5'1.5" and at most 5'1.75"!
Christian 6'5 3/8"
said on 20/Jan/19
Looks more 5'1.5" in both pics.
Sandy Cowell
said on 30/May/18
For a little woman, Jenette can look pretty ferocious! Ooh... the look on her face when she'd been turned into the T1000 and 'formed a sharp object' (as was his way!), going on to stab 'her' husband through the mouth as he drank from a carton of milk!
Jenette was also in the horror 'Autopsy', with Robert Patrick! That film has a justifiably nasty reputation, so if you like horrors, it should be high on your list of 'Must See Movies'!
Jen can have a super-scary 5ft2!
Sandy Cowell
said on 16/Oct/16
Jenette takes on original and interesting film roles and for me anyway, that distracted from the fact that she might only be 5ft2! Didn't I notice her making an appearance in the superbly disturbing film 'Autopsy', once again playing alongside Robert Patrick?
I like little details like this! It opens one's eyes as to whom these stars might go down the pub with on Friday nights!
I would have guessed 5ft4 for her, until I saw her pictured with Rob here.
Peter175
said on 5/Apr/16
About the same height difference between me and my mum (She's around 5'3 and I'm about 5'8.75)
Tan le
said on 22/Dec/14
I think 5 feet and half a inch
Mathew
said on 5/Dec/13
Considering her footware advantage I'd say 155 - 156 cm is more likely. The guy on the right looks about 185 - 187 cm range if he straightened up.
Vibram
said on 30/Nov/13
Maybe 5ft1. Needs downgrade. Rob I think your being too kind considering her hair and shoes. She was 48 in this pic so wouldn't of lost height.
Reality
said on 21/Aug/12
Rob,how tall is Ricco Ross?Must be near 6'2,right?

Editor Rob
somewhere near that is possible
the shredder
said on 30/Jan/12
Rob , Joe Pesci was like 1 " tops on her in Lethal Weapon 2 , 5'2 for her and 5'3 for him .
bora bora
said on 29/Jan/12
rob, have you considered her hair?
Mathew
said on 13/Nov/11
Given the footware advantage 5'1" looks better.
Sean
said on 21/Sep/11
Ricco Ross looks 6'2
5'8.76786
said on 7/Aug/11
What's the deal with this photo Rob? You actually look a full inch taller than Jenny in here!

Editor Rob
she had between 0.3-0.4 inch less sneaker that day.

in literally every photo we are near identical height (apart from some minor footwear which is always mentioned if it's present).

if someone appears taller/shorter, it's always down to posture, distances from camera, angle/lense, cameraman's position which alter things.

In fact Some of the photographers who take shots of me do KNOW about the site.

You know, maybe they might even try to help by taking photos which show as much as possible the Real height difference between Me and the celebrity.

I help sometimes aswell by adjusting my position and sometimes my posture if I think it helps the photo.

There's been some photos where I've managed to get a celebrity standing a lot better than they have done in their photoshoots, for instance I've sometimes used a handshake technique to try to maintain or 'hold' their posture if you understand.

Mr. Tempus
said on 15/Jun/11
Rob was Jenette nice with you?, she looks a little bit angry

Editor Rob
I never got her auto, this was only time I saw her so really didn't say much at all.
J.J.
said on 24/Jun/09
Ricco Ross looks 6'2.375" with Jenny at the top and 6'1.25" with Rob at the bottom picture.
Maribel
said on 15/Mar/09
I agree with Big T. She looks 5'1 or 5'1.25 at the most. It's her hair makin her deceivingly taller.
Brad
said on 9/Nov/08
I want one of those scorpion toys.
D-Lurker
said on 11/Oct/08
woooow!! Carrie Henn?..if that is Carrie Henn, Her teeth were a dead give away hahaha
bloody fantastic rob,
now i'd look like a right pork chop if it was someone else XD

Editor Rob
correct!
incline
said on 11/Oct/08
why is this site full of pop ups everytime I come? This site used to be completely clean...now 2 pop ups come every time I log on. I use firefox and my system is completely fine, but there is a problem w/ this site. If this continues rob, you may lose viewers...I dont know if you are aware or not...the pop ups also add mild spyware, I check my system right after to see...is there anyway you can fix this?

Editor Rob
I use valueclick for pop unders, which shouldn't appear with firefox 3. A second might have been from one of the banner adverts...some might try to break guidelines and throw one out. I usually turn off the advertisers that have been flagged by valueclick though.

it's tricky to control, I might switch back all the banners to google (1/5th of pages have non-google adverts).
D-Lurker
said on 11/Oct/08
Jenette goldstein is a james cameron favourite :), she's like bill paxton..Really great to see these photo's its nice to see what the actors look like now. Especially cool to see Ricco Ross..(clearly i've watched too much Aliens in my time)..I see a commonality between photo posters. The "Superman" logo...It seems to be spreading
Lego
said on 11/Oct/08
she kinda aged since Aliens, i actually liked her over Weaver for her personality.
i think she was 160 flat back years ago during Aliens, perhaps she lost 1 or 2cm of height even though she's not too old around 48-49 years old.
now looks 158-159cm.
Big T
said on 10/Oct/08
She looks 5'1". I see 6 inches difference in both photos. Factor in the footwear and that means 5'1".