American Actress best known for roles in films The Getaway, Love Story, Goodbye, Columbus, Players, Convoy and TV show Dynasty. In an 80's book (Young at Any Age) she is quoted as saying her weight was 120 pounds and her height was 5ft 8.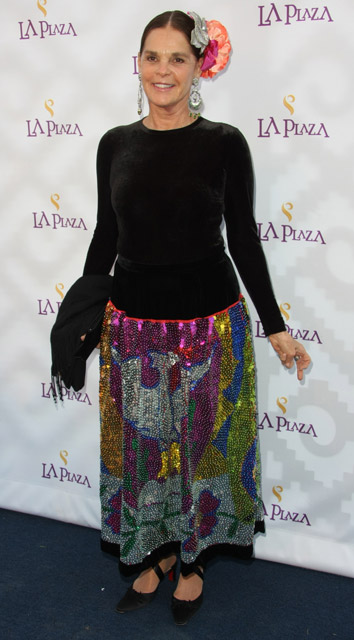 Photos by PR Photos
Mari09
said on 23/Dec/18
Rob what do you think what is the best height for a woman ? For a man? I am interested in your opinion 😊

Editor Rob
I think there are desirable heights, ranges which can benefit and make life easier.

For instance 6ft 1 and 5ft 8 might be a male and females ideal height.

I'm sure many women may view Ali's height range and her figure in her prime as being desirable.
Nik
said on 13/Jul/18
She is not 5'8"! For me Ali Macgraw is 5'7" with change!
KH
said on 11/Sep/17
As a little boy I thought this lady might be the prettiest woman I would ever see. I actually dated a few girls that looked like her for that reason although obviously not as attractive as Ali few were. It's a shame how hadly her marrieage to Steve McQueen turned out. McQueen didn't know how to treat woman at all sadly.
RisingForce
said on 28/Mar/17
Yeah, I just posted that pic on McQueen's page to refute someone claiming McQueen was 5'6" or 7! I'd actually bet money on McQueen being 5'9.5" considering the supposed measurement at age 20 and his wife's statement about Steve measuring 5'10.5" in shoes and while pics on sand aren't perfect, he really does seem a couple inches bigger than her. She's tall for a woman, but never seemed THAT tall, imo.
Arch Stanton
said on 24/Mar/17
Thanks, It adds up with Ryan O'Neal too. She looked close to 5 ft 8 but generally more in 5'7.5-75 range. I could believe 172 but 173 seemed a tad high, particularly if you consider that there's a very good chance Mcqueen was 5'9.5.
Arch Stanton
said on 23/Mar/17
Rob, 173 is too high for her I think.
Click Here
Mcqueen isn't even standing his best there though has on sandals. There's a good chance Mcqueen was the 5'9.5 he was supposed to have been measured at. I've had a good look at her in a few films and more 5'7.5-75 range IMO.

Editor Rob
I had another look and I think 5ft 7.5 might indeed be a good possibility.
Arch Stanton
said on 17/Mar/17
Can you add Goodbye, Columbus, and Players?
Arch Stanton
said on 17/Mar/17
Rob I think the full 5'8 is a little too high. How about 5'7.75 (172)? That would make sense with Mcqueen at 5'9.75 too.
Sam
said on 5/Jan/15
Nice body on her too, evidence directly above.
Arch Stanton
said on 29/Dec/14
Had to have been around it, about 4 inches shorter than Ryan O Neal in Love Story, at worst 5'7.5" I think. Such a pretty face!
Arch Stanton
said on 1/Sep/14
Rob thanks but you might want to delete the extra Peckinpah's Convoy!
Arch Stanton
said on 31/Aug/14
Rob can you add a photo and add Peckinpah's Convoy, Love Story, and Dynasty?
Arch Stanton
said on 17/Nov/13
Looks tall in The Getaway and bloody gorgeous. Looks like Tulisa Soto.
elle
said on 25/Mar/09
Wow, she must of been one of the taller actresses of her day.
dmeyer
said on 16/Mar/08
then mcqueen was a legitimate 5 ft 10 he is comfortably taller than her
Jennifer
said on 19/Feb/07
I once heard 5 foot 9 for Ali. But I guess she's 5-8 if she says so.
CelebHeights Editor
said on 31/Dec/05
This is also her modelling height.