Amber Tamblyn's Height
5ft 6 (167.6 cm)
American actress best known for tv series Joan of Arcadia, as well as films like The Sisterhood of the Travelling Pants, 127 Hours and The Grudge 2. She mentioned her height and weight
"I think at that point [after TSOTTP] I was 128 pounds and I'm 5-7"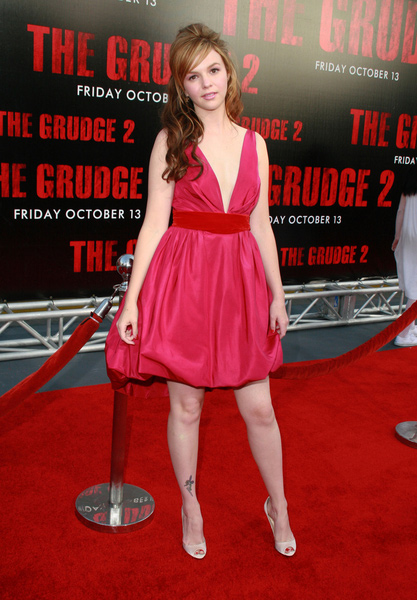 Photos by PR Photos
You May Be Interested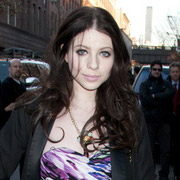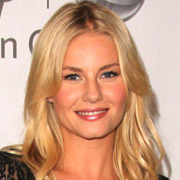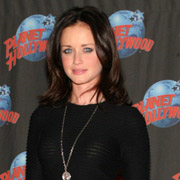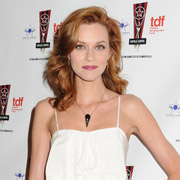 Add a Comment
30 comments
Average Guess (17 Votes)
5ft 6.78in (169.6cm)
Littlelee5ft6
said on 29/May/20
Wow the average guess is way too high 5ft 6 at the most cant believe its coming up at just over 5ft 7
Miss Sandy Cowell
said on 22/Sep/19
⭐ Can anybody tell me what a size 5.5 American shoe size would be in English? Is it a UK size 3.5? That's what I take, and considering Amber's height in comparison to mine, I'm beginning to think my feet belong on a duck,🦆 yet at school I had the smallest feet in class, but I was in a rather tall class in the Senior school, equivalent to the American High School. In my Junior school, there were two tiny girls in my class: Nina, who was lovely and invited me to her party, who grew up to be just 4ft9, and Susan, who had a twin brother. I sat next to the twin, David, also small, and he was very quick-witted - and clever!
So back to Amber. I'm enjoying her part in 'House' a great deal. She is a girl with ethics. Next to Greg House (Hugh Laurie), it's not easy to tell that she is model-girl height, but when you think how tiny 5ft6 Cuddy looks next to Hugh, it DOES make sense!
I'm going with 5ft7. 👩💐
Miss Sandy Cowell
said on 16/May/19
Amber is taller for a woman than Dad, Russ, is for a man, so I gather she has a tall Mom! I've seen her in 'House' and 'The Grudge 2', and she looks fairly tall, so I will give her 5ft6.5. 😁
Kerissa
said on 14/Nov/17
She dwarfed Alexis Bledel when together wearing similar sized footwear.
Sharon
said on 14/Apr/17
Amber Tamblyn towers over Alexis Bledel. Always pictured Alexis being the taller of the two.
Sceptic
said on 7/Oct/11
Click Here
Looking a good 4 inches shorter than 5'8 max Aaron Paul. Very odd, but I suppose we can't see their feet. Still, 5'6 max, I think.
Cranberries (18m, 192cm dinnertime)
said on 29/Jun/11
5'6" max. 2 or more inches shorter than Blake Lively in the same size heels.
X
said on 5/Apr/11
Hard to pin down. Always looked pretty close to 5'8 Chris Marquette in Joan of Arcadia... maybe like a 1.5 inch difference? Then again, I'm not convinced Marquette is 5'8, because he looked shorter than Mary Steenburgen on the same show. I'd guess more 5'5.
da_truth
said on 30/Jan/11
looked same height as 5'3" Kate Mara in 127 hours, both I believe had hiking boots on... they both looked considerably shorter about 6 inches or 7 from James Franco
hazel
said on 11/Feb/09
Click Here
do u really think heights listed here are more accurate than others
I do!! see the difference between them
lillee
said on 22/May/08
At the start of the ring when she and her friend becca played by Rachel Bella are in hallway, Amber has no shoes on and becca has trainers on and both looked same height. Apparently the girl who played becca is 5'6" if she was wearing trainers she'd be 5'7" so amber must be 5'7"
kaulitz
said on 30/Apr/08
In Sisterhood of the traveling pants Blake Lively had a good 3-4 inches on her, so if Amber was 5'6 then Blake would be 5'9-5'10, but on this site Blake is listed as 5'8 and if she was 5'8 would make Amber 5'4-5'5.
Anonymous
said on 14/Mar/08
It's amazing that she wears a size 5.5 US shoe! That's some tiny feet for her height.
Anonymous
said on 26/Feb/08
5'6.5 to 5'7 in "the russell girl" since her boyfriend is about 5'11.75 in the movie
Anonymous
said on 11/Feb/08
I think she was taller than the guy who played her boyfriend on Joan of Arcadia. Can anybody verify this?
Jessica
said on 24/Jan/08
Exactly, Pete! Amber could have been wearing flats and Alexis in heels, we don't know. Personally, I think Amber is 5'6- she does look it in Joan of Arcadia
Pete
said on 5/Dec/07
Anonymous thats not a real good pic you can't see anything below their waste i.e what shoes there wearing.
Anonymous
said on 15/Oct/07
Amber looks shorter than Alexis Bledel in these photos:
Click Here
Anonymous
said on 2/Jun/07
I don't know if she's smaller than Alexis...I think they're roughly the same height, give or take .5"
glenn
said on 22/Mar/07
hot is right.thats why i jumped for a 2nd pic.you always take as many pics as you can with hot chicks.she had heels.i wouldve guessed her at 5-5'
UNK
said on 22/Mar/07
she's HOTT!
glenn
said on 21/Mar/07
im surprised she is that tall.
Dunken
said on 21/Mar/07
Glenn is leaning a bit and what's her footwear in the pics?
could be 5'6.
Cliff
said on 25/Aug/06
This is a rarity for me, but I got to see Amber at a restaurant in Burbank yesterday filming an ad for actor Joe Mantegna. I did not ask her height (that would indeed seem strange), infact, I was trying to figure out who she was at first! She is thinner in person and taller than I would've expected. I would say that she is at LEAST 5ft7, POSSIBLY a little over that. She was wearing trainers and wearing an apron while filming. I do think she should be moved up to at least 5ft7.
person
said on 27/Apr/06
oops, no wait, she's taller (than bledel) by about an inch. But Bledel slouches all the time. So Bledel 5'7" when she doesn't slouch and 5'6.5" when she does. So that makes Tamblyn about 5'7.5" or a little less than 5'8". Tamblyn doesn't slouch as much. I say we leave Tamblyn at a 5'75" that sounds about right.
person
said on 26/Apr/06
she's 5'6" even because she's a little shoeter than alexis bledel
Anonymous
said on 30/Jan/06
Anne Hathaway is about 2 inch taller and she 5ft8 so she cant be 5ft7.some pics on getty imanges
Anonymous
said on 17/Nov/05
Katelyn, actually, Michelle Trachtenberg WAS wearing heels in that picture with Amber Tamblyn. Here is a picture from that night, in which you can see their feet:
http://www.michelletrachtenberg.net/gallery/albums/mercedes2006smashbox/019.jpg
Granted, due to the pants Amber is wearing, you cannot see how big her heels are. I'd say that, barefoot, Amber is probably a twinge taller.
UNK
said on 15/Nov/05
You have Amber in here twice, with two different heights.
[Editor Rob: thanks for pointing the duplicate.
Below are quotes taken from the deleted duplicate page:
anonymous says on 2/Nov/05
I'm not sure if there's really any benefit for most actresses to fudge their height unless there also a model or in some other profession that requires them to be tall. I imagine the very tall ones and the models would fudge their height more than those who are around average.
Anyways Amber always appeared to be at least average if not taller to me.
Paul says on 13/Oct/05
A lot of actresses fudge their height esepcially on publicity sites like IMDB. My sister is a dancer/actress and her agency adds 2 inches to her height. I think this would be commonplace really for every women except v.tall ones
Anonymous says on 22/Sep/05
A good indication of Amber's height is from The Ring, where she is barefooted in every scene she is in. Rachael Bella (who played Amber's character's friend) is listed on her official page as being 5'6". In the film, Amber appears to be the same height or taller than Bella, with Bella wearing shoes and Amber barefoot. So, I'd say Amber is at least 5'7"
Anonymous says on 4/Sep/05
Amber seems like a pretty tall girl. She was at least the same height as Chris Marquette on Joan of Arcadia, and she almost always wore flats (I can recall only one episode that she wore heels, and when she did she was noticably taller than Marquette).
Paul says on 31/Aug/05
A,ber is nowhere near 5'7, i wish i could find a decent picture to illustrate this, check any episode of Joan of Arcadia, the barely 5'8 Mary Steenburgen is at least 3-4.5 inches over her in nearly every scene. Even then i wold question steeburgen's height as for instance look in Back to the Future 3 with J Fox she has heels and isn't miles bigger than 5'4 fox.
Anonymous says on 11/Jul/05
Amber is about the same height as Alexis Bledel, here is a full shot picture of Amber and Alexis at one of their premieres:
http://www.isifa.com/functions/watermark/watermark.php?ifotonummer=10964799
They appear to be about eye-to-eye, with similar sized heels.
[Editor Rob: I think Amber is slightly bigger...but this could be a case of Bledel being slightly under 5ft 7 and the other girl nearly being 5ft 7.5]
]
RzrbldeSuitcase
said on 13/Jul/05
Sorry but there is no way this girl is 5'7, she looks max 5'5, she is about the same height as chris marquette, a bit bigger than kris lemche - he way fudges his height! Just look at her height in several scenes from joan of arcadia with joe mantegna