Hilarie Burton's Height
5ft 7 ½ (171.5 cm)
American actress best known for playing Peyton Sawyer on tv series One Tree Hill and Sara Ellis on White Collar.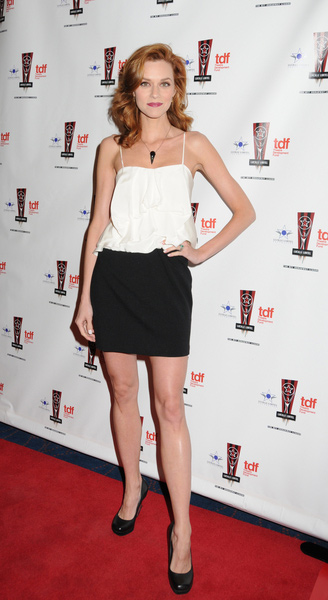 Photo by PR Photos
Add a Comment
24 comments
Average Guess (11 Votes)
5ft 7.59in (171.7cm)
Nik
said on 20/Feb/20
She looks mighty tall and I am so pleased to give her her 25th comment!
Genesis
said on 10/Jul/16
I think she's at least 5'8 or 5'9. She's tall!
MGI
said on 13/May/15
She looks more 173, or even 174.
5'7" is ridicilous, she towered every girl in OTH and doesn't look that short, next tothe 6ft Chad Michael Murray
Cindy
said on 7/Dec/11
During the entire show they always have her in sneakers and her best friend, played by Sophia Bush, in high heels, to make them about the same height. So I think that Bush is about 5'3.5 and Burton 5'7.
Mary
said on 30/Apr/09
Well i'm 5f8 and i'm thirteen so yeah your not alone out there. My boyfriend is 5f4 lol
anonymous
said on 9/Mar/09
Next to chad michael murray, she is about 10cm shorter. I watched one tree hill and thought she was 5 foot 6. I reestimate to 172cm.
santa
said on 27/Feb/09
Alot of other sites claim that she is 5'8.5 and 5'9, though this looks like a bit of a stretch...she's thin though and looks tall because she is taller than other females on OTH. Id peg her about 5'7.5
Realme2008
said on 22/Jan/09
I've never thought she towered over Sophia without the help of heels. Sophia says she's 5'4", but I think she's downgrading herself. She's in the 5'5"-5'6" range. Hilarie usually looks 5'7-5'8" range. Mostly likely 5'7.5-5'8" though. Sophia is about 5'5" or a weak 5'5". 5'4" is way too low for her.
Nora
said on 5/Jan/09
Ok now that we know that Sophia is 5'4, can we even say that she's that height? I agreed with this height before Sophia's statement but now I'm not so sure... look at this picture
Click Here
Hil is taller than Sophia but there's not such a big difference!
What do you think about that?
rain
said on 29/Dec/08
I dont think she 5'7.5 i thibk she is more like 5'8 - 5'9 because sophia bush is 5'6.5 and when they aren't in heels there is an obvious differene between the two. And also Hilarie seems to be quite close to Chad's height.
tyler
said on 29/Nov/08
my friend is 5'10".... check this out. you make your own assumptions.
Click Here
Realme2008
said on 17/Nov/08
This is a good height listing. There is a obvious height difference between her and Chad even when she's in heels. I actually think she's 5'7-5'7.5 now that Sophia Bush is claiming 5'4". There isn't a giant height difference between the two.
Anna
said on 15/Oct/08
I think 5'7.75 is possible.
EGG
said on 27/Aug/08
dude shes like 5'9 im a fan of oth n been watchin it 4ever n she looks 5'9. in many ep s with heels on she comes close 2 chad. n shes way taller tian sof. bush even when she not wearing heels whie sof is
Amy
said on 7/Jul/08
So i wanted to know how tall Hilarie Burton was becauase i absolutly adore her. Shes amazing and talll and beautiful. Ad plus im pretty tall my self i am 5ft 5.75 in.and i just wanted to see if i had a chance to be like her. i always feel so tall compared to everybody and its hard to find a guy. If i didnt already say it im 13 and 5 ft. 5.75 in.so yea its good to know that somebody else is out there tall and beautiful. if anybody wants to talk text or call 5583859.
Realme2008
said on 18/Jun/08
Nope, that's to much for her. If she was that height she'd be just as tall as Chad in heels, which she really isn't.
Click Here
Kenza
said on 16/Jun/08
i think she looks 5'8-5'9 ..
Anonymous
said on 10/Jun/08
I've watched the complete 1st season of one tree hill.. and my guess is that she's not shy of 5'8?? you sicko she's more like 5'5.. 6'1 nathan has like a head over her
Realme2008
said on 28/May/08
Sophia Bush isn't 5'6. She's 5'5 1/2(Listed on this site), and most time I actually just think she's 5'5". I agree that she isn't much taller though.
Hollie
said on 5/May/08
She doesn't look much taller than 5 foot 6 in Sophia Bush. I'd say 5'7 and a half.
Bj25492008
said on 18/Apr/08
How long have you thought that, because she never looks that. Or are you just saying that. Probably a bad height guesser in my opinion if you are serious.
Jessica andrade
said on 17/Apr/08
I always thought she was 5'5".
Realme2007
said on 25/Oct/07
I always just thought she was 5'7".
Anonymous
said on 27/Sep/07
Appears to be a bit taller than Amber Tamblyn:
Click Here