Andrew Lee Potts Height
5ft 8 ½ (174 cm)
English actor best known for playing Connor on TV series Primeval. In this convention photo, I had about 0.4 inch more thicker sneaker than him.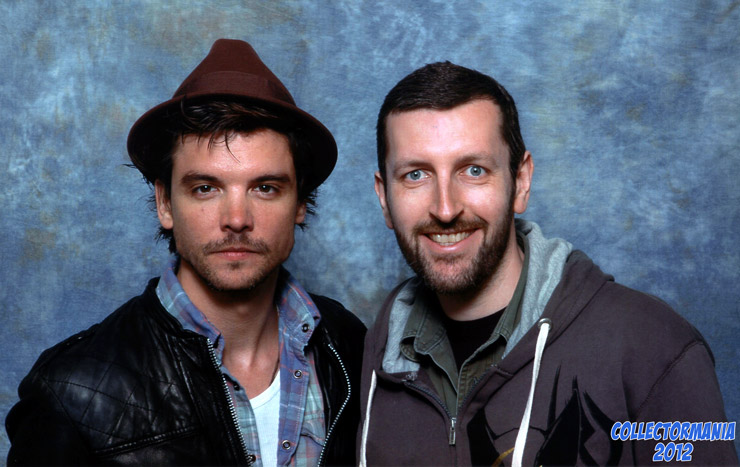 5ft 8 Rob and Andrew @ Collectormania, 2012
You May Be Interested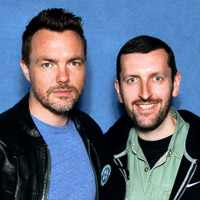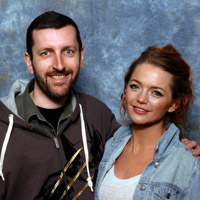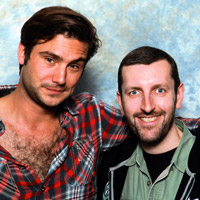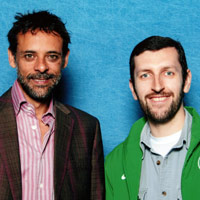 Add a Comment
22 comments
Average Guess (25 Votes)
5ft 7.99in (172.7cm)
rafael proulx
said on 8/Jan/21
Over listed, he's 5'8
rafael proulx
said on 8/Jan/21
Over listed, he's 5'8
JohnMoore-162cm
said on 8/May/20
174cm is clearly too much , he looks 172 cm and if we add the 0.4" (less footwear) , you get a 5ft8 guy.
Littlelee5ft6
said on 19/Feb/20
Rob how tall would his sister Sarah jane Potts be? Shes listed 5ft 5 this could be an overlisting. She was in sugar rush, Waterloo road, holby city and casualty

Editor Rob
At worse, 5ft 4.5
khaled taban
said on 31/Jul/19
174 is too much for Andrew, 5'8" flat is way better.
Peter 180cm
said on 28/Jan/19
174cm is clearly too much for this guy,he looks 172 with less footwear so i'd say 173 flat,at most 5'8 1/4.
Danimal
said on 29/Mar/18
How do you have him at 5'8.5" when he's clearly shorter than you by quite a bit and you're leaning in, yet you have a guy like Ralph Macchio at 5'8.5" when he looks to be at least 5'9"?

Editor Rob
There's always a chance of over-estimating, but my first thought was he could be 5ff 8.5...
Adamz
said on 12/Aug/17
looks under 173cm
The shredder
said on 24/Jul/17
He strangely looks 5'7 here , but I trust Rob.
Christian-6'5 3/8
said on 23/Jul/17
5'8.5" is clearly too much, Rob.
Editor Rob: I didn't think he was a flat 5ft 8 up close.
World Citizen
said on 31/May/17
Looks like a flat 5 ft 7 with the footwear disadvantage, although I'm not sure how he will look with the same footwear.
172.4cm guy
said on 12/Dec/16
Whoa, Rob! Even with the 0.4 footwear advantage taken into account, he still looks about 0.5 inches shorter than you. He's probably 172cm and not 174cm, wouldn't you agree?
Editor Rob: 172, I've seen him many times, I think he could be very similar to myself, maybe he is a bit over 5ft 8, at times I do think he looks in the 173-4 zone.
Johno
said on 1/Mar/16
5'7.5, 5'7.75
CD
said on 7/Mar/15
Rob,
I understand this guy might have been eye to eye with you despite the pic not showing it, but even with the footwear disadvantage I don't think that makes him near 174cm. My reasoning it that he has a smaller head and thus higher eye level, and didn't you say you had a measured 5ft 7 girl feel almost your height due to that?
Click Here
I adjusted the pic to make it appear like it would if he was eye to eye, and as you can see his hairline is still lower than yours and do you really think the top of his head would hit the top line? Hmm, I don't know, it's hard to say because he is wearing a hat. But nevertheless up top he looks 172ish add more shoes and he's still no more 174 than you are. Hope this makes sense, and apologise for being too pedantic! What do you think? In my book he's more on the 5ft 8-8.25 side than 8.25-8.5.
[Editor Rob: he could be around 173cm, I watched him with a convention buddy who was near me in the queue and he is about 5ft 11 and andrew could look close to 3 inches smaller.]
176,2Tunman
said on 19/Aug/14
Yeah,around that,actually his chin isn't as high as it seems,I would have thought 8.75 was bang on since it's a little small.
By the way Rob,is 9.6 an average head or a little bigger than average?I would have thought 9.25 was more likely of an average for 5'8
[Editor Rob: 9.5-9.6in is longer than average for 5ft 8 (if you seen me in real life you wouldn't say 'that guys head is small' ;) ).

There is a bit about heads I mentioned in the shaun murphy page which is worth reading :)]
176,2Tunman
said on 18/Aug/14
His head looks extremely small for someone at this height though I'm sure it's more of an illusion.Looks like 8" but Rob's head is 9.6" and he's smiling.Anyways a small head must be less than 9" for sure.
[Editor Rob: it's probably 8.75-9 range]
Sword
said on 29/Jun/13
Hi Rob, I have also noticed this too evident difference. He looks at least 3 cm (about 1.5 inch) shorter than you (by your eyeline) with only 0.4 inch disadvantage in his footwear and also by standing more straight than you... established this and examining the photo, do you think that 5'7 could be possibile for him? I estimated this height for him compared to the other actors in Primeval.
[Editor Rob: 5ft 7 to me would seem impossible as I thought he was very close to my height but had less shoes so I thought maybe this guy is near 174cm...

but of course, that doesn't mean I could overestimate and be off :)]
Connor 184cm
said on 1/Jan/13
What was andrew like in person rob ? absolutley like him in primeval love the series but yeah i agree with the other users he really does look shorter than you about 1 cm less so he is closer to 172cm.
[Editor Rob: didn't see much or say much to him, so can't say much :) but 1 friend did get his auto and thought he was nice]
Johnnyfive
said on 5/Dec/12
Rob did you make a typo? You're clearly taller than this guy. Even with his footwear disadvantage he doesn't look anywhere near 174 next to you. 5'7.75 is closer. You seem to be leaning in and he's standing straight.
[Editor Rob: I really thought he was eye to eye with me]
Mr. R
said on 5/Dec/12
You DO look taller than him! He looks closer to 5-7.25
173
said on 4/Dec/12
Okay Rob, I missed the 0.4 less footwear, BUT even still I'd say with even footwear, he'd be about the same height as you. Is 5'8" still possible for him?
[Editor Rob: not impossible]
173
said on 29/Nov/12
You look taller than him, Rob...
[Editor Rob: I really thought I was eye to eye and as I say his footwear looked about 0.4 less]